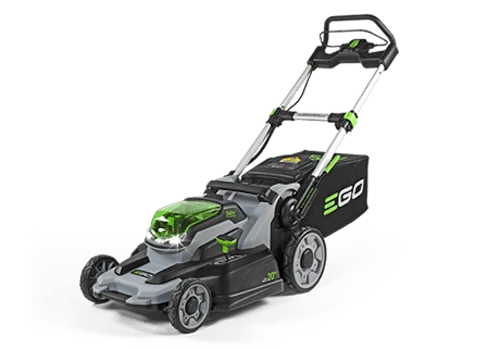 I was surprised to learn that mowing our lawns with gas mowers is a big source of air pollution, which is a significant factor in climate change. I suspect that in the future, many of us may move away from lawns altogether, as families in drought-prone states like California and Arizona have already done, toward more water-efficient landscaping. However, in my neighborhood, as I'm sure in many of yours, the hum of mowers fills the air on weekend mornings as we all try to stay a cut ahead of our growing grass.
After our old gas mower broke, Andrew and I searched for something more efficient and less polluting. First we bought an old-fashioned manual reel mower. But after one sweaty go around the lawn, we returned it because it was laborious to use, jammed easily, and didn't cut the grass evenly.
After consulting neighbors, friends and searching online reviews, we finally invested in an EGO cordless electric (battery-operated) mower. This thing is not cheap, I'll tell you upfront—we paid about $500 for it. But it's only the second mower we've purchased in the 18 years we've had our house, and it works beautifully. For our small lawn we can do the whole thing in one battery charge, it's easy for our teens to use, and it's much quieter than our old gas mower.
If you want to invest in the future of our air and planet, and keep your lawn in good enough shape for your kids to practice pitching or do cartwheels, this lawn mower may be right for you, too.
(Note: This is not a paid endorsement, I have no affiliation with EGO or any other lawn or garden products; I just love to share my favorite environmentally-friendly discoveries with you. I always disclose when I share sponsored posts.)