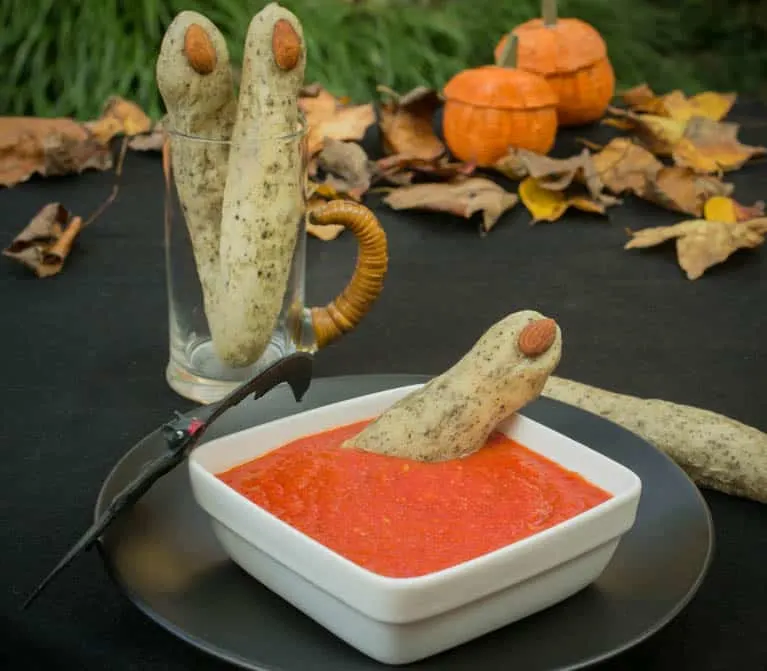 While this might seem rather gruesome, you can serve this with a free conscience as no witches were harmed in the making of this recipe. In fact, it's completely vegetarian — and a hearty healthy Halloween dinner to serve before trick-or-treating. This smooth and creamy soup, from Six O'Clock Scramble editor Kathryn Spindel, tastes like a fresher version of the classic Campbell's tomato soup I loved as a child. Serve this or other healthy Halloween recipes with Witch Finger breadsticks (see recipe below).
Creamy Tomato Soup with Basil
Prep + Cook Time: 25 minutes
2 Tbsp. butter
1/4 yellow or white onion, finely chopped (1/2 cup)
2 Tbsp. flour
4 cups low fat milk
1 bay leaf
2 tsp. sugar
1/2 tsp. salt (optional)
1/2 tsp. baking soda
28 oz. crushed tomatoes, with their liquid
1 – 2 Tbsp. fresh basil, finely chopped
In a stockpot, melt the butter over medium heat. Add the onions and stir occasionally until the onions are softened but not browned, about 3 minutes. Add the flour and continue to stir for 1 – 2 minutes.
Add the milk, bay leaf, sugar and salt (optional). Turn the heat up slightly until it comes to a very low boil. Continue to cook, stirring occasionally, until it is slightly thickened, about 10 minutes.
Stir the baking soda into the tomatoes. Add the tomatoes and the basil to the stockpot. Bring it to a low boil.
Remove the soup from the heat and remove the bay leaf. Puree the soup, if desired, using a hand-held (immersion) or standing blender or a food processor. Serve it immediately, refrigerate it for up to 2 days, or freeze it for up to 3 months.
Slow Cooker Directions: Add all ingredients except tomatoes and onions to slow cooker, and whisk until smooth. Add tomatoes and onions, and cook on low for 8 – 12 hours, or on high for 4 – 5 hours. Purée, right in the slow cooker, with an immersion blender if desired, or remove to a blender or food processor to purée.
(Slow cooker cooking times may vary—Get to know your slow cooker and, if necessary, adjust cooking times accordingly.)
Do Ahead or Delegate: Chop the onion or fully prepare (and refrigerate or freeze) the soup.
Scramble Flavor Booster: Add 1 tsp. smoked paprika with the tomatoes and basil.
Nutritional Information Per Serving of the Tomato Soup(% based upon daily values)
Calories 230, Total Fat: 6g, 9%; Saturated Fat: 4g, 20%; Cholesterol: 20mg, 7%; Sodium: 750mg, 31%; Total Carbohydrate: 32g, 11%; Dietary Fiber: 4g, 16%; Sugar: 21g; Protein: 11g
Witch Finger Breadsticks
Roll your own bread dough your favorite refrigerated breadstick or pizza dough into thick "fingers" Before baking, add a whole almond to the end of each "finger" to make a fingernail or press a sliced almond on right when they come out of the oven.
You might also like our other Healthy Halloween recipes like Spider Black Bean Dip