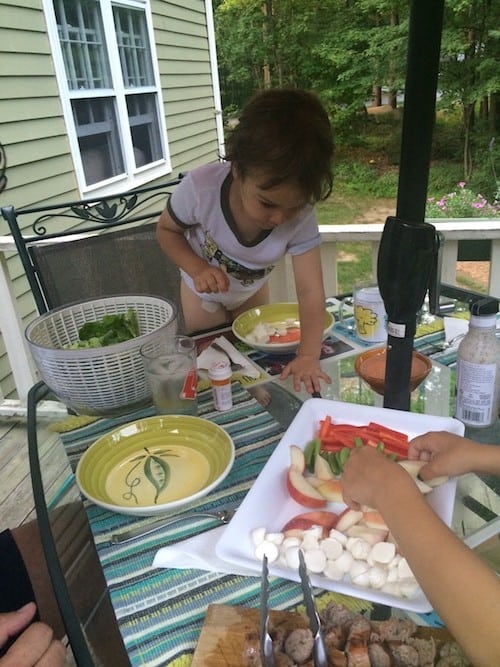 Guest Column by Amy Dempster, Digital Marketing Director, Bright Horizons 
One family gathers around the dinner table and says grace. Another family packs a picnic for the soccer field. Families are diverse and so are the ways in which they eat. The family sharing grace may do so because of its cultural history; the family eating a picnic dinner at the soccer field may approach dining as a logistical task. As a busy working mom, I never gave much thought to how I serve my family meals until recently.
Working for Bright Horizons, I learn a lot from our early childhood educators from positive discipline strategies to how to turn a box into a rocket using a tad of creativity and a smidge of imagination. It didn't surprise me then, that they were about to change the way my family ate.
After reading an interview with Bright Horizons educator, Linda Whitehead, on Parents.com about the benefits of family-style dining, I set off on a mission to do away with my pre-plated serving ways and embrace the family-style meal. Here is what I've learned along the way.
5 Reasons to Try Family-Style Dining
1. It's an opportunity to teach kids how to share and use good manners. The first time I put the family-style serving dishes on the table, it was a bit of a free-for-all. Little hands and fingers were everywhere grabbing food.  It wasn't long before they starting whining over who got more mozzarella cheese balls. Family-style dining wasn't off to a great start but I took a deep breath and looked at the melee as an opportunity to put some sharing strategies and good manners ("Please pass the..") into practice
2. It's a great way to guide kids about making smart food choices. My initial fear about family-style dining was that I'd never get my 7-year-old daughter to serve herself vegetables. It didn't turn out as bad as I imagined. She still needs some convincing but it gives us yet another opportunity to discuss the importance of a healthy mix of food groups to her overall health.
3. It helps kids grow independence and self-confidence. My toddler is in his fiercely independent phase. There are many instances where we have to limit his growing desire "to do it himself" due to lurking dangers and other likely calamities. Allowing him to serve himself food is one area where we can nurture his independent spirit. A little mess is something we can handle, especially when the long-term benefit is an independent, happy child.
4. It improves motor skills and coordination. I never really considered how much coordination it takes to put food on a plate. Food comes in many shapes, sizes, textures and consistencies and with it, a massive variety of serving utensils. In a short span of time, both my toddler and 7-year-old have greatly honed their skills by practicing with many different serving utensils. Now if only I can get my toddler to stop leveraging his new tong skills to pinch his sister…that would be wonderful.
5. It teaches children how to recognize hunger cues and know when they're full. This one is a long-term benefit of family-style dining and one that is hard to gauge, especially over a short span of time. I'm simply going to look at this one as the cherry on top that'll hopefully serve my kids well into adulthood.
Like parenting, family dining styles are a matter of personal preference and taste. I don't believe in absolutes and, in fact, I continue to serve my kids pre-plated meals when it serves our family best. Whether I serve pre-plated or family-style meals, the most important thing is that we spend quality time sharing meals with my family and talking about our day.
Amy Dempster is also known as "Nourish Mom" on the Bright Horizons Family Room Blog.