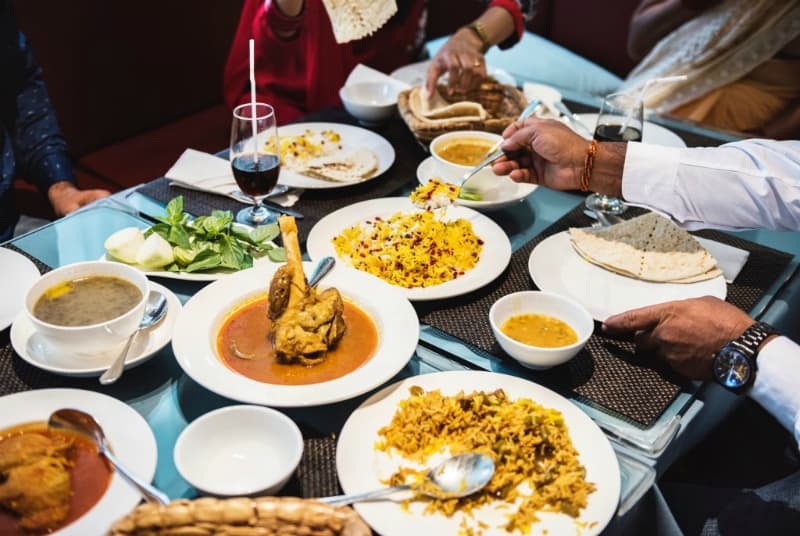 Families are diverse and so are the ways in which they eat. While one family may gather around the dinner table and say grace, another may pack a picnic to bring to the soccer field, and another might eat in shifts as people get home. Furthermore, the same family may resort to different approaches depending on the needs of the night.
In my house, for example, Monday nights include a band rehearsal for one son and committee meetings for me, so my husband and other son enjoy dinner together, while the two of us are out. On Tuesday nights, on the other hand, no one has standing obligations so we make it a priority to sit down together that evening.
Before I became a mom, I didn't really think about how these things would play out in my household, nor did I even imagine how ever-changing and fluid the process would be. But while who is at the table and what food is offered changes from day to day, one of the approaches that I try my best to use consistently is serving food family-style as often as possible.
What is Family-Style Dining?
Serving a meal family-style means that, rather than plate each person's food for them, you put the food out on the table in passable bowls and invite everyone to serve themselves.
What about how and heavy dishes?
If you have a big casserole or pot of soup or stew, serving family-style is more challenging, but not impossible! What you can do is serve from the big pot, but then put toppings, condiments, and side-dishes out for people to serve themselves.
5 Reasons to Try Family-Style Dining
1. It's an opportunity to teach kids how to share and use good manners
When you first start out, it may feel a bit out of control, but that is because kids need to learn how to share and have good manners. It is a teachable moment.
Here is how mom Amy Dempster described their exploration of serving things family-style: "The first time I put the family-style serving dishes on the table, it was a bit of a free-for-all. Little hands and fingers were everywhere grabbing food. It wasn't long before they starting whining over who got more mozzarella cheese balls. Family-style dining wasn't off to a great start but I took a deep breath and looked at the melee as an opportunity to put some sharing strategies and good manners ("Please pass the..") into practice."
You can help your children to learn these manners by setting expectations. So, for instance, when my kids were smaller I would remind everyone of two concepts as we sat down to dinner: 1) take a little and you can always come back for more, and 2) everyone get some, so only take your share. I was impressed by how quickly my kids got these ideas (although it was more challenging when a favorite was out on the table).
2. It's a great way to guide kids about making smart food choices
My family started family-style dining when my son was in the depths of his picky phase and I was terrified that he would never eat another vegetable. To assuage my fears, I would encourage him to at least put a tiny amount on his plate. Sometime he would eat it, sometimes he wouldn't. But more interestingly, after a little while I started to notice that sometimes his little hand was going back for more of the vegetables. It hadn't suddenly changed him into a vegetable lover, but it had given him a sense of control which had opened him up to discovering some vegetables he actually liked.
Furthermore, when my kids' preschool made the switch to serving family-style snacks, they were floored to see how much more produce was eaten when the kids got to serve themselves.

3. It helps kids grow independence and self-confidence
Kids like to do things on their own, especially toddlers. Unfortunately, so often we find ourselves saying "no" to them dong things for themselves, either for safety reasons or to save time. But when you serve meals family-style, they get to serve themselves, which can nurture that sense of independence in a safe and positive space.
4. It improves motor skills and coordination
Have you ever thought about how much coordination it takes to put food on a plate? Food comes in many shapes, sizes, textures and consistencies and with it, a massive variety of serving utensils.
For toddlers and young elementary-aged kids, learning to use these serving utensils is great, practical motor skills practice that will help them with hand-eye coordination, as well as spatial reasoning.
5. It teaches children how to recognize hunger cues and know when they're full
When we first started serving our family dinners family-style, there were nights when both of my boys took WAY more food than their stomachs could handle, which resulted in stomach discomfort from overeating and food left on plates (which my noble husband then took to work for lunch the next day).
It drove me a little crazy, but the benefit was quickly realized as they learned not only to serve themselves with moderation, but also to listen to their bodies' hunger cues and recognize when they were full, which is a life skill that they will now have for a lifetime. (Side note: I have also noticed that since I got my kids to start packing their own lunches, they actually bring less food than I would probably pack for them, but now the lunchboxes come back empty much more often – because they only packed what they would actually eat!)
Like parenting, family dining styles are a matter of personal preference and taste. I don't believe in absolutes and, in fact, there are times when I still serve my kids pre-plated meals. Whether I serve pre-plated or family-style meals, though, the most important thing is that we spend quality time sharing meals with my family and talking about our day.