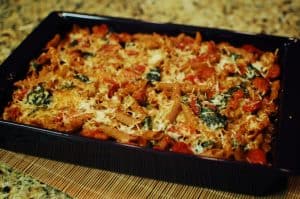 Guest Column by Kathryn Spindel, The Scramble's editor
It was always with a great chuckle that my friend Sarah and I bumped into each other in the grocery store, Sundays at 5 p.m. "What's on your menu?" we would muse before we both pushed on to get a good family dinner on the table at a reasonable hour. The task seemed easy enough, but the endless reality still set in – family dinner needed to be created EVERY NIGHT!
So we devised a simple plan for a family dinner share:
Coordinate schedules, deciding who cooks what night
Double the recipe you were going to make for your own family for that night
Share the extra portion with the other family. How easy is that?!
The plan is still in its infancy, but it has had a GREAT first week.
On Sunday evening, after a long day of errands with my daughter, I strolled over to Sarah's house to pick up family dinner– pulled chicken sandwiches, complete with buns and string beans on the side. Voila! Dinner was served!
On Tuesday and Wednesday, Sarah's family got to enjoy Canadian Maple Chicken, a yummy salad, and red potatoes (straight from a Scramble dinner plan), and then sautéed shredded vegetables served on pasta alongside a bowl of fresh fruit and whipped cream.
And on Thursday, nothing felt more relaxing while I was getting my hair cut, than knowing that I did not need to scurry out afterwards. Instead a leisurely saunter to Sarah's allowed our family to enjoy a delicious steak taco dinner.
We don't reimburse each other for ingredients because we figure what goes around comes around. In fact, I have realized that it is more economical to cook for two families at once, because ingredients are used up rather than lingering until they get wasted.
Another bonus is the renewed energy I have found in my meal planning. As much as I enjoy the indulgence of my dinner pick-ups, I am also reenergized to think about and create delicious dinners that both families will enjoy…kicking me out of my daily doldrums of cooking yet another meal for my family night after night after night.
There are still a few kinks to work out, but overall I only wish I had moved to Sarah's street years earlier.
If you'd like to try this dinner sharing idea with a friend or neighbor and want to wow them with easy, delicious, kid-friendly meals that are simple to prepare, sign up here for weekly dinner menus and shopping lists to make planning dinners every night of the week (or every other night!) easier.