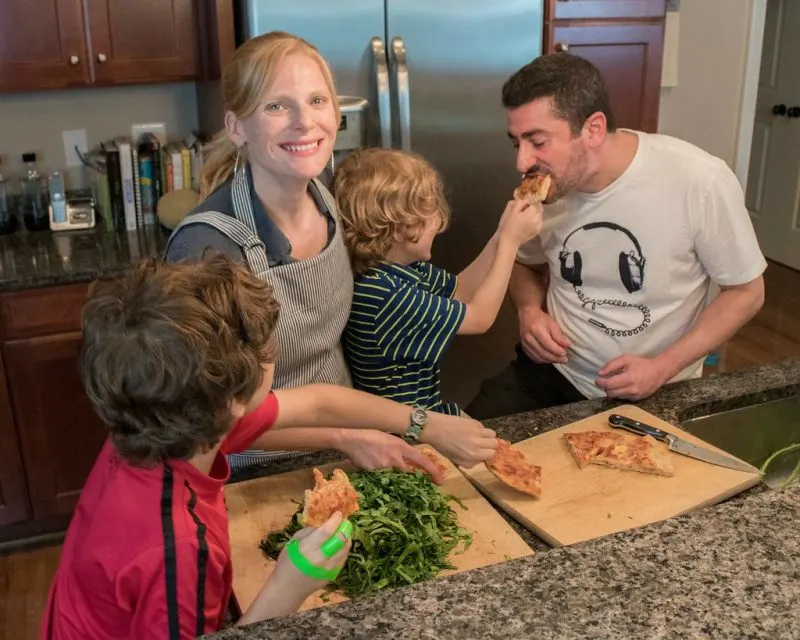 While the dinner routine on Sunday through Thursday at our house is pretty consistent (I make dinner and we sit down as a family to enjoy it), Fridays and Saturdays are often wild cards – especially as our kids get older and have various plans.
On Fridays, in particular, though I usually try to do something as easy as possible, since I am usually pretty wiped out. For me, it often means pulling together a meal from leftovers or odds and ends so I can use up food before I do my meal planning and shopping for the next week.
Other families do it differently. For my friend Jeanne, it means heading to a local Italian restaurant with her family. My colleague Betsy often picks up a fresh pizza from the grocery store and makes a big salad to go with it. Finally, for some of our friends and Scramblers, Friday night dinners are extra special because they celebrate Shabbat with their families.
Friday Night Dinner Ideas
If you struggle to pull dinner together on Fridays, the night that bridges the week and the weekend, we've got a couple suggestions that may help give you some Friday dinner ideas: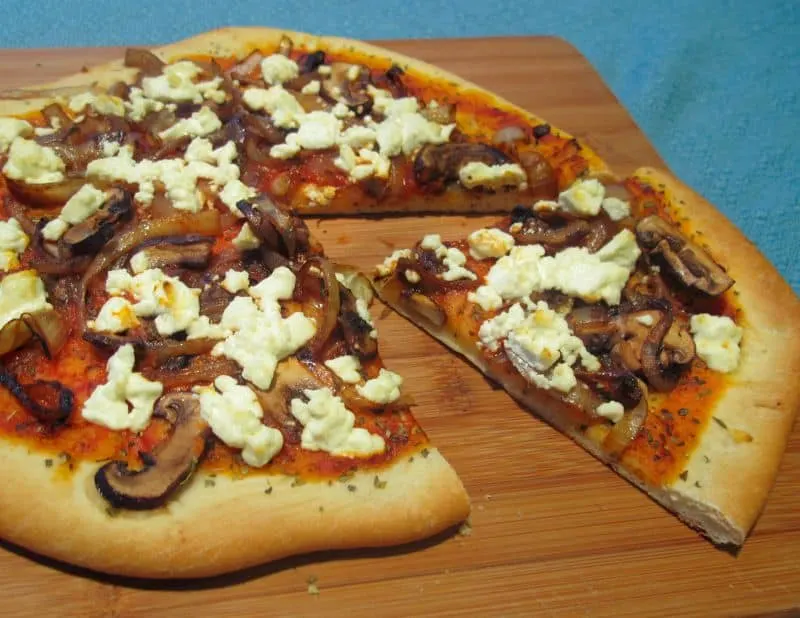 Make your own pizza
When everyone in my family is home on Friday nights, we love to do a family movie night and enjoy it with homemade pizza. While making pizza may sound like a chore, it can be really easy and fun to make as a family. Use some store-bought or bread machine dough, sauce, shredded cheese, and any toppings you choose and you can have everyone make their own pizza. Or, if making round pizzas sounds too hard, use a baking sheet instead and make rectangular pizzas which are easier to shape right in the pan. For an even easier version, you can pick up a plain (unbaked) cheese pizza at the grocery store and then put your own toppings before baking.
If you want further inspiration for this, check out our homemade pizza recipe!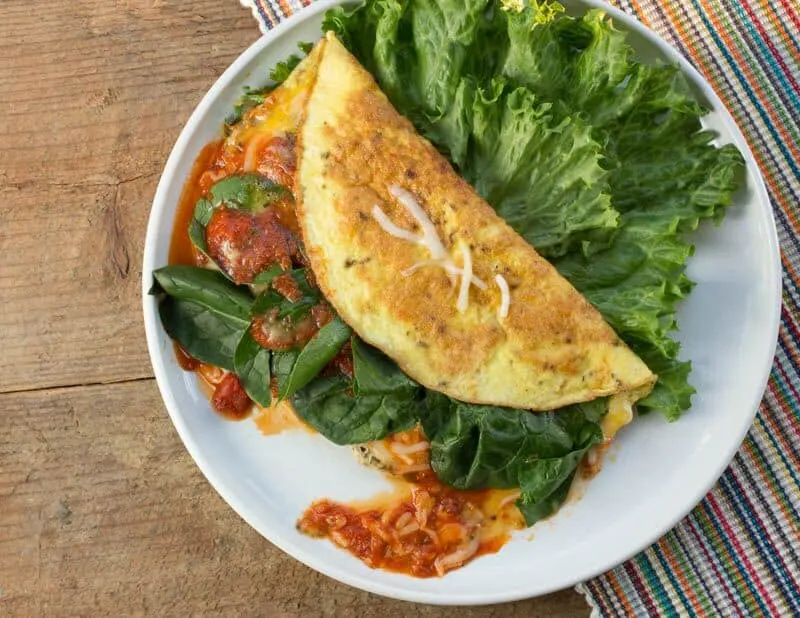 Omelet bar
This is inexpensive and quick and can take advantage of leftovers you have in your fridge or pantry. Roasted or steamed vegetables, leftover diced proteins, grated or crumbled cheese, and even leftover pesto sauce are all great additions. You can set out the fillings and then family members can customize the omelet to their liking.
Added bonus: while the kids are in the kitchen with you, you can show them how an omelet is made! (If you need tips on making an omelet, check out our Pizza Margherita Omelet recipe!)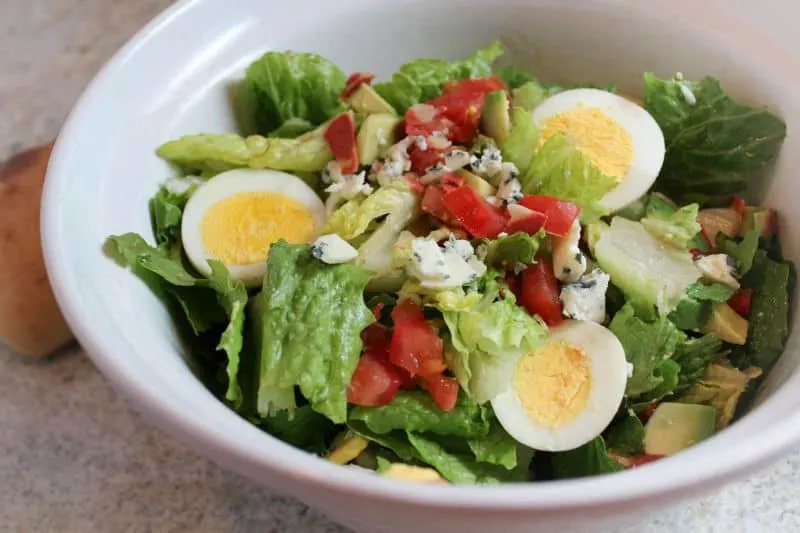 Salad bar
What I love about creating a salad bar is that you can get away with throwing so many ingredients into a salad including veggies, beans, cheese, fruit, nuts, leftover proteins (like chicken, tofu or beef) and more. This is a great way to use up leftovers and to create a wholesome and filling meal without doing much work. If you're inspired enough to make your own salad dressing, check out these recipes.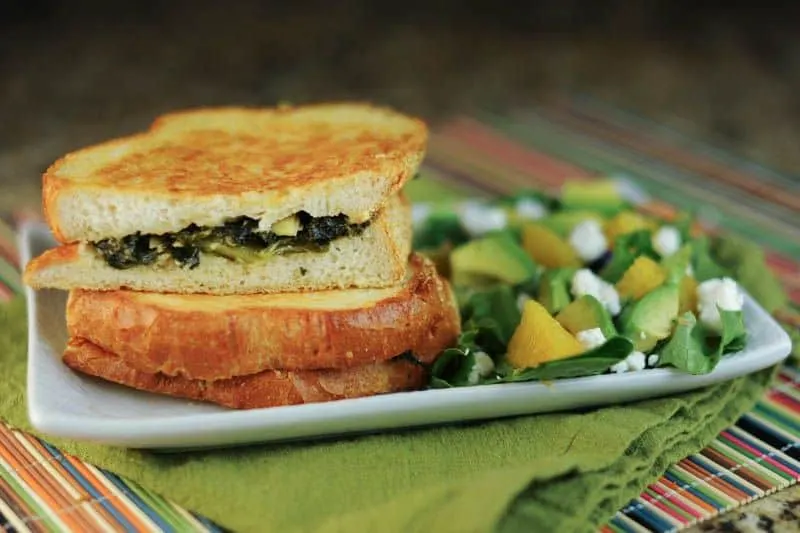 Grilled Cheese Bar
Put out slices of bread, various cheeses, leftover cooked vegetables and proteins, raw vegetables (such as baby spinach, sliced bell peppers, and sliced tomatoes), pesto or marinara sauce (if you've got it), and deli meats (if desired). Then let everyone build their own perfect grilled cheese sandwich. Grill them all up at once in one or two skillets, or on a griddle or panini press, and serve with a salad. A guaranteed hit!
If you want grilled cheese inspiration, check out this version or this one.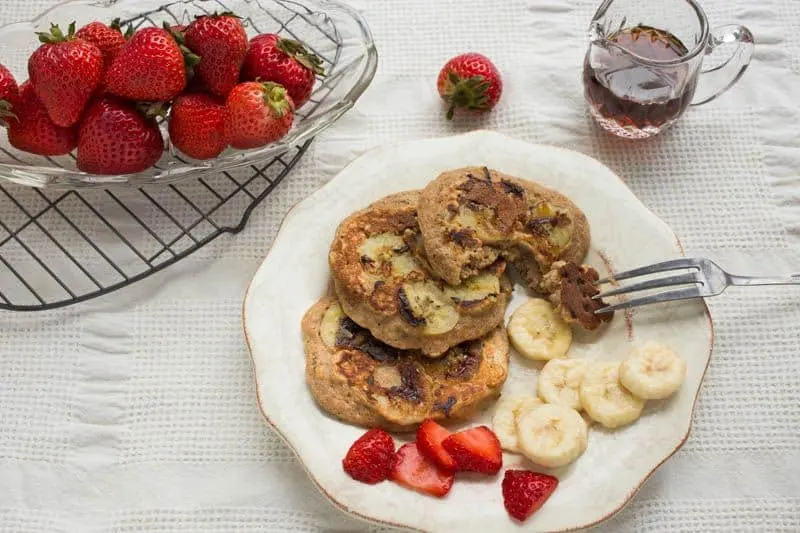 Breakfast for Dinner
Some people call it Brinner, others call it Upside Down Night, whatever the name, breakfast for dinner always feels like a special treat. Whip up some pancakes or waffles, scramble some eggs, make some toast, cook up some bacon or sausage (meat or vegetarian), and slice up some fruit for a fun, change-of-pace dinner!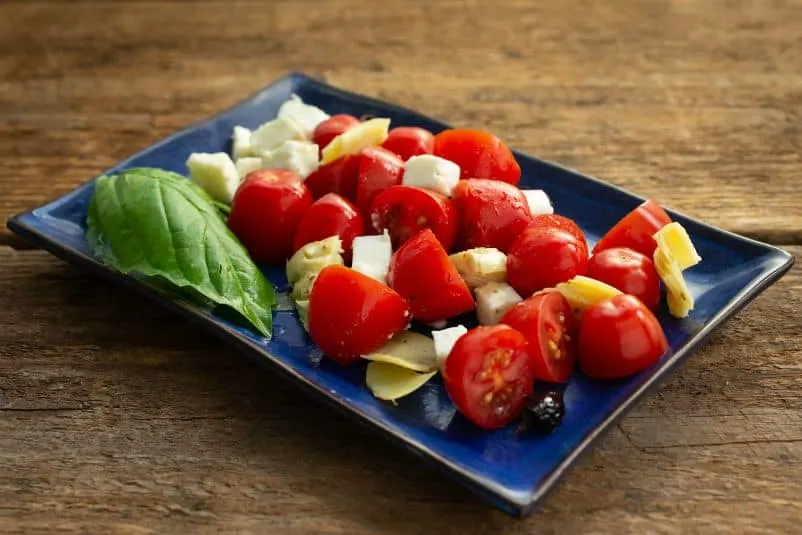 Lazy Picnic
After a week of making Scramble meals, I love to set out all the leftovers so we can finish them up. No waste, no fuss!
I often cut up extra veggies such as carrots, celery, cucumbers, and bell peppers. With these, I serve other munchable leftovers such as hummus, cheese, olives, pita or pita chips, avocado (which I sometimes turn into guacamole with a little lime juice and salt); cooked pasta; small containers of cooked vegetables, beans, or meat; and anything else that needs to get eaten.
Sometimes, when it's nice outside, we can eat in our backyard or at our community pool.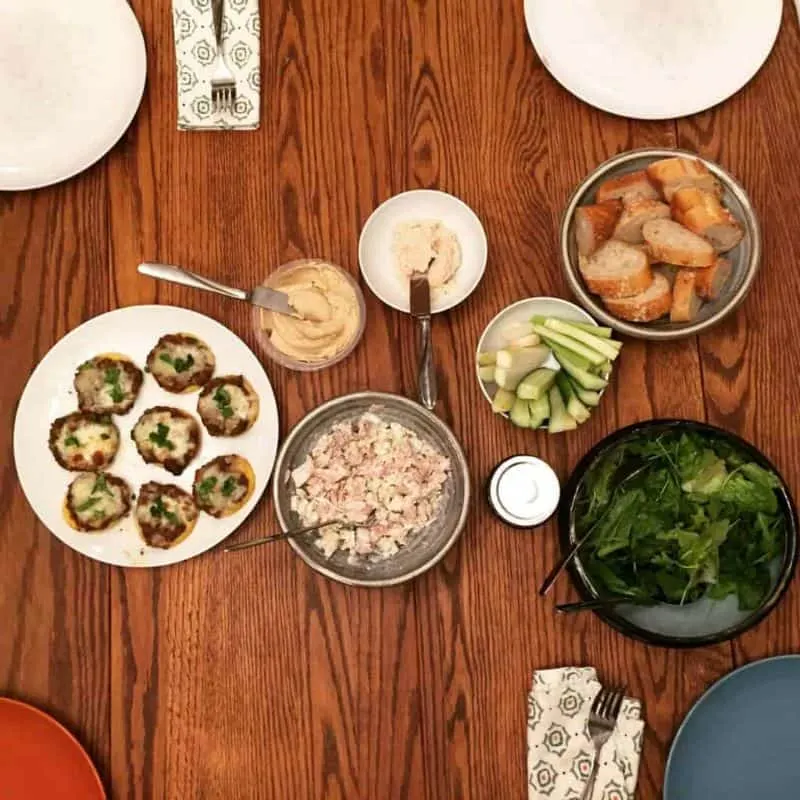 Appetizer Night
This is my whole family's favorite! While similar to the "Lazy Picnic," it is when I take the leftovers and turn them into finger foods (along with other appetizery-type foods we already have in our freezer such as dumplings, edamame, samosas, etc.).
Here are some examples of what you might find on the table for one of our appetizer nights:
bruschettas (crusty bread toasted) with a leftover vegetables that are pureed and topped with any kind of cheese and then broiled
pizza bites: sliced French bread topped with with marinara or pesto sauce and grated cheese and then broiled until the cheese melts
a veggie platter with hummus, dip, or dressing
baked tofu with teriyaki dipping sauce
shrimp cocktail
What are your typical Friday dinners like? Do you treat it like any other night of the week or choose to do something different, either just for fun, because all your family members are going in different directions, or simply because you're spent from a busy week? Please share your Friday night routine below or on The Scramble Facebook page.
Sign up here for weekly dinner menus, our check out our specialty meal plans and ecookbooks to make planning dinners every night of the week easier.