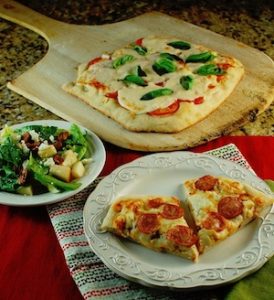 While the dinner routine on Monday through Thursday at our house is pretty consistent (I make dinner and we sit down as a family to enjoy it), Fridays and Saturdays are often wild cards.  With two kids going in different directions for activities and social plans, it's sometimes a little harder to plan for Friday and Saturday night dinners.
Do your Friday dinners stray from your typical weeknight routine?  If so, how?  For me, it often means pulling together a meal from leftovers or odds and ends so I can use up food before I do my healthy meal planning and shopping for the next week. For my friend Jeanne, it means heading to a local Italian restaurant with her family.  My colleague Betsy often picks up a fresh pizza from the grocery store and makes a big salad to go with it.  For some of our friends and Scramble members Friday night dinners are extra special because they celebrate Shabbat with their families. If you struggle to pull dinner together Fridays, the night that bridges the week and the weekend, we've got a couple suggestions that may help give you some Friday dinner ideas:
Make your own pizza
This can be really easy with some store-bought or bread machine dough, shredded cheese, sauce, and any toppings you choose.  For a shortcut, you can pick up a plain (unbaked) cheese pizza at the grocery store and then put your own toppings on it before baking.
Omelet bar
This is inexpensive and quick and can take advantage of leftovers you have in your fridge or pantry.  Family members can customize the omelet to their liking.
Salad bar
What I love about creating a salad bar is that you can get away with throwing so many ingredients into a salad including veggies, beans, cheese, fruit, nuts, leftover proteins (like chicken, tofu or beef) and more.  This is a great way to use up leftovers and to create a wholesome and filling meal without doing much work.  If you're inspired enough to make your own salad dressing, check out these recipes.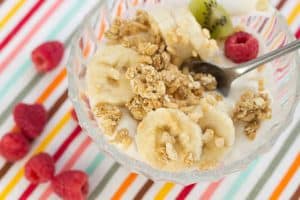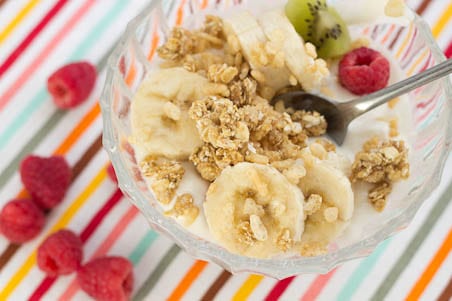 Yogurt bar
Yogurt bars are a great option for dessert on Friday nights (or breakfasts any day of the week).  Click here for some suggestions for what to include.  (Bonus:  Creating your own yogurt bar is way healthier and less expensive than heading out to your local yogurt shop!)
Lazy picnic
(This is my personal favorite!)  After a week of making Scramble meals, I love to set out all the leftovers so we can finish them up.  No waste, no fuss!  I often cut up extra veggies such as carrots, celery and bell peppers.  With these, I serve other munchable leftovers such as hummus, cheese, olives, pita or pita chips, cooked pasta, avocado (which I sometimes turn into guacamole with a little lime juice and salt), any small containers of cooked vegetables, beans or meat and anything else that needs to get eaten.  Sometimes I call this a lazy picnic as I don't have to turn on the oven and when it's nice outside, we can eat in our backyard or at our community pool.
What are your typical Friday dinners like? Do you treat it like any other night of the week or choose to do something different, either just for fun, because all your family members are going in different directions, or simply because you're spent from a busy week?  Please share your Friday night routine below or on The Scramble Facebook page.
Sign up here for weekly dinner menus to make planning dinners every night of the week easier.