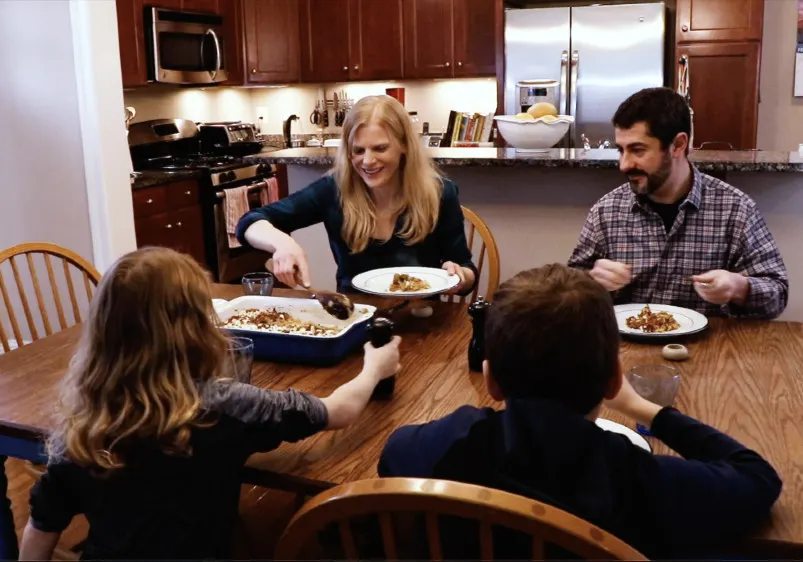 I am a big believer in family dinners. I mean, how can I not be? After all, I run a blog and meal planning service that's primary goal is to make family dinners easier and less stressful! But, I also know how challenging it can be to make them happen, especially with divergent or packed schedules. Given this reality, I thought it would be helpful to share some tips and suggestions on how to have family dinners when you're busy.
The Reality of Family Dinners
According to The National Center on Addiction and Substance Abuse at Columbia University, kids and teens who share family dinners three or more times per week:
Are less likely to be overweight
Are more likely to eat healthy food
Perform better academically
Are less likely to engage in risky behaviors (drugs, alcohol, sexual activity)
Have better relationships with their parents
These are compelling reasons why we should prioritize family dinners. I would also add that family dinners can be a lot of fun and can often be the source of family stories, jokes, and memories that last a lifetime.
But the reality is that they can also be challenging for a variety of reasons, including:
Packed schedules that make getting everyone around the table at the same time difficult
Busy schedules that make preparing a meal in time hard
Tensions at the table around picky eating, table manners, or other family dynamics
In many ways, we are expected to live up to an unachievable ideal that is based on a different era, not to mention a very specific socio-economic reality.
So, does that mean that we should give up on family dinners as an impossible dream? I don't think so! But I do think that we need to change the way we envision what family dinners look like and make them more realistic for our busy lives.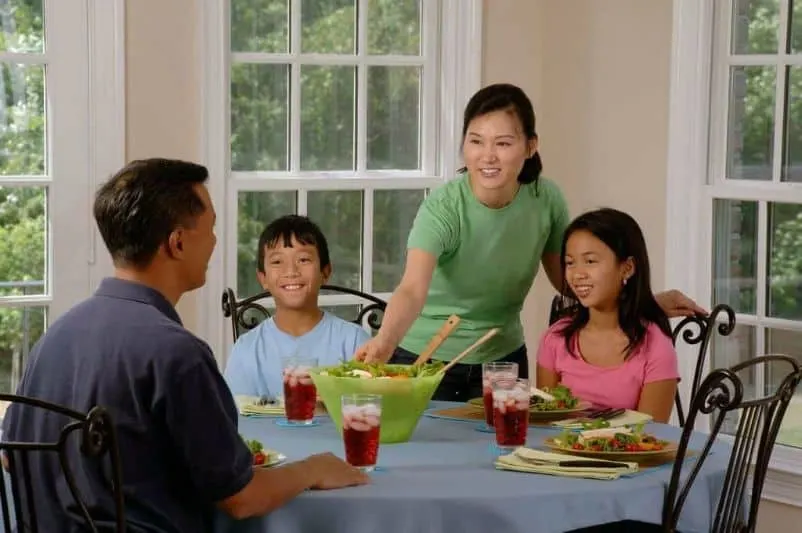 How to Have Family Dinners When You're Busy
There are many reasons why families can be seemingly too busy for family dinners including: long work days or late arrival home from work, kids' extracurricular activities, parent volunteer obligations, etc.
While these reasons may make it impossible for everyone to sit down together every night, that doesn't mean that common meals can't be shared. Here are some ideas how to have family dinners (or other meals) together when you're busy.
Doesn't Need to be Everyone
When my kids were little, my husband got home too late from work to be able to have a full family dinner and still get the kids to bed at a reasonable time, so we decided to be flexible. Each night, I would make one meal (no short-order cooking or making multiple meals) and then serve it in two rounds.
In the first round, the kids would eat their full meals and I would sit with them and eat a small amount (usually the vegetable in order to model vegetable eating to my then picky eater). If my husband got home during the first round, he would join us at the table for the end of the meal and eat a little bit as well.
In the second round, my husband and I would eat dinner together after the kids had gone to bed. Then, on the weekends, we prioritized sharing as many meals together as possible.
As my kids have gotten older and all of our schedules have gotten more complex, we have stuck to this model, although our timing has become more flexible as well. Dinner is served every night to whoever is home to sit down together to eat it. Most nights all four of us are able to eat together, but when that isn't possible, the other two or three of us will still share a mealtime.
Bonus tip: Got an older kid who gets home late from practice? Save them a plate of food to reheat and then, when they're eating it, sit with them to have some nice, quiet one-on-one time.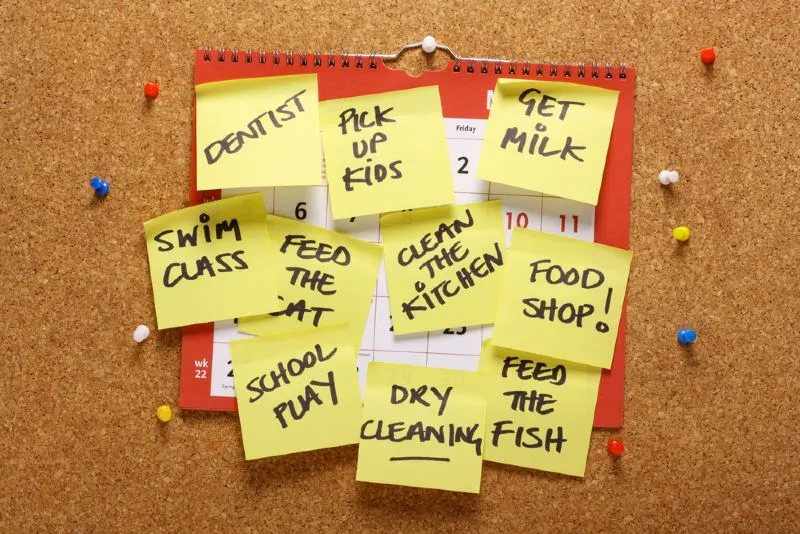 Set a Goal
While daily family dinners with the entire family together may be the ideal that we have been told to expect and strive for, that is often unrealistic in these busy times. Instead, try to set a goal for a certain number of meals a week when the family can all sit down together and then let the others play out in whatever way best fits your family's schedule.
Whether it is one meal, three, five, or ten is entirely up to your family, but aiming for a goal can be helpful if you are trying to gather everyone together.
Doesn't Have to Be Dinner
This is a really important point: the meals that you share with your family do not need to be dinner. If breakfasts work better for your family, great. Weekend brunches? Awesome. The idea is to find some mealtimes when you can connect, not that they need to be at the end of the day.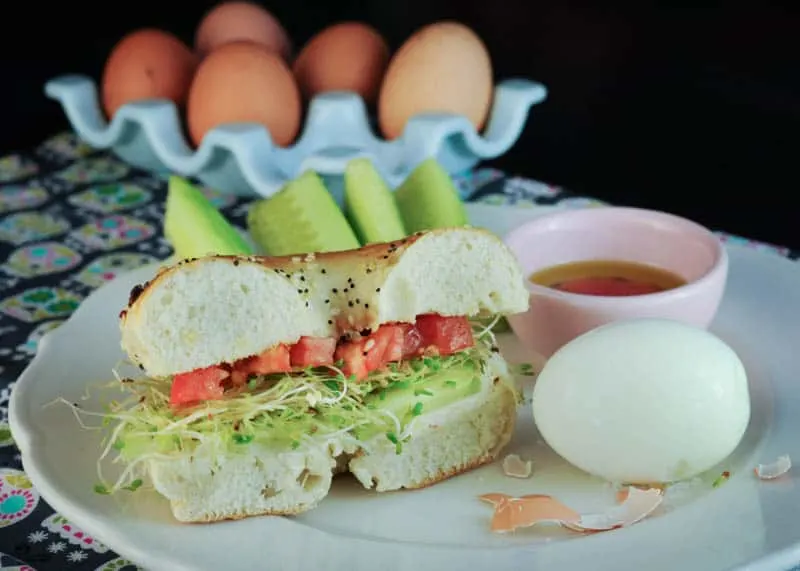 Doesn't Have to be Perfect
When it comes down to it, there are two purposes to sharing family meals: to get food into everyone's bellies and to have time together. Everything else is a bonus.
The meal doesn't have to be perfect
While we tend to think of family dinners as being a complete meal with protein, carbohydrates, vegetables, and maybe even a dessert at the end, I believe that we should be more realistic. The goal is to share a meal. So, if that means that you serve sandwiches and sliced apples, I believe that has just as much value as a meal of roast chicken, mashed potatoes, and sautéed spinach.
The time together doesn't need to be perfect
Similarly, while of course we want these family meals to be light-hearted and fun (check out our post on fun dinner games), there will be times when tensions arise. That is ok. Sometimes families need to process things, to fight, to work things through.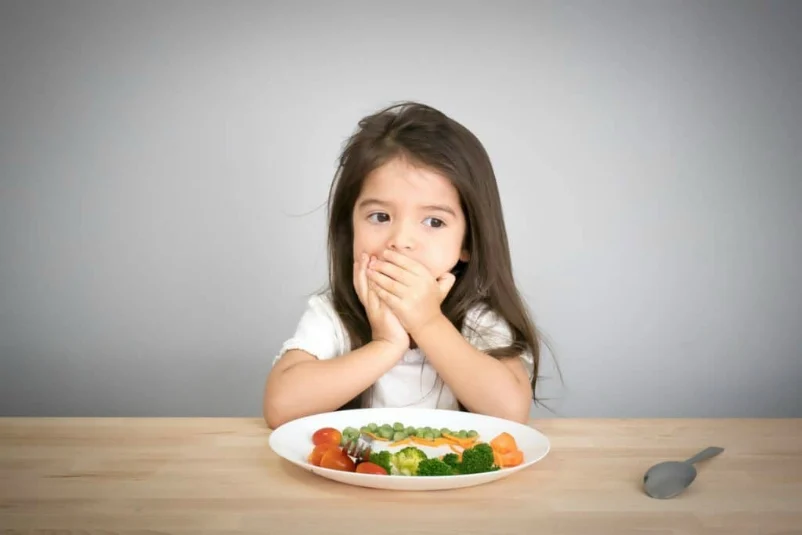 The manners don't need to be perfect
This is especially important for those of us that only get a few meals together a week. While teaching our kids good table manners is important, having time together is even more so. So, if you find that reminding your kids of their manners is leading to building tension, consider letting some of it slide or offering just one or two gentle reminders per meal.
I do have one caveat to this piece of advice, however, as there is one rule at my house that is enforced without exception: being rude about the food that is served is never acceptable. Words such as "gross," "yuck," or "ewwww" are not allowed. Period. Instead, people can keep those thoughts to themselves, politely say that a dish is not their favorite, or even better offer helpful, constructive feedback. For example, saying "I think I would have enjoyed this with more salt" or "I think this was a little too mushy for me" is helpful feedback that can be used in the future and is always welcome.
The Proof is in the Pudding
Recently, my younger son started having a band practice that begins at 6pm and goes until just before bedtime, which means that he needs to eat a super early dinner. For two weeks in a row now, my older son has offered to eat early with him, so that he doesn't need to eat alone. For me, this has served as lovely proof of the impact that family dinners have had on our family.