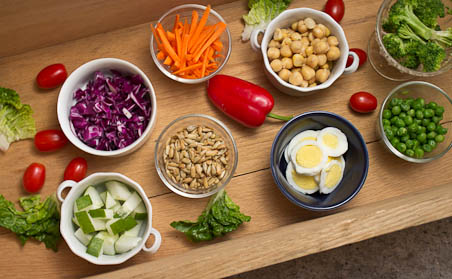 I have found that one of the easiest ways to get kids excited about eating more vegetables and legumes is to set up a mini salad bar on your kitchen counter or dinner table with lots of colorful ingredients. Salad bars give kids control of their meal by allowing them to create their own personalized plate. Kids are also more adventurous in a group setting where they see what other kids are trying.
Salad bars should be rich in color and texture. Some kid-favorites are:
shredded carrots
diced cucumbers
steamed broccoli florets
raisins or dried cranberries
chickpeas
sunflower seeds
diced cooked beets (really!)
olives
grape or cherry tomatoes
edamame
shredded purple cabbage
With these "raw" materials, kids are sure to be creative in making not only healthy salads, but also funny faces, pictures and structures – and then eating them! What a fun and easy way to eat your veggies.
What are your family's favorite salad bar items?