Did you know that dark leafy green vegetables are one of the things that we are missing most in our diets? To help you to get more of these nutritional heavyweights into your diet, here are tips on how to prepare greens and recipes to get you started.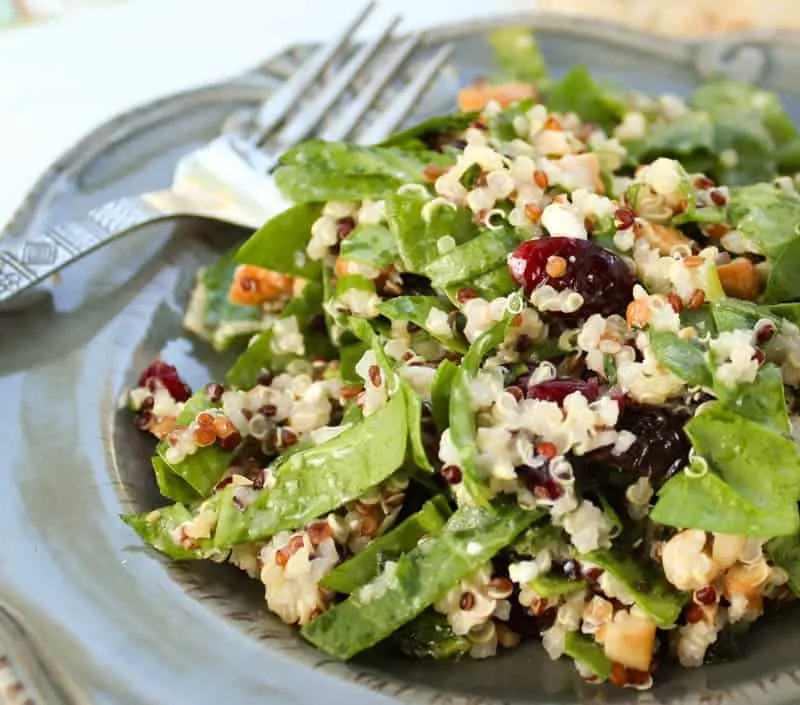 How to Prepare Greens and Recipes to Get You Started
When I was a health coach, I once had a client who was really motivated to improve her diet and one of our main focuses was to include more dark leafy green vegetables. At the end of a session, one of the tasks I assigned to her was to try to incorporate leafy green vegetables into her diet at some point each day. She chose to do it at lunch. When we next met, two weeks later, her report back was astonishing. She had discovered that when she ate dark leafy greens at lunchtime not only did she avoid the 2pm slump, but she actually found she had "light and focused energy for the rest of the day." It was a breakthrough and convinced her of the power of greens.
When we think of greens we tend to think of salads, which is a great way to incorporate them into your diet, but there are so many other ways as well, many of which can be especially helpful when introducing greens to your kids. So I wanted to share some tips on how to prepare greens and some recipes to get you started.
Different Varieties of Greens
While we tend of think of spinach and kale, there are actually many different vegetables that are included in the greens category:
Arugula– The spiciness that is often associated with arugula will be less intense in the younger, smaller leaves. It makes a wonderful addition to salads, but is also fantastic on top of pizza (after it comes out of the oven) and in pesto.
Beet greens– With a slightly bitter taste, beet greens benefit from getting sautéed. They also pair beautifully with the beets themselves, so consider a warm (or cold) salad with both!
Bok choy– A staple of Asian cuisine, bok choy is a fabulous addition to stir-fries, soups, and salads.
Broccoli– Perhaps an unexpected addition to the list, broccoli is a crowd pleaser that can be enjoyed raw, steamed, roasted, and incorporated into soups, stews, and casseroles.
Cabbage– With its thick leaves, it can make a nice hearty addition to salads and wraps, but is also delicious sautéed or roasted (my personal favorite).
Collards– With a bit of a stronger, more bitter flavor and thick leaves, collards do best when sautéed with some garlic.
Kale– This nutritional powerhouse can be eaten raw in salads or smoothies, sautéed, or even roasted into chips.
Lettuce– The classic. A great one to use as a base for salads or in sandwiches and wraps.
Micro-greens- Small but mighty, these baby greens can make a powerful addition to any salad or sandwich.
Mustard greens– With a spicy kick to them, mustard greens are fantastic sautéed.
Spinach– Offering a nice, mild taste, spinach can be used in a wide range of recipes from soups and stews to muffins and smoothies.
Swiss Chard– Another option with a milder taste, Swiss chard is delicious when sautéed, but is also a great addition to soups and stews.
Turnip greens– To reduce food waste, consider sautéeing these greens with some garlic and then serving them with the cooked turnips themselves.
Watercress– Another slightly bitter and spicy green, watercress makes a good addition to salads but might be a bit overwhelming on its own.
Nutritional Benefits of Greens
While each different green offers unique health benefits, there are some commonalities among them all that make them nutritional powerhouses. For instance, these vegetables are packed with iron, fiber, potassium, calcium, and magnesium.
Cancer Warriors: The fact that greens have carotenoids-antioxidants, other antioxidants, and folate means that they are incredibly potent when it comes to protecting cells from cancer including breast, cervical, lung, stomach, and skin cancer.
Protecting Your Ticker: The high levels of folate and antioxidants present in greens means that they are also very good for your heart.
How to Prepare Greens
The first step in green preparation is to stem them. There are two methods to do this.
By hand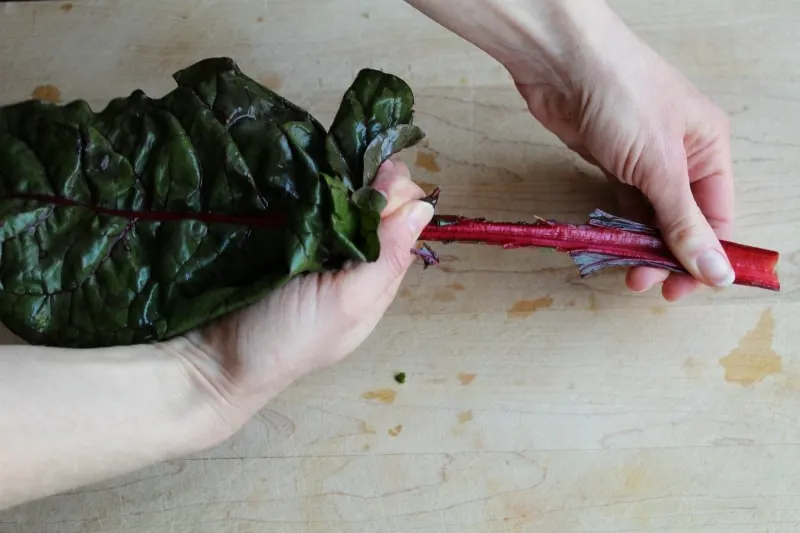 This method is great if you are going to be doing a rough chop of your greens. Hold onto the stalk with one hand away from you, grab the leaf with the other, and pull the leaf towards you. This will strip the leaf from the stem.
With a knife
If, on the other hand, you are going to want a chiffonade (a ribbon-like chop) that is fantastic for sautéeing, then you will want to lie the leaf flat on the counter and run your knife along each side of the stem.
Then just pull the stem out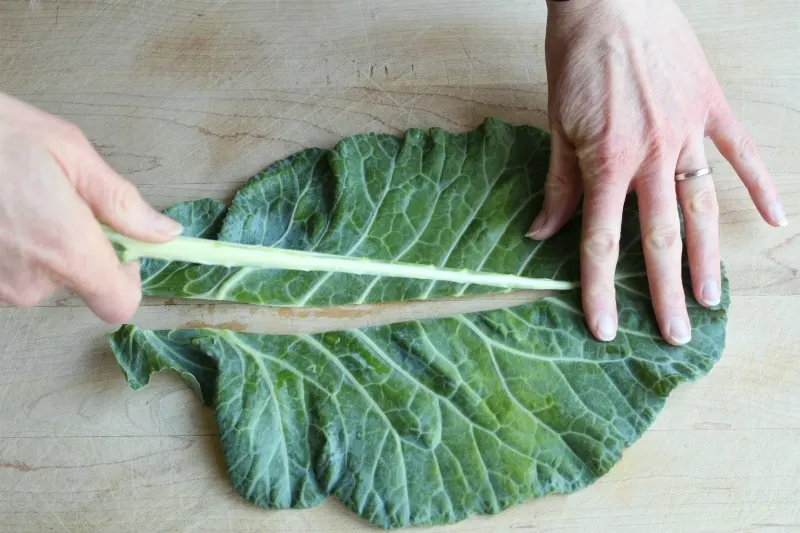 Once the leaves are off the stems, you can decide whether or not you want to include the stems in the dish (I like to add them into sautées because they add a crunchiness I really enjoy), save them to use in homemade vegetable or bone broth, or toss/compost them.
Then it is time to chop the leaves. This can be done in a number of ways.
For the roughest version, you can tear the leaves (or include your kid in the cooking by asking them to tear up the leaves for you).
For a more controlled rough chop, just pile the leaves and cut vertically and then horizontally, as big or as small as you would generally like the pieces to be.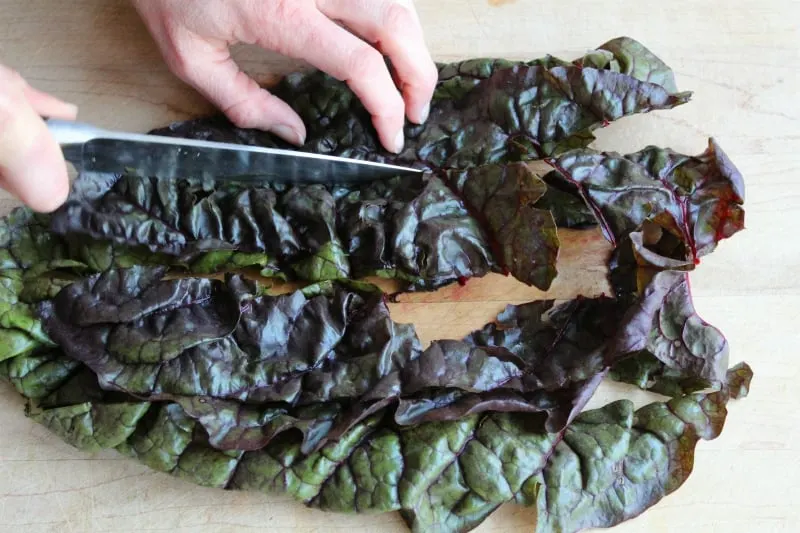 For a chiffonade, pile 2 – 3 leaves on top of each other,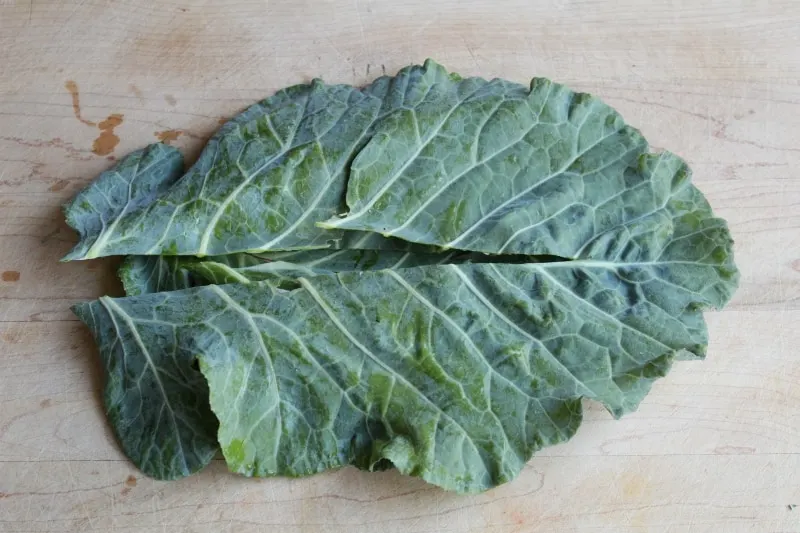 roll them like a cigar lengthwise,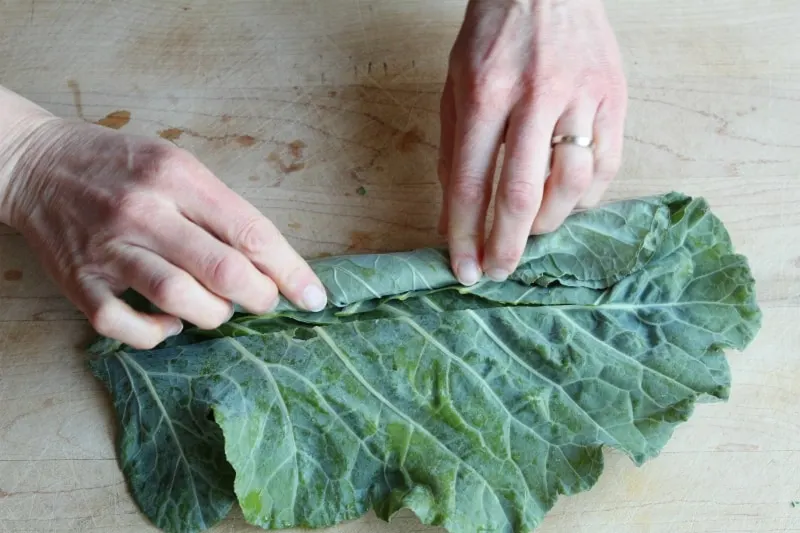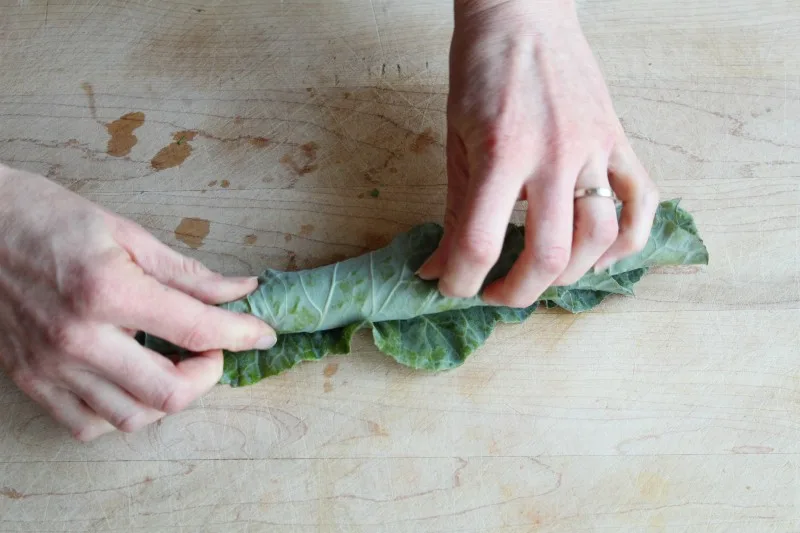 and then cut across the roll in thin slices.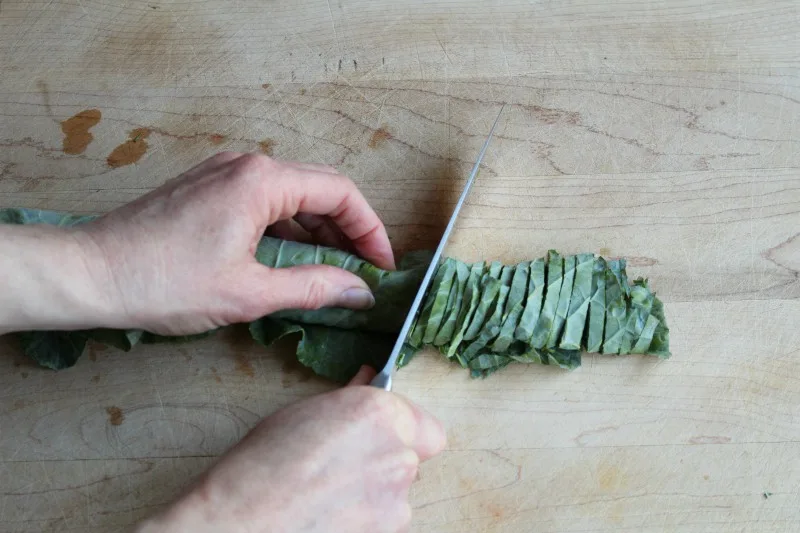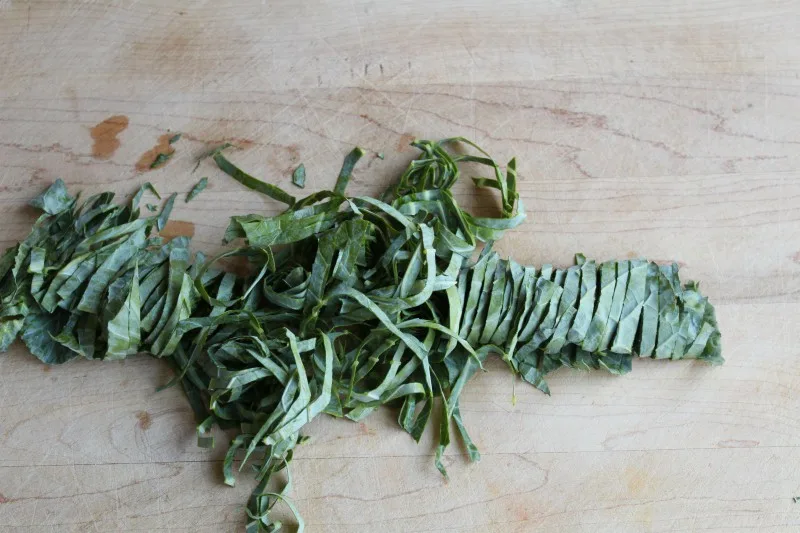 After you have chopped the leaves, the easiest way to wash them is in a salad spinner.
For simple sautéed greens, you can just heat up some oil in a skillet, toss in some minced garlic if desired, toss in the greens, and sauté them with some salt and pepper until they have turn bright green.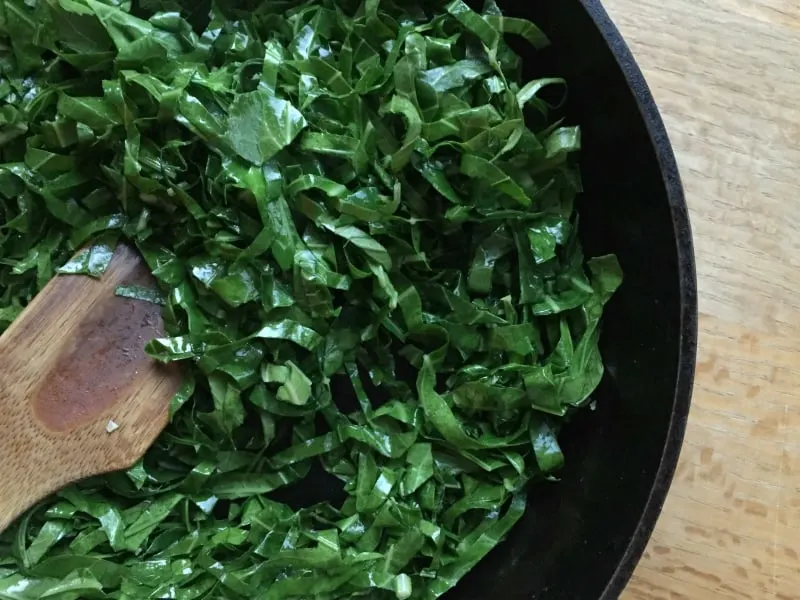 Otherwise, you can add them to sauces, soups, stews, and casseroles for a nice nutritional boost in any dish.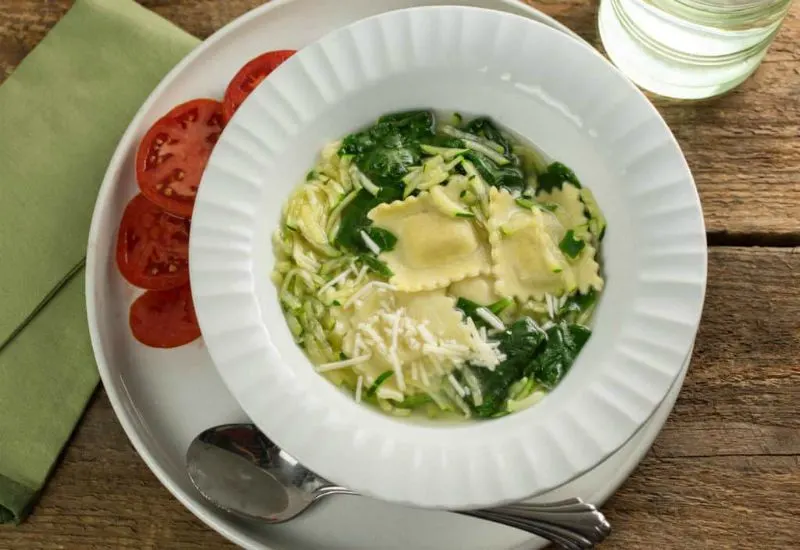 Recipes with Greens to Get You Started
Here are some of my favorite ways to prepare greens.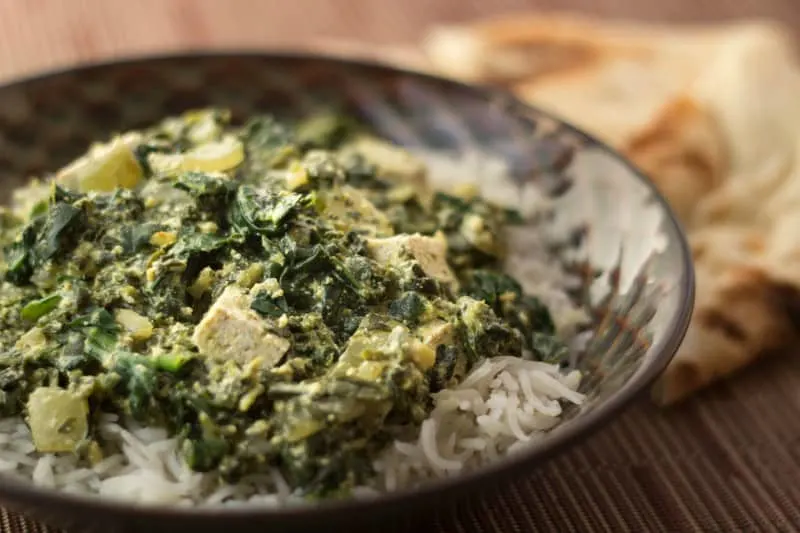 Indian Curry with Spinach and Silken Tofu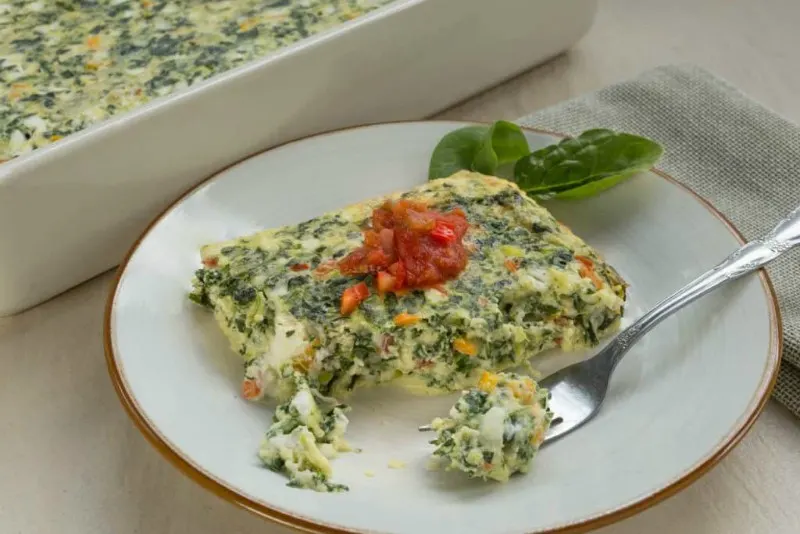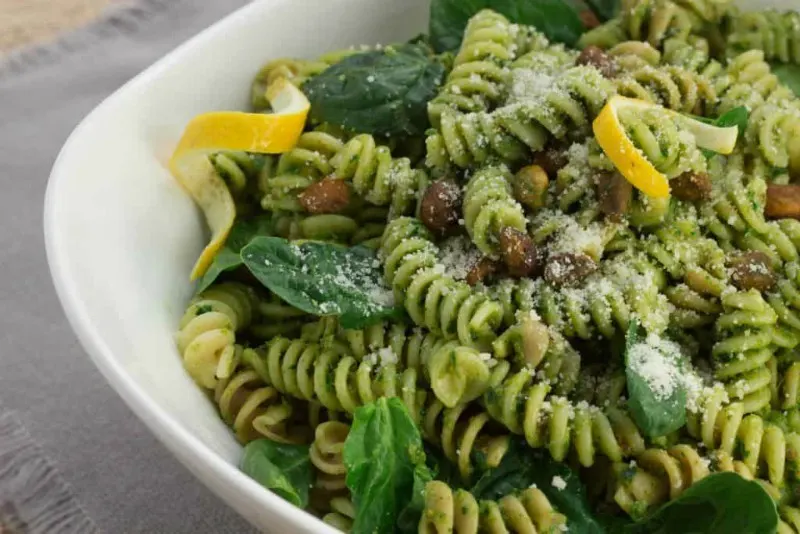 Fusilli with Pistachio-Arugula Pesto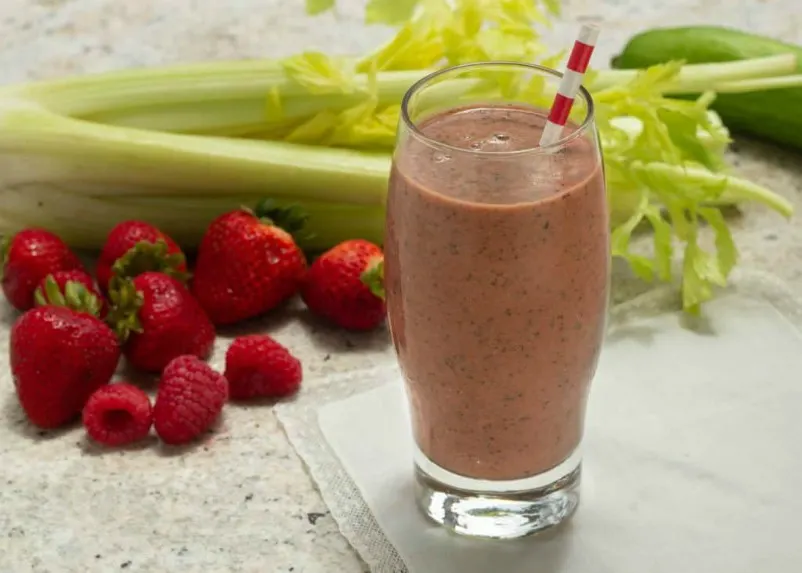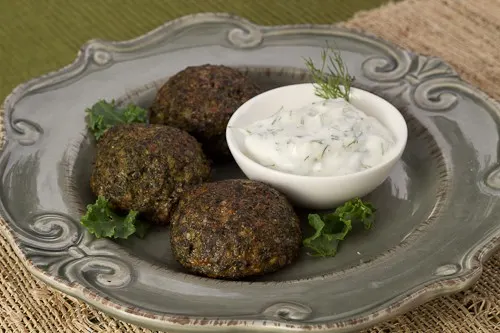 Kale Balls with Creamy Dill Dip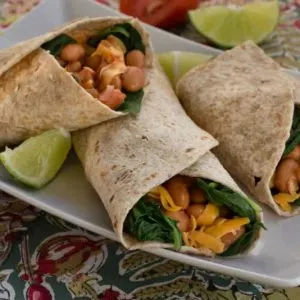 Spinach Burritos
Burritos make such a simple and satisfying meal, and there are endless variations you can create, depending on your family's palate. These are reminiscent of some fantastic burritos from Burrito Brothers in Washington, DC.
Ingredients
1

Tbsp.

extra virgin olive oil

30

oz.

canned pinto beans

drained and rinsed

1/2

cup

salsa

plus extra for serving, look for brands with no sugar added

9

oz.

baby spinach

1/2

cup

shredded Cheddar cheese

or use Monterey jack cheese

6

whole wheat tortillas

burrito size, or use flour tortillas, use wheat/gluten-free, if needed
Instructions
In a large skillet, heat the oil over medium heat.

Add the beans and salsa and cook them for 3 – 5 minutes, stirring occasionally, until heated through.

Meanwhile, in a loosely covered, microwave-safe bowl, wilt the spinach in the microwave, about 2 minutes.

Add the spinach to the beans and salsa and stir it gently. Remove the bean-spinach mixture from the heat and gently stir the cheese into the skillet.

Warm the tortillas in the microwave (about 1 minute on high).

Put a scoop of the bean-spinach mixture in the lower middle of each tortilla. Add additional salsa, if desired. Fold half the tortilla up over the beans, and roll it up to secure it. Serve them immediately so they are still warm or assemble and freeze for up to 3 months.
Slow Cooker Directions
Either fresh or frozen spinach may be used for this recipe. Omit the oil. Combine the spinach, beans, and salsa in the slow cooker, and cook on low for 2 – 3 hours. At serving time, mix in the cheese, and then assemble burritos as directed. (Slow cooker cooking times may vary—Get to know your slow cooker and, if necessary, adjust cooking times accordingly.)
Notes
Do Ahead or Delegate: Prepare the bean/spinach mixture and refrigerate (add the cheese when you are ready to roll the burritos), shred the cheese if necessary and refrigerate.
Scramble Flavor Booster: Sauté one seeded and diced jalapeño pepper with the beans, and/or use spicy salsa.
Tip: Do your burritos often fall apart? Tortillas are much easier to fold and less likely to break if they're a little warm, so make sure not to skip this step in your preparations. After folding up your burrito with the fillings, let it sit for about a minute so the tortilla can mold to the filling.
Video: Watch Jessica make then on Facebook Live!
Want to make beans from scratch? Check out our post on how to make beans in the slow cooker or Instant Pot pressure cooker.
Like this recipe? Check out The Scramble's family-friendly meal plans to see just how simple getting dinner on the table can be!
Nutrition
Calories:
325
kcal
Carbohydrates:
47
g
Protein:
14
g
Fat:
10
g
Saturated Fat:
3
g
Polyunsaturated Fat:
1
g
Monounsaturated Fat:
3
g
Cholesterol:
9
mg
Sodium:
903
mg
Potassium:
692
mg
Fiber:
11
g
Sugar:
5
g
Vitamin A:
4186
IU
Vitamin C:
13
mg
Calcium:
263
mg
Iron:
4
mg