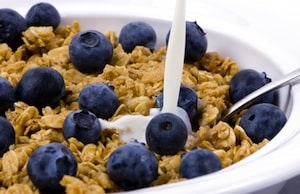 One of the things I love about travel is the chance to observe so many different ways of doing things once we break out of our routines, especially around food. Lately, as I've been on the road more than usual working with corporations (Want me to come visit your company? Learn more here), I've started to notice how efficiently and effectively hotels handle breakfast.
In many ways, hotels have the same issues that many of us face each morning with our families — a time expanse of a few hours where sleepy diners need to float in to the dining area, grab some sustenance and then rush out to meet the school bus, carpool or morning commute.
Of course, the easy approach is a sugar-laden donut or breakfast tart.  But, with a little planning, it is possible, even easy, to have a filling, healthy breakfast each morning for you and your family that will keep you fueled until lunchtime.
Taking a page from some nicer travel spots I've visited, the key is to set up a "buffet" that can be organized the night before and then pulled out by the earliest riser. Here is a selection of items we can easily have on our own healthy breakfast buffets without too much effort:
• Storage containers filled with a variety of whole grain cereals and dried fruit
• Individual servings of cottage cheese and yogurts (preferably without lots of added sweeteners)
• A basket of whole grain English muffins, bagels and/or toast
• Waffles, pancakes or muffins made and frozen in advance
• A collection of healthy spreads: fresh fruit jams, natural peanut and other nut or seed butters, pure maple syrup, cream cheese
• Hard-boiled eggs (you can even buy them pre-made and peeled)
• A plate of lean cold cuts (turkey, ham), smoked fish and sliced cheese
• A plate of seasonal cut fruits
• Bowls of granola, nuts or trail mix
Here are a few recipes for quick and healthy breakfast smoothies. You can even put the ingredients in the blender the night before and blend them in the morning:
Cucumber Lime Elation Smoothie
Four Veggie Blast Smoothie
What's your favorite healthy breakfast that your family can eat fast or grab and go? Share your thoughts and suggestions on here or on The Scramble Facebook Page.