Halloween has always been one of my favorite holidays. I love the community aspect of it—everyone opening their doors to their neighbors and sharing food. I relish how people, young and old, take the time to play and have fun. I enjoy the spookiness of being out at night and the excitement of never knowing when a ghoul or ghost might jump out at you. I adore the creativity shows up in so many of the costumes.
But the reality is that Halloween can also be stressful, especially for parents. Between school parties, neighborhood gatherings, and trick-or-treating, the amount of sugar that comes into our homes is staggering. It can be challenging to navigate the onslaught of candy, cookies, and other treats that are offered.

How to Handle the Sugar at Halloween
Over the years I have tried a number of approaches to manage the sugar intake, from setting rules and limits to throwing up my hands and letting whatever happens happen. For our family, being strict about the sweets didn't work. It felt like a never-ending negotiation and battle. It was exhausting and dragged on for months. Similarly, throwing up my hands completely didn't feel right earlier (there was a constant internal battle to keep my mouth shut that was exhausting).
After a number of different approaches we have found our family's sweet spot (pun intended) when it comes to Halloween treats and it comes in a few stages:
I make sure that before we leave for trick or treating that all bellies are full of nutritious food. This is usually in the form of healthy Halloween food that is fun for kids so that they are inspired to eat it.
During trick or treating all bets are off. The kids can eat as much candy as they want. (Yes, they usually get a stomachache, but I actually think that is an important life lesson and am ok with it.)
The day after Halloween they again can enjoy as much of their candy as they want (I am usually surprised by how controlled they are after remembering the previous night's stomachaches).
After that, their candy is available for their daily treat, should they want it. This means that they can choose to have 2 – 3 pieces of candy for their daily treat or they can select any other option that is available.
This approach has worked well for our family for two reasons: 1) the expectations are clear so the negotiations disappeared and 2) since implementing this approach a few years ago there has always been leftover candy in their pumpkins when the next Halloween comes around, which highlights the fact that they lose interest after a while.

Healthy Halloween Food
I can hear you saying, that sounds all fine and good, but what are these healthy Halloween foods of which you speak? And how much time am I going to spend making them? Below are two of my family's favorite healthy Halloween foods that you can make in mere minutes (check out our Facebook Live to see how simple they are to make!).
A little bit about each dish.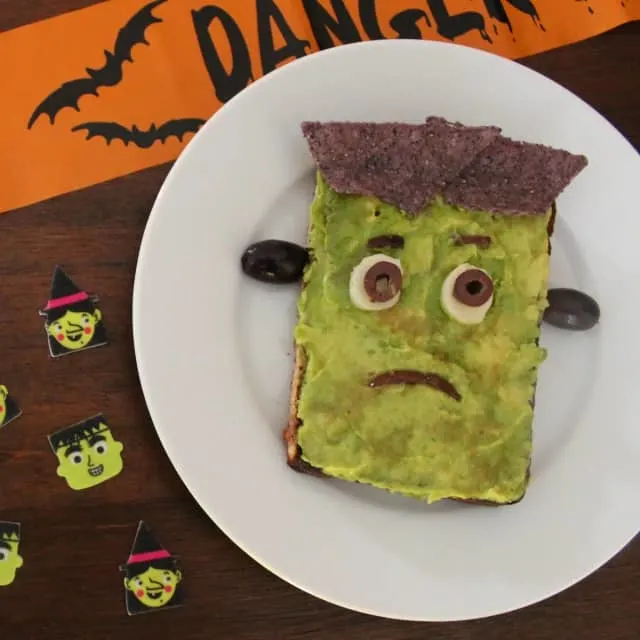 Frankentoasts
Whole grain toast, smashed avocado, cheese, a couple of tortilla chips, and some olives or bell peppers are all you need to make this hearty and healthy Halloween food! Kids and adults will love the ghoulish faces they get to eat and you'll love knowing that their tummies are full of healthy fats and whole grains that will keep them going all evening long. See below for the recipe!

Jack-O-Lantern Pizzas
This super fun meal is ready in only 20 minutes and includes a surprising nutritional powerhouse: sweet potato! By making a quick sweet potato sauté for the sauce, you can pack in anti-oxidants, vitamin C, and a whole lot of fiber to make sure your little ghosts are full for hours. See below for the recipe!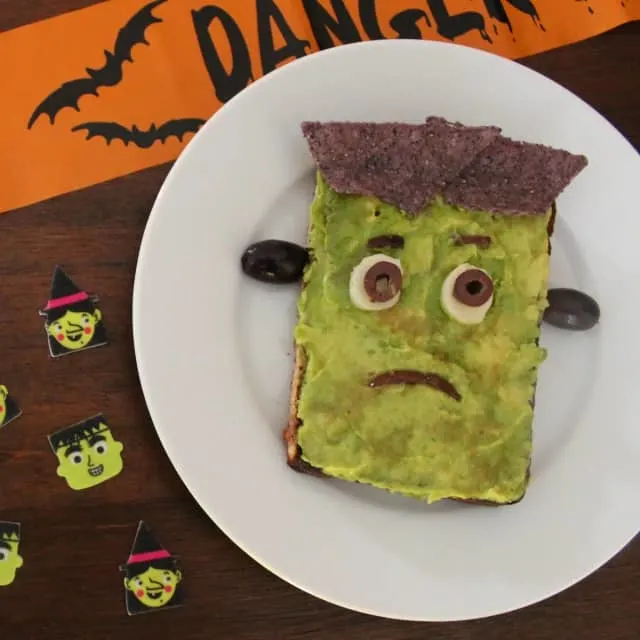 Avocado Frankentoast
These ghoulish toasts pack in whole grains and healthy fats to keep the hunger demons at bay during trick or treating.
Ingredients
4

slices

whole wheat bread (use wheat/gluten-free, if needed)

2

avocados

1 - 2

slices

white cheese such as Cheddar, mozzarella, or Monterey Jack

1/3

cup

pitted black olives

12 – 16

blue tortilla chips

1/8

tsp.

salt

8

toothpicks
Instructions
Toast the slices of bread.

While the bread is toasting, prepare the face components.

Cut the avocados in half and then thinly slice.

Set 8 olives aside, slice 4 olives cross-wise into circles for eyes, and slice the rest of the olives into thin strips for mouths and eyebrows.

Cut small circles out of the cheese slices so they are slightly bigger than the round olive slices. (The cheese circles will be the backs of the eyes.)

When the toast is done, trim each piece of toast into a rectangle and the spread the avocado slices out onto the toasts, one half per slice of toast. Decorate the faces using the cheese and olives, and the corn chips for hair.

Use the toothpicks to hold the full olives into the sides of the bread.
Notes
Video: Watch Jessica make these on Facebook Live!
Nutritional Information Per Serving (% based upon daily values): Calories 588, Total Fat 24g, 37%, Saturated Fat 5g, 25%, Cholesterol 8mg, 3%, Sodium 401mg, 17%, Total Carbohydrate 90g, 30%, Fiber 16g, 64%, Sugar 25g, Protein 20g
Like this recipe? Check out The Scramble's family-friendly meal plans to see just how simple getting dinner on the table can be!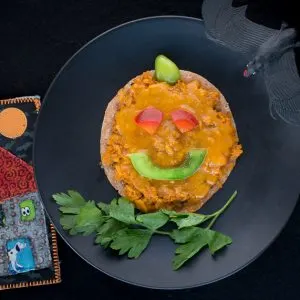 Jack-O-Lantern Pizzas
This super quick meal is surprisingly packed with nutritional heft, thanks to the addition of the sweet potatoes. Let everyone build their own jack-o-lantern face with olives and slices of bell pepper and use a green bell pepper slice as a pumpkin stem to really bring these jack-o-lanterns to life!
Ingredients
2

Tbsp.

canola or vegetable oil

1

small yellow onion

diced

2

cloves

garlic

minced, about 1 tsp.

2

medium sweet potatoes

peeled and grated (about 4 cups)

1

tsp. dried oregano

or 1 Tbsp. minced fresh

1

tsp. chili powder

2

tsp. ground cumin

1/4

tsp. salt

or to taste

8

whole wheat pitas (use wheat/gluten-free, if needed)

1 1/2

cups

shredded Monterey jack or cheddar cheese

orange colored cheese will make the pizza look more pumpkin-y!

1/4

cup

olives

cut into slices (optional)

1/2

red or green bell pepper

cut into slices (optional)
Instructions
Preheat the oven to 375 degrees.

In a large nonstick skillet over medium heat, heat the oil.

Sauté the onions and garlic until the onions are soft, about 5 minutes.

Stir in the grated potatoes, oregano, chili powder, cumin, and salt. Cook, covered, for about 10 minutes, stirring frequently.

To assemble the pizzas, lay the pitas out on a large baking sheet (use two baking sheets, if necessary). Spread ½ cup of the sweet potato filling on each of the pitas and top it with about 1/4 cup cheese. Use olives and bell pepper slices to create jack-o-lantern faces, if desired.

Bake the pizzas for 8 - 10 minutes, until the cheese has melted.
Notes
Do Ahead or Delegate: Dice the onion, peel the garlic, peel and grate the sweet potatoes, combine the spices, grate and refrigerate the cheese, if necessary.
Scramble Flavor Booster: Use chipotle chili powder or hot Mexican chili powder instead of traditional chili powder.
Tip: When grating cheese, try spraying the grater with a little nonstick spray first. This will keep the cheese from sticking to the grater and will also reduce
the friction to make the task quicker and easier.
Video: Watch Jessica make these on Facebook Live!
Nutritional Information Per Serving (% based upon daily values): Calories 300, Total Fat: 12g, 17%; Saturated Fat: 4g, 20%; Cholesterol: 25mg, 8%; Sodium: 660mg, 28%; Total Carbohydrate: 29g, 13%; Dietary Fiber: 5g, 20%; Sugar: 6g; Protein: 11g
Like this recipe? Check out The Scramble's family-friendly meal plans to see just how simple getting dinner on the table can be!
For more healthy Halloween food ideas check out our Spider Black Bean Dip, Witches' Fingers and Terrorific Tomato Soup, and Ghostly Beef Stew!
Like these ideas? Check out The Scramble's family-friendly meal plans to see how simple and fun feeding your family can be all year round!