Guest column by Scramble intern Molly Rubel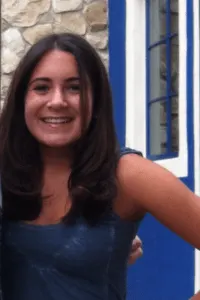 Nearly three million Americans are allergic to nuts, including me! A common misconception is that nut-allergic people are only allergic to peanuts, but many of us are allergic to every kind of nut. If I were to eat a nut, I would go into anaphylactic shock, which means that my throat would close up and I would not be able to breathe. It's a terrifying thought, not only for me, but also for anyone who has to serve me something to eat.
As someone who loves to bake and try new foods, this can be frustrating because so many recipes contain nuts. However, my nut allergy has been a blessing in disguise because at a young age, I discovered a love for cooking. In elementary school I felt left out because I couldn't eat what my friends were eating, so I learned to make nut-free versions of the same foods. After making my first batch of chocolate chip cookies at age six, I was hooked.
Since nut allergies are so common now, it is likely that, at some point, you will entertain a guest with a nut allergy. Here are a few simple guidelines to make sure your food is safe and your guest feels comfortable.
Entertaining someone with an allergy can be stressful for both the host and the guest. The safest precaution is to save the ingredient label for every processed food you serve. These days, even foods that don't contain nuts have warning labels stating that the product is either "made in a factory with," "may contain," or "produced on shared equipment with" nuts. Your nut-allergic guest may feel more comfortable eating processed foods if they can examine the label themselves, which is why it is a good idea to hold onto it.
It can be dangerous to serve a bowl of nuts or anything with peanut butter. Even if the guest with the allergy isn't eating it, the nuts and peanut butter can be messy and cross contaminate other foods.
Desserts are the hardest type of food to make for someone with a nut allergy because so many dessert ingredients have nut warnings. If you want to make a dessert, it is, again, a great idea to save the labels from the ingredients you've used. Or, if the nut-allergic guest asks what they can bring, you might suggest a dessert. This way, the guest is able to eat the dessert and the host doesn't feel pressured.
Some products that have nut warnings even though they don't contain nuts include Snyder's pretzels, Miss Vickie's potato chips, products from Trader Joes, Nestle chocolate chips, candy corn, chocolate bars, and Ghirardelli brownie mix. Some safe nut-free products are Hershey's chocolate chips, UTZ pretzels and potato chips, Stacy's pita chips, Betty Crocker brownie mix and most Pepperidge Farm products.
Entertaining someone with an allergy can seem intimidating, but with a little forethought it doesn't have to be. I know from personal experience how nice it is for someone with a severe allergy to be invited to dinner and not have to worry about what I can eat safely.

Molly Rubel's Nut-Free Chocolate Chip Meringue Cookies
Makes about 20 cookies
2 large egg whites, room temperature, if possible
1/2 tsp. cream of tartar
2/3 cup superfine sugar
1 cup Hershey's semi-sweet chocolate chips
Preheat the oven to 350 degrees. With an electric mixer, beat the egg whites until foamy. Add the cream of tartar and beat until fluffy. Add the sugar very slowly, beating constantly, until the peaks are stiff and glossy. With a spatula, gently fold in the chocolate chips.
Drop the batter using two teaspoons onto greased or parchment or silicone-lined baking sheets, trying to keep them in a puffy shape rather than flattening them (but if they are flat, don't worry, they'll still taste great). They don't need to be spaced too far apart because they hold their shape when you bake them. Transfer the meringues to the oven and turn off the heat. Leave the cookies in the oven for at least 2 hours and up to 12 hours (so you can bake them overnight) until the cookies are crisp and dry.
If you are in a hurry, you can bake the cookies for 20 – 25 minutes at 300 degrees until they are lightly browned.
Tip: Separate eggs by cracking them over your fingers and letting the whites drip between your fingers into a clean bowl. Discard the yolks or save for another purpose, such as homemade mayonnaise, eggnog, aioli, or Hollandaise sauce.
Nutritional Information per Cookie (% based upon Daily Values):
Calories 73, Total Fat 3g, 5%, Saturated Fat 2g, 10%, Cholesterol 0mg, 0%, Sodium 9.5mg, 0.5%, Carbohydrate 11.5g, 4%, Dietary Fiber 0g, 0%, Sugar 10.5g, Protein 1g