If you love bagels as much as I do, then it is time to take your love affair to the next level with homemade flavored cream cheese. I've got three recipes to get you started.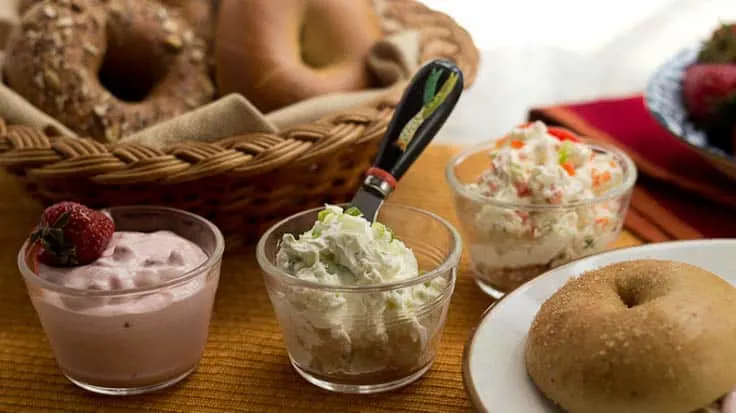 I love bread products and of all of them one of my favorites is bagels. There is something truly special about how soft and chewy they are, but what can make them absolutely exceptional is what you put on them.
While sticking with classic plain cream cheese or butter is always a good option, I love to top my bagels with lots of flavors and textures to make them really fun. Depending on my mood and what I have on hand, I will sometimes opt for lox (smoked salmon) with capers and tomato slices or an egg patty for a fantastic egg sandwich. But more often than not, my choice is veggie cream cheese topped with sliced vegetables.
After buying a number of different brands of veggie cream cheese, however, I found that they never had as many vegetables in them as I wanted, so I decided to experiment and make my own. The outcome was better than I could have hoped! It tasted so much fresher and since the vegetables had just been added, they had much more of a crunch, which I loved.
And, because I love cream cheese so much, once I had such success with veggie cream cheese, experimentation with other flavored cream cheeses seemed like the next logical step.
How to Make Homemade Flavored Cream Cheese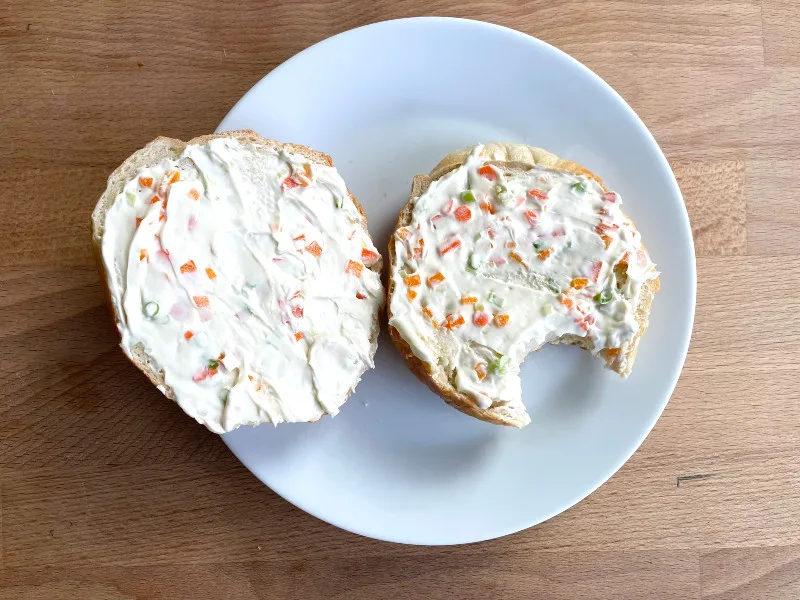 As you will see, making your own flavored cream cheeses is incredibly easy. Below are three different recipes to get you started: veggie cream cheese, scallion cream cheese, and strawberry cream cheese. All three have gotten big thumbs up from those who have tried them. In fact, everyone agrees that the homemade versions have more flavor and depth to them and who doesn't want to better flavor, especially when it's so easy to make?!
As I have experimented with homemade cream cheese, I have realized that there are some rules that seem to pretty consistently apply when flavoring your plain cream cheese.
Use Regular Cream Cheese or Neufchatel, but not Whipped Cream Cheese
I'm a big fan of regular cream cheese, but if you are someone who prefers a lower fat variety, I recommend using Neufchatel rather than whipped cream cheese. This is because the thinner consistency of the the whipped version means it won't hold your mix-ins as well.
8 Ounces Cream Cheese + 1/4 Cup Mix-Ins = A Happy Balance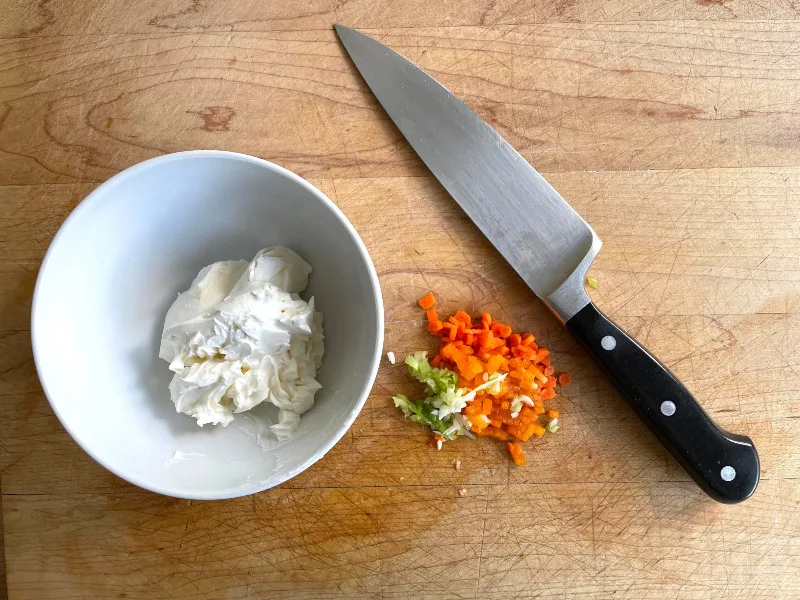 There are some exceptions to this rule (see the strawberry cream cheese recipe below), but as a general rule, 8 ounces of cream cheese plus 1/4 cup of finely diced mix-ins seems to be a great ratio. You get a nice balance of creaminess from the cheese and crunch and flavor from the mix-ins.
Start with Softened Cream Cheese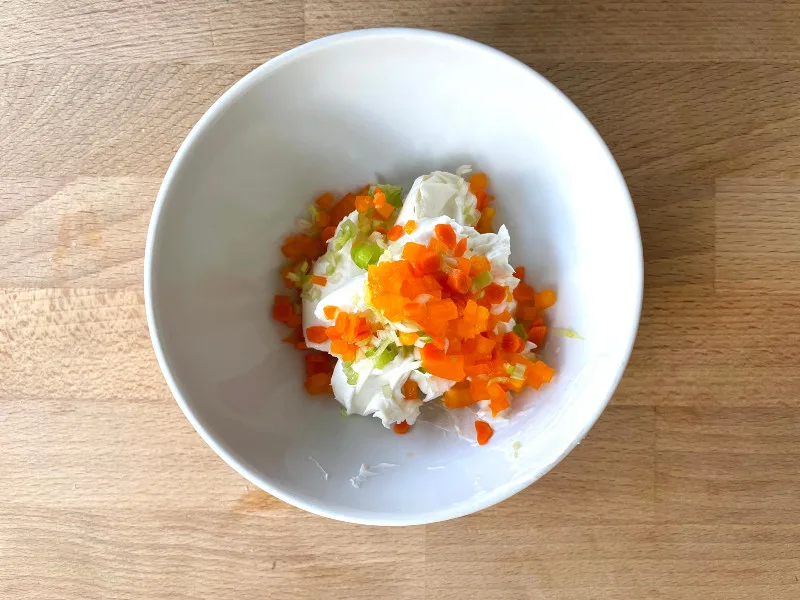 Whether you use regular cream cheese or Neufchatel, you'll want to allow it to soften a little. This is for two reasons.
Mixing flavorings into cream cheese that is right out of the fridge is possible, it just is a little more difficult.
If the ingredients you are mixing in are softer, they risk getting completely smushed, which I find takes away from having a satisfying texture.
Flavored Cream Cheese Ideas
Once you have tried one (or more) of the homemade flavored cream cheese recipes below, I encourage you to get creative as well and experiment with your own favorite mix-ins!
Below you will find recipes for homemade versions of veggie, scallion, and strawberry cream cheese, but here are some other ideas that I have been playing around with. If you try any of them, please let me know how they came out!
Olive
Cinnamon and finely chopped raisins (or cranberries)
Cinnamon sugar (tip: brown sugar melts more effectively into the cream cheese than granulated sugar will)
Lox (smoked salmon)
Fresh herb
Chive
Blueberry (I'd use the strawberry cream cheese recipe to guide you on this one)
Mixed berry (I'd use the strawberry cream cheese recipe to guide you on this one)
Homemade Flavored Cream Cheese Recipes
Veggie Cream Cheese
Place 8 oz. of softened cream cheese or Neufchatel in a medium bowl. Mix ¼ cup of a combination of finely chopped or minced vegetables such as chives, carrots, and red or yellow bell peppers. Add black pepper, if desired.
Other vegetable mix-in options include: grape tomatoes (other tomatoes have too much liquid), celery, seeded or Persian cucumber, and radishes.
Scallion Cream Cheese
Place 8 oz. of softened cream cheese or Neufchatel in a medium bowl. Mix in ¼ cup finely sliced scallions. Add black pepper, if desired.
Strawberry Cream Cheese
This recipe is a little different from the others for three reasons:
In order to get sufficient strawberry flavor, a full 1/2 cup of strawberries is needed.
Strawberry cream cheese is traditionally sweet, which means we need to add sweetener to it.
The addition of the powdered sugar also helps to counter-balance the additional moisture that the strawberries release, so that you still have a creamy spread.
Place 8 oz. of softened cream cheese or Neufchatel in a medium bowl. Mix in 1/2 cup finely chopped fresh or frozen strawberries (thawed) and 1/4 cup powdered sugar.
And if you want to pair them with amazing bagels, make sure to check out my Whole Wheat Bread Machine Bagels recipe!
Do you have a favorite cream cheese flavor? I'd love to hear about it in the comments!