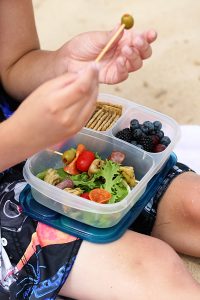 Are there any parents who really enjoy packing their kids' school or daycare lunches? Most parents I talk to admit that the daily grind of packing their kids' lunches is one of the things they dread most about school starting back up.
Even though my kids are now older, I still find myself helping them to pack their lunches. Why? Perhaps it is because getting up with them is a way to keep them company and feel connected to them in the morning (as painful as it is to wake up so early), especially since we sometimes don't see them again until the evening. Packing their lunches is a tangible way to show that we care that they are eating something healthy and delicious at lunchtime. (Plus, I'm not positive they would pack themselves any fruits or vegetables if we didn't do it for them.)
Tools for Packing Healthy School Lunches
Here are 5 tools I have found most helpful in packing lunches that have ample space for the kids' food, don't leak, and keep the hot stuff hot and the cold stuff cold:
Ideas for Healthy School Lunches
In our kids' lunches, we usually pack:
a main course such as a sandwich, soup or salad,
along with a fruit and/or vegetable,
cheese and/or yogurt or kefir,
water,
and a small dessert.
We often pack healthy dinner leftovers in the kids' main lunch compartments, such as this kid-friendly Mango and Black Bean Salad:

Mango and Black Bean Salad
Prep + Cook = 20 minutes +
6 servings, about 1 cup
1 cup quick-cooking brown rice (about 2 cups prepared)
15 oz. canned black beans, drained and rinsed
1 – 1 1/2 cups fresh mango, cut into 1/2-inch chunks, or use frozen
1/4 sweet yellow onion, such as Vidalia, finely diced (about 1 cup)
1/4 cup scallions or chives, green parts only, finely chopped
1 lime, juice only, about 2 Tbsp.
1/4 cup fresh cilantro, chopped (optional)
1/4 tsp. salt, or more to taste
6 large Boston or butter lettuce leaves (optional)
6 whole wheat tortillas (optional)
Cook the rice according to the package directions. Remove the rice from the heat. (If you want to serve this salad immediately rather than allowing it to chill for a while, put the rice in the freezer for 5 minutes to cool it.)
Meanwhile, in a large bowl, combine the beans, mango, onions, scallions, lime juice and cilantro (optional). Add the rice, season it with the salt, and toss gently. Chill it for at least 10 minutes (an hour or more is ideal) and up to 24 hours.
Serve the salad on its own or wrapped in large lettuce leaves, warm tortillas, or both.
Tip: If you don't like raw onions, sauté the onions first until they are lightly browned. If you have picky eaters, put some of the beans and rice aside before combining all the ingredients and let them have simple black bean and rice burritos with mango on the side.
To help make lunches and dinners go smoother in your house, try the Scramble meal planning service.

**Note: This page contains affiliate links. If you purchase a product through these links, your cost will be the same but The Scramble will receive a small commission. I only link to products I personally use, trust, and love. Thanks for your support!