To fight off the lunch-packing frustration, we are sharing a list of our favorite tools for packing healthy school lunches. These will help to make it faster, easier, and more appealing for your kids.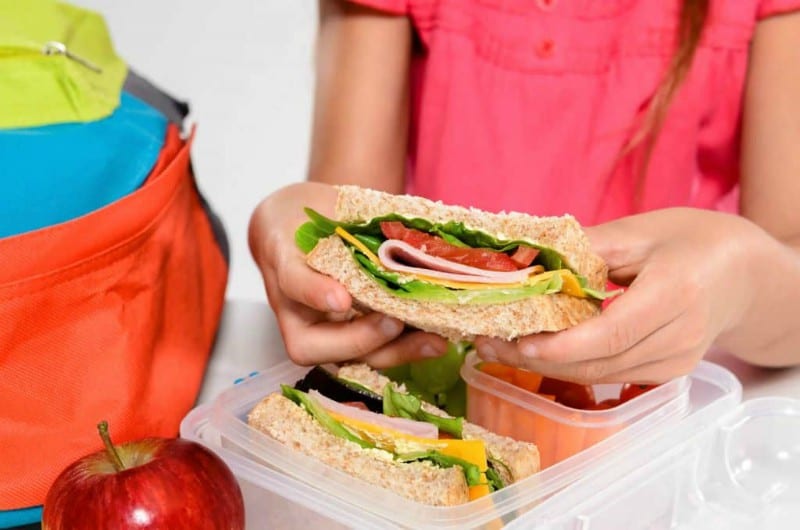 Note: This page contains affiliate links. If you purchase a product through these links, your cost will be the same but The  Scramble will receive a small commission. I only link to products I personally use, trust, and love. If you want to learn more, please check out my disclosure page. Thanks for your support!
Are there any parents who actually enjoy packing their kids' school or daycare lunches? Most parents I talk to admit that the daily grind of packing their kids' lunches is one of the things they dread most about school starting back up.
Whether this is your first year packing lunches for school or your ninth, one of the factors that I have found to be most helpful when it comes to packing lunches is the containers you put the food in. Having the proper containers on hand can help with portion size, building a balanced meal, preventing leaks, offering a variety of foods, and packing ahead to save you time.
In order to help you in your lunch packing journey, I have put together a collection of my favorite lunch packing tools, along with explanations on how I use them.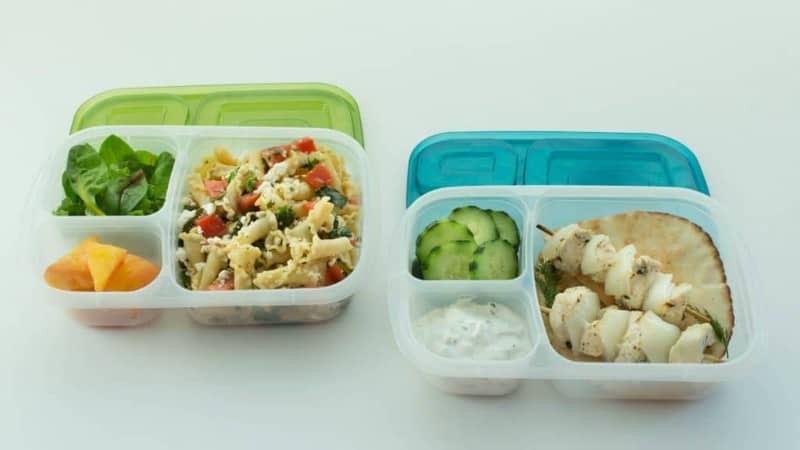 Tools for Packing Healthy School Lunches
Bento Boxes
As far as I'm concerned, bento boxes are a lunch-packing game changer. They are easy for kids to use, have compartments that make it easy to build a balanced meal, and reduce the waste of wrapping each item in foil or plastic wrap. Some of my favorite bento boxes include:
EasyLunchboxes (affiliate) are the bento boxes I use most often. I have had my set for at least 5 years now and they are still going strong! They offer a generous amount of space, are easy to open and close, and are dishwasher safe. They are not leak-proof, but EasyLunchboxes also offers smaller leakproof containers that are perfect for dips and dressings and can fit within the bento box compartments or go outside in the larger lunchbox.
The cool thing about Packit (affiliate) bento boxes is that the compartments can be adjusted to fit the needs of the meal at hand. That's right, their compartment dividers are moveable. It also comes with a leak-proof dressing or dip container that can slide right into the box as well.
Sistema lunch cubes (affiliate) were the first bento boxes I bought when my now 12-year-old started preschool at age 2 and we still love them! They are very easy to open and close and have generous compartments for bigger eaters.
My final favorite bento box is the Yumbox (affiliate). This one is especially perfect for little kids for two reasons: 1) the box is SUPER easy to open and close and 2) the compartments are on the smaller side, which means that it is perfect for those littler bellies. Another thing I love about the Yumbox is that it is entirely leak-proof.
Reusable Snack and Sandwich Bags
Each time I use a plastic sandwich baggie a little part of me dies. It just feels so wasteful and unnecessary. Over the years, though, I have tried a lot of different reusable bags and have found that many of them stain and fray easily except for my favorite brand Lunchskins (affiliate).
I have been using my Lunchskins bags now for over three years and I have decided that they are indestructible! They are dishwasher safe, the fabric is thick and sturdy. I also love that their prints are cute enough for kids but neutral enough for grownups to bring to work as well (my husband uses them daily).
Thermoses
My older son does not enjoy sandwiches, so he often opts for leftovers. Often he'll happily eat those leftovers at room temperature, but for dishes where he wants the food warm we use the Foogo (affiliate) line of Thermoses for over nine (!!) years now. We have found that they do a good job of keeping the food warm and are reliably leak-proof.
Bonus tip: if you want the food to stay really warm, bring a small amount of water to a boil, pour it into the thermos, and let it sit for a few minutes while you warm up the food. Doing this will heat up the internal metal so that it retains the heat of the food for longer.
Reusable Water Bottles
Even if you send a juice box for your kid to enjoy with lunch, I am a big fan of sending a reusable bottle with water as well. This is for two reasons: 1) juice boxes don't actually have that much liquid in them and 2) a reusable water bottle can be refilled if they run out of water, helping to ensure that they won't get dehydrated.
There are three types of reusable water bottles that my family uses:
Stainless steel water bottles like these from Klean Kanteen (affiliate) are light weight and easy to use
The silicone bottles made by Bubi Bottle (affiliate) are super cool because they are freezable, which means that you can freeze water (or smoothies!) in them and then send them as an ice pack in the lunchbox
If you want the water to stay nice and cold, then our other favorite are these Contigo (affiliate) stainless steel bottles that will keep the water cold up to 24 hours!
Ice packs
If you want to make sure that the food you pack stays cool and fresh, you have three choices:
Use a Bubi Bottle (affiliate) as described above!
Use a reusable ice pack (affiliate) like these ones which fit nicely in every lunch bag we have
Use a freezable lunch bag (affiliate) which ensures that your whole lunch will stay nice and cool right up until lunch
What about disposable lunch equipment?
While I am a fan of using reusable lunch packing tools for environmental reasons, there are times when you need disposable lunch packing supplies as well. Here are some of the tools I keep in my house for when they are needed:
Sandwich and Snack Bags
I love the disposable lunch bags by my friends at Lunchskins (affiliate)! They are recyclable and sealable, which means you can make sure the food doesn't fall out. In addition, they have a really nice feature that plastic bags don't: you can write on them, which means you can label them either with your kid's name or with a note about what is in the bag.
Bento Boxes
These compostable bento boxes (affiliate) are a great option when you can't send a reusable bento box. They won't hold food in place as well, but they will still help with making sure that a balanced meal is sent.
Ideas for Healthy School Lunches
In our kids' lunches, we usually pack:
a main course such as a sandwich, soup, or salad
along with a fruit and/or vegetable
cheese and/or yogurt or kefir
an extra such a chips, granola bar, or small cookie
water
For more inspiration (and structure), check out our formula for a healthy school lunch.
We often pack healthy dinner leftovers in the kids' main lunch compartments, such as this kid-friendly Mango and Black Bean Salad.
Further Inspiration
Want more ideas for feeding your kids? Check out these other resources from The Scramble:
30 Out-of-the-Box Ideas for Healthy School Lunches
How to Make Lunch Packing Easier
Navigating Treats & Snacks in School Lunches
To help make lunches and dinners go smoother, check out The Scramble's family-friendly meal plans to see just how simple getting dinner on the table can be!