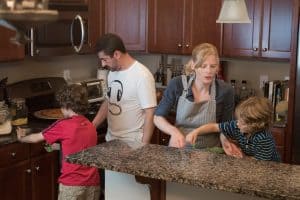 I don't know about you, but I have a love-hate relationship with Back to School time. It is always a relief to have a regular schedule again and to have more time to get things done while the kids are in school. And yet each year I find that I am taken by surprise by the busy-ness that fills our afternoons with soccer practices, music lessons, back-to-school nights, PTA meetings, and other school year activities.
With all of the back to school craziness, it feels even more vital that we protect our family dinners as important time to have together—time to reconnect, to catch up, to share the events of our days. So each fall, during back to school time, I make it a priority to focus on getting our dinner routine back on track.
Here are the 4 things that I do to get our family dinner routine ready to go for the fall:
1. Meal Plan: Plan out the meals for the week. Yes, The Scramble can do a lot of this for you, but my second step is to take 5 minutes to look at the schedule for the upcoming week and assign meals to certain days. On soccer practice days, for instance, I know we won't get home before almost 7, which means I need dinner to be ready to go. So for us, those are slow cooker nights. On the other hand, Thursdays we don't have anything planned, so that is the evening when I can set aside a recipe that takes a little longer to make.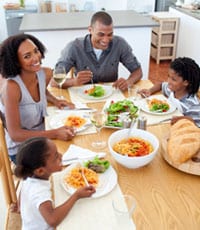 2. Set a guaranteed minimum. The reality is that given our busy schedules, every member of my family is not going to be able to sit down to dinner together every night of the week, but we have committed to having a minimum number of nights a week that we have dinner together. For us, that is five nights, including weekends. For some families it might be three, for others, all seven is achievable. When the kids were smaller, my husband got home too late to have dinner together, so we made it a priority to do weekend meals as a family. Pick what works for your family, and then try to stick with it!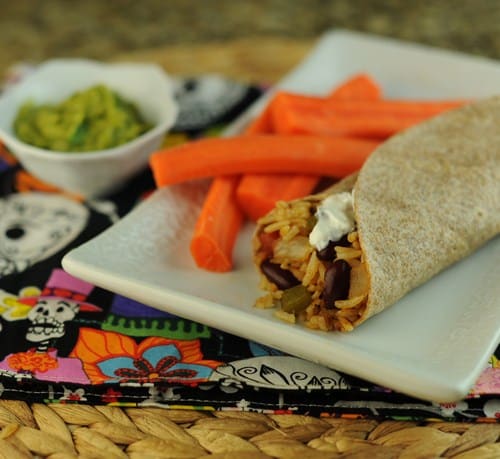 3. One meal a week is leftovers. Every family feels differently about leftovers, but my family LOVES leftover night, and it's a great way to save money and avoid food waste. For my kids, it is their chance to have extras of their favorite meals of the week. For my husband, it means fewer dishes. For me, it is less work. If your family isn't a fan of leftovers, then try turning them into something that is still faster and easier–leftover proteins can become fillings for sandwiches or burritos. Extra veggies and grains can be mixed together and tossed with a dressing to become a hearty salad.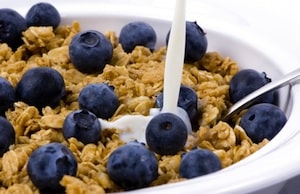 4. Sandwiches, Salads, and Cereals. Yes, we at The Scramble want you to eat healthy, delicious, well-rounded meals. But we also know (as parents ourselves) that sometimes simplicity is key and time is of the essence, so making grilled cheese sandwiches and a simple salad is a great option, as is a big salad with some crusty bread, or even (low-sugar) breakfast cereal with fruit and scrambled eggs. The point is: on those crazy nights eating together is the key, even more so than what goes in your mouth.
What is your favorite trick to getting back-to-school dinners back on track? Please share in the comments below! And remember to sign up for a two-week free trial of our online meal planning service!