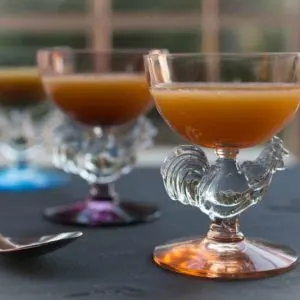 Mango Martini with Ginger
A little sweet, a little spicy. This cocktail is perfect for your next party as it can be prepared ahead to make hosting easier.
Ingredients
3

cup

frozen mango chunks

1

cup

ginger syrup

see below

½

cup

water

3

cup

cups mango vodka

or if you don't want to buy mango vodka, I think 2 1/2 cups regular vodka and 1/2 orange liqueur would work

4

limes

juice only

8

slices

jalapeno

optional
Ginger Simple Syrup
2

oz.

ginger

thinly sliced and coarsely chopped(1/2 – 2/3 cup) (no need to peel) 1 cup sugar 1 1/2 cups water

1

cup

sugar

1 1/2

cups

water
Instructions
Puree first 3 ingredients until very smooth.

Combine all ingredients.

Serve over ice or shake over ice and serve in martini glasses. Garnish with the jalapeno slices or add them to the pitcher with the cocktail mixture.
To Make Ginger Simple Syrup
Combine the ginger, sugar and water in a medium saucepan over medium heat.

Bring it to a boil and simmer it, stirring until the sugar dissolves. Continue simmering it for 30 to 40 minutes or until the syrup smells very gingery. (If you don't have time to linger in the kitchen, you can just bring it to a boil and remove it from the heat and let it sit for 40 minutes).

Remove it from the heat and cool it completely. Strain the syrup through a fine sieve, transfer it to a glass jar or bottle, and refrigerate it for weeks if desired, or freeze it for months.