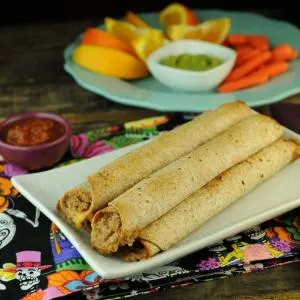 Totally Tubular Taquitos
Scramble fan Jill Rabach made this delicious variation of The Scramble's taquitos recipe that we thought was so tasty and fun to eat that it merited its own spot in The Scramble collection. We like Jill's technique of spacing out the taquitos on a large baking sheet so they get extra crispy.
Ingredients
1

Tbsp.

coconut, canola, or vegetable oil

1/2

yellow onion

finely diced

1/2

lb.

ground turkey, beef, or meatless crumbles

15

oz.

vegetarian refried beans (or use 1 1/2 cups home-made refried beans for every 15 oz. can)

see tip below for directions for home-made refried beans

2

Tbsp.

salsa (look for brands with no sugar added),

plus additional for serving

8

medium (soft taco size) whole wheat or flour tortillas (use wheat/gluten-free, if needed)

1

cup

shredded Cheddar or Mexican blend cheese

1

cup

low fat sour cream or use plain Greek yogurt (or use any variety)

optional
Instructions
Preheat the oven to 425 degrees, and line a baking sheet with a silicone mat, parchment paper, or coat it with nonstick cooking spray.

In a nonstick skillet, heat the oil over medium heat. Add the onions and sauté until they are tender, 3 - 5 minutes.

Add the meat and continue cooking until it is heated through (and no longer pink in the middle if using turkey or beef), 3 - 5 minutes.

Add the beans and salsa and continue cooking and stirring for 1 - 2 minutes until it is heated through. Remove it from the heat.

Lay a tortilla flat on a cutting board or plate, take about 1/8 of the filling and line it down one side of the tortilla, top it with about 1 Tbsp. of cheese, and roll it up tightly. Place it seam-side down on the baking sheet. Continue with remaining tortillas. (You can refrigerate them at this point for up to 12 hours before baking them.)

Bake the taquitos for 10 - 15 minutes until they are lightly browned and crispy. Allow them to cool 5 - 10 minutes before serving. Dip them in sour cream and/or salsa, if desired.
Slow Cooker Directions
Omit the oil. Combine the onions, meat, refried beans, and salsa in the slow cooker and cook on low for 6 - 7 hours or on high for 3 - 4 hours until the meat is cooked through. Assemble and bake the taquitos in a conventional oven as directed. (Slow cooker cooking times may vary—Get to know your slow cooker and, if necessary, adjust cooking times accordingly.)
Notes
Do Ahead or Delegate: Dice the onion, cook and refrigerate the meat mixture, shred the cheese if necessary and refrigerate, assemble and refrigerate the taquitos.
Scramble Flavor Booster: Use spicy salsa and/or Pepper Jack cheese. Also, drizzle some hot sauce on the taquitos before serving.
Tip: Refried beans are very easy to make and are perfect for use in in burritos, quesadillas, nachos, or as a dip for tortilla chips or vegetables. Check out our slow cooker recipe here.
Nutritional Information Per Serving (% based upon daily values): Calories 336, Total Fat: 12g, 19%; Saturated Fat: 5g, 25.5%; Cholesterol: 35mg, 12%; Sodium: 859mg, 36%; Total Carbohydrate: 38g, 12.5%; Dietary Fiber: 4g, 14%; Sugar: 4g; Protein: 17g
Like this recipe? Check out The Scramble's family-friendly meal plans to see just how simple getting dinner on the table can be!