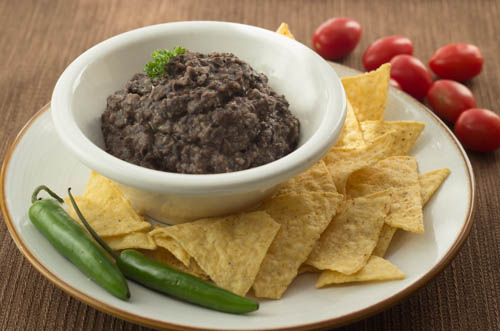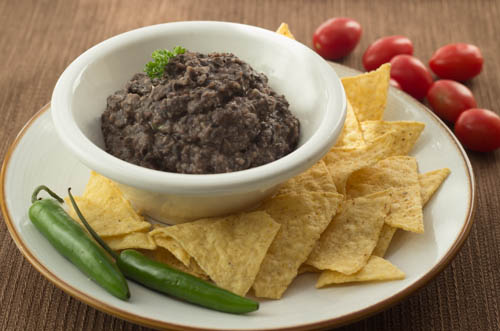 If you have every wondered how to make how to make refried beans, this recipe makes about 6 cans worth. Some of the beans can be pureed to be used as "refried" beans and some can be left whole and stored to use in burritos, salads, or other recipes.  Use the refried beans in burritos, quesadillas, nachos, as a dip for tortilla chips or vegetables, or for Mexican Pizza.
Watch the Video to learn how to make beans in the slow cooker or Instant Pot

Chipotle "Refried" Beans
1 lb. dry black beans
2 tsp. minced garlic, about 4 cloves (can use 4 Dorot frozen garlic cubes)
1/2 onion, chopped
1 cube Dorot cilantro (optional)
1 jalapeño pepper, seeded and chopped (optional) (can use Dorot chili pepper)
1 1/2 tsp. salt,
1 tsp. ground cumin
1 1/2 Tbsp. chili powder
6 cups water
1 – 3 chipotle chili peppers in adobo sauce, to taste
Combine all ingredients except the chilis in adobo in the slow cooker. Cook on low for 7 – 9 hours until the beans are tender. Remove 1 cup of the liquid (a ladle works well) and drain the beans in a colander. Put 3 cups of beans in a food processor, add 1 – 3 chipotle chili peppers in adobo sauce (from a can), and 3/4 – 1 cup of the reserved cooking liquid, and puree the beans to desired consistency. For a creamier texture, use more of the liquid and puree longer.  At this point you can store the remaining beans in 1 1/4 cup increments (refrigerate or freeze) to use in recipes in place of canned beans. Serve immediately or refrigerate it for up to 1 week or freeze it for up to 3 months.