Mango and Black Bean Salad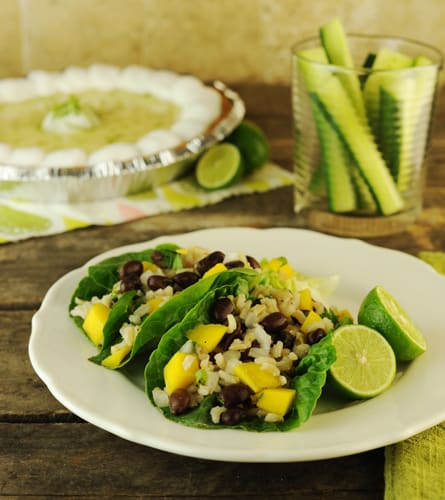 This delightful salad is spa-healthy and yet satisfying enough for hearty eaters!
Cook the rice according to the package directions.

Remove the rice from the heat. (If you want to serve this salad immediately rather than allowing it to chill for a while, put the rice in the freezer for 5 minutes to cool it.)

Meanwhile, in a large bowl, combine the beans, mango, onions, scallions, lime juice and cilantro (optional).

Add the rice, season it with the salt, and toss gently. Chill it for at least 10 minutes (an hour or more is ideal) and up to 24 hours.

Serve the salad on its own or wrapped in large lettuce leaves, warm tortillas, or both.
Do Ahead or Delegate: Cook (and refrigerate) the rice, defrost the mango if using frozen, or chop the mango if using fresh, dice the onion, chop the scallions, juice the lime, or fully prepare and refrigerate the dish.
Scramble Flavor Booster: If it needs a little more flavor stir in a little honey or agave nectar, extra lime juice, and/or a little extra salt.
Tip: If you don't like raw onions, sauté the onions first until they are lightly browned. If you have picky eaters, put some of the beans and rice aside before combining all the ingredients and let them have simple black bean and rice burritos with mango on the side.
Nutritional Information per serving (with 1 whole wheat tortilla, main dish only) (% based upon daily values): Calories 300, Total Fat 4.5g, 7%, Saturated Fat 1.5g, 8%, Cholesterol 0mg, 0%, Sodium 760mg, 31%, Total Carbohydrate 57g, 19% Dietary Fiber 7g, 28% Sugar 6g, Protein 9g