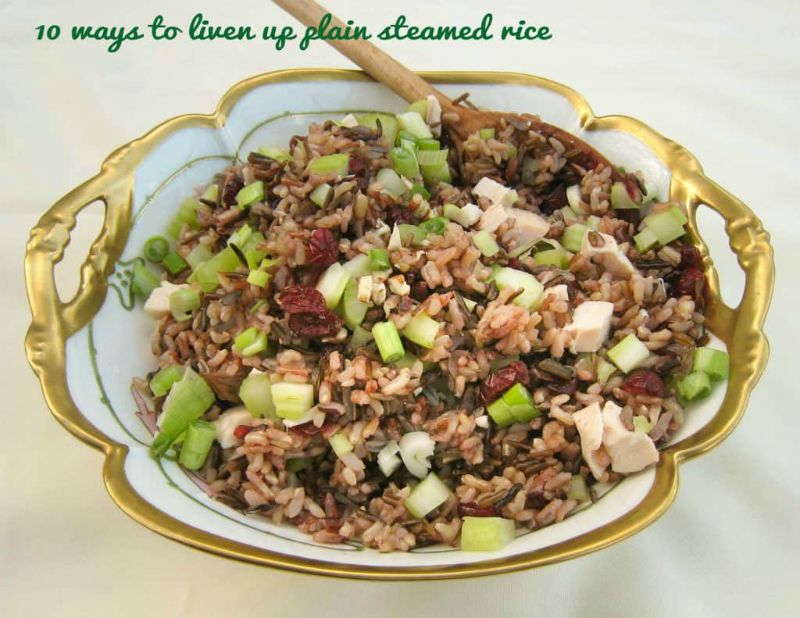 We eat rice at least once a week either as part of a main dish but more often as a side dish onto which we can ladle stew or a stir-fry or sprinkle soy sauce, and you may have noticed that we usually call for rice each week in The Scramble menus. Solomon and Celia especially love white rice, but they are coming around to brown rice as they get older. If I have rice made or frozen rice on hand, sometimes I'll mix half brown and white rice and that always goes over well (I don't cook them together because they have different cooking times).
I like to liven up simple rice by either using a cooking liquid other than water (bouillon or broth is an easy alternative), or by stirring in some fresh herbs, dried fruit, peas, nuts, or other flavor and color boosters. Below are some of our favorite combinations:
Watch the YouTube video (and subscribe to my YouTube channel for weekly cooking videos and tips)
Start with white, brown or wild rice. I usually cook 1/4 – 1/2 cup dry rice per person per serving, and cook 1 part rice to 2 parts liquid. (For our family of four that works out to 1 1/2 cups dry rice if we want to have leftovers).
★ Try The Scramble Meal Planning Service for free. Healthy 30 minute meals your entire family will love.
Vegetable-Spiked Rice: Use half water and half salsa, carrot or tomato juice to cook the rice.
Mediterranean Rice: Stir 1 – 2 Tbsp. toasted pine nuts and 1 – 2 Tbsp. dried currants or dried cranberries into the cooked rice.
Festive Rice: Stir ¼ cup chopped pecans, ¼ cup dried cranberries or cherries, and 1/8 – ¼ cup vinaigrette dressing into the cooked rice.
Indian Rice: Cook basmati rice with 1 cinnamon stick, 6 whole cloves and 2 garlic cloves (use water or broth).  Remove the cinnamon, cloves and garlic before serving.
Herbed Rice: Stir into cooked rice ¼ – ½ cup chopped fresh herbs such as parsley, scallions, basil or cilantro
Rice with Peas and Onions: In a small skillet, sauté ½ diced yellow onion with 1 Tbsp. oil until it starts to brown.  Mix in frozen or fresh peas and sauté it for about 2 more minutes.  Mix the onions and peas into steamed rice.  Season it with salt or soy sauce, if desired.
Cilantro Rice: Cook the rice according to the package directions (cook it in light coconut milk, if desired).  When cooked, stir in the juice of ½ lime, ½ cup fresh chopped cilantro, 1 Tbsp. olive oil and 1/4 – 1/2 tsp. salt.
Curry Rice: In a heavy saucepan with a tight-fitting lid, sauté ½ finely diced yellow onion in 1 Tbsp. oil over medium heat until the onions are lightly browned.  Add the rice, ¼ tsp. salt and 1/2 tsp. curry powder and stir the rice to coat the grains with the oil.  Add the water or broth, bring it to a boil, and cook as directed.
Caribbean Rice: Cook the rice in light coconut milk with 1/2 tsp. ground allspice, 1/2 tsp. salt, 1/2 tsp. dried thyme (or stir in 1 tsp. fresh thyme after cooking), 1/8 tsp. ground cloves.
Japanese Rice: When the rice is cooked, stir in 1 Tbsp. rice vinegar, 1 cup shelled and steamed edamame, 1/4 cup thinly sliced scallions, and 1 tsp. toasted sesame seeds or sesame oil (stir in a tsp. of miso paste if you happen to have it.)
★ Try The Scramble Meal Planning Service for free. Healthy 30 minute meals your entire family will love.
What else do you do to liven up steamed rice? Please share in the comments below.