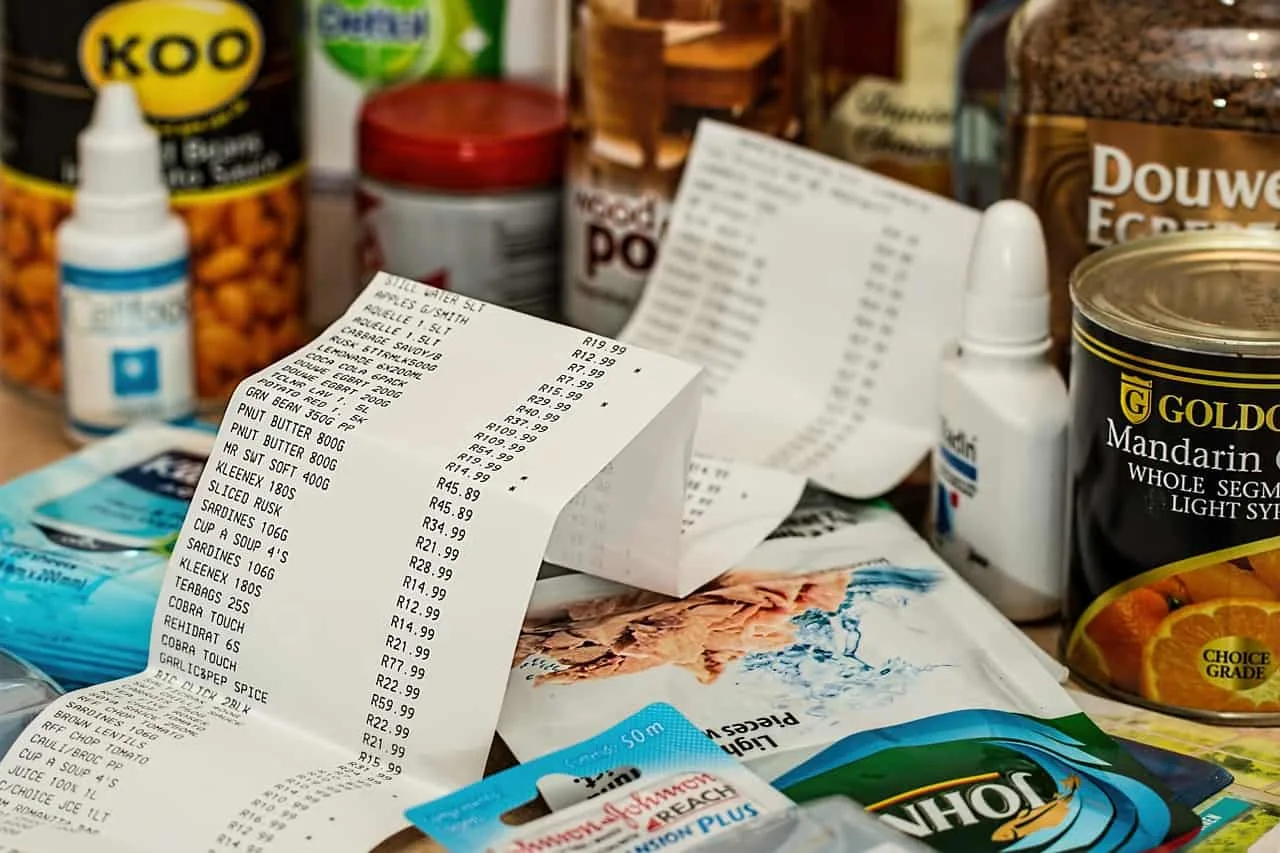 Note: This page contains affiliate links. If you purchase a product through these links, your cost will be the same but The Scramble will receive a small commission. I only link to products I personally use, trust, and love. If you want to learn more, please check out my disclosure page. Thanks for your support!
As a general rule, I spend on the lower end of what the "normal" food budget for a family of four is (although this is rapidly changing as my boys are now a teen and a tween!). But, as food prices have gone up, saving on groceries has become increasingly important to me. Since I know many people are in a similar situation and/or are trying to get their spending under control, I thought I would share some of my easy ways to save on groceries.
Easy Ways to Save on Groceries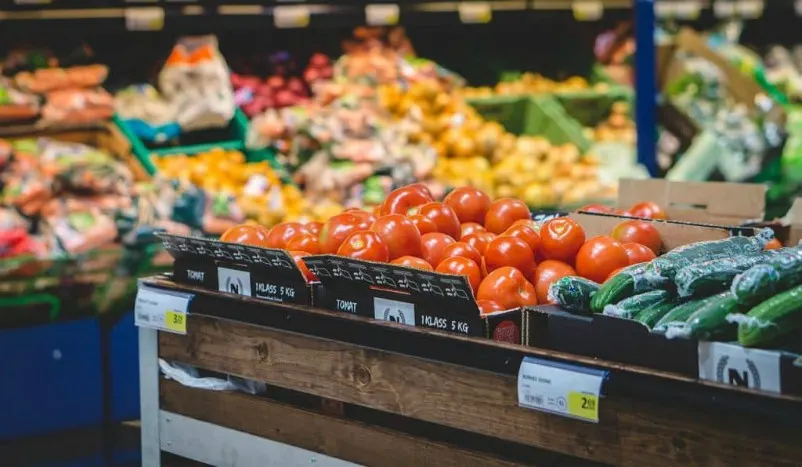 Take Advantage of Sales
Each time you go to the grocery store, make sure to check your favorite shelf-stable or freezable ingredients to see if they are on sale. And when they are on sale, take advantage!
I, for example, almost never buy meat that isn't on sale. Instead, I buy items when they're available for a discount and then freeze them for future use (often dividing them up into smaller portions when I get home so that they can be used for multiple meals). Items I stock up on when they are on sale include:
grains and pastas
canned or dried beans
snack foods
canned tomatoes
tuna fish and other canned fish including salmon, sardines, and anchovies
frozen vegetables and berries
juices my kids enjoy
ice cream
butter
eggs
meats and tofu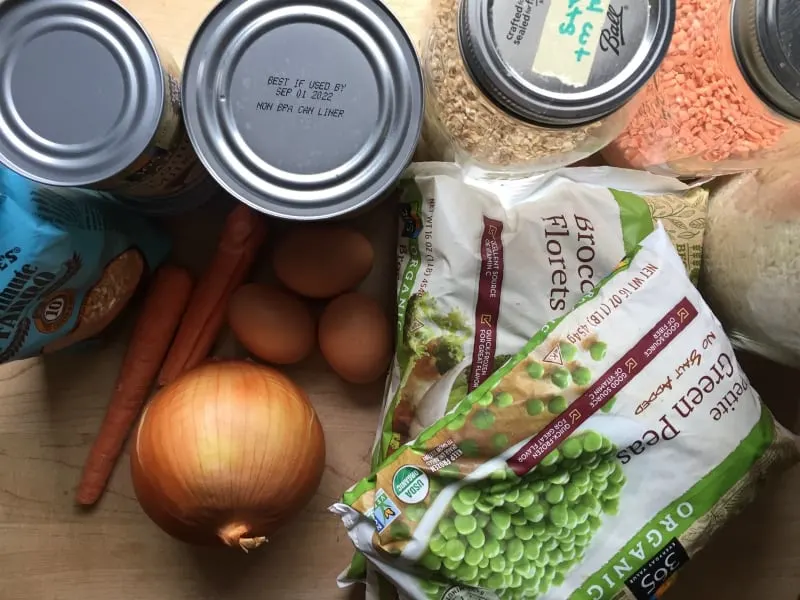 Buy In Bulk (Maybe)
One of the standard pieces of advice when you are looking for easy ways to save on groceries is to buy in bulk. While I am a fan of buying certain ingredients in bulk, I often caution people to do it carefully. Here are the things I encourage you to consider:
Is the per unit price actually a savings? If not, it isn't worth it.
Will you use all of the ingredient before it goes bad? If not, don't buy it. You'll be wasting money (and food).
If you shop at bulk warehouses (e.g., Costco or Sam's Club) and there is a membership cost, take a few minutes to do the math to make sure that you will end up saving MORE than the cost of the membership over the year. If you will, great. If not, the "deals" don't make it worth it.
Do you have someone you can split with? Sometimes the bulk prices are so appealing that passing up the deal is hard. If this is the case, find someone to split the food with. That way you both get a deal and food won't get wasted.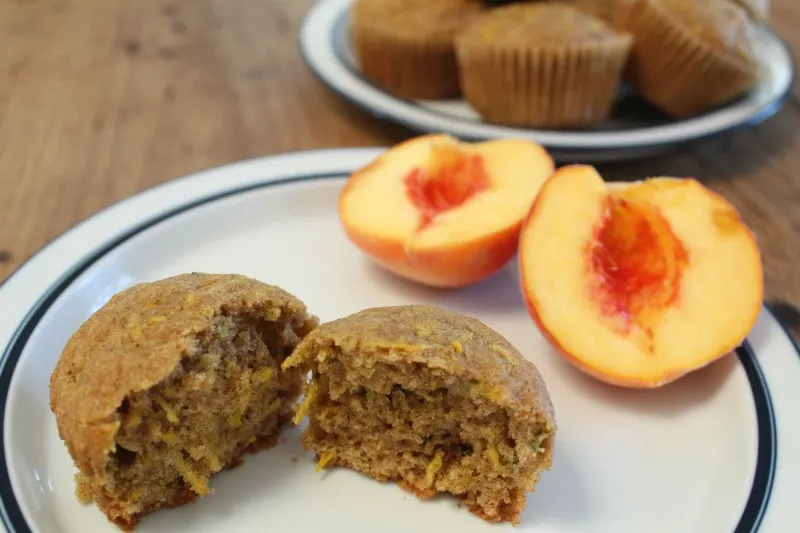 Don't Shop on an Empty Stomach
Research shows that if you grocery shop while hungry, you are more likely to make impulse purchases, especially of things such a snack foods. So, do your best to go food shopping with at least a little something in your stomach.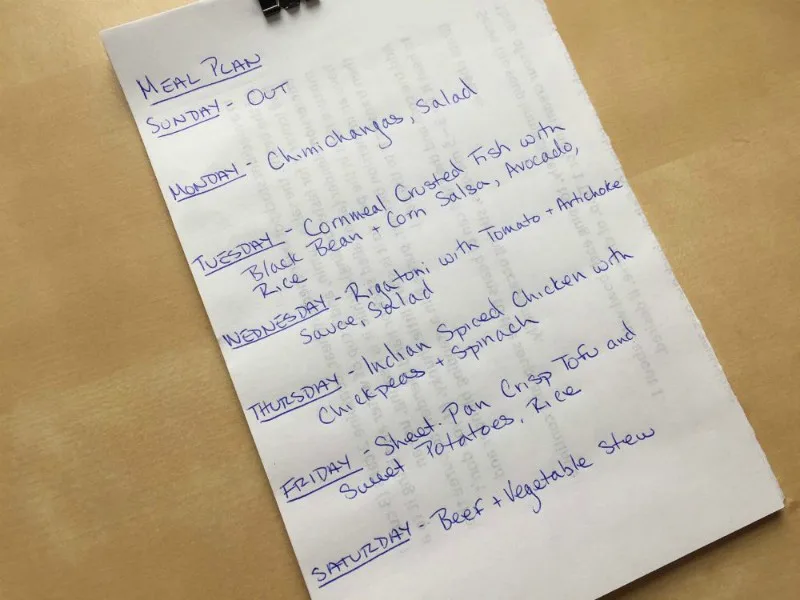 Go With a Plan
By planning out your meals each week and making up a corresponding grocery list, you will be able to shop more cost-effectively and have less food waste. This is for two main reasons:
with a plan and list you will be less likely to make impulse purchases
when making a plan and a shopping list, you are able to make better use of what you already have in the pantry and freezer and are less likely to buy extra of items you already have (which then risk going bad)
If you need help planning, try out The Scramble's meal plans to see how much time and money you can save in planning and grocery shopping. Plus, your (editable) grocery list is pre-made for you, so all you need to do is review it, remove items you already have on hand, and add any extra items you need for other meals!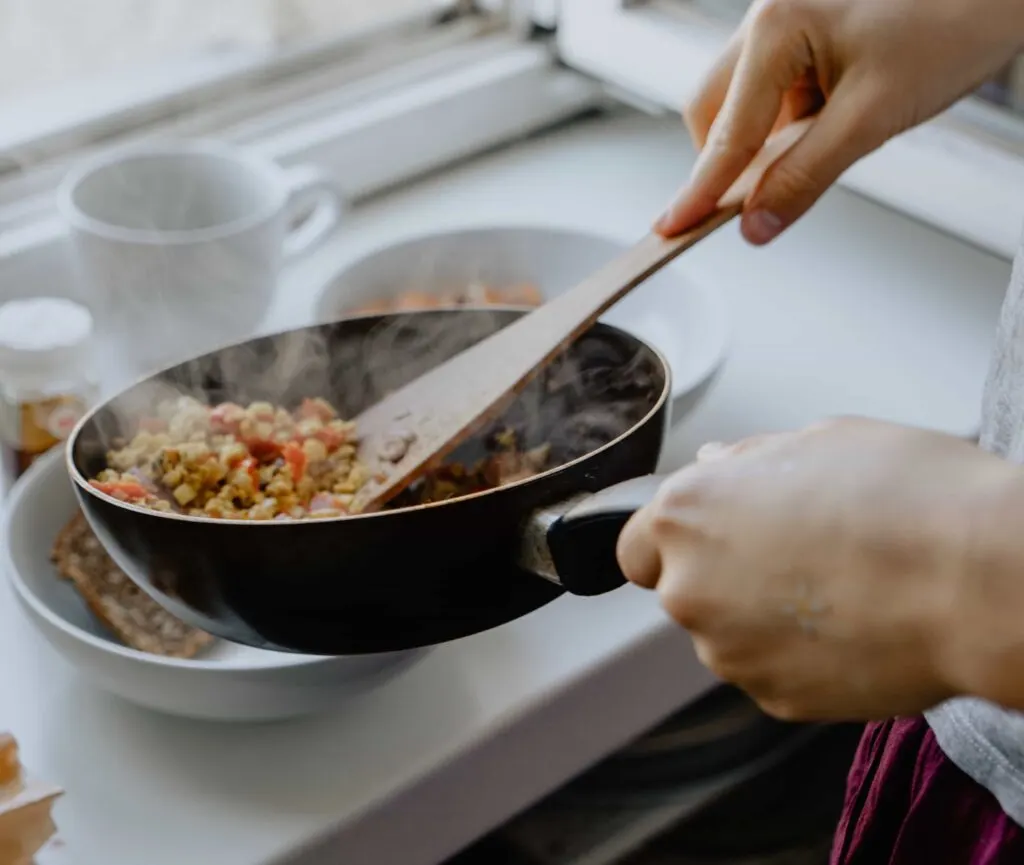 Cook More
The more food you prepare at home, the more you save. Period. Eating out, take out, and even the pre-prepared meals at grocery stores are always going to be more expensive than a home cooked meal. One concrete way to try to cook more is to commit to eating home cooked food at least two more times a week. Cooking just two more meals a week will save you at least $20/week, which is $80/month and $1,000/year – and that's per person!
If you rarely cook, this could mean making two dinners a week (grilled cheese sandwiches, simple soups, and quick pasta dishes are great places to start).
If you make almost every dinner, then doubling one recipe in the week and using the leftovers for lunches is an easy way to save money.
And if you are already making most of your meals, then investing in tools to help you make some basics can save you money in the long run. For me, the most effective tool has been a bread machine, which not only cuts way down on how much we spend on bread (which is a shocking amount with tweens and teens), but also makes preparing things like pizza dough much easier.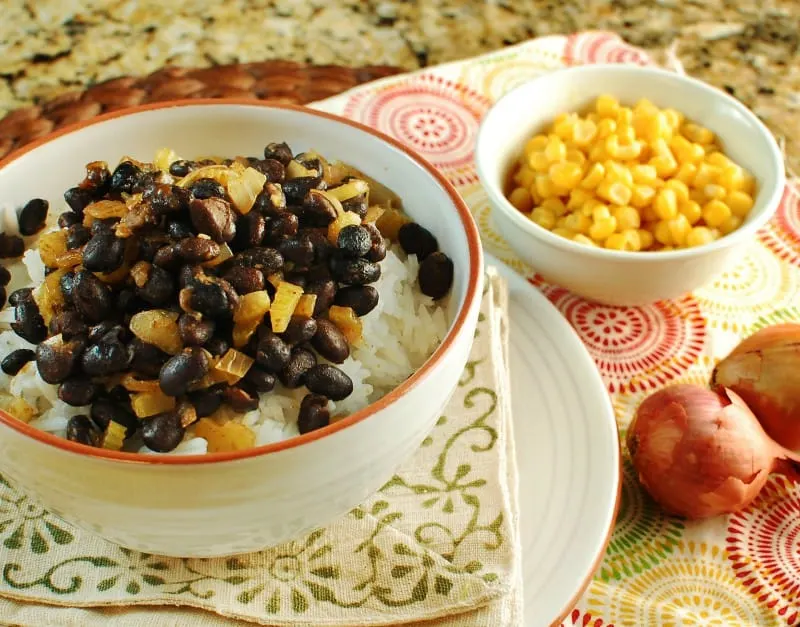 Eat Less Meat
Meat is an important protein source for many people, but other sources such as legumes, eggs, and tofu are much more cost effective. Here are two simple ways to eat less meat.
Increase Your Number of Vegetarian Meals
The obvious option that most people go to is eating more vegetarian meals. This can be a great place to start. Consider adding one or two more vegetarian meals to your weekly plan.
Need some ideas? These Brazilian-Style Power Bowl and Butternut Squash and Yellow Lentil Stew are both hearty, flavorful meals that even meat-eaters love. Or go to The Scramble's recipe search and use the Meal Types feature to search for vegetarian options that look good to you.
De-emphasize the Meat
For serious meat lovers, it can be hard to imagine a meal without meat. If a vegetarian meal is going to be a no go in your family, another good option is to start making some meals where meat is not the main event.
For instance, by incorporating sausage or ground meat into a frittata or casserole you can use half (or even less) of the amount you would use if you were serving it as a burger or sausage on its own.
And you can even take it a step further by replacing half the meat in a recipe with an alternative such as beans or mushrooms. With this pasta sauce, for example, you can sub in finely chopped mushrooms for half of the meat. After sautéeing the onions, add the mushrooms and cook them until their moisture has evaporated, then add your meat and continue with the recipe as is.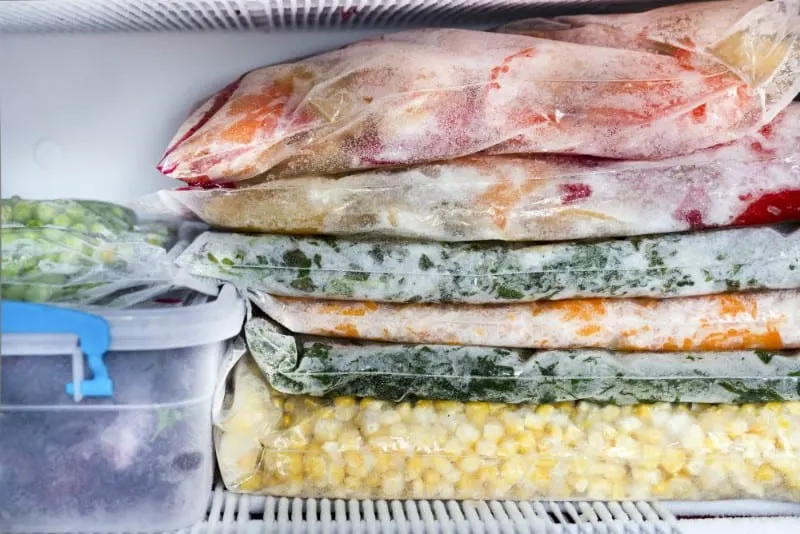 Cook from the Pantry
Americans waste about 25% of their food every year. That's money lost. So when you're coming up with meal ideas, check out what's already in your pantry, fridge, and freezer that needs to get used up before it goes bad.
If you've got ingredients that you are struggling to find a purpose for, The Scramble's recipe search tool can help you figure out what to make with what you've got.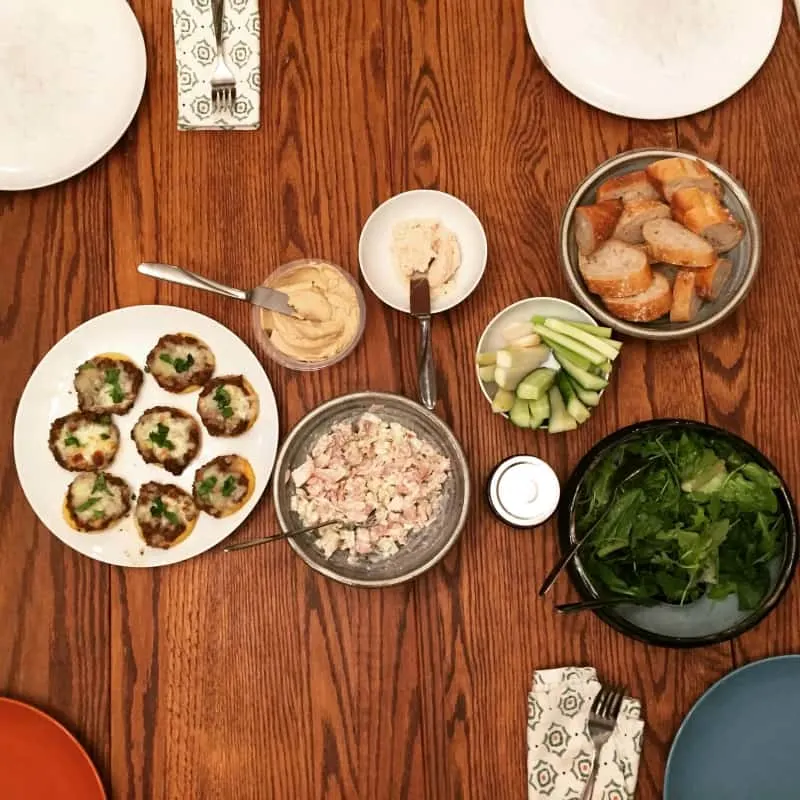 Enjoy or Repurpose Leftovers
People tend to have strong feelings about leftovers. If you love them and you have enough, enjoying them as they are for a second meal is, of course, the easiest option. But there are also ways to repurpose leftovers into new meals, which is great both if you don't have enough for a full meal and for folks who don't like leftovers. Here are some of my favorite ways to do this:
Leftover vegetables can be become the base or add-ins for soups, stews, and sauces
Small amounts of proteins and vegetables can be added to burritos, chimichangas, quesadillas, and grilled cheese sandwiches
Frittatas are a great vehicle for small amounts of pasta, rice, protein, and/or vegetables
Pull out all your recent leftovers and have an "appetizer night" or "choose your own adventure" dinner where everyone gets to build their own meal
Do you have other ways that you like to save money on food? I'd love to hear them in the comments!