Note: This page contains affiliate links. If you purchase a product through these links, your cost will be the same but The Scramble will receive a small commission. I only link to products I personally use, trust, and love. If you want to learn more, please check out my disclosure page. Thanks for your support!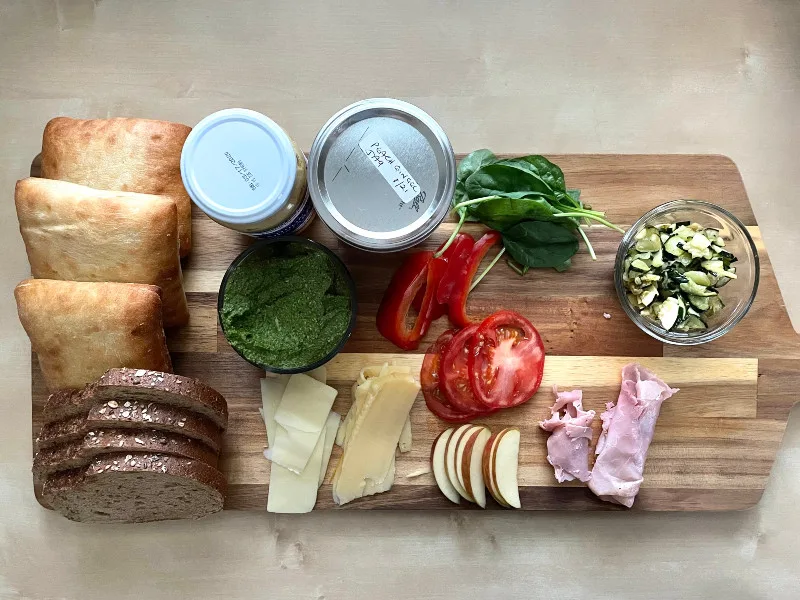 While I have written extensively in the blog about easing the burden of cooking and recipes to make when you are only up for making the bare minimum, I realized recently that I have never shared one of my family's absolute favorite dinners (that happens to be super easy). This fun and easy weeknight dinner allows for lots of flexibility, can use up leftovers you've got knocking around, and will naturally encourage your kids to try new foods and flavor combinations. What is this unicorn of a meal, you ask? The Grilled Cheese Bar!
Yes, Sandwiches Are a Legitimate Dinner
When my eldest son was a toddler and I found myself preparing meals not only for my husband and me, but also for my child, I was fixated on the idea that every meal had to be perfect. In my head, that meant it had to include three distinct dishes: a protein, a carbohydrate, and a vegetable. Unless, of course, we were talking about a casserole or stew, in which case a one-pot meal was acceptable.
As time went on, I began to realize that there were many ways to successfully feed my family that did not fit into this 1950s-era fictional version of family dinner. And of all of the meals that I added to our rotation, from breakfast-for-dinner to loaded nachos, one of the easiest and most satisfying were sandwich nights.
Served with a simple green salad or some steamed frozen vegetables, I found that sandwiches were a great way to introduce my kids to new flavors and ingredients. After all, bread makes everything better. What's more, I found that when I added different ingredients to grilled cheese sandwiches, my boys were even more likely to be enthusiastic about the meal.
Then, when we started dealing with my younger son's picky eating, I discovered that if I put out lots of ingredients and invited the kids to build their own sandwiches, they were more likely to include ingredients I might have otherwise assumed they wouldn't eat. Furthermore, I found that if I gave them a choice of ingredients, but did the building myself, they were less adventurous, so including them in the building of the sandwiches was key. And, so, the grilled cheese bar was born!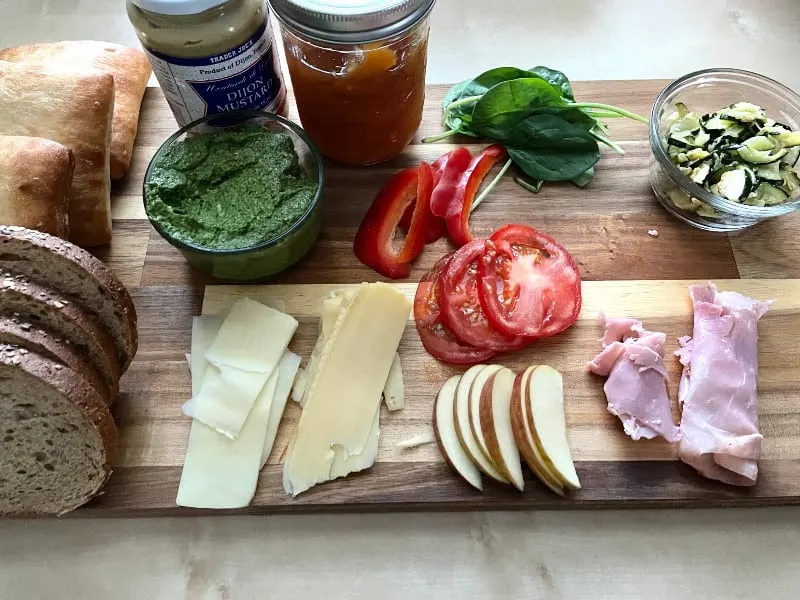 How to Make a Grilled Cheese Bar
First, let's talk ingredient options. Outside of encouraging my kids to try new and different ingredients, one of my favorite things about a grilled cheese bar is that it is a great way to use up little bits and pieces you might have knocking around in your fridge.
Leftover roasted vegetables, already cooked proteins, sauces and spreads, even some fruits can make awesome additions to your grilled cheese bar. Here are some of our favorite options, but feel free to get as creative as you want!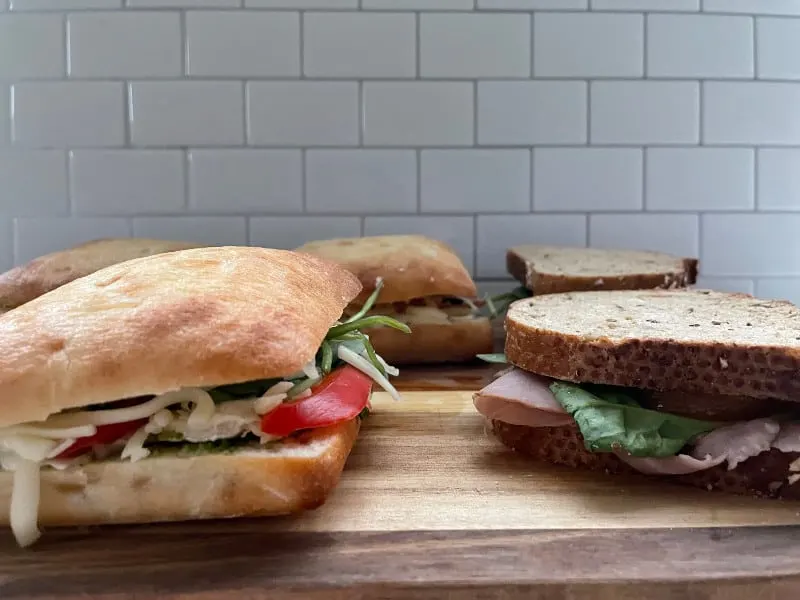 Grilled Cheese Bar Ingredients
Different cheeses (Cheddar, mozzarella, feta, gouda, Parmesan, brie, goat, blue cheese, the list goes on and on)
Leftover cooked vegetables (sweet potato, broccoli, cauliflower, zucchini/summer squash, sautéed greens, etc.)
Raw vegetables (bell peppers, tomatoes, baby spinach, arugula, baby kale, etc.)
Jarred vegetables (marinated artichokes, roasted red peppers, pickles, olives, etc.)
Leftover cooked proteins (chicken, pork, beef, tofu)
Deli meats (ham, turkey, roast beef, bacon)
Fruit (apple slices, pear slices, peaches, nectarines)
Spreads (jams, chutneys, mustard, hummus, Harissa)
Sauces (pesto, marinara)
Breads (whole wheat, white, ciabatta, focaccia, sourdough)
Butter or mayonnaise (for grilling)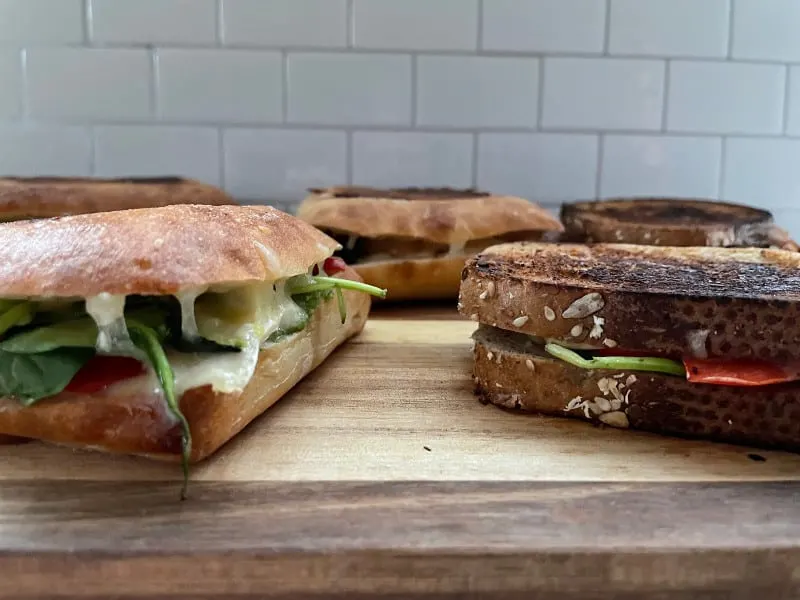 How to Set up a Grilled Cheese Bar
While the list of ingredients above may be long, one of the reasons I love this meal so much is that it is super quick and easy to set up. Here's my process for setting up a grilled cheese bar.
Set out either a griddle or two frying pans (so that you can grill more than one sandwich at a time) (Note: you can also make multiple open-face sandwiches at once by using a baking sheet and your broiler)
Go through the fridge and pull out whatever ingredients I am going to offer up in the grilled cheese bar
Thinly slice any ingredients that need to be sliced, such as cheese and raw vegetables
Either lay the ingredient options out on a large cutting board or set them up in a line along the counter, starting with the bread, then spreads or sauces, cheeses, and then other fillings
Invite everyone to build their own sandwich. While the kids are assembling their sandwiches, I try to remind them to put some cheese on both pieces of bread, as the melted cheese on both sides will help to hold the whole thing together
Spread either butter or mayonnaise on the outside of the bread and start your grilling, keeping the heat on medium so that the cheese has time to melt before the bread starts to burn
When the sandwiches are done, remove them to plates and let them sit for 2-3 minutes before slicing in half. This will give the cheese a chance to firm up a tiny bit so that the sandwich holds together better.
What to Serve with your Grilled Cheese Sandwiches
While our grilled cheese sandwiches are often full of veggies, I like to also serve them with an extra dose of fruits and vegetables on the side, either through a green salad or by serving sliced fruit or smoothies.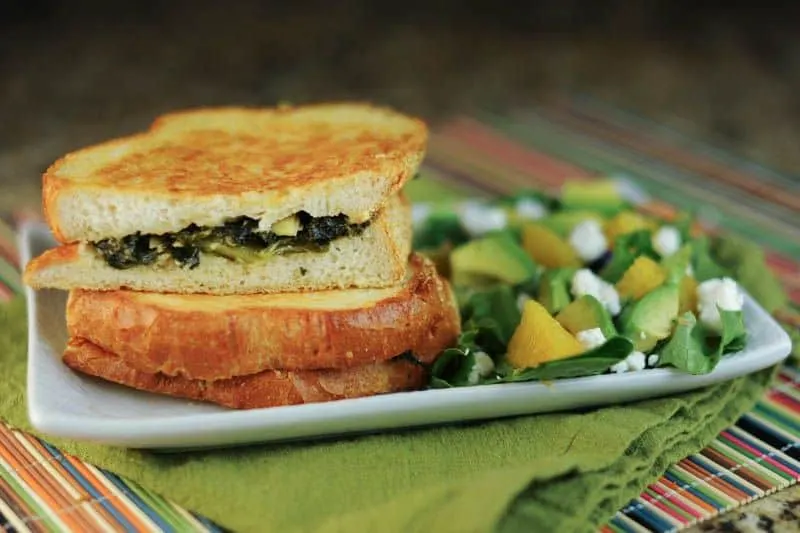 Grilled Cheese Inspiration
If you want some ideas for flavor combinations that work really well in a grilled cheese sandwich, watch me assemble a Grilled Cheese Bar on Facebook Live or check out these recipes:
Grilled Cheese with Kale, Artichokes, and Asiago Cheese
Grilled Cheese with Turkey and Tart Apples
Grilled Cheese with Brie and Baby Spinach
Bacon, Cheddar, and Tomato Melts
Do you have favorite easy weeknight dinners or a favorite grilled cheese ingredient that I missed? I'd love to hear about them in the comments!