If you have ever wondered how to make refried beans, this recipe for Chipotle "Refried" Beans makes it easy in the slow cooker.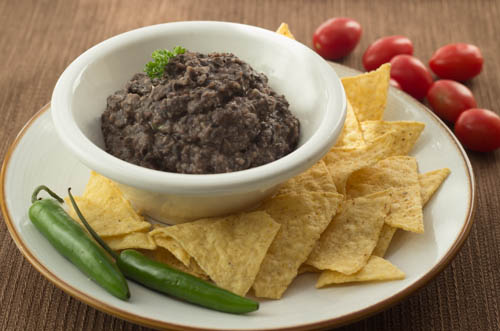 Beans are one of my favorite protein sources. For one thing, they are incredibly versatile – taking on whatever flavors they're cooked with and used in cuisines from all over the world. For another, beans are a flexible vegetarian option if you are trying to shift to eating less meat. And finally, they are cheap, and who doesn't want to save money on groceries?
What are Refried Beans?
Refried beans are beans that are cooked, or "refried," with a variety of spices and are then partially mashed to create sort of a textured bean paste. Often thought of as a Tex-Mex staple, most Latin American countries have their own version with different spice combinations (which means once you master the version included below, you can experiment on your own).
Benefits of Making Your Own Refried Beans
It's easy to find already prepared refried beans in the grocery store and I have definitely used those canned versions myself, but once I realized how simple it was to make a big batch of them in my slow cooker, I never looked back. There are two main benefits to making your own refried beans: flavor and cost.
Flavor
Like so many other staples, the homemade version of refried beans are much more flavorful. In addition, as you make them, you can season them more to your taste. Like a spicier version, add more jalapeño. Want to keep it milder, eliminate the jalapeño all together. Love the taste of garlic, add more. Want more smoky spiciness, bulk up the chipotle in adobo sauce. Want a version with a more herbal quality, throw in some Mexican oregano or epazote. The possibilities are truly endless.
Cost
Similarly, like many other staples, preparing a batch of refried beans at home is cheaper than buying the canned version. In fact, for the price of about two cans of prepared refried beans, this recipe will allow you to walk away with the equivalent of roughly four. That's a good deal!
Uses for Refried Beans
For years I only thought of refried beans as the paste that was in Taco Bell burritos and the small side bowl that was served in Tex-Mex restaurants. Boy was I wrong! Refried beans are a simple and quick way to add even more flavor to some family favorites. Here are some of my favorite ways to use refried beans.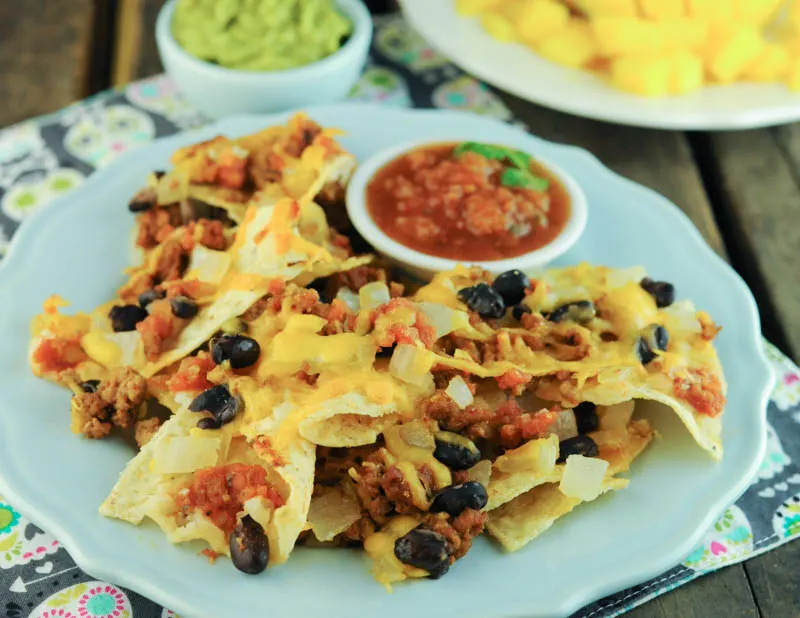 These nachos are amazing no matter which kind of beans you use, but when you include refried beans, you will have an extra zip added, as well as a creaminess that goes really nicely with the crunchy chips.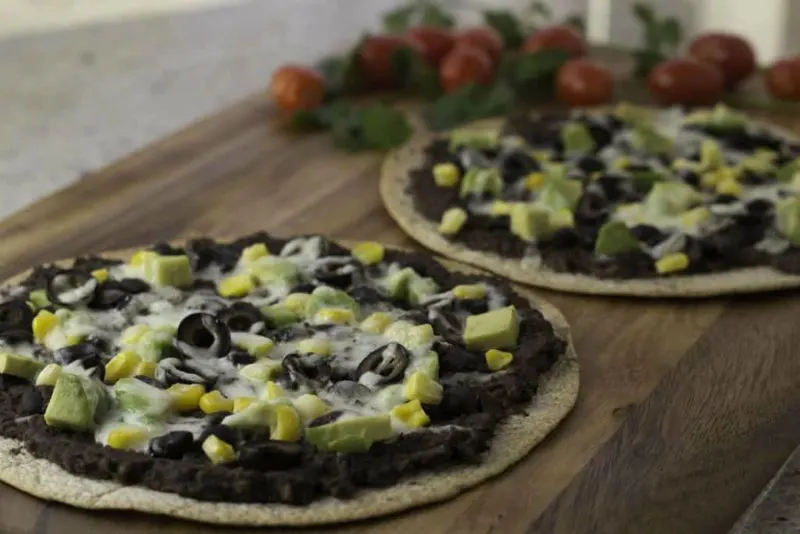 Crispy, creamy, packed with flavor, and absolutely delicious, these Mexican pizzas are a family favorite. They are especially great for a Friday night when you don't feel like doing much cooking or for a busy evening when you get home late.
I love these so much, in fact, that I make a version of them on corn tortillas for lunch almost every day. I'll spread about 1 Tbsp of refried beans on each tortilla as a base of flavor, add grated cheese, diced bell peppers (or any leftover cooked vegetables I've got knocking around), and heat them in the toaster oven or under the broiler for a few minutes. Then I top them with greens, diced tomatoes, diced avocado, and salsa for a salad-like tostada dish that is a little different each time.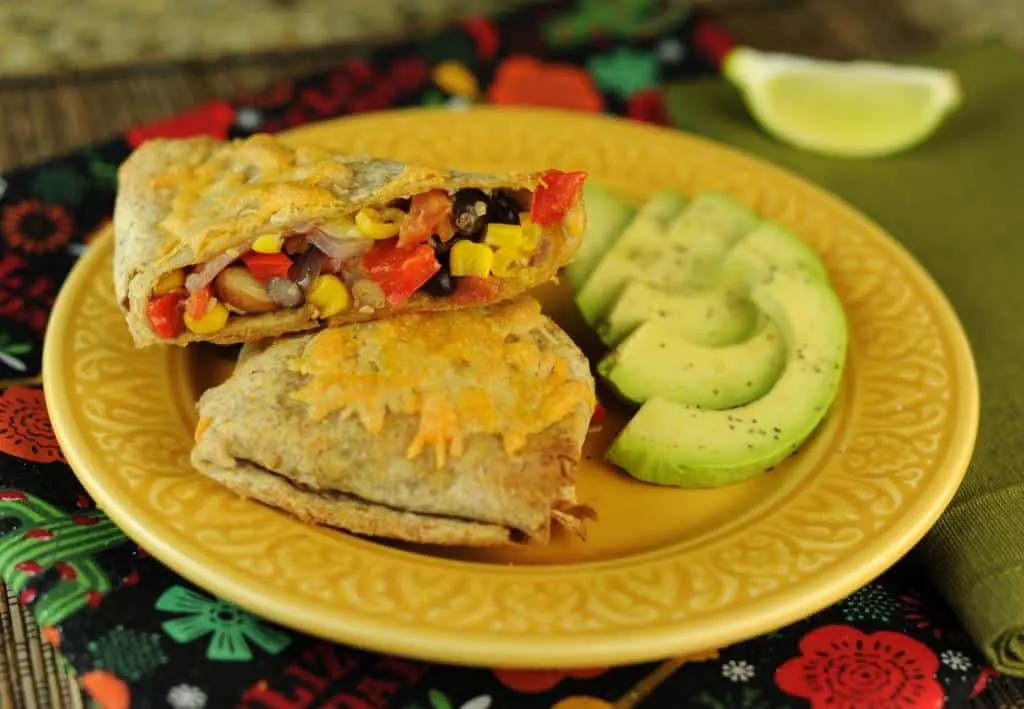 You can swap out regular beans for the refried variety in almost any burrito. It will add creaminess and an extra boost of flavor.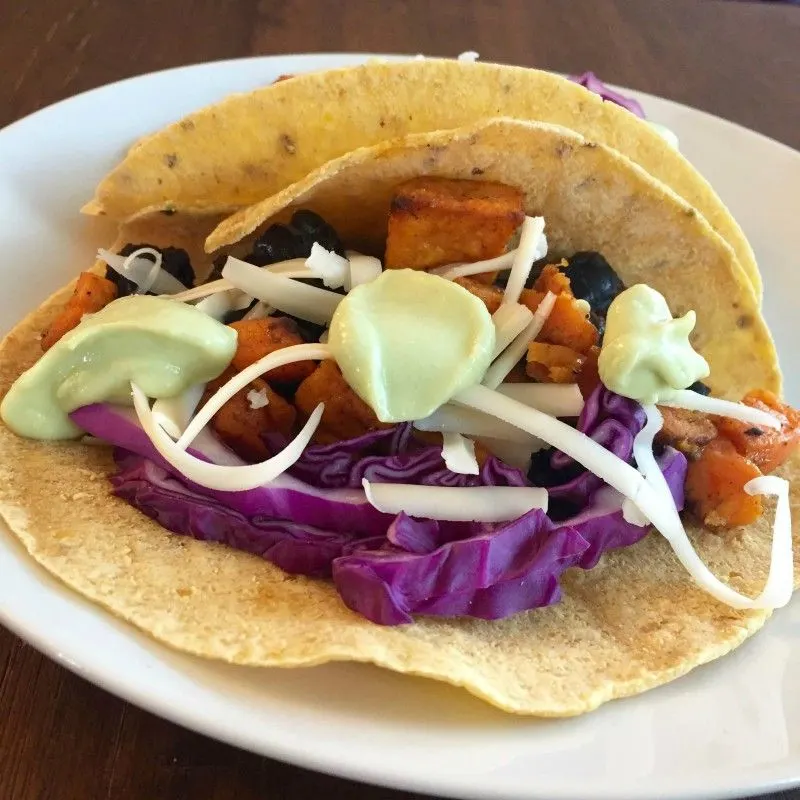 Adding a thin layer of refried beans to pretty much any taco is a winner, but in my family we especially love adding it to tacos made with crunchy tortilla shells.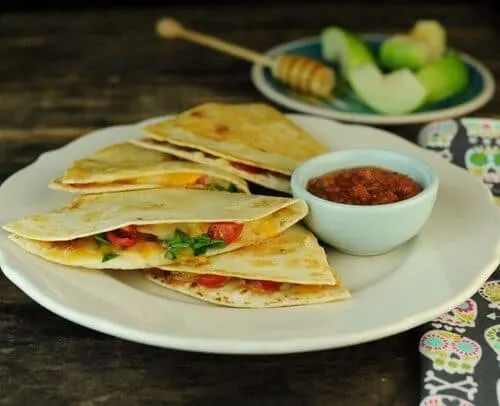 Another dish where you can add a layer of refried beans pretty much any time is quesadillas. They'll give it even more creaminess, a nice kick of flavor, and some extra protein.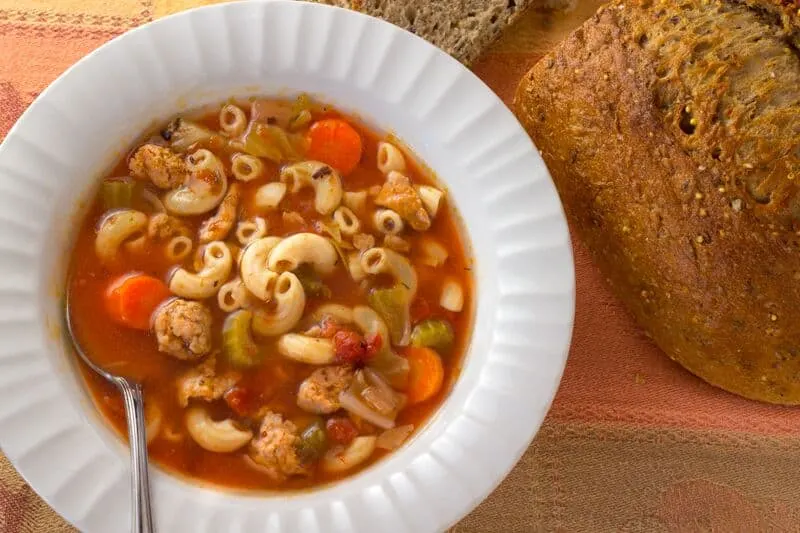 This is a more unique use of refried beans. In this case, adding them to the soup will give it a creaminess, almost as if you were adding dairy, but with more protein and flavor.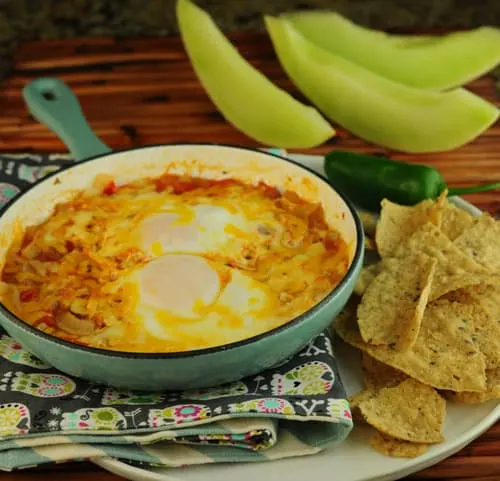 This delicious dish can make a fantastic dinner or brunch. My family's favorite way to eat it is scooped up in tortillas that have been smeared with refried beans for added flavor and texture.
How to Make Refried Beans in the Slow Cooker
So now that I've sold you on why and how you should be using refried beans, I want to share how to make refried beans in the slow cooker so you can see how simple it truly is.
As I described before, refried beans are basically beans that are cooked a second time with additional spices. When you prepare the beans in the slow cooker, you are preparing dried beans and, in effect, are doing both rounds of cooking at once. This means that if you want to use the beans both as regular beans and as refried beans, you have the flexibility to save some of the beans as they are before you mash them up – a win-win!
Here's how you make the beans in your slow cooker.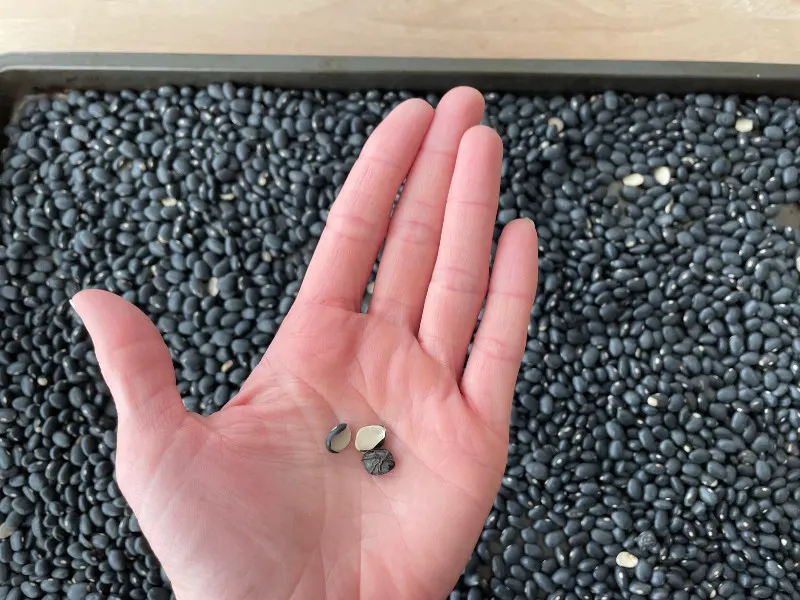 Pick over the beans
The first thing you always want to do when you are cooking dried beans is lay them out on a tray and pull out any that are shriveled or badly broken, as well as any pebbles or small rocks.
Mom tip: Have your kids help with this step!
Wash the beans
Once you've checked over the beans, put them in a colander and give them a good rinse.
Prep the jalapeño
Before I give you the steps for prepping your jalapeño, I want to give some safety advice. Jalapeños are spicy, which means that the oils and seeds that you will come into contact with while seeding and chopping your jalapeño are potent and can cause you pain if you have them on your hands and touch sensitive areas, such as your eyes and nose. So, when prepping the jalapeño, make sure to either wear gloves or be mindful of where you touch yourself until you have washed your hands very well with soap when you are done.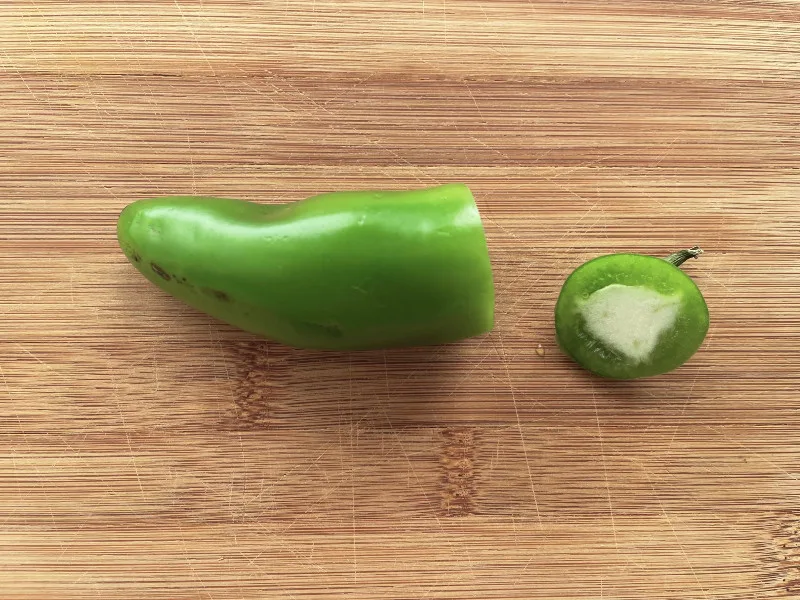 You will want to see and chop your jalapeño. To do this, slice the top off.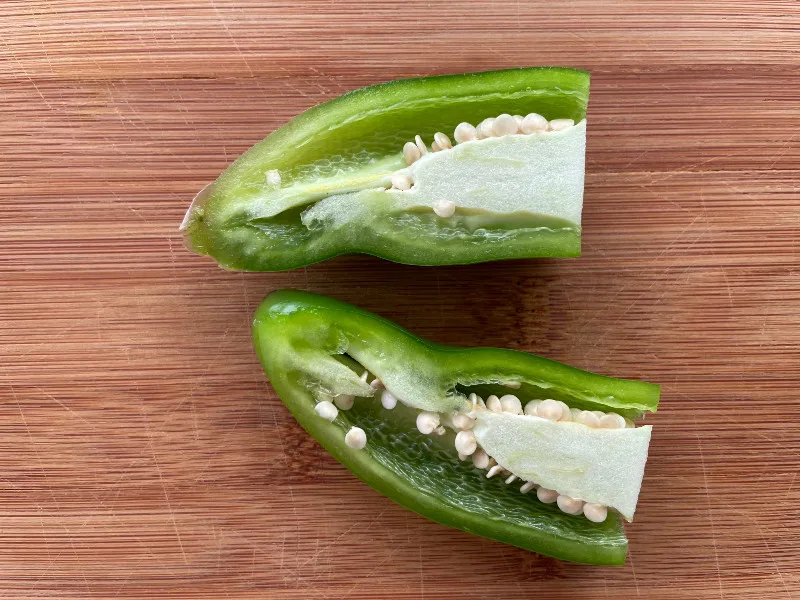 Then slice it in half length-wise, this will expose the seeds.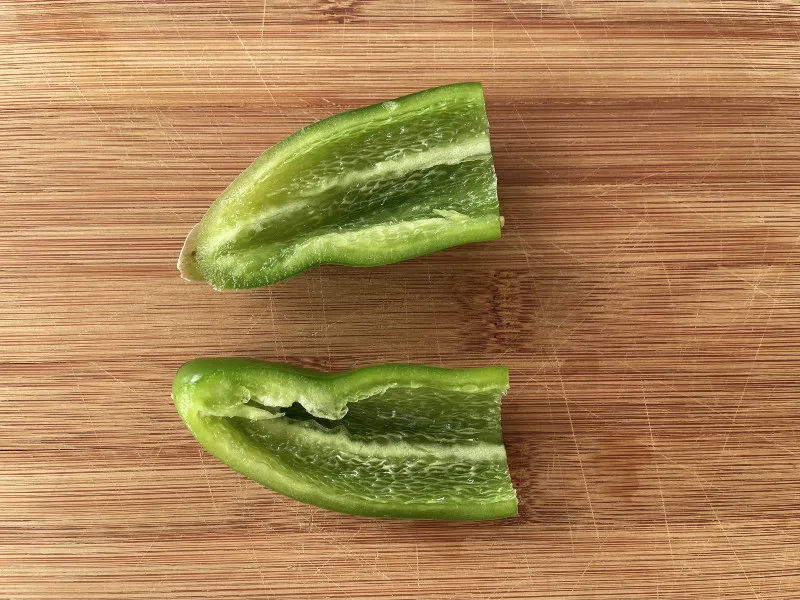 Using the tip of your knife, scrape the seeds directly into your trash can or compost bin.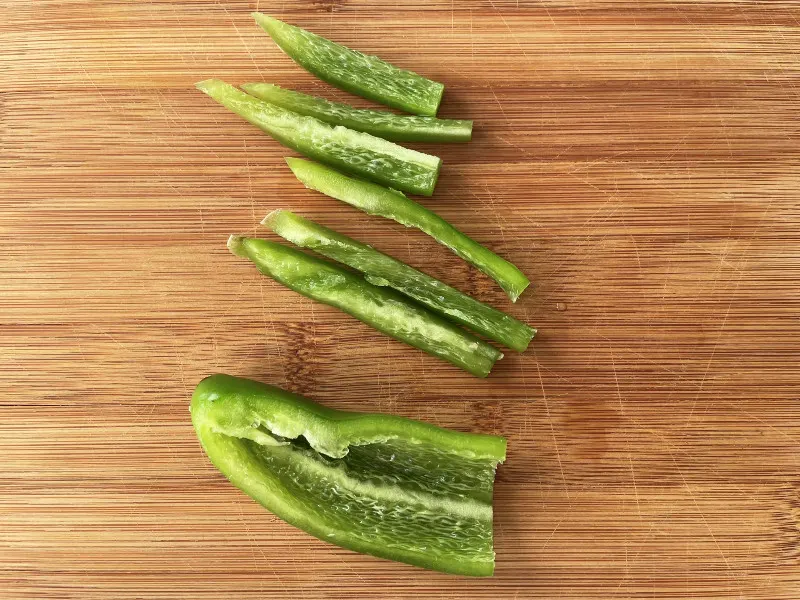 Then, from the inside-out, slice the jalapeño, lengthwise, into thin strips.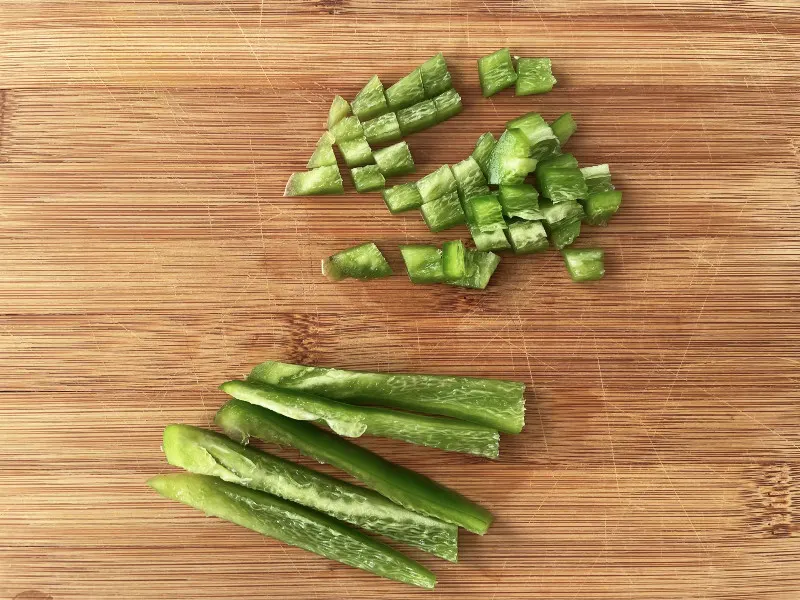 Finally, slice, cross-wise, to create your diced jalapeño.
Preparing onions and garlic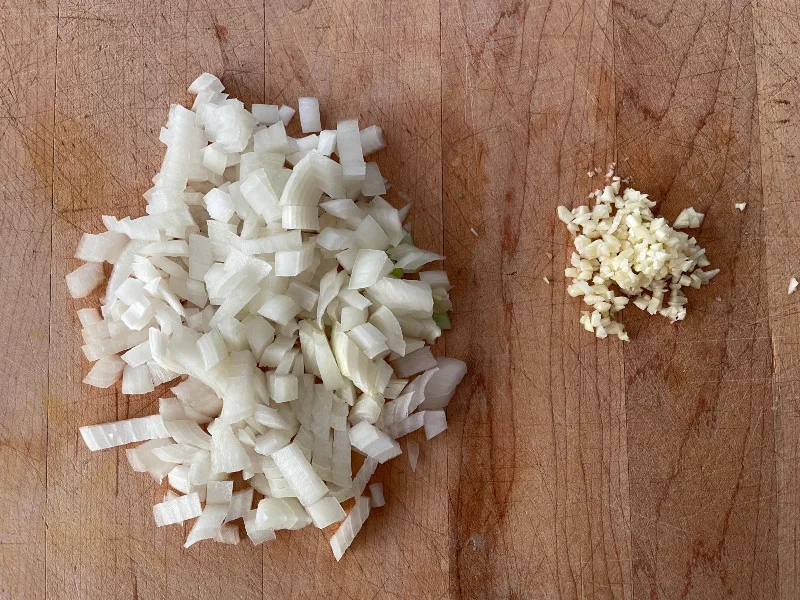 Dice your onion and mince your garlic.
Cook the beans in the slow cooker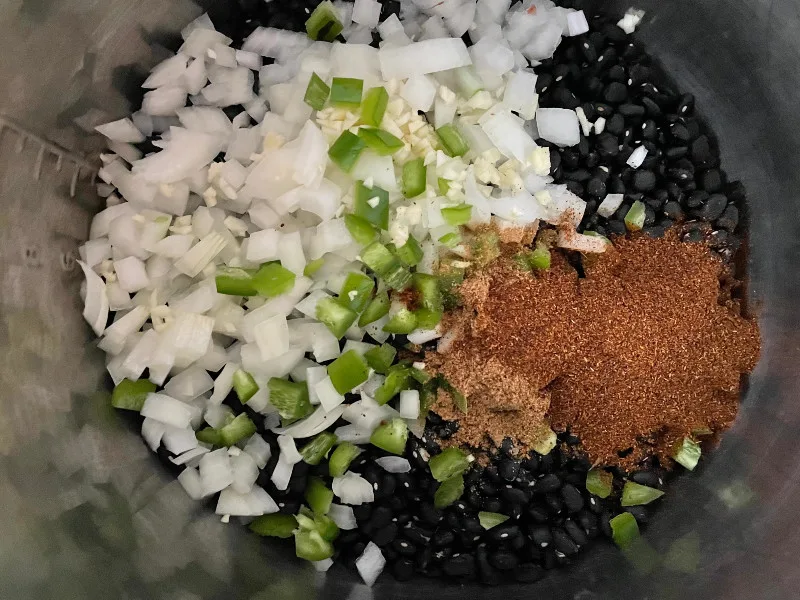 Put the beans, jalapeño, onion, garlic, cumin, chili powder, and water into your slow cooker.
Cook on low for 7-9 hours, or until the beans are tender.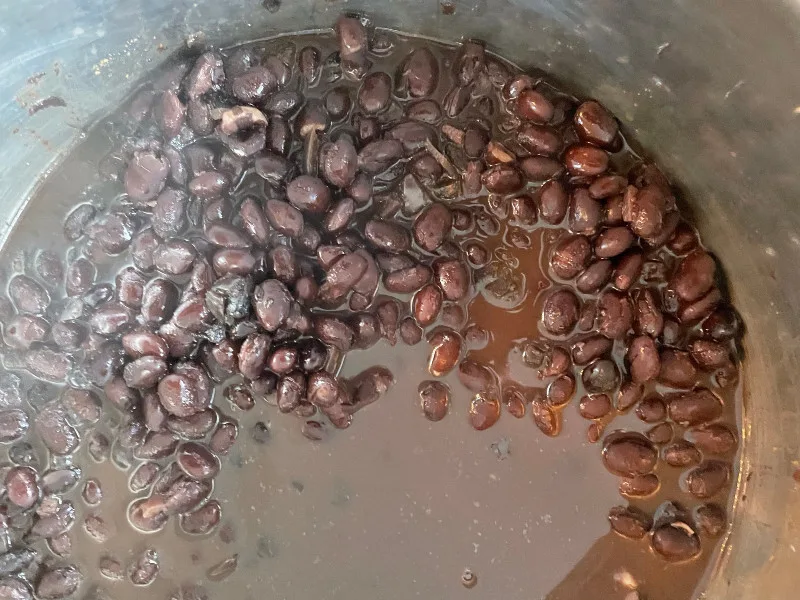 Now, add 1 ½ tsp. of salt, or more to taste. (Adding salt before this will make the beans tougher and extend your cooking time.)
Save the liquid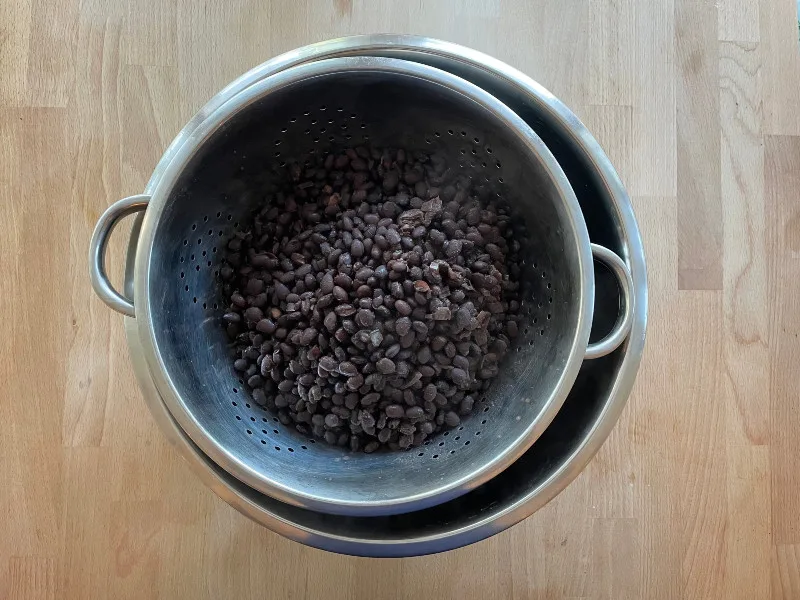 Place a large strainer or colander over a large bowl and drain the liquid from the beans, reserving the cooking liquid for the next step.
Puree the beans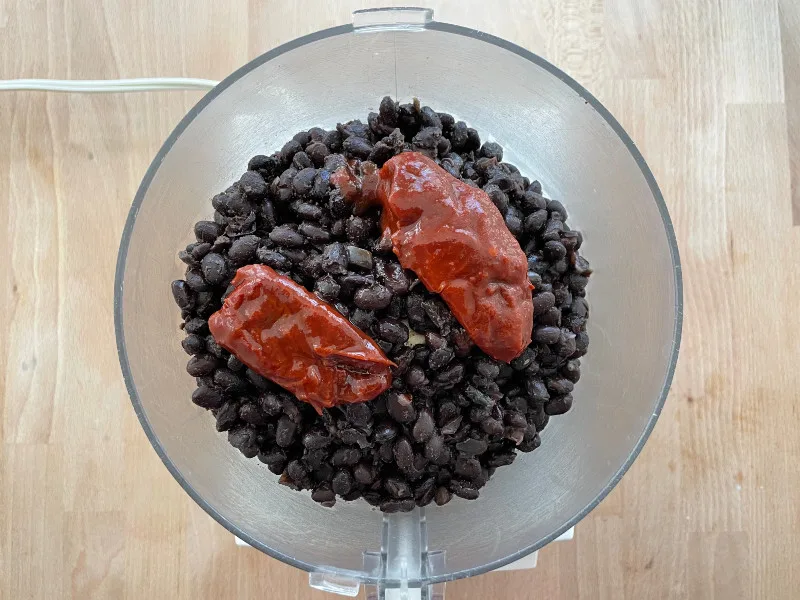 Put 3 cups of beans into a food processor, add 1-3 chipotle peppers in adobo sauce (one for less spicy and 3 for spicy), and ¾-1 cup of the reserved cooking liquid. Puree until you get the beans to your desired consistency (I like a little bit of chunkiness, but if you like them super smooth, go for it).
For a creamier texture, use the full 1 cup, or even a tiny bit more, of the liquid and puree for longer.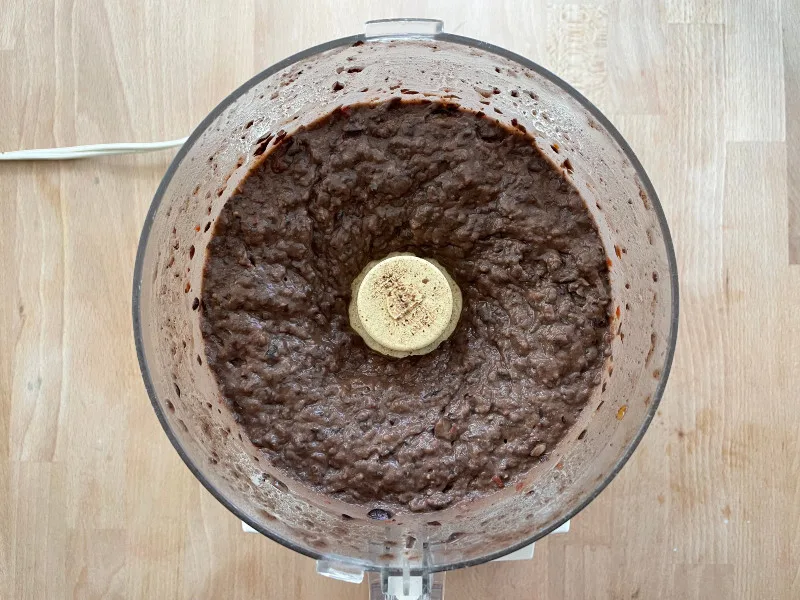 You can now repeat the puree step above to make more of the beans into refried beans, or you can save these beans as they are to use in recipes that call for beans.
Store your beans
Divide your beans (regular or refried) up into 1 ½ cup increments as this is roughly equivalent to a can of store-bought beans. Store them in freezer bags or sealable containers and refrigerate for up to 5 days or freeze for up to 3 months.
Do you have a favorite ways to use refried beans? Share them with me in the comments!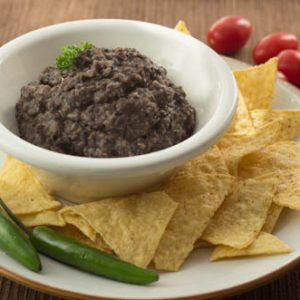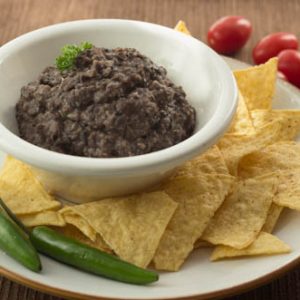 Chipotle "Refried" Beans
If you have ever wondered how to make how to make refried beans, this recipe makes about 4 cans worth. Some of the beans can be pureed to be used as "refried" beans and some can be left whole and stored to use in burritos, salads, or other recipes. Use the refried beans in burritos, quesadillas, nachos, or as a dip for tortilla chips or vegetables.
Ingredients
1

lb.

dry black beans

2

cloves

garlic

minced, about 1 tsp.

1/2

onion

chopped

1

jalapeño pepper

seeded and chopped (optional) (can use Dorot chili pepper)

1

tsp.

ground cumin

1 1/2

Tbsp.

chili powder

6

cup

water

1 1/2

tsp.

salt

1 – 3

chipotle chili peppers in adobo sauce

or to taste
Instructions
Combine all ingredients except the chilis in adobo and salt in the slow cooker.

Cook on low for 7 – 9 hours until the beans are tender.

Place a large colander or strainer into a large bowl and strain the beans so that the water and beans are separate.

Put 3 cups of beans in a food processor, add 1 – 3 chipotle chili peppers in adobo sauce (from a can), and 3/4 – 1 cup of the reserved cooking liquid, and puree the beans to desired consistency. This makes the equivalent of roughly 2 cans of refried beans.

For a creamier texture, use more of the liquid and puree longer.

Repeat with the second half of the beans or you can store the remaining beans in 1 1/2 cup increments (refrigerate or freeze) to use in recipes in place of canned beans.

Serve immediately or refrigerate it for up to 1 week or freeze it for up to 3 months.