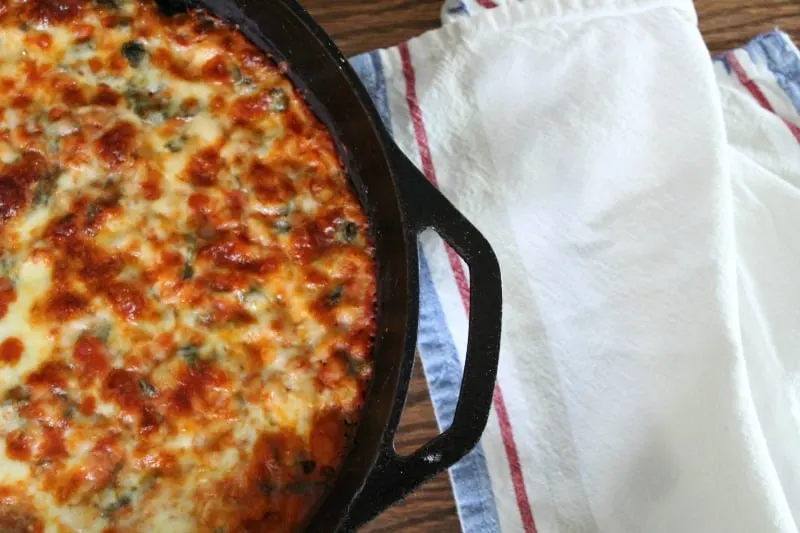 Every once in a while, even this passionate advocate for home cooking hits a wall when it comes to dinner prep. Sometimes it is exhaustion, sometimes a lack of inspiration. But there are nights when the thought of making yet another meal feels daunting and tedious. So, it was an extremely pleasant surprise when a recipe that my family truly loves came out of a night when I literally dragged myself through the motions of getting dinner on the table. That's right, these Cheesy Pizza Beans were the outcome of a night when I didn't want to cook.
The Miracle of Staple Ingredients
One of the reasons I love cooking so much is that the iterations with even just a few ingredients are seemingly endless— there is so much room for creativity. Take this recipe, for example, just by combining basic pantry staples— canned beans, tomato paste, some spices, and cheese— I was able to create a delicious and fun meal that my family had never had before. But I could have also taken those same ingredients and turned them into a soup, a pasta dish, or maybe even a frittata or omelet.
The more we cook and the more we become comfortable with different ingredients, even just with staple ingredients in our pantries, the more we can experiment and get creative. Let's take a look at all the different meals you can make with pantry staples you probably already have in your kitchen.
Canned Beans
Canned beans, for example, can add protein and heft to soups, stews, egg dishes, pastas, curries, burritos and enchiladas, and even dips and spreads. Furthermore, once you are comfortable with the different kinds of beans and their qualities, you can start to swap them in and out for each other— kidney or pinto beans for black, cannellini beans for chickpeas.
Canned Tomatoes
These babies offer a dose of vegetable to sauces, stews, salsas, and casseroles. In addition, because they're acidic, they also will bring lightness and flavor to a dish.
Grains
From pasta to rice to couscous and beyond, grains can add texture and interest to a dish and can also help to stretch a meal further if you are trying to stay on a budget. While they make a wonderful side dish, you can also add grains to dishes such as soups, stews, casseroles, and frittatas.
Frozen Vegetables
While, of course, they can be steamed and used as healthy side dish, even just preparing them as a side dish provides space for creativity. For instance, sautéeing frozen broccoli or cauliflower in a little bit of olive oil and garlic is absolutely delicious. Or you could try adding some extra flavor to your frozen veggies such as pesto sauce, soy sauce, Thai hot chili sauce, or Tabasco sauce. In addition, you can add frozen vegetables to casseroles, sauces, soups, stews, and stir fries. For example, I love adding frozen spinach to my marinara sauces and regularly use frozen vegetables in puréed vegetable soups.
Spices
These seemingly small additions to a recipe are truly essential because spices are what bring the various ingredients together into a cohesive dish. Furthermore, they can completely change an almost identical grouping of ingredients from one variety of ethnic food to another.
Take eggs poached in tomato sauce as an example. This is a dish that is common across various cultures. Throughout the Middle East, the tomato sauce is flavored with cumin, paprika, cayenne, and nutmeg or sometimes za'atar (a middle eastern spice blend) to create the base for Shakshuka. In Italy, on the other hand, the sauce is a classic marinara flavored with oregano and basil and the end result is called Eggs in Purgatory. And if you wanted to go in a Tex-Mex direction, you could try our Mexican poached eggs.
Want more pantry staples inspiration? Check out our pantry staples list.
The Creation of Cheesy Pizza Beans: An Example
The night I made this dish for the first time, I had a hankering for pizza but no dough ready to go. In addition, as I mentioned before, I really didn't feel like cooking, so I needed something that would come together fast.
I decided to go through my pantry to see what I had and then search online to find something that would fit my needs. I stumbled across Ali Slagle's Cheesy White Bean Tomato Bake and decided to play with it. I decided to add more tomato paste and beans to make it heartier and thicker, and some baby spinach to make it a one-pot meal, and got cooking.
When it came out of the oven, I knew I had a winner and when it went down on the table alongside some crusty bread for scooping and dipping, my entire family was sold.
For me, it was a lovely reminder of the fact that great food can come from complicated recipes with many ingredients, but it can also come from a few simple ingredients that are put together just right.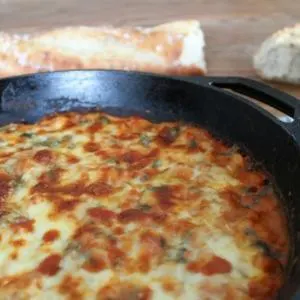 Cheesy Pizza Beans
Adapted from an Ali Slagle recipe in The New York Times, this super simple dish is warming and satisfying, especially since it is ready in only 15 - 20 minutes! My family loved scooping all the goodness up with crusty bread, making it a fun and interactive meal to boot! If you want to turn it into a heftier meal you could add some sausage or diced deli ham. Serve it with some crusty bread for scooping for a fun and interactive meal.
Ingredients
2

Tbsp.

extra virgin olive oil

3

cloves

garlic

minced, about 1 1/2 tsp.

3

oz.

baby spinach

roughly chopped (optional)

4

Tbsp.

tomato paste

1 1/2

tsp.

dried oregano

1/4

tsp.

crushed red pepper flakes

optional

45

oz.

canned cannellini or great Northern beans (or use 1 1/2 cups home-cooked beans for every 15 oz. can),

drained and rinsed

1/2

tsp.

kosher salt, sea salt, or other coarse salt

1/4

tsp.

black pepper

1 1/3

cups

shredded mozzarella cheese
Instructions
Preheat the oven to 475 degrees.

In a 10 or 12-inch ovenproof skillet, heat the oil over a medium-high heat. Start boiling 1/3 cup water in a pot, kettle, or microwave.

Add the garlic to the skillet, and sauté until it is fragrant, about 1 minute.

Add the spinach (optional) and sauté until the the spinach has wilted.

Add the tomato paste, oregano, and crushed red pepper flakes (optional) and stir until it is well mixed with the garlic, about 30 seconds. Turn down the heat if the garlic is starting to turn brown/burn.

Add the beans, water, salt, and pepper and stir to combine.

Top evenly with the mozzarella and then move the skillet to the oven. Bake the beans for 10 - 15 minutes, or until the cheese is melted and browned in spots. If you want it even toastier, put it under the broiler for a minute. Serve immediately.
Notes
Do Ahead or Delegate: Peel the garlic, chop the spinach if using, shred the cheese if necessary and refrigerate.
Scramble Flavor Booster: Sprinkle more crushed red pepper flakes on top when serving, replace 1/3 cup of the mozzarella with feta or Parmesan cheese, or replace the regular shredded mozzarella with smoked mozzarella.
Tip: Got leftover tomato paste? Freeze extra paste in an ice cube tray, tap the cubes out of the molds when they are frozen, and store them in your freezer in a resealable freezer bag. Then, when you need them, you can add them (from frozen) to your sauces and stews.
Nutritional Information Per Serving (% based upon daily values): Calories 369, Total Fat: 11g, 17%; Saturated Fat: 4g, 20%; Cholesterol: 20mg, 7%; Sodium: 409mg, 17%; Total Carbohydrate: 48g, 16%; Dietary Fiber: 11g, 43%; Sugar: 2g; Protein: 22g
Like this recipe? Check out The Scramble's family-friendly meal plans to see just how simple getting dinner on the table can be!
Do you have favorite recipes that are made up of a few simple ingredients? I'd love to hear about them in the comments!