Whether you want to take advantage of the low price of apples at the grocery store, you're receiving too many apples in a farm share, or you went overboard with apple picking, having too many apples is actually a great problem to have! To make it less overwhelming for you, though, I wanted to share some of my favorite tips and recipes to help you use up the apples.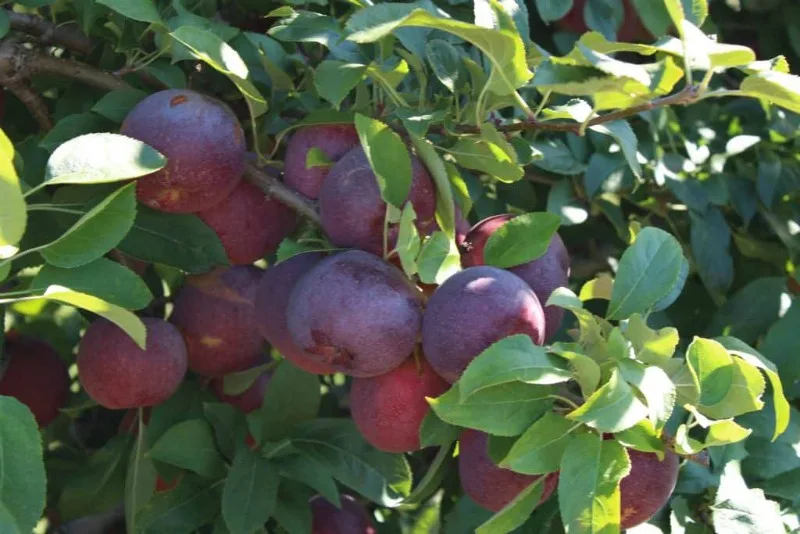 Apples: A Favorite Fall Fruit
Apples are a guaranteed winner in my house pretty much all year-round, but when they're at their peak in the late summer and fall, we're completely apple crazy in my house. In fact, I think I might have a problem. I pretty sure that I am addicted to apple picking.
Every late summer I am overjoyed when my farm share enters into apple season. But even with the 6 (!) pounds of apples that I get from the farm share each week, I am still powerfully drawn to apple picking, which means by late September or early October I end up with a fridge packed with apples.
It feels like a seasonal right of passage. It's a family outing that I refuse to pass up and that even my teen sons still enjoy. Why is this a problem, you might ask? While it's admittedly a good problem to have, the reality is that the result of my apple picking enthusiasm is a fridge packed with apples that I then have to use up or store, right when our schedules are at their busiest.
If this sounds familiar, then read on to learn about some simple ways to store and use up those apples, so that you can enjoy them all winter long.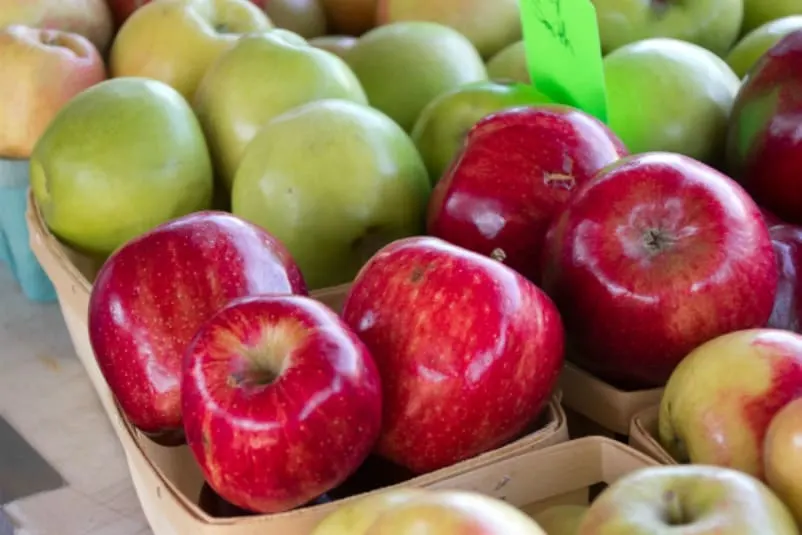 Tips on Storing Apples
When properly stored, apples can last for up to six months! Here are some tips on how to store your apples.
Inspect Your Apples
When I come home with a big batch of apples, whether from apple picking or the farm share, I go through and pull out any that have bruises or blemishes. These will be the apples we eat and cook with first as those imperfections will cause them to spoil more quickly and can risk spoiling a whole batch of apples (the "one bad apple" saying is actually true!).
I also try my best to set aside the apples have still have their stems attached as this will also help them to last longer.
Store in a Cool, Humid Spot
Apples like to be kept between at between 30 and 35 degrees Fahrenheit and in a place with 90% humidity. Know where you can find those sorts of conditions? In the crisper drawer of your fridge!
Note: If you choose to store them in your crisper drawer, I recommend keeping them separate from your other produce as they do release a gas, ethylene, that can speed up the spoiling process for other produce.
Not enough room in you fridge for all those apples? The next best spot is somewhere in the house that is cool and dark, such as an unheated room in your basement, an unheated garage, a screened in porch, or even a cold, un-insulated closet (if you've got an old house that has one).
If you're storing them outside of the fridge, it is recommended that you individually wrap the apples in butcher paper, newsprint, or paper towels and then pile them in a cardboard or wooden box.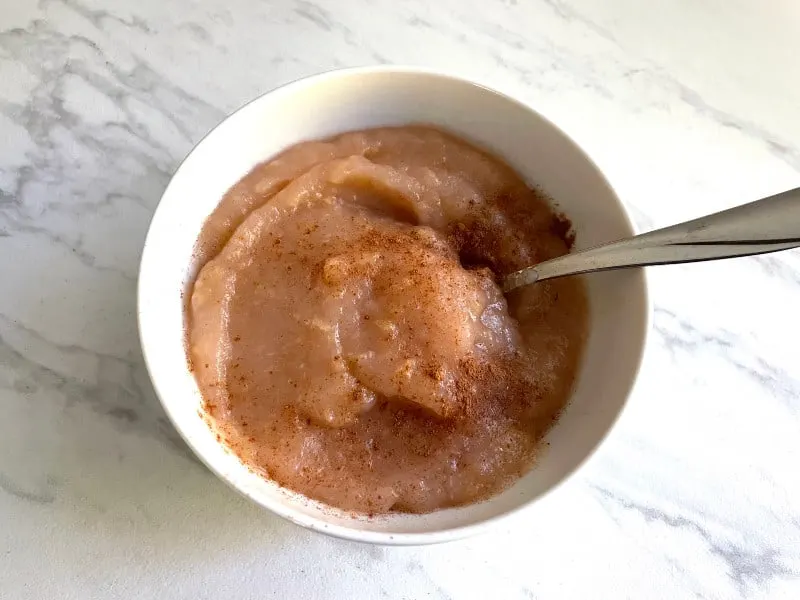 Make Apple Sauce!
Making apple sauce has the reputation of being a lot of work, but if you don't peel the apples (I'll get to that in a sec.), it's actually a pretty quick and easy project and the results are so much better than the jarred stuff at the grocery store! You can find the full recipe at the end of this post, but here are some of my favorite tips for making apples sauce:
Don't Peel the Apples
Many apple sauce recipes out there will have you peel the apples. Don't do it! Not only is it a time consuming step, but the peels actually contain a lot of fiber and vitamins that are beneficial. Plus, if you keep the peel on, the apple sauce will have a much nicer color to it.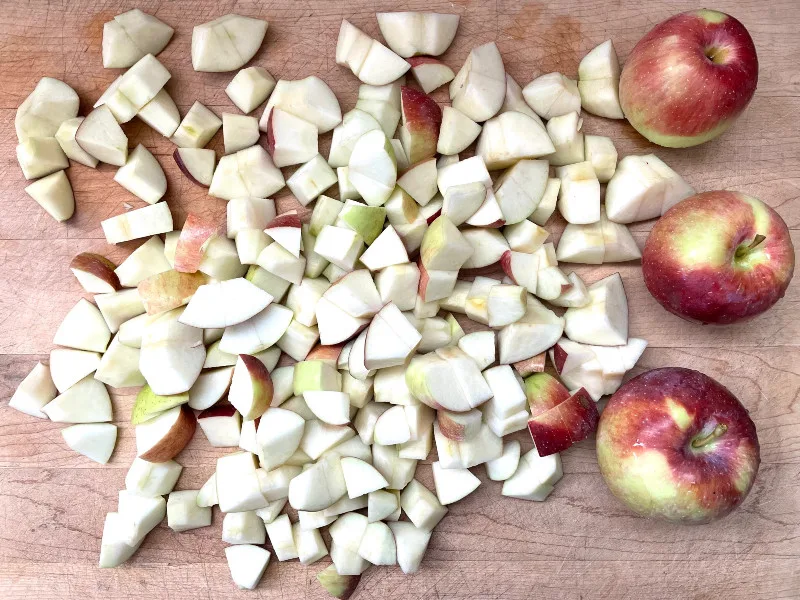 Cut into Chunks, Not Slices
While slicing apples is better for apple pies and some other apple recipes, apple sauce is a much more forgiving thing and as long as the chunks are more or less the same size, your apples will cook quickly and easily.
Use an Immersion Blender to Purée
I spent years carefully transferring very hot apples from the pot to either my food mill or the food processor in order to purée them into apple sauce. While both of these tools work very effectively, the much easier (and less dangerous) way to purée your apples into apple sauce is by using your immersion blender. It will blend everything up quickly, easily, and without all the stress.
Freeze Your Apple Sauce
Any apple sauce that you won't use in the next week or so can and should be frozen (or canned). To freeze it, decant the sauce into containers or freezer bags, leaving some room for expansion. Leave the containers open/uncovered on your counter until the sauce has cooled to room temperature, close up, and then freeze. It will safely last 6-9 months in the freezer.
You can defrost frozen apple sauce on your counter or it can be microwaved or heated in a small pot for faster defrosting.
Recipes to Use Up Apples
Here are some of my favorite ways to enjoy apples.
These are a much faster and easier version of the fall classic, baked apples. By using your microwave, you cut the cooking time down considerably, making this a fun and healthy weeknight dessert option.
This is one of my family's favorite frittatas! The crunchy sweetness of the apple adds so much fun and flavor to this classic dish. You can serve this as a simple weeknight meal or use it as a make-ahead breakfast option for easier mornings.
Sweet, crunchy, creamy, and salty. These quesadillas are so much fun! My kids love them in their school lunches and I love them on super busy weeknights when time is of the essence.
If you are a coleslaw fan (or even if you're a skeptic), this slaw is for you! So much crunch, a little sweetness, and the tangy bite of the gorgonzola make this an absolute winner.
To get delicious recipes like this year round, sign up for The Scramble's weekly meal planner. It takes the stress and guesswork out of family dinners and helps you get an easy and healthy meal on the table in no time.
Do you have favorite ways to use up apples? Share them in the comments!