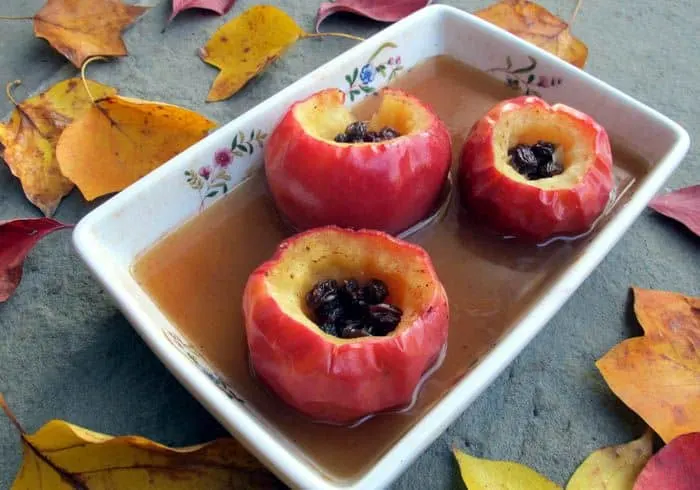 Baked Apples
When I was a kid, I always loved it when my mom made baked apples, not because they were my favorite dessert, or even my favorite apple dessert, but because I knew it was one of her tricks for turning a regular night into something special.
My mom was full of what I like to call rabbit tricks – making something appear out of nothing – especially when it came to food. Growing up, money was often tight but my mom never missed a beat when it came to expanding a meal to share with unexpected dinner guests or turning a mundane meal into a gourmet affair. I swear, she could turn two sausages, some pasta, and whatever vegetables she had in the fridge into a meal for eight.
And one of her recurring tricks was turning apples into an unexpected treat at the end of dinner. Sometimes she'd wrap them in leftover pastry dough for a really special dessert, but often she'd just core the apple, stuff some yummy goodness into the center, and bake. And as cheesy as it sounds, for me, even as a little kid, I understood that these apples were an expression of love.
Since then, I have grown to love baked apples and have passed this love on to my kids. There's something magical about how with just a few simple steps a firm, crunchy apple can turn into a soft, luscious, treat.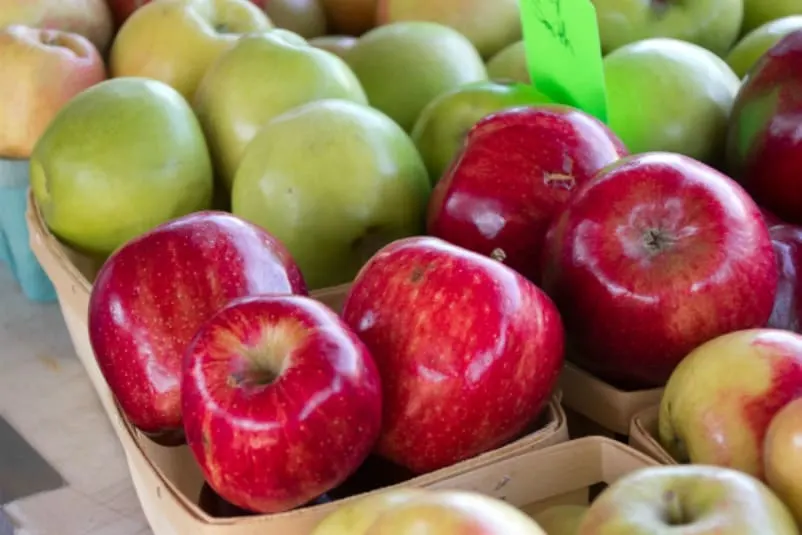 A Healthy Dessert
In addition to baked apples being incredibly delicious, another perk is that they are a surprisingly healthy dessert. Thanks to the natural sweetness of apples, which gets amplified in their cooking, and the addition of iron-rich raisins, this dessert only requires a small amount of added sugar.
In addition, you get all of the nutritional benefits of apples which include being high in fiber, antioxidants, and Vitamin C.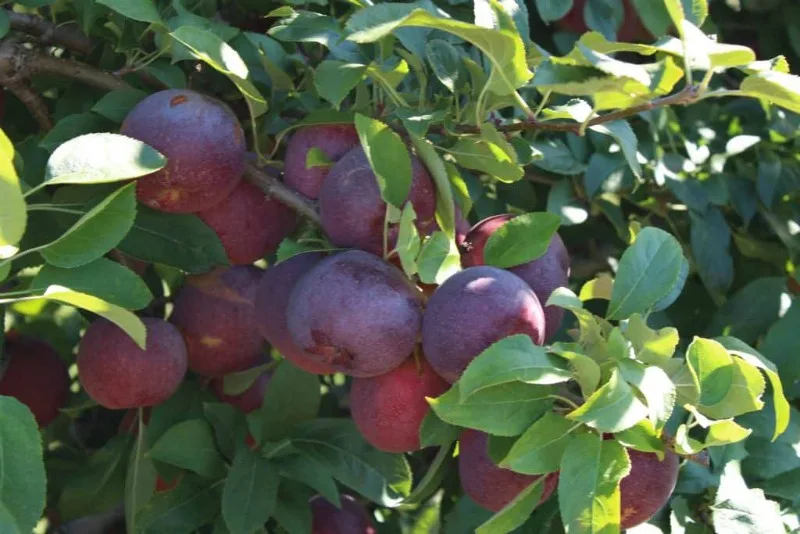 Baked Apples, Simplified
But let's be honest, these days, time is so short that having the extra 50 minutes or 1 hour that it takes to make baked apples is hard to come by. So the hunt was on for a quicker, easier way to show that same sort of love to my family.
Enter the microwave (an appliance that my family did not have until I was 14!). I've gotta be honest, when I first considered microwaving the apples instead of baking them, I was skeptical. Would they get as soft and luscious on the inside? What would happen to the peel?
I am so happy to report that the experiment was a total success! Everyone inhaled them and my kids definitely felt that I had put the effort into make a special treat.
The best part: these microwave baked apples are ready in 15 minutes (rather than the hour it would normally take), which means you can even quickly assemble them right before dinner goes on the table, microwave them while you are eating, and have a delicious (and healthy) dessert ready to go!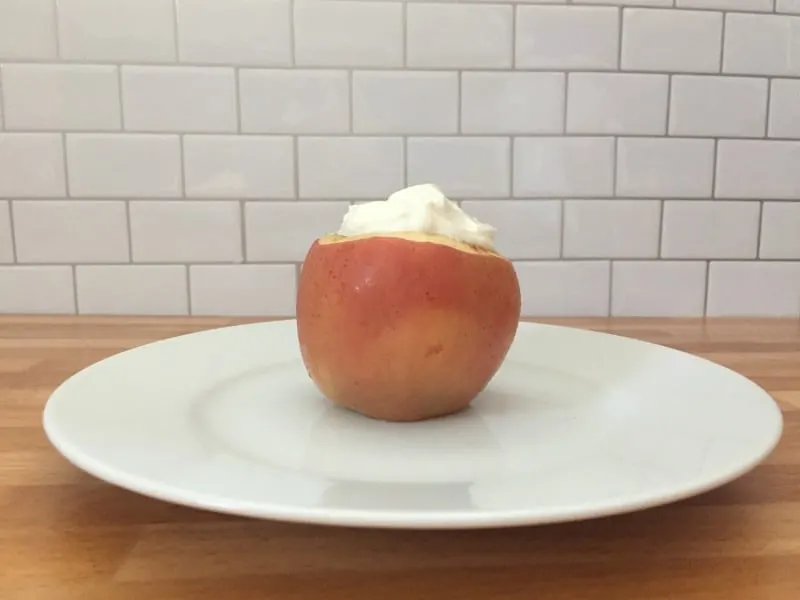 How to Make Microwaved Baked Apples
So how do you make a microwaved baked apple? It couldn't be simpler. Start by coring four apples (that is about as many as you can fit into a dish that will fit in the microwave).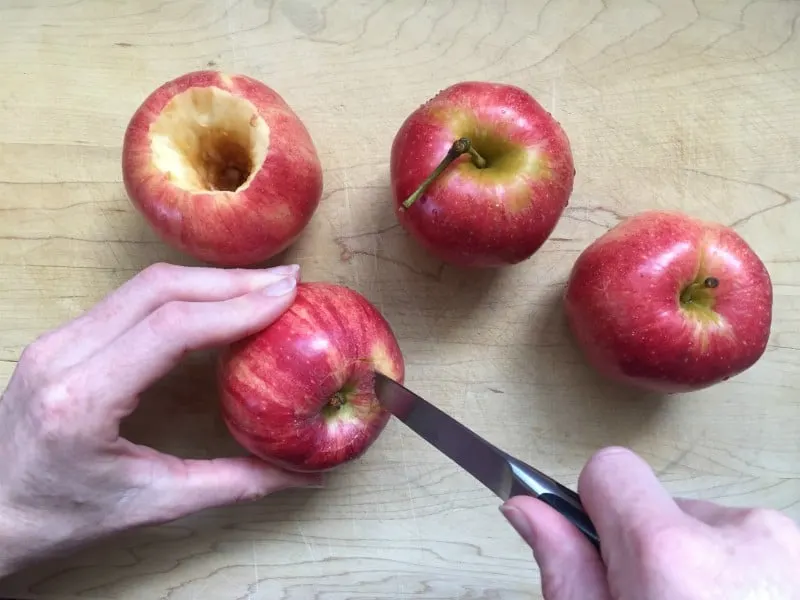 Then peel off the top ½ inch of peel.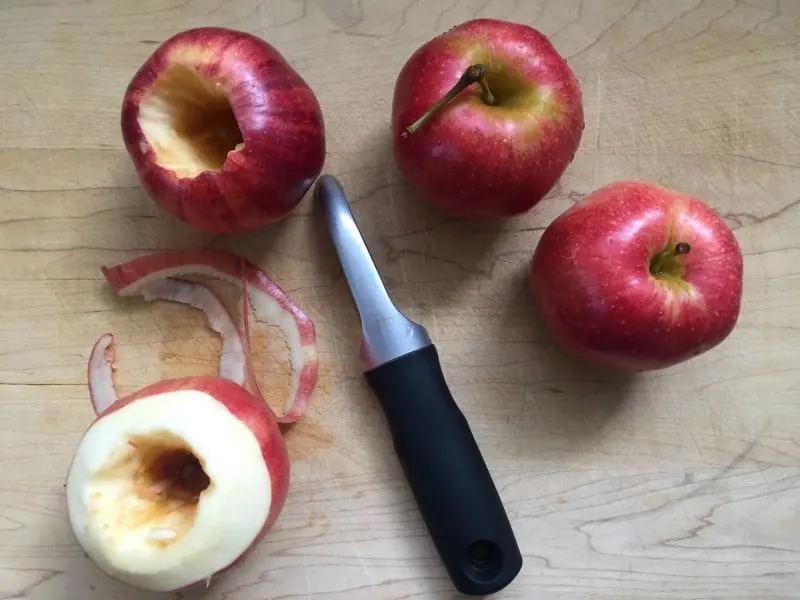 Then stuff each apple with ¼ of the raisins, brown sugar, cinnamon, and butter, and pack it down with your thumb.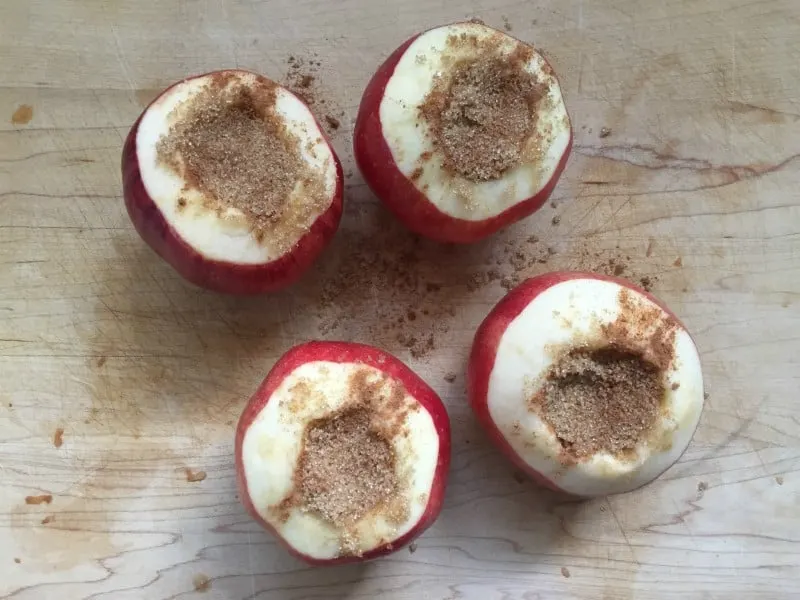 Place the apples into a microwave-safe dish (I like to use a pie plate), pour the water into the dish, and then cover it with plastic wrap, leaving a small gap to allow some of the steam to escape.
Microwave on full power for 5 – 6 minutes, or until they are fragrant and soft.
Once the apples are done, you then have the option of creating a syrup to drizzle on top. To do this, pour the liquid from the bottom of the dish into a small saucepan and simmer it for 4 – 5 minutes, until thickened.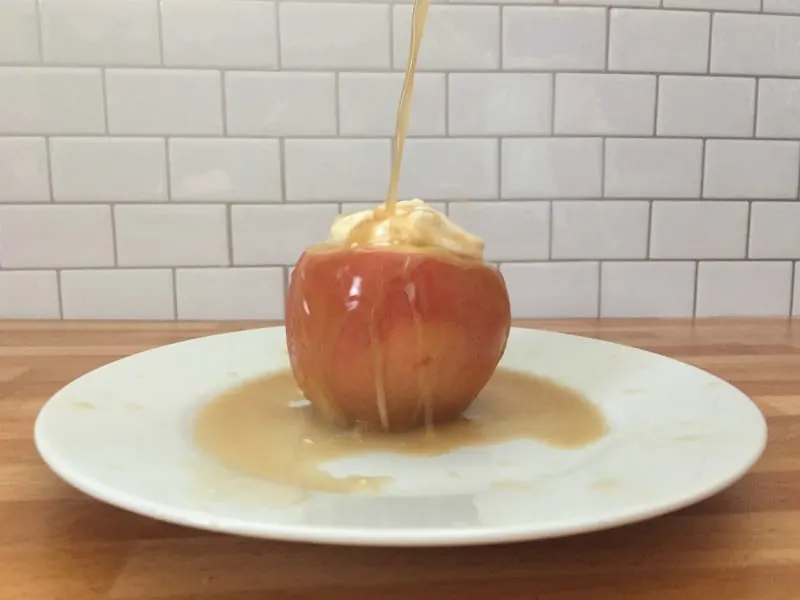 Top the apples with the syrup, or just the liquid from the bottom of the pan, and serve topped with ice cream or yogurt, if desired.
Don't think it can get much easier than that!
Looking for other quick and easy dessert ideas? Check out our Wild Blueberry Oat Bars, Chocolate Banana Poppers, or Dark Chocolate Bark.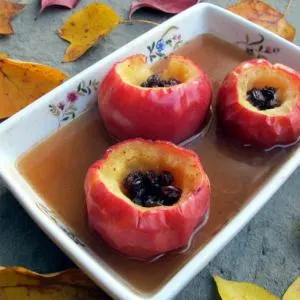 Microwave Baked Apples
You can make yourself this sweet and delicious dessert, or skip the ice cream and serve it for breakfast—it takes just minutes to prepare and a few more until you have a fragrant and juicy treat.
Ingredients
4

apples

such as Gala or Fuji

4

Tbsp.

raisins

or use dried cranberries or currants for a differen flavor profile

4

Tbsp.

brown sugar

1/2

tsp.

ground cinnamon

or to taste

4

tsp.

butter or margarine

1

cup

water

1

cup

vanilla ice cream or frozen yogurt

optional
Instructions
Core the apples and peel the top 1/2-inch of the apple.

In the core of each apple, put 1/4 of the raisins, brown sugar, cinnamon, and butter, and pack it down with your thumb.

Put the water in the bottom of a flat microwave-safe dish with sides, and put the apples right side up, in the middle of the dish.

Cover the dish with plastic wrap, leaving a small space for air to escape.

Microwave the apples on full power for 5 – 6 minutes, or until they are fragrant and soft to the touch (microwave oven cooking times vary).

Remove the apples from the microwave, put them in small bowls, and pour a little liquid from the bottom of the dish over each apple, or follow the step below to create a drizzling syrup.

If desired, pour the liquid at the bottom of the dish into a small saucepan and simmer for 4 – 5 minutes to thicken it.

Serve them hot, topped with the ice cream or yogurt, if desired.
Nutrition
Calories:
226
kcal
Carbohydrates:
46
g
Protein:
2
g
Fat:
6
g
Saturated Fat:
2
g
Cholesterol:
8
mg
Sodium:
36
mg
Fiber:
3
g
Sugar:
36
g