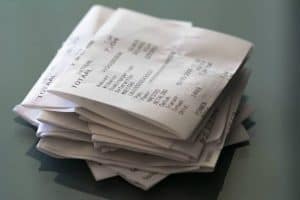 According to the USDA, monthly food spending, if most or all meals are eaten at home, can range from $551 to $1252 for a family of four.  To try to get closer to the lower end of that spectrum, here are 10 ways to save money on your food budget:
Eat more meals and snacks at home: Americans spend some 50% of food dollars on out-of-home meals, snacks and beverages.  Cooking at home is almost always cheaper (and healthier!) than eating out, ordering takeout, or buying prepared foods.
Plan for a week of meals so you don't waste food. Planning ahead also allows you to make one grocery trip a week to save time and gas. You'll also waste less food by using up what you buy.
Use up the food you buy: Before grocery shopping, try to use up the food in your refrigerator, freezer and pantry.  Stretch your budget by making a meal at the end of the week out of ingredients you haven't finished.  (Omelets, quesadillas, stir-fries and pasta sauces are flexible options.)
Shop with a list: In addition to having a plan for several meals, shop with a grocery list so you remember to get what you need, and you don't buy things you already have.  Keep the list on or near the 'fridge so the whole family can add to it—this also avoids wasted gas on extra trips to the store.
Use up food in your freezer:  Many people are sitting on hundreds of dollars of food that they've forgotten is in their freezer until it's freezer burned beyond use.  Defrost and use something each week.  Make a list of what's in there and label and date the containers.
Eat less meat: Cooking with non-meat proteins like beans, tofu and eggs is very economical, healthy and will help you save money on food.  In addition, you can often substitute boneless chicken or tofu for expensive fresh fish in recipes, or use less expensive frozen or canned fish. (Canned salmon is a very healthy choice.)
Buy frozen vegetables like broccoli, green beans and peas, especially when they are not in season.  Flash frozen at their peak of freshness, they are a healthy and economic alternative to fresh produce.
Pack up leftovers: (Sometimes it helps to do this before serving the meal so you don't overeat!). Use them for lunches the next day, or freeze half for a future dinner.
Grow your own fresh herbs: It only takes about 10 minutes to plant a little herb garden in your yard or on your windowsill or deck, so you can use your own crop instead of buying expensive and wasteful packs of herbs at the market. Grow your own vegetables, too, if you have enough sun and think that you'll be able to keep up the garden.
Buy in bulk: Buy large containers of items like yogurt, applesauce, raisins and chips, instead of single serving sizes, and divide them into reusable containers.  Buy grains, beans, nuts and other foods in bulk when you can.
Here's an economical recipe for Crispy Vegetable Tacos to add to your menu this week. And to save hundreds of dollars and hours of time in just a few minutes, try the Scramble meal planning service.  The first two weeks are free so you can see just how much money you save,