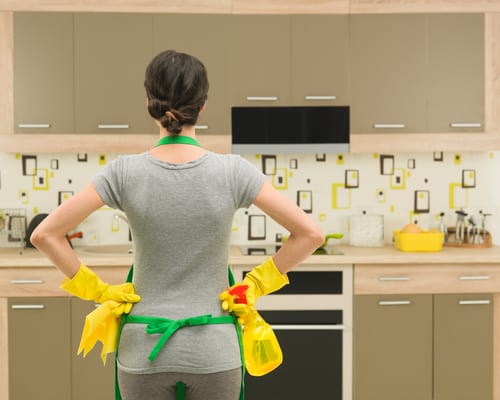 One of the complaints I hear most often from people is that while the cooking is ok, the cleaning afterward makes them crazy.
I get it, I really do. You've made a meal for everyone, they've eaten (or not), and then you either have to kick back into high gear for cleaning OR have to do bedtime duty. You finally get the kids to sleep and then you face a messy kitchen when all you want to do is collapse. It stinks…
But it doesn't have to! While I don't have a fairy godmother who can come in and do the cleaning for you (if you figure out how to get one of those, please let me know!), I do have some tricks that can help to make the cleaning less of a chore.
8 Tricks to Make the Cleaning After Cooking Easier
Make a Deal
For most families, I know the deal is this: whoever doesn't do the cooking does the cleaning. But this doesn't have to be the deal. Other options include whoever is not on bedtime duty does the dishes or one person loads the dishwasher and the other does the dishes.
The point is, you don't have to do it all and you can get creative. So sit down with your partner or with the whole family and come up with a system that works for you.
Clean as You Go
While I know this means you still have to do the cleaning, one of my favorite tricks is tidy up while I am waiting for the food to cook. This can include washing and/or rinsing dishes, loading the dishwasher with items that can be cleaned that way, and putting away ingredients that I'm done using. This gives me a chance to clear the decks and makes the pile after dinner look much less daunting.
Parchment Paper for the Win
As far as I am concerned, parchment paper is one of the best inventions ever. I use it almost every time I pull out my baking sheets. Whether it's for baked goods like cookies and scones or roasted vegetables, I almost always use parchment paper because it speeds up the cleaning. As long as there were no spills that got under the paper, I just rinse the baking sheet and call it a day.
I understand the concern that using parchment paper can be seen as wasteful. Here are some ways I try to work around that: 1) I try to only buy parchment paper made from recycled paper, 2) if the paper didn't get too gross the first time around, I try to save it to reuse another time, 3) if the paper doesn't have food residue, then I will recycle it with my paper recycling. (Note: Non-stick foil is also a great option here as it can also be rinsed and recycled.)
Burned-On Crud (Part 1)
This one is a game changer. If you've got food burned onto the bottom of a pot or pan, put a couple of drops of dish soap into the pot, add enough water to cover the burned-on food, bring the mixture to a boil on the stove, turn off the heat, and allow the water to cool (when possible, I like to do this while we eat dinner). After that, the food will come right off!
Burned-On Crud (Part 2)
If you've got a cast iron skillet, use a salt scrub. (Cast iron shouldn't be cleaned with dish soap.) Pour a good deal of coarse salt into the skillet, add a very small amount of water (enough to make a coarse paste), and rub with a sponge or scouring pad. You'll be elated when you see the food fall away.
Let the Blender Wash Itself
Washing blenders used to be one of my least favorite tasks (hello, sharp blade at the bottom!) until I discovered this trick: fill the blender halfway with hot water, add a drop or two of dish soap, put the top on, flip the switch, and watch as the blender washes itself! Then all you have to do is rinse!

Use Cold Water to Rinse Dairy and Starchy Foods
Hot water makes dairy and starching foods gummy and harder to get off, so when you are soaking or washing something that has a dairy or starch residue, make sure to use cold water.
Finally, Make it Fun!
Play fun music and dance while you clean, listen to a podcast, use a soap that smells nice and/or is kind to your hands so it feels like a spa treatment…you get the idea…
Do you have favorite tricks to make doing the dishes easier? I'd love to hear about them in the comments!