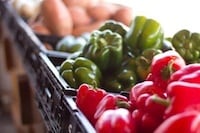 Each Friday morning, while I'm still sleeping, we get a basket of fresh and delicious local fruits and vegetables delivered to our doorstep.  No, I don't have an incredibly generous (and sleep-deprived) secret admirer, but I do belong to a local service called From the Farmer that delivers fresh local produce throughout the year.
What makes this service better than any CSA I've tried is that I know in advance what will be delivered and can swap out things I don't want or skip weeks when I'm traveling or just don't need a delivery.  Also, the produce is delivered to us, instead of me picking it up at a central (but never quite convenient) location each week, and almost all the food that comes are things I will actually use instead of obscure or bitter vegetables or greens.
Do you hate throwing away food? Me, too.  Because I cook a lot and we eat breakfast at home and pack our own lunches, my family goes through a lot of produce. I try to use up what I buy each week but sometimes there are one or two items that spoil before I get around to using them. To me, and maybe to you, any waste is too much. We work hard for our money and don't want to throw it away like that.  Also, I hate contemplating the wasted energy that goes into growing, packaging and shipping food that never gets used.
Obviously menu planning and shopping for a week of groceries at a time helps reduce waste because we only buy what we need. But there are also ways to store produce to make fruits and vegetables last longer.
The list below should help you decide where to store your produce to give it the longest life possible:
• Fruits and vegetables that keep best in the refrigerator:  Apples (if keeping for more than one week), berries, cherries, grapes, most vegetables (with the exception of those listed below), and any cut fruits or vegetables.
• Fruits that can be ripened on the counter first and then stored in the refrigerator:  Avocados, kiwis, nectarines, peaches, pears, plums.
• Fruits and vegetables that are best stored at room temperature (out of direct sunlight):  Apples (for less than a week), bananas (until they ripen), grapefruits, lemons, limes, oranges, mangoes, pineapple, pomegranates and watermelon.  Basil (with stems or roots in water), cucumbers, onions, garlic, peppers, potatoes (regular and sweet), winter squash and tomatoes.
It is also helpful to understand how to store your fruits and vegetables:
• Regardless of where you store them, wait to wash fruits and vegetables until just before you plan to use them to prolong their shelf life.
• Ripe fruits and vegetables should be kept in a dark, aerated place, such as a perforated (not sealed) plastic bag or a wide or vented bowl.
• Store potatoes away from light to avoid sprouting.
• Store fruits and vegetables separately.  Fruits release ethylene, which speeds the ripening process of vegetables.  Also fruits easily pick up the flavors of nearby veggies so it is best to use separate drawers in your refrigerator for fruits and veggies.
• Separate any bruised or rotten fruit or vegetables from the others immediately to avoid spoiling nearby produce.
When deciding which of your weekly Scramble meals to make first, it may be best to start with recipes that use ingredients that spoil the quickest, such as mushrooms, green leafy vegetables, tomatoes, and fresh corn (when in season).  (For more information on storing fruits and vegetables, visit gardeningguides.com.
If you've got some wintery produce in your kitchen right now, one of the many delicious Scramble recipes that uses lots of seasonal vegetables is our Turkey (or Beef) and Vegetable Stew.  If  you have other Scramble recipes you like to prepare to use up seasonal fruits and veggies, I'd love to hear which are your favorites.  Let me know by commenting below or on The Scramble Facebook page.