Family meals can be hard. So in an effort to help your family find its own mealtime equilibrium, I have put together some different ideas that may help you to change the dynamic at the dinner table.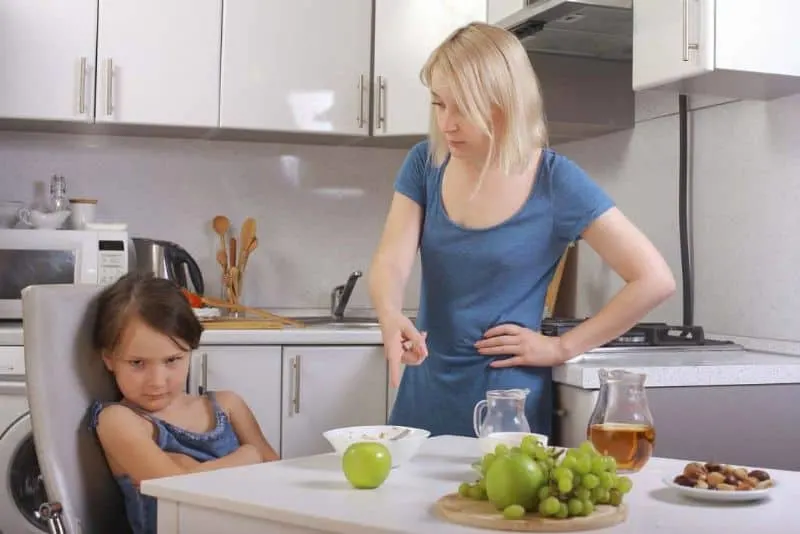 How to Change the Dynamic at the Dinner Table
We all know that family meals are important for a vast array of reasons from helping your kids establish healthier eating habits to decreasing the risk of teenage pregnancy and drug and alcohol use. But the reality is that for some, family dinners can be less of a dream and more of a nightmare.
From picky eaters to kids who won't sit still to family tensions that boil over during dinner, the stressors that surround family meals are real. And what's worse, because of the idyllic versions of family dinners that are so often portrayed in our culture, when our families do have struggles at the table it can feel like we are failing. But I'm here to tell you that you aren't!
The reality is that there isn't a family out there that hasn't had some sort of difficult phase when it comes to family meals. You are not alone and, as parents, all of us are trying to figure out our family's sweet spot.
So, in an effort to help your family find its own family meal equilibrium, I have put together some different ideas that may help you to change the dynamic at the dinner table.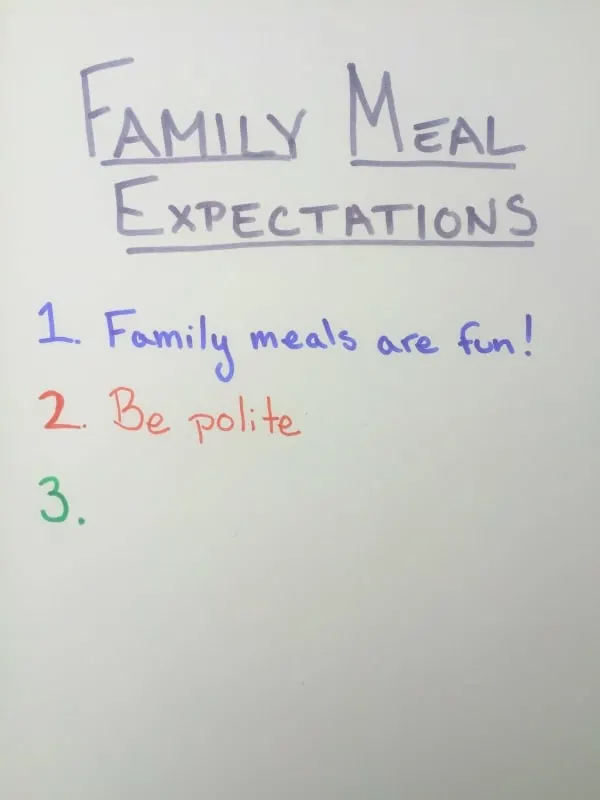 Be Clear About Expectations
First and foremost, setting clear expectations about family meals can be a powerful tool for changing the dynamic at the dinner table. Whether the tensions you are dealing with are new and unexpected or deeply entrenched, hitting the reset button by setting clear expectations can be a game changer.
There are a number of ways to do this, but one of my favorites is to find a time to sit down as a family that isn't a meal to talk about how the family can work together to make meals more pleasant for everyone involved. At this family meeting, explain that you would like things to be different and that you'd like to come up with expectations that everyone agrees to. Do your best to let everyone share ideas and contribute to the final expectations so that buy-in is universal. And at the end, write down all the agreed upon expectations. You can then post them, if you'd like, near the table so that everyone can refer back from time to time, when necessary.
Some ideas might include:
You don't have to like the food, but you do need to be polite (words like "yuck," "ewwww," "gross," or "I hate that!" are not allowed)
While trying each dish is encouraged, you will not be forced to eat anything (note: there are lots of different ways to handle picky eaters in particular. If you want ideas on that, check out our tips and tricks for picky eaters)
Everyone is expected to help in some way. This could include setting or clearing the table, helping make dinner, or washing the dishes
Family meals are family time, so please join us at the table (this helps with squirmy kiddos) and we'll do our best to make it fun
We know you are working on them still, but good table manners are appreciated and we will gently remind you when you forget
No screens at the table… let's talk!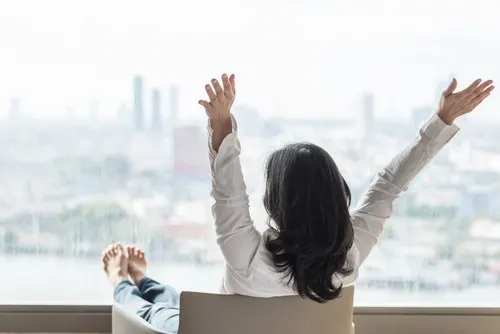 Take a Deep Breath
When someone is criticizing your food, jumping up from the table every 30 seconds, or being rude or grumpy it can be really hard not to react. As someone who has struggled (and at times failed) with this, I completely get it. Sometimes being the grown up is hard.
But the reality is that we are the grown-ups and sometimes that means being the bigger person.
Remind Yourself of the Long-Term Goal
One of the things that has helped me with this is to remind myself that my long-term objective is to help my kids to have a healthy and happy relationship with food that will last for a lifetime and so I want meals to be a pleasant, shame-free experience.
When I reframe in this way it helps me to take a deep breath, stay calm, and be clear in my expectations. In other words, my husband and I (as a team) do not allow the frustrating behaviors continue, we are clear that they need to stop, but we do our best to stay calm and collected in those moments.
Call for Back Up
I'll be honest, sometimes keeping my cool is hard, but what I have found is that this is when I depend on my partner or vice versa (or if you are single parent this could be a great opportunity to pull in a friend or other family member to be your back up on a semi-regular basis). Usually at least one of us is able to keep calm and the other either stays quiet or takes a bathroom break to calm down.
In the end, though, the goal is to stay calm and model the behavior you hope to see in your child/children. Now that my kids are 9 and 11, I can honestly say that this is a long game, but in the end, it does pay off.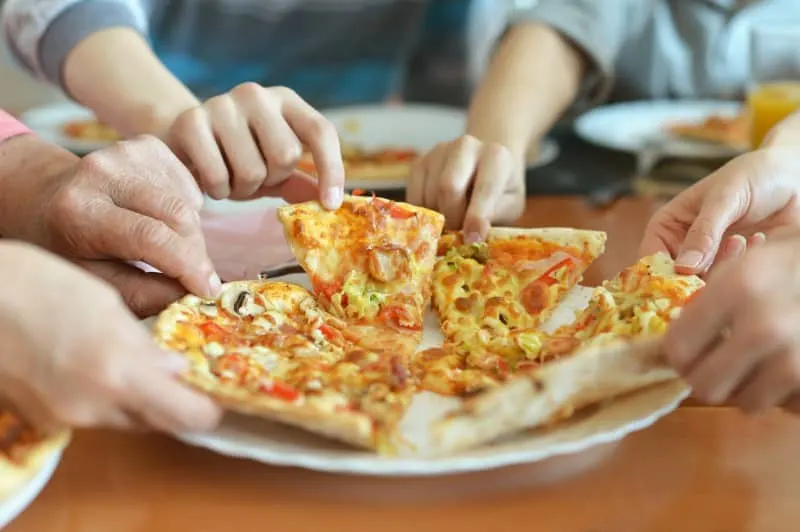 Start with Winners
If changing the dynamic at the table is your top priority (this is especially relevant for families that have long-standing dynamics to work out), then one thing that can be really helpful is to plan dinners full of winners for a while.
What do I mean by that? What I mean is, let go of the need to have your kids try new foods or eat something green and instead just focus on improving the dynamic at the table. In my experience, a great way to do that is to serve kiddo favorites for a few dinners in a row.
Sure, they may not eat the healthiest diet for a few days if this means chicken nuggets, pizza, and macaroni and cheese for a while, but it will allow everyone to relax and reset. Once this reset has happened, I think you will be impressed by the change in the dynamic at the dinner table that has occurred.
It is important to note that this doesn't meant that you should only serve their favorites forever. Instead, see it as a shift in priorities so that you can work to build some trust, feel more relaxed yourself, and then use this new-found dynamic to introduce other meals back into the rotation in a more relaxed way.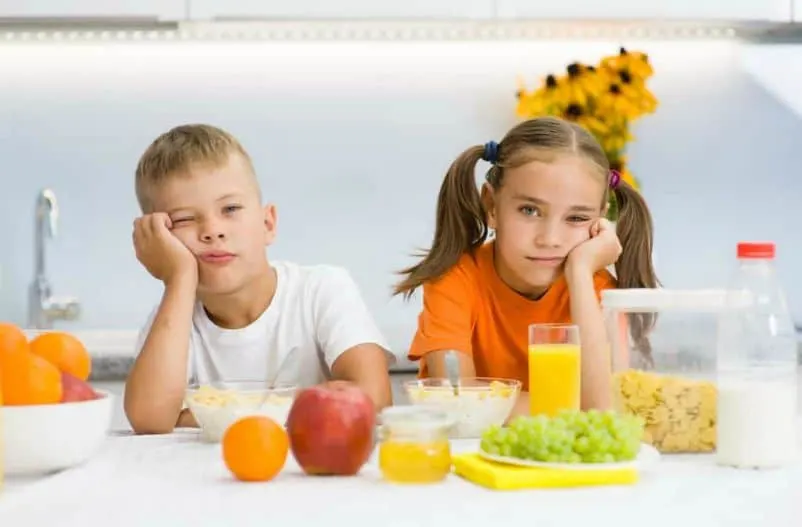 Have a "Safe" Option on the Table
Years ago, when my younger son was super picky and we were struggling to figure out the best way to handle it, I made the mistake going to battle with him. He felt judged and cornered and I felt frustrated. Sound familiar?
If so, one step that can build a lot of trust is to make sure that there is at least one "safe" food on the table. This is a food that they can fall back on if all else fails. It doesn't need to be a favorite food each time, but should be a food that they consider good enough to eat.
How the trying of new foods goes in your family is your choice (or check out our post on the importance of autonomy), but offering something "safe" to fall back on can earn you a lot of trust and reduce the tension, thereby changing the dynamic at the dinner table.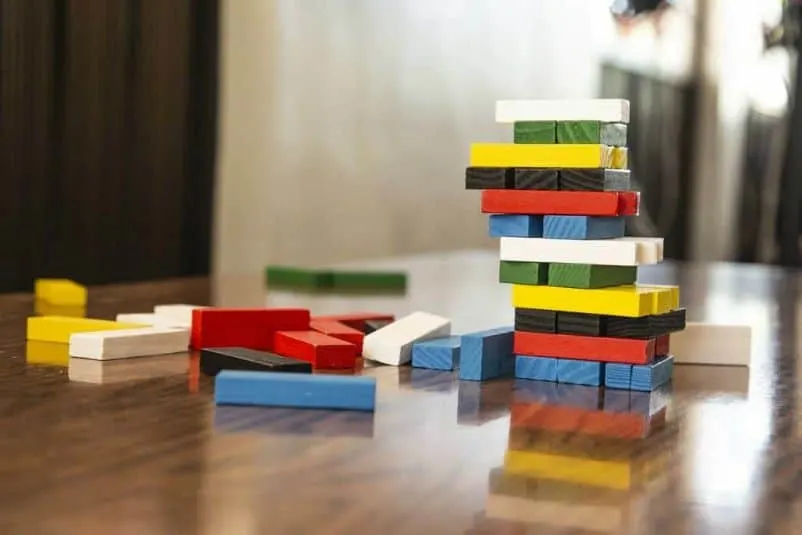 Play a New Game
Remember: family meals are supposed to be fun. One way to change the dynamic at the dinner table is to actually make it more fun. How do you do that? Play games!
Yes, talking about your days and having meaningful conversations is wonderful, but so is laughing together.
If you'd like ideas for fun games, check out our post on how to make dinner all fun and games. Or, if you are not yet on our mailing list, sign up to get our newsletter (at the bottom of this page) which includes a new conversation starter or family meal game each week.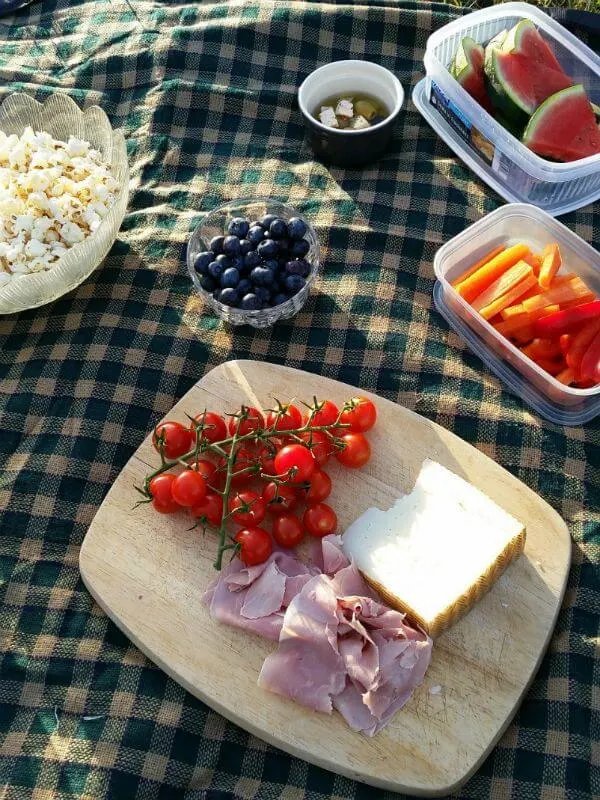 Change Venue
Some of my favorite family meals haven't been at a table. Sure, some of them have been at restaurants, but most have been on picnics. But not just any picnics, picnics in our backyard and even our living room.
If things have gotten just too tense at the table, why not shake it up and change venues. One of the simplest ways to do this is to lay out a picnic blanket in the backyard or living room floor and sit down together. Just this simple change in venue can help everyone remember that time together is supposed to be fun, which can make a change in the dynamic at the dinner table even easier.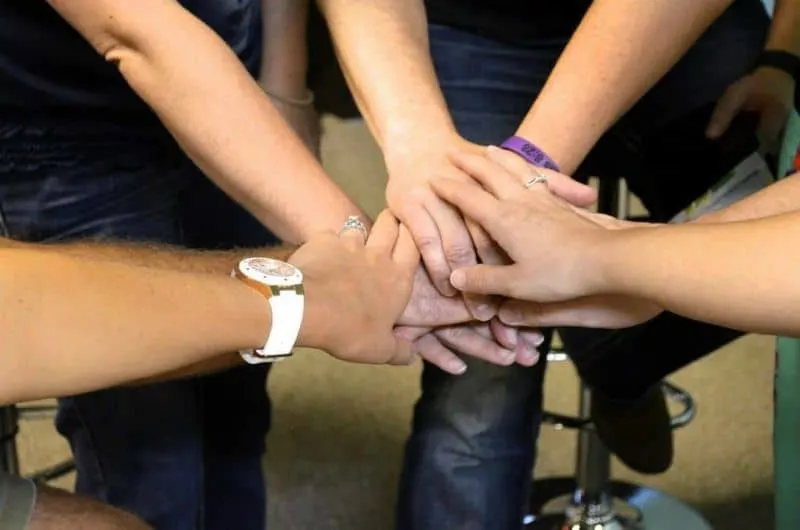 Start a New Tradition
Sometimes shifting the way everything starts can be the best way to change the dynamic at the dinner table.
So why not start a new tradition at the dinner table that does that for you? There are a number of ways to do this, but the goal behind each of these activities is to start things off on a positive, relaxed, and happy note. Here are some nice new traditions you could try with your family:
Start with a moment of silence or prayer. This allows everyone to become centered and present in the moment, rather than in their agenda or anxiety
Express gratitude. Have each person take turns expressing gratitude for something in their day. This allows you all to celebrate each other's positive moments and start off on a happy note
Daily affirmations. Take turns giving everyone at the table an affirmation. It could be a shout-out for something they did that day, recognizing their accomplishment on something they have been working on, or highlighting something you really appreciate about each other. This will help you to all start out the meal feeling happy and positive about your time together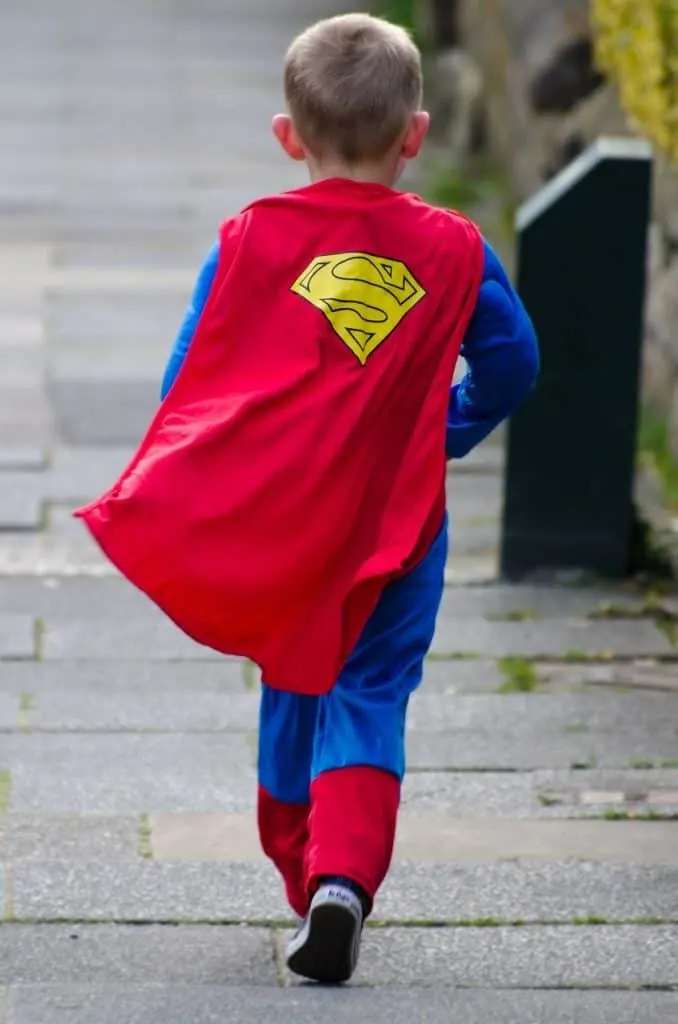 Burn Energy Before the Meal
As the mom of two high-energy boys, I know all too well the frustration when a kid won't. sit. down. Whether they are a bouncer, a stander, or a run-arounder, it's frustrating when you're trying to sit and eat.
If this is the case in your house, then one great way to change the dynamic at the dinner table is to burn off some of that energy before the meal. Here are some simple ideas of how you can do that:
Have a family dance party. Even if it is only 1 or 2 songs, giving everyone a chance to be silly, dance, and sing can get a lot of bottled-up energy out
Group jumping jacks. If there is just too much energy, why not burn it with some cardio? Doing even 10 or 20 jumping jacks (or for littles, just jumps) can get a lot of energy out quickly. (Bonus tip: this is also one that can be repeated table-side if there is more energy to burn.)
Walk around the block. If you've got a second adult (or older sibling) on-hand, have everyone take a walk around the block while you finish getting dinner ready. This will not only let them get rid of some of that energy, but also offer some peace and quiet while you finish meal prep, making you more relaxed when everyone sits down
Have you had any success with changing the dynamic at the dinner table? I'd love to hear your ideas and thoughts in the comments. And, if simple, healthy, family-approved recipes might help to change the dynamic at the dinner table, sign up for a free trial of The Scramble's online meal planning system to see how simple getting dinner on the table can be!
Want more ideas on ways to change the dynamic at the table? Check out these posts on feeding your family:
What to do when your kid refuses dinner
Interview with my formerly picky eater