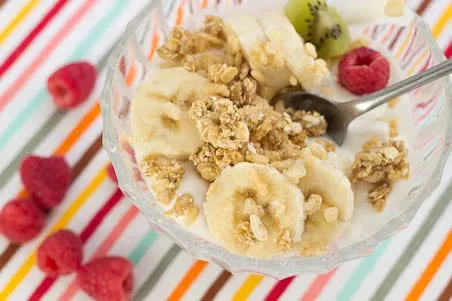 As the mom of two hungry boys, I am on a seemingly never-ending search for snack options that are both appealing to my kids and healthy enough that I feel like they are getting some sort of nutritional boost. Popcorn has always been a go-to, as have dips with vegetable sticks and either crackers or chips, but sometimes you need to change things up and that's where a healthy yogurt bar can be a fun, easy, and interactive option.
Is it Worth the Effort?
First off, throwing together a yogurt bar is surprisingly easy (it takes less than 5 minutes to set up), but I get that for some people, taking the time to put together a yogurt bar may feel like too much of an effort. And it's true, our time is so limited and we have to pick and choose what we spend our time doing. But there are three reasons why I think you should give it a try.
Less Sugar
The yogurts many of us pack in school lunches are convenient and relatively affordable, but they often have heaps of added sugar. My kids' favorite brand, for instance, has 25 grams of sugar per serving (that's equivalent to 6 teaspoons of sugar). In comparison, a serving of vanilla ice cream has 14 grams (pretty crazy, right?!).
By contrast, when you create a yogurt bar and serve plain yogurt, you can offer up various sweetener options to make it feel special and fun with only a fraction of the sugar. Even if your kids went crazy, they are not going to sweeten it to the same level as that favorite yogurt brand, especially when you offer fun mix-ins that will give them something else to focus on.
An important note: As you may know from previous pieces I have written about my philosophy on food and eating, I am a firm believer that all foods have value and none should be demonized. So, I am not saying that you should eradicate sweetened yogurts from your family's diet, instead I am offering a lower sugar option. In the case of my family, we still do buy and enjoy that favorite sweetened brand sometimes, but plain yogurt is an ingredient that is almost always in the fridge.
Interactive and Fun Means Healthier Choices
Over the years I have noticed that my kids (as well as other kids over for play dates, etc.) are much more likely to consume healthier options such as fruit and nuts if they are served in an interactive and fun manner that gives them the opportunity to make choices for themselves. Because, let's be honest, we all do better and are happier when we are given choices, rather than when something is imposed upon us.
Kids Can Do It On Their Own!
Setting a yogurt bar up is so simple that once you have done it once or twice, kids as young as early elementary school will be able to set this snack up themselves. It can even become a snack they take pride in building on their own!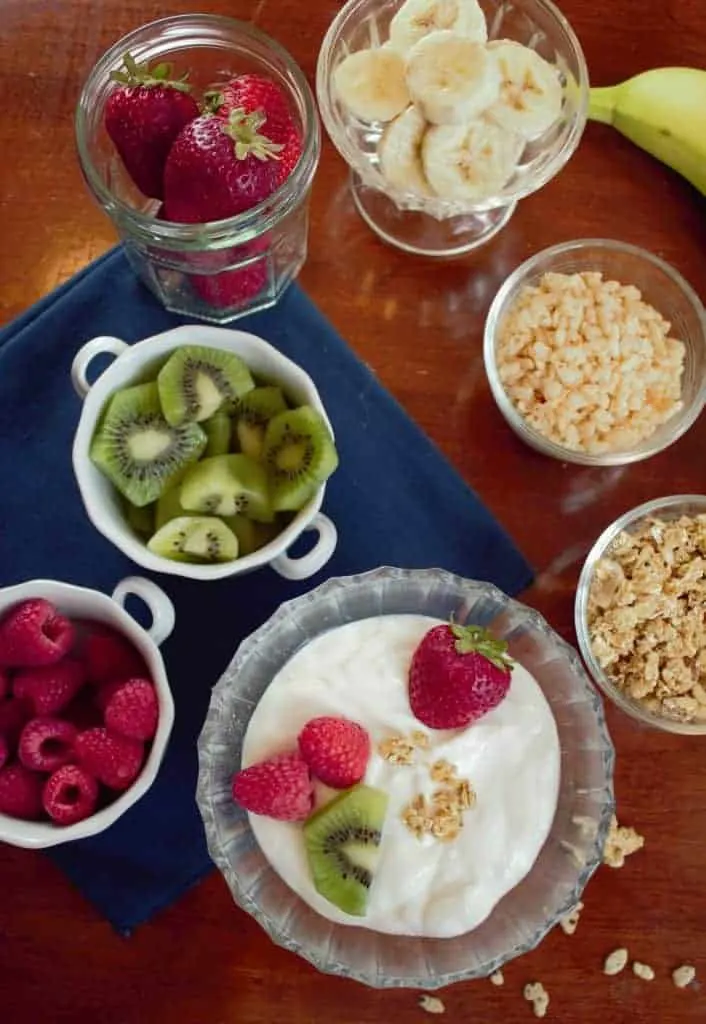 How to Set Up A Healthy Yogurt Bar
You want to start with plain (unsweetened) yogurt (you could also use tart frozen yogurt for a fun summer treat). And then, in small bowls, put out different toppings that everyone can choose from. We like to do a variety of options including sweeteners, chopped fruit, crunchy options for texture, and sometimes sweet additions as well.
Once everything is set out, just give each person a bowl and let them build their own creation. It is fun, simple, and really delicious!
Yogurt Bar Options
For inspiration, here are some of the ingredients we have put out, but feel free to get creative and add your own ideas to the mix!
plain (unsweetened) yogurt or tart frozen yogurt
honey or maple syrup
fresh fruit jam
nuts and seeds: pecans, walnuts, almonds, peanuts, pistachios, pumpkin seeds, flax seeds
raisins, dried cranberries, and other dried fruit
chopped fresh seasonal fruit like strawberries, blueberries, kiwi, bananas, mangos, peaches, and melons
granola or other favorite cereals (e.g., rice crispies, chex, cheerios, corn flakes, etc.)
crumbled pretzels
other flavor enhancers such as vanilla extra and cinnamon
mini dark chocolate chips
sprinkles
Give it a try and let me know what toppings you use and what your kids think of this healthy (and fun!) eating activity.
Like this idea? Check out The Scramble's family-friendly meal plans to see just how simple getting dinner on the table can be!