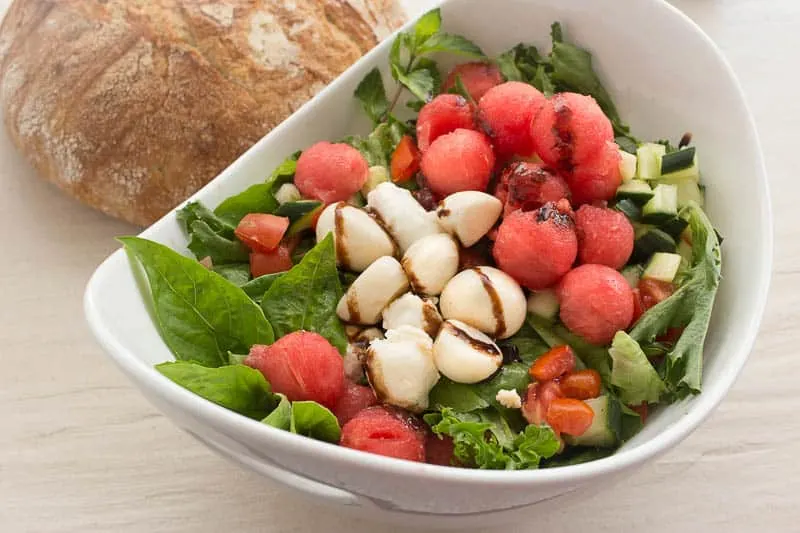 For me, some of the best simple summer recipes are those that allow for the creation of memories, both through their flavors and through the ease of preparation that creates the space and time for adventure and time together.
One of my favorite childhood memories is of visiting my godmother's family house in New Hampshire. Each summer we would head up for a weekend visit that was packed with hiking, swimming in the lake, and a cookout.
The house had a vast garden with rows upon rows of raspberry bushes. My brother and I would dart in and out of the rows, scratching up our arms and legs, collecting as many raspberries as we could find, placing some into a bowl, but mostly just stuffing them into our mouths.
In the afternoon we'd shuck fresh corn and wrap it and some potatoes in foil. Then, as evening arrived, my godmother, parents, brother, and I would hike up a hill on the property and visit the fire pit that we had perfected over the years. We would make sure that the stones were well placed, collect kindling, and start a fire. On that fire we would cook fresh corn, potatoes, and burgers.
As my brother and I (impatiently) waited for dinner to be ready, we would rush around trying to find the perfect marshmallow stick. Then, after dinner, as the night enveloped us, we'd sit around the fire making s'mores.
So, in honor of these summer memories that are full of the flavors of the season, I wanted to share of our best simple summer recipes. I hope that these dishes will make it easier for your family to create some of your own lasting summer memories whether sitting around your dinner table, by a pool, on the beach, or at the top of a hill next to a campfire.
10 Best Simple Summer Recipes to Soak Up the Flavors of the Season
As we all know, zucchini is abundant in the summer, so finding fun ways to serve it that are fun and engaging is important. This version of stuffed zucchini is just what you need – simple to prepare and packed with kid-friendly flavors.
If you are a lover of cold summer soups, this one's for you! This gazpacho-style soup is bright, refreshing, a little spicy, and super yummy! My kids love the combination of spice and sweetness, especially with the fun crunch from the croutons.
Summer vegetables roasted to perfection, fresh mozzarella, and fresh herbs are a match made in heaven and when you throw pasta into the mix, there is truly nothing better. Enjoy this dish warm or cold, as a pasta salad.
Whether served for breakfast, brunch, lunch, or dinner, this quiche takes full advantage of one of the best flavor pairings of summer: tomato and basil. And the best part is that it can be made ahead of time, for stress-free summer meals.
This fun spin on the classic Caprese salad, takes it up a notch by adding in the crunch and sweetness of watermelon and the zip of arugula and basil (or mint) to create an absolutely delicious dish that is flavorful and bright. Pair it with a crusty bread for the perfect light summer meal.
This might be my favorite summer dish of all time. Fresh, bright, and so, so easy to make. My kiddos love it too, especially with lots of toppings to mix in such as diced avocado, sour cream, and bread crumbs or croutons.
What could possibly be more summery than corn, tomatoes, and basil all together?! This pasta brings all of those flavors to life and can be served warm or cold, for ease and flexibility, which is what we all need in the summertime.
There is something so magical about the smokiness and sweetness of grilled corn and the flavor takes me straight back to that hilltop in New Hampshire. Plus, if you've got leftovers, you can slice it off the cob and add the corn to salads or quesadillas for an easy lunch the next day!
What makes this one of the best simple summer recipes? It is so simple to make and clean-up is a breeze, too, thanks to the foil packet! But more importantly, the vibrant flavors and luscious sauce that is made through this steaming packet are absolutely to die for.
We gotta wrap up our list with something sweet! Whether made with blueberries at their peak or peaches at theirs, this dessert is a family favorite. And the best part: you can prolong the flavors of summer by freezing fruit at its peak and then making it in the fall or winter, too!
And for a special treat, check out this Peach Sorbet Prosecco Cocktail from my friends Deanna and Serena at Teaspoon of Spice!
What do you consider to be the best simple summer recipes out there? I'd love to hear about it in the comments!
Looking for more cooking inspiration, check out The Scramble's family-friendly meal plans to see just how simple getting dinner on the table can be! It takes the stress and guesswork out of family dinners and helps you get an easy and healthy meal on the table in no time.