This special post on secrets to stress-free entertaining was written by my friend, and former Scramble Marketing Director, Jeanne Rossomme.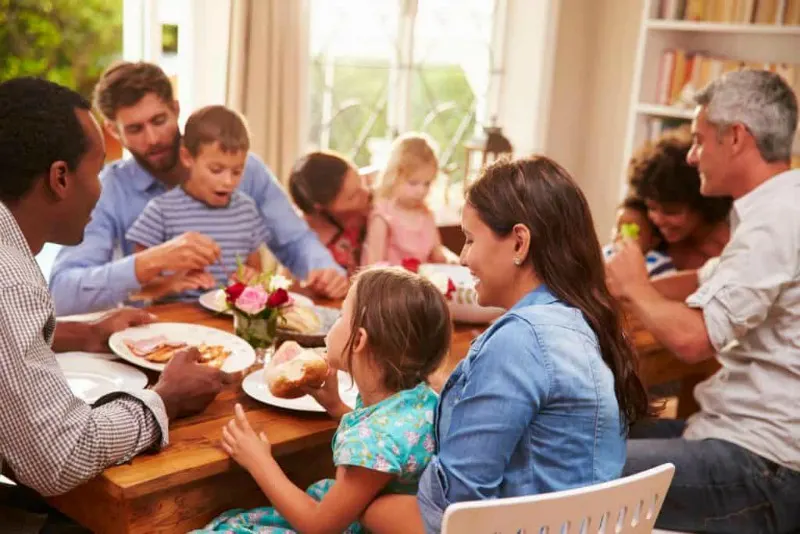 Summertime is a wonderful season to gather with friends and family. Schedules are more open, days are longer, and all of us feel more relaxed and social. I love to host gatherings, always around food. Just last week in fact, I hosted two dinners — unfortunately, with very different results.
Dinner A: As guests arrived, the kitchen was a disaster! Dishes were piled everywhere. I was finishing the last steps of cooking and chopping. No one was there to greet people at the door so they walked in, saw me frazzled and immediately jumped in to help. This created chaos in the kitchen where I had little space to stir dishes or chop and was too distracted to even remember my last steps! Dinner was late. I hardly sat down, much less chatted. At the end of the evening I collapsed in a kitchen full of dirty dishes, feeling a failure. Worst of all, I felt I had projected that stress and guilt onto my family and friends.
Dinner B: I greeted guests at the door and sat down to enjoy a glass of wine and appetizers as people floated in. 45 minutes later I pulled dinner from the warming oven to place on the central buffet table. After gobbling up the main course, we retired to the living room. I put on coffee and swapped the now-empty main dish serving plates with dessert trays. I spent the evening fully enjoying our lovely neighbors and feeling very lucky indeed.

What was the difference? In one case I followed the secrets to stress-free entertaining that I have gathered over the years and in the other, I didn't.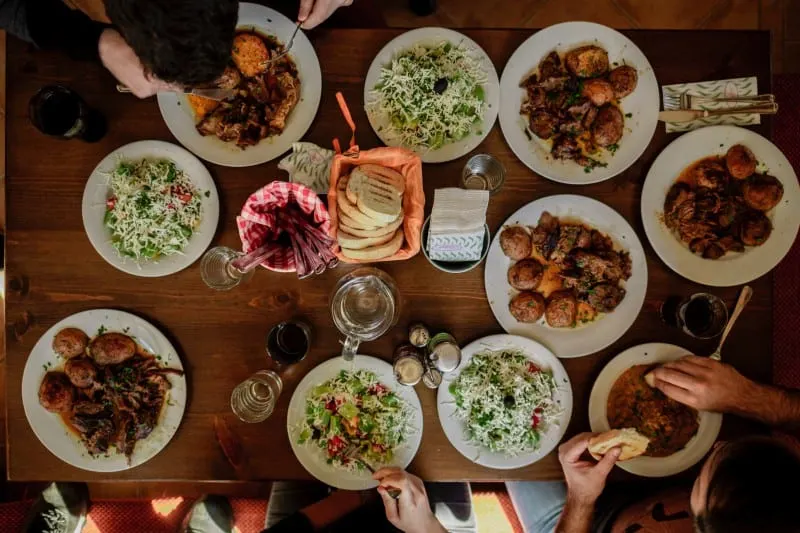 6 Secrets to Stress-Free Entertaining
Over the years, I have figured out that there are 6 things you can do to make hosting an event relaxed and even fun.
1. Have a plan
Before the day of the event, I think through (and write down) the entertaining essentials:
a complete menu plan (drinks for kids and adults, appetizers, main dish, 2-3 side dishes, dessert, coffee or tea)
a space plan (details below)
a shopping list, and schedule (details below)
All of these essentials go in a central spot near the kitchen phone so I can easily add or change as ideas occur to me. In Dinner A, I skipped this step and went straight to crisis mode. With Dinner B, I calmly spent 30 minutes thinking through my plan a few days in advance.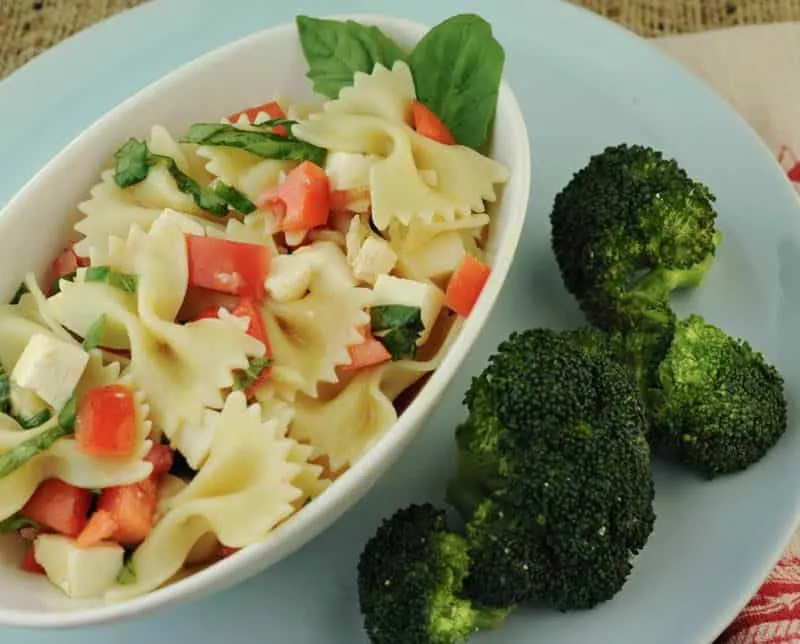 2. Pick tried-and-true recipes
Entertaining is NOT the time to experiment with new recipes. I rely on some favorites (many of them Scramble meals). I almost always pick dishes that can be cooked in advance and reheated (unless we are grilling). Often, for appetizers and dessert, I use store-bought or carry-out options to save time and hassle.
In Dinner A, I picked some new recipes online to use up my CSA bounty and found the times were all off! With Dinner B, I served a favorite fresh summer salad with grilled fish and other simple steamed or raw veggies.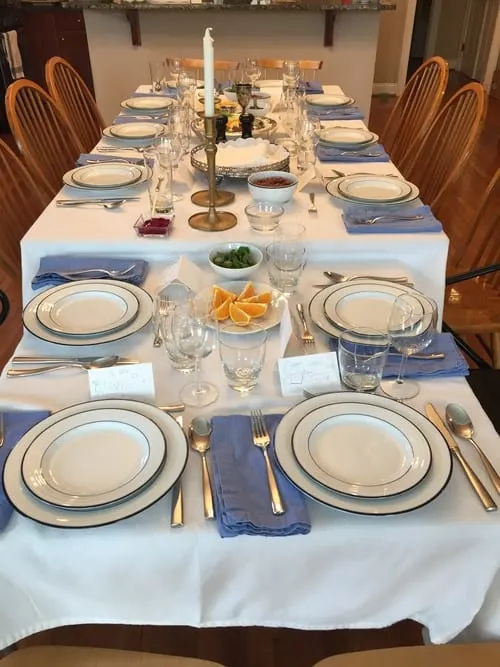 3. Arrange the space
I think through where kids and adults will congregate and eat. I make sure I have enough seats for the adults allowing flexibility for last minute extra guests or cancellations. Kids are happy plopping anywhere and usually love outdoor tables or the front porch. I always have a central serving station (too stressful to table-serve with a crowd). I have an area with drinks for kids, and wine/beer for adults, a sitting area with appetizers, a main buffet table for the meal and a serving area for desserts (which can be the same space as the main dish).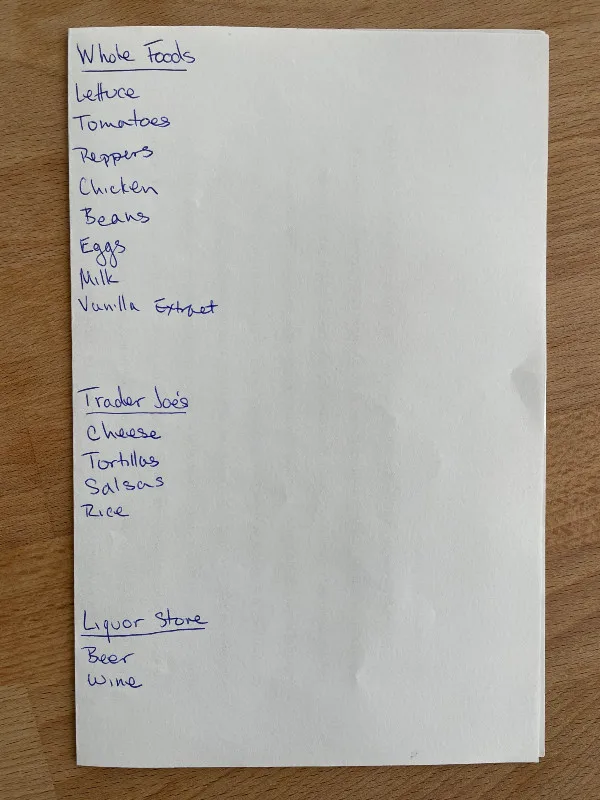 4. Write your shopping list
As I prepare my menu plan, I jot down all the items I need not just for the recipes, but for drinks, paper goods, decorations, etc. I try to organize the list by the different stores I will need to go to, as I find this helps me to remember everything I need.
If I am preparing an ethnic meal I make my lists even earlier to allow for a trip to the specialty food store.
With Dinner A, a last minute trip to the store for a forgotten ingredient put me critically behind schedule.
5. Have a schedule
The day before, I declutter all entertaining areas (which is often most of the work). I set the tables and arrange all serving plates and spoons. This act itself makes me feel so much less stressed about the rest of the preparations!
I then write out a schedule of which recipes need to be started first and check off each dish from my menu plan when complete. I plan on dinner being served 30 minutes to an hour after official arrival time to allow for late arrivals.
With small children I usually serve them first so parents can help. Now with teenage boys, I have the adults go first to ensure there is enough food!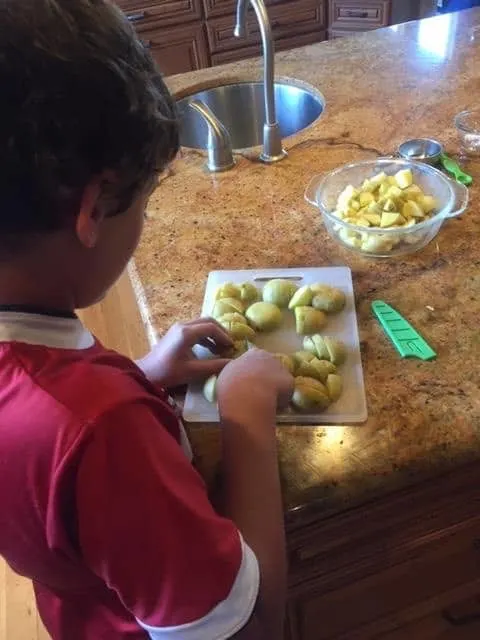 6. Enlist help
I find that if I tell my family in advance of an event and their roles, I am more likely to get their help. Critical tasks are the upfront decluttering and the door greeting when guests arrive. This also helps (I hope!) groom my kids to be gracious hosts.
While the above may seem like a lot of work, it honestly saves time and stress overall (similar to the wise investment of making a weekly plan for your family dinners). Best of all, you get to enjoy the evening as much as your guests.
Do you have any secrets to stress-free entertaining tips to add? Please leave a comment below.
Is hosting still stressing you out? Check out my post on how I got over my fear of entertaining.