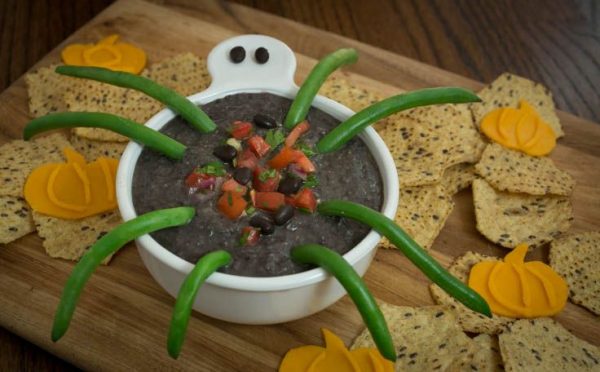 One of my favorite things about Halloween is how it allows for silliness and creativity when it comes to food. I love the challenge of finding ways to bring healthy, but creepy options to the table – especially when the dishes are met with squeals and shrieks of delight.
Black beans, fresh tomatoes, and vegetables (spiders optional) make this a healthy yet deliciously fun dip for a Halloween party or as a meal before heading out to Trick or Treat.
The best part, though, is how simple to prepare this Halloween snack truly is! Just follow the directions for the black bean dip below and then use some blanched green beans as legs coming out of the bowl. You can add eyes as seen in the picture above or, if your bowl doesn't have a little handle like the one we used, you can cut out two little circles of red or yellow bell pepper, place them in the bowl, and then top them with individual black beans to create beady red or yellow eyes that are staring back at you!
Serve the dip with cheese cut like pumpkins, our homemade tortilla chips, and your favorite veggies — fresh sweet peppers, blanched green beans, jicama, celery sticks, and/or carrots all work well with this healthy Halloween recipe.
Who knows, this might become your favorite Halloween recipe.
Want more healthy Halloween ideas? Check out our Witches' Fingers and Terrorific Tomato Soup, Ghostly Beef Stew, Avocado Frankentoasts, and Jack-O-Lantern Pizzas!