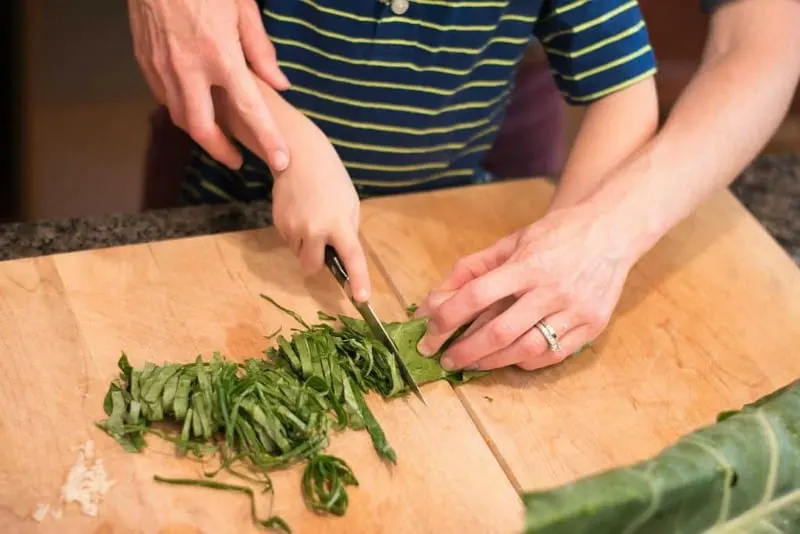 Feeding our families day in and day out can be a lot of work. For some of us it is a natural process, but for others it can feel like a burden. No matter where you are on that spectrum, I am a big fan of inviting our kids into the kitchen to help. Not only is it nice to get some support, but it is also an opportunity to teach your kids life skills that will serve them well for years to come
To help you to determine the best activities in the kitchen I put together a list of activities that will help you to get a grasp on how to involve kids in cooking and I have divided the list up by age group so that you can easily find great activities that will interest and engage your kids.
How to Involve Your Kids in Cooking
Preschoolers
Not only do they want to help, but they love to have ownership over a task. Here are some activities that you can give them to do that will actually save you time because they don't require close supervision.
Pulling fresh herbs off their stems
Tearing greens for a salad
Combining dry ingredients in a large mixing bowl
Washing produce
Younger School Aged Kids
These kiddos are more coordinated than they used to be and can follow multi-step directions, which makes them ready for some more complicated tasks.
Measuring wet and dry ingredients
Mixing wet and dry ingredients
Peeling vegetables
Chopping vegetables (if you feel comfortable with their knife skills)
Reading recipe steps out loud
Arranging platters
Setting the table
Making place cards
★ Try The Scramble Meal Planning Service for free. Healthy 30 minute meals your entire family will love.

Tweens
They want to be trusted with important tasks and will rise to the occasion. Traditions can mean a lot to this age group, so teaching "grandma's recipe" can be really appealing and meaningful.
Chopping vegetables
Making a simple recipe from start to finish
Scooping/distributing cookie batter
Decorating cookies
Tending to things on the stove (if you are comfortable)
Using a hand beater for cakes, whipped cream, etc.
Teens
Independence is what it's all about, so assign them a dish or a type of dish and let them pick the recipe themselves to prepare from start to finish.
How do you involve your kids in the cooking? Share your ideas in the comments?