Butternut squash is a versatile vegetable with tons of nutritional benefits. Here are our tips on how to cook butternut squash, spices and flavors that go well with them, as well as some Scramble recipes to get you started.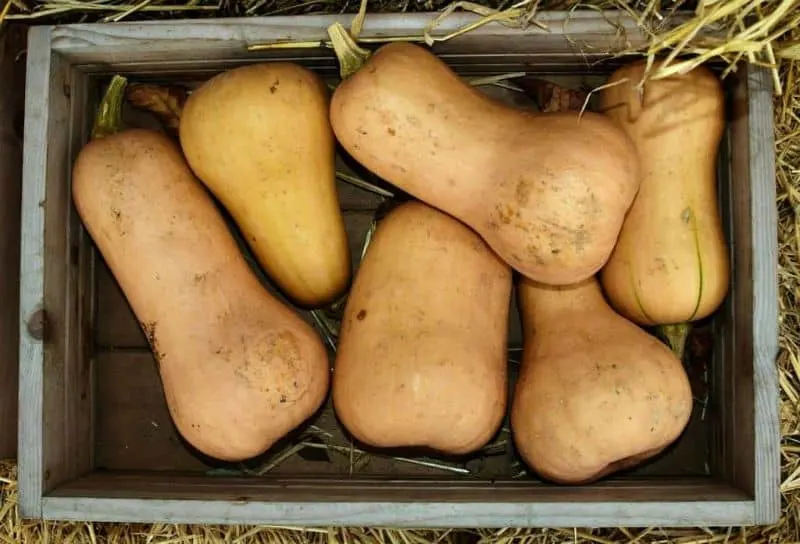 How to Cook Butternut Squash and Recipes to Get You Started
Growing up we didn't eat much winter squash because my dad isn't a huge fan. This meant that I didn't discover the joys of all of the different varieties until well into adulthood. I started my squash cooking journey with the most well-known of the winter squashes: butternut. As many do, I started with a soup recipe, but quickly learned that there are many ways to enjoy this amazing vegetable (actually a fruit, but we usually think of it as a veggie).
To help you to take advantage of all that they have to offer, here are tips on how to cook butternut squash as well as recipes to get you started.
Why Eat Butternut Squash?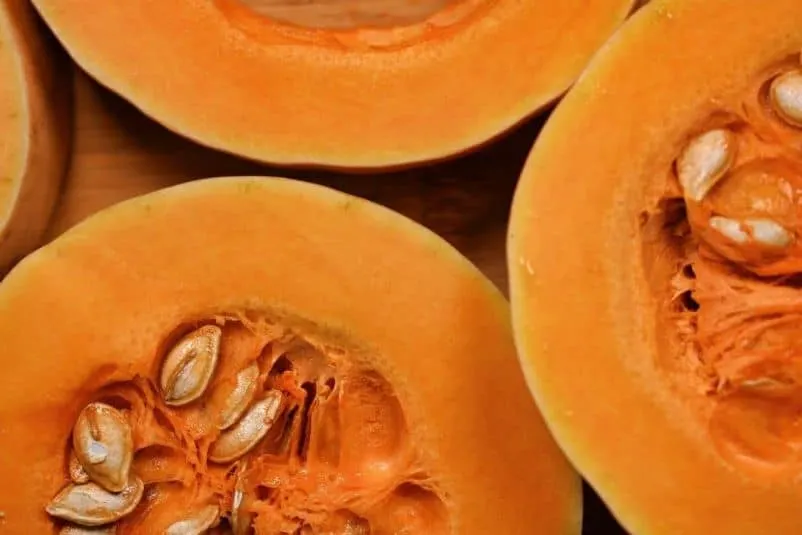 First and foremost, butternut squash is delicious! It has a slightly sweet and vaguely nutty flavor that makes it an extremely versatile ingredient.
In addition, butternut squash offers a ton of nutritional benefits. First and foremost, it is a Vitamin A monster, offering up over 400% of your referenced daily intake (RDI). This is important because Vitamin A supports bone and eye health, as well as your immune system. It also has over 50% of your Vitamin C RDI – again making it a winner in fighting off colds.
The bone health benefits don't stop there either because it turns out the butternut squash is also a great source of magnesium, potassium, and manganese. It also offers up Vitamin E which is great for reducing the risk of age-related conditions and Vitamin B, which is great for energy.
Flavor Partners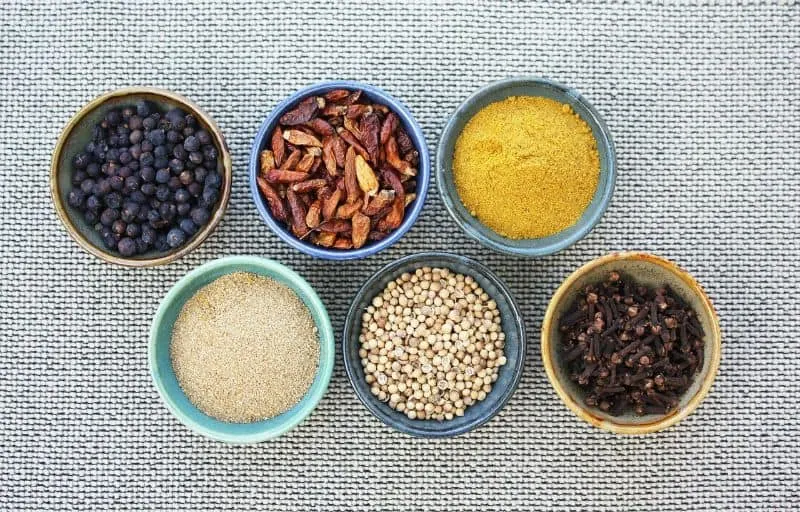 As mentioned above, one of the things that makes butternut squash so fantastic is that it is incredibly versatile, both in terms of what you can make with it, but also in terms of all of the different flavors you can add. Here are lists of both.
Here's what you can make with butternut squash
Soup
Stews
Risottos
Casseroles
Bites- either steamed or roasted
Mash
Some flavors and foods that go well with butternut squash include
Allspice
Chili powder
Cinnamon
Nutmeg
Rosemary
Sage
Thyme
Garlic
Ginger
Lemon
Lime
Chili peppers
Maple syrup
Honey
Goat cheese
Ricotta cheese
Parmesan cheese
Coconut milk (in soups and stews)
Bacon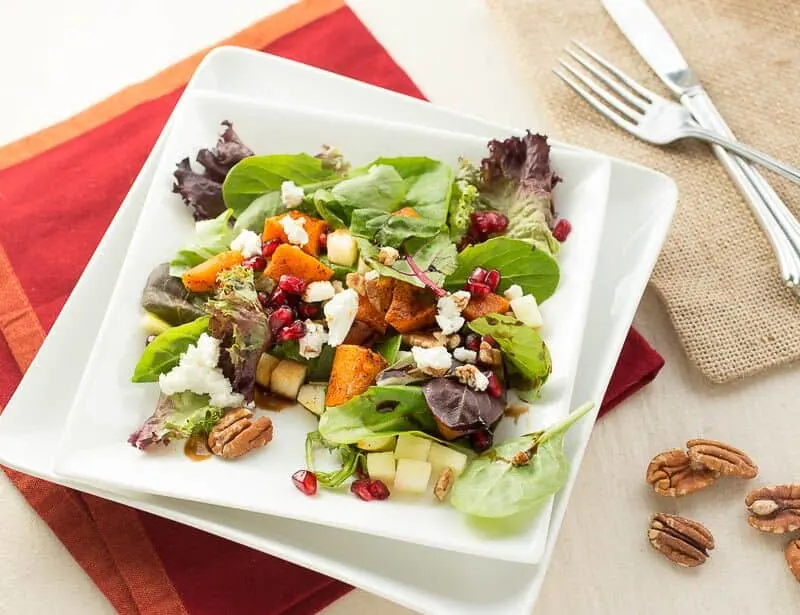 How to Cook Butternut Squash
The first step in cooking butternut squash is to prepare it. When I first started working with butternut squash I found the hardness of the squash and the peeling to be pretty overwhelming. I spent hours fighting my knife through and trying to get the peel off, until I learned some tricks.
Step 1: Peeling the Squash
There are two options here, depending on what your end product will be.
If you are going to be roasting and then pureeing the squash (for soups or mashes), then just cut the squash in half, scrape out the seeds, roast (see directions below), and then scoop the flesh out once the squash is cooked.
If you are going to be dicing the squash, then start by making your squash easier to work with by cutting a small portion (about ½-inch) off of the top and bottom of the squash. This will make it easier to handle.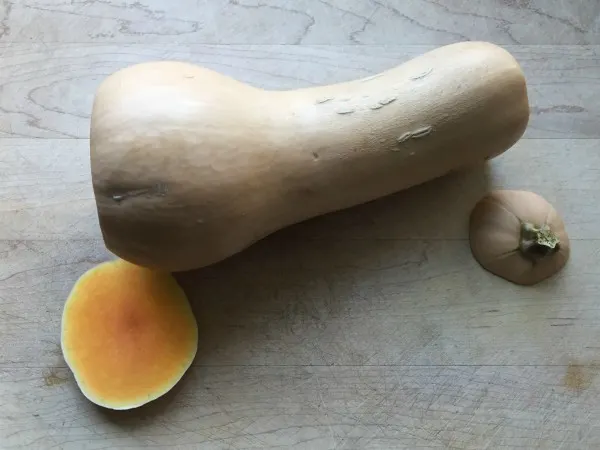 Then, cut the butternut squash just above the bulb, so that you have two pieces: one that is longer and solid and one that is rounder.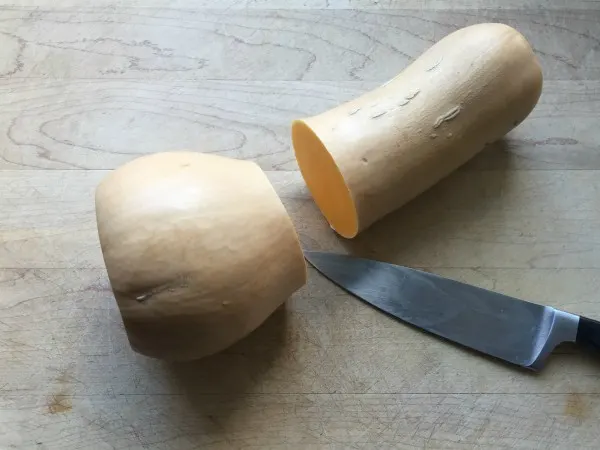 Now you peel. Some people like to use a paring knife, but I prefer to use my vegetable peeler, as I find it is easier to use. As you peel, do you best to remove all of the peel so that the fibrous green under layer disappears and you are only left with the orange flesh.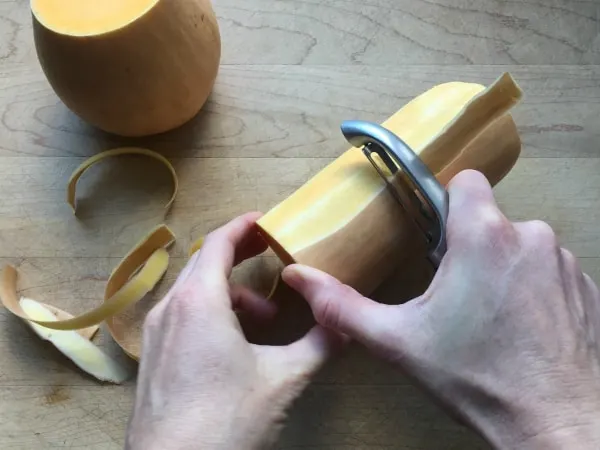 Step 2: Dicing the squash
The two pieces squash will be diced differently.
For the long, solid piece, stand it on its end and slice lengthwise in as thick slices as you want dices (1/2-inch to 1-inch).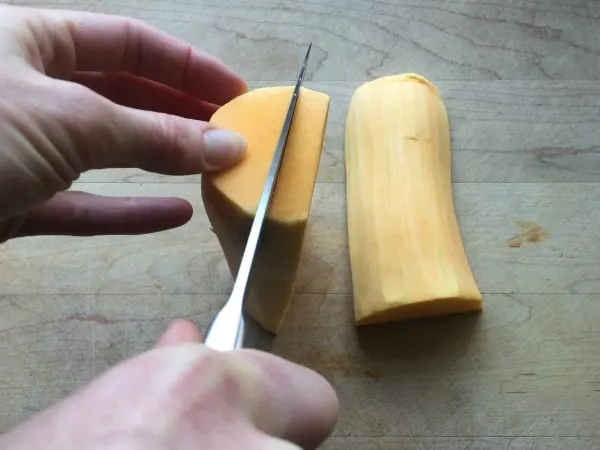 Then lay the slices down and cut lengthwise, again, in as thick slices as you want dices.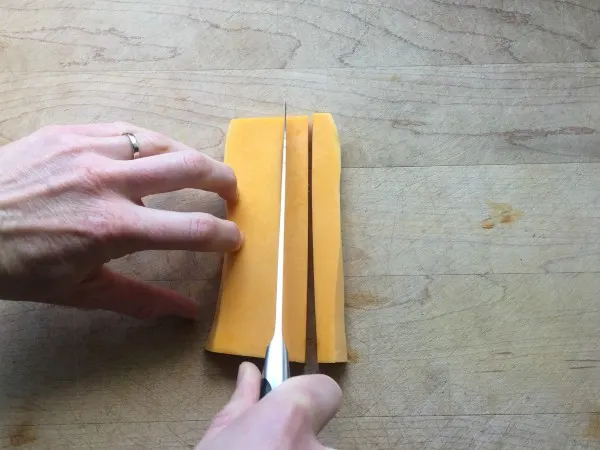 You then will have strips of butternut squash, which you can chop horizontally to get the final dice.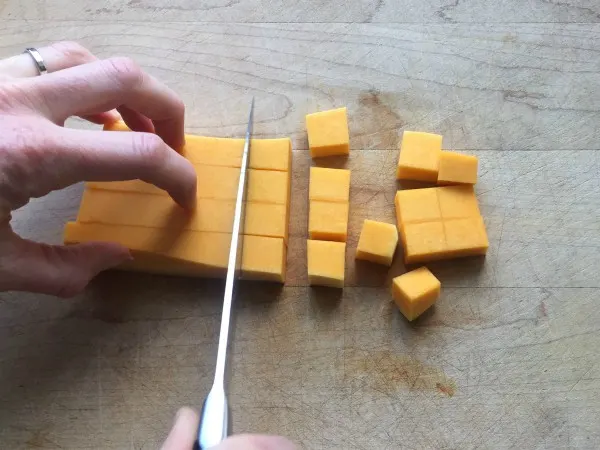 For the round piece, start by cutting it in half. Then, scoop out the seeds (and save for roasting! See below).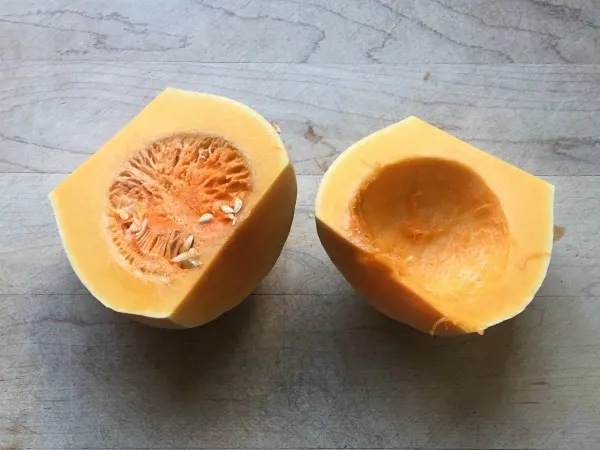 You will find yourself with two half sphere-like shapes. Turn them over so that they are hollow-side down and slice into slices that are as thick as the ones described above. You will end up with crescent-shaped slices.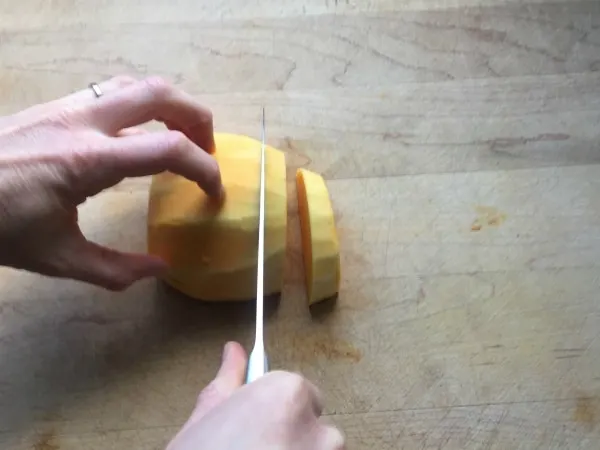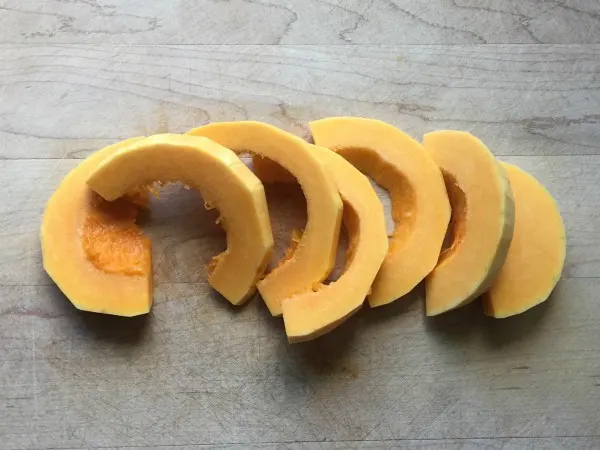 Then chop these crescents into the size of dice that you desire. And you are done!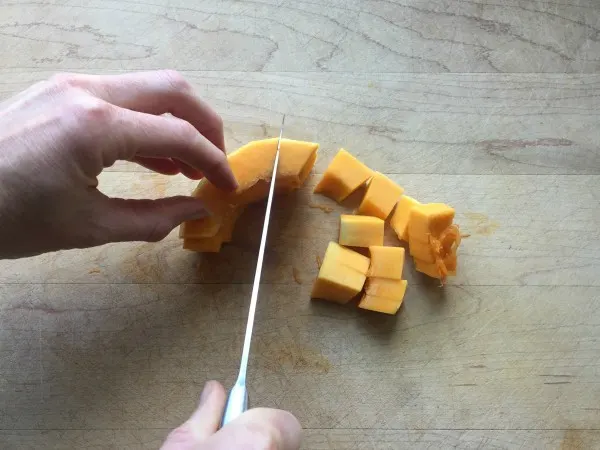 How to Cook Butternut Squash
There are many ways to enjoy butternut squash in your meals.
Raw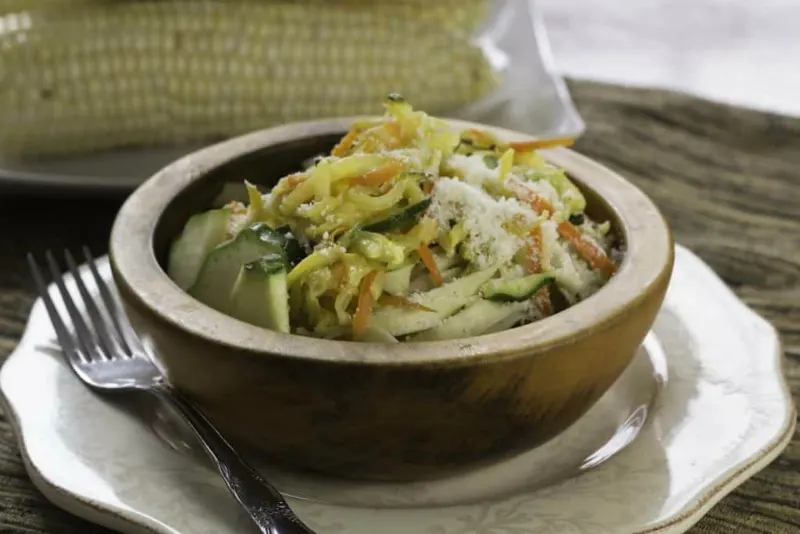 While usually served cooked, especially since cooking brings out its sweetness, butternut squash is safe to eat raw and can be shredded and added to things like salads and summer rolls.
Steamed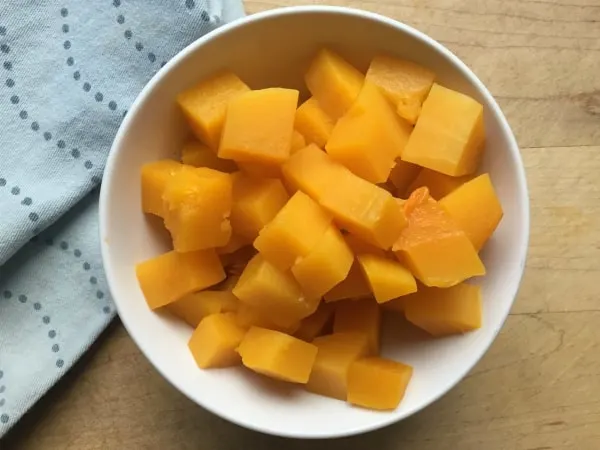 This is a super simple preparation of butternut squash. Once steamed, you can add the diced squash to salads, casseroles, wraps, risottos, or serve it as a simple side dish (it is delicious topped with some butter, salt, pepper, and Parmesan cheese).
To steam it, put 1 or so inches of water into the bottom of a large pot and then fit it with a steamer basket. Bring the water to a boil, then add the squash to the basket. Cover and steam for 10-15 minutes (depending on size of dice), until fork tender.
Roasting Butternut Squash Halves
To roast butternut squash that you halved (as described above), preheat oven to 350. Brush the cut sides with extra virgin olive oil, place cut-side down on the baking sheet, and bake for about an hour. Check for doneness at around 45 minutes. You will know the squash is fully cooked with a fork can easily pierce through the skin and flesh. The skin may, at this point, be brown and blistered – that is ok! You can then scoop out the flesh and use in soups or mash it up for a delicious side dish.
Roasted Diced Butternut Squash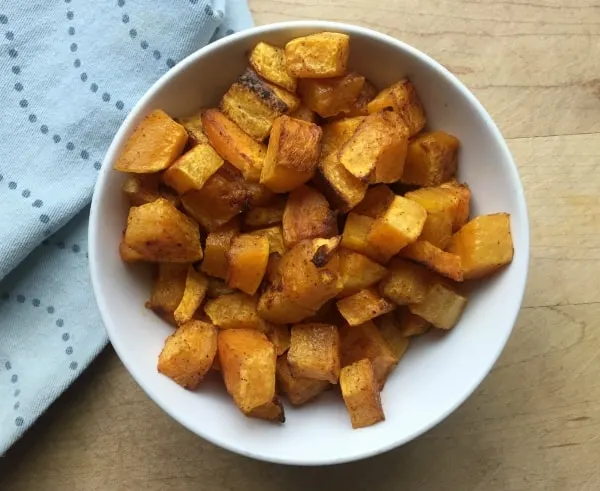 This is my favorite preparation because roasting brings out the natural sugars in the squash and adds a nutty and carmel-y quality to the squash. Yum!
To roast, preheat the oven to 400 – 425 degrees and lightly oil a baking sheet or line it with parchment paper (for easy clean up). In a large bowl, toss the squash with extra virgin olive oil, salt, and pepper (and/or add some of the herbs and spices mentioned above). Then lay the squash out in one, even layer on the baking sheet and bake for 25 – 30 minutes, or until fork tender and starting to brown on the outside.
Serve as is or mix into salads, casseroles, burritos, etc.
Mashed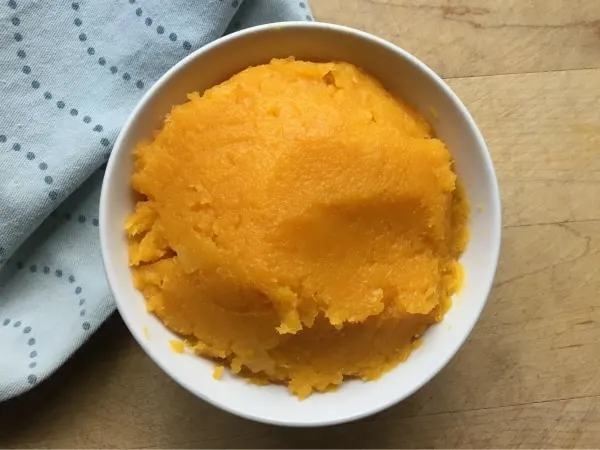 Just take either steamed or roasted butternut squash and mash it as you would mashed potatoes. This is a delicious side dish. Serve topped with butter and spices of your choice.
Soups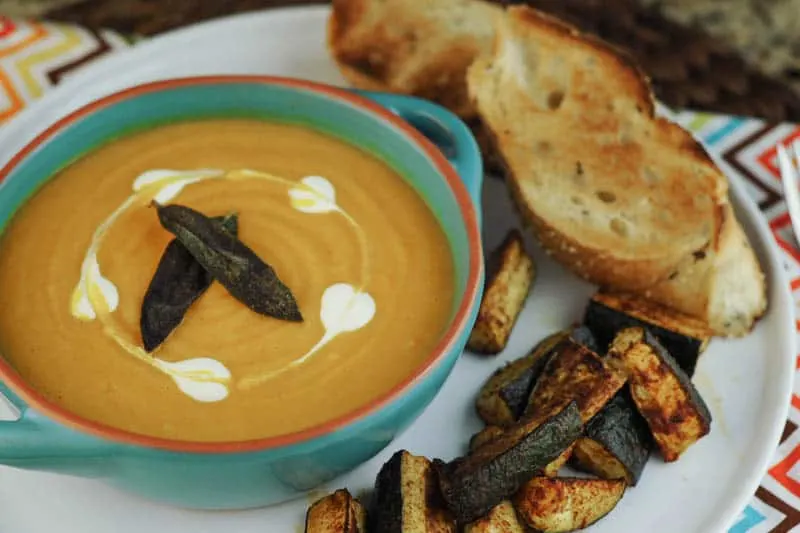 Butternut squash soup is a classic. You can make it using either already cooked squash or raw squash that you cook in the stock (see below for recipes).
Stews and Chilis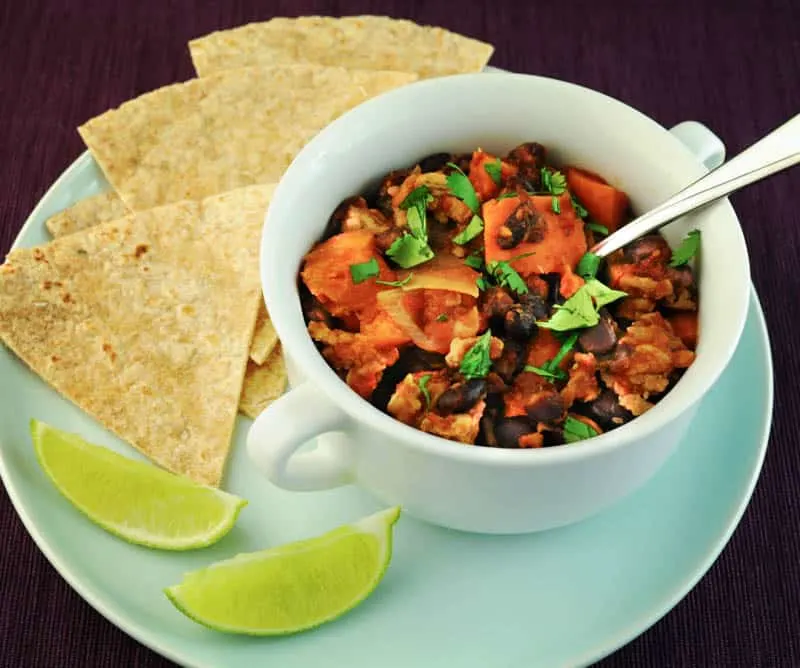 Butternut squash adds a wonderful, gentle sweetness to stews and chilis. Just add diced butternut squash in raw and allow it to soften in the stew/chili (usually about 10 – 15 minutes).
Enjoying the Seeds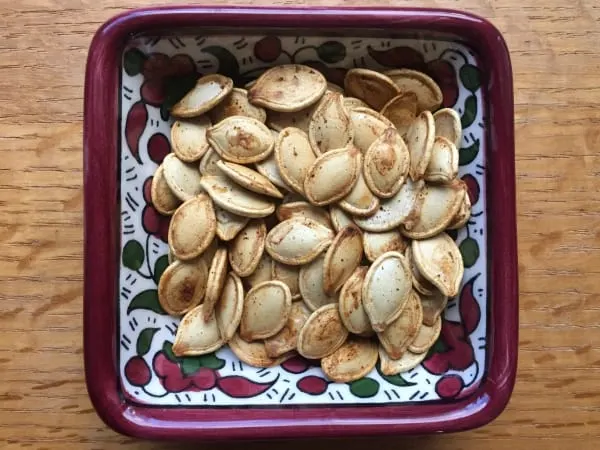 As mentioned above, butternut squash seeds are delicious and make a fantastic snack or topping for soups and stews! Here's how to prepare them:
Preheat the oven to 300 degrees and line a baking sheet with parchment paper.
Place the seeds into a mixing bowl and cover them with water.
Use your fingers to separate the seeds from the fibrous, stringy stuff.
Drain the seeds in a strainer and pull off any remaining orange stringy stuff.
Dry the seeds with a clean dish towel or paper towel.
Place in a bowl and toss with some extra virgin olive oil, salt, and spices (if desired. I love chili powder here).
Lay the seeds out on the baking sheet in a single layer and bake for 15 – 20 minutes, until you can hear them popping.
Cool and serve (they will crisp up more as they cool).
Recipes to Get You Started
Here are some Scramble recipes that will help you to enjoy all that butternut squash.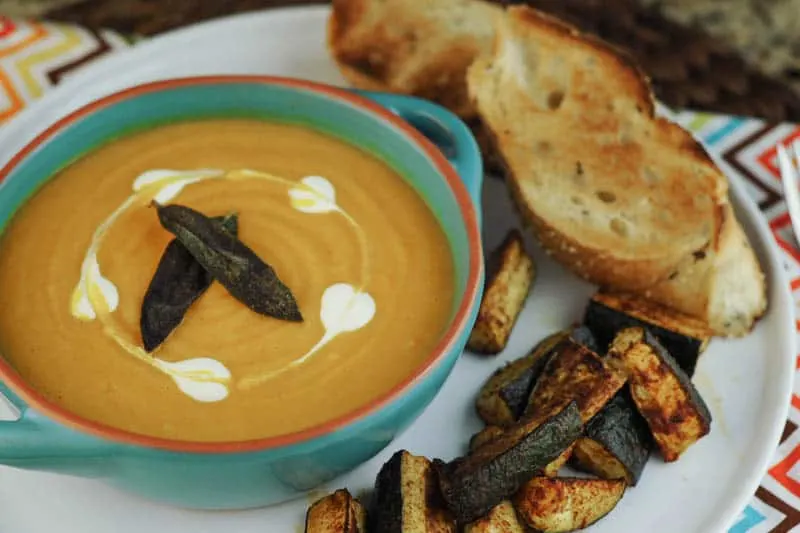 This soup is warming and comforting with is lovely balance of sweet and savory. The quintessential fall soup. And it can be made in the slow cooker, too!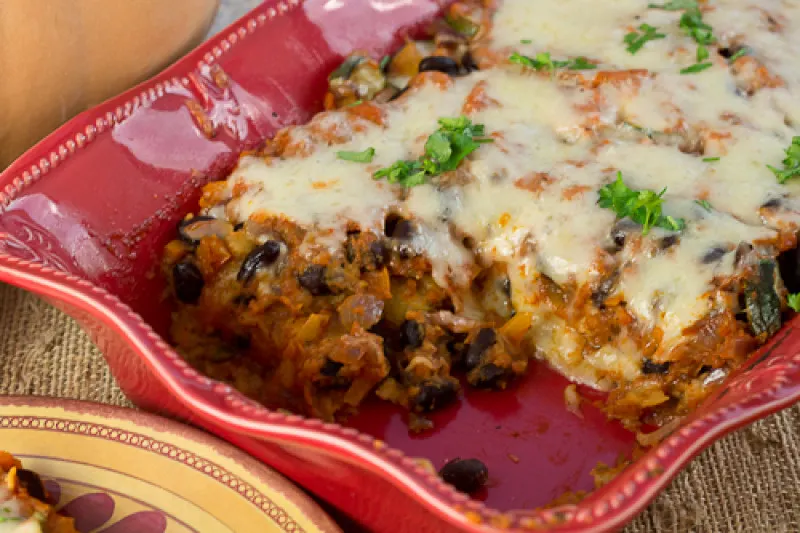 This shortcut version of enchiladas has all the creamy, comforting deliciousness of enchiladas withoyt all the work of rolling! A weeknight favorite in my house.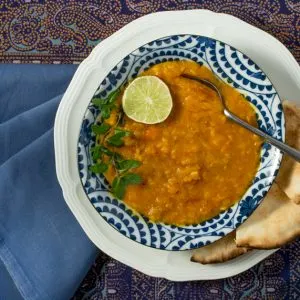 Butternut Squash and Yellow Lentil Stew
This soup is the perfect meal when you want something nourishing and warm, or really just about any time. Scramble recipe tester Bobbi Woods said, "Oh my goodness this was fabulous! We all had seconds!!! The LIME absolutely made the taste POP."
Ingredients
2

Tbsp.

coconut or vegetable oil

1

sweet yellow onion such as Vidalia or Walla Walla

diced

1

Tbsp.

fresh ginger

peeled and minced

2

cloves

garlic

minced, about 1 tsp.

1

tsp.

turmeric

1

tsp.

curry powder

6 – 8

cups

butternut squash

peeled, seeded and diced (about 2 lbs.)

1

cup

yellow split peas or yellow or red lentils

you can use green split peas if you can't find any of these

15

oz.

diced tomatoes

with their liquid

32

oz.

reduced-sodium vegetable or chicken broth

warmed

1

lime

cut into wedges, for serving
Instructions
Heat a Dutch oven or large stockpot over medium heat, add the oil, and when it is hot, add the onions and ginger. Cook it for about 3 minutes until the onions are translucent.

Stir in the garlic, turmeric and curry powder for about 30 seconds, then add the butternut squash, split peas or lentils, tomatoes, and broth, cover, and bring it to a boil.

Reduce the heat and simmer it, covered, for 30 minutes, stirring occasionally.

Uncover it and let it simmer for 10 more minutes or until the peas/lentils are tender.

Using an immersion blender or a standing blender, puree the stew to desired consistency (we like it a little chunky, one tester preferred it smooth). Serve it immediately, with freshly squeezed lime, or refrigerate it for up to 3 days, or freeze it for up to 3 months.
Slow Cooker Directions:
You will need at least a 5 quart slow cooker to make this recipe. Omit the oil. Combine all remaining ingredients in the slow cooker and cook on low for 8 – 10 hours, or on high for 4 – 5 hours. (Slow cooker cooking times may vary—Get to know your slow cooker and, if necessary, adjust cooking times accordingly.)
Notes
Do Ahead or Delegate: Dice the onion, peel and cut the ginger and the squash, peel the garlic, cut the lime, or fully prepare and refrigerate or freeze the stew.
Scramble Flavor Booster: Stir up to 1/2 tsp. cayenne pepper into the stew after pureeing it, and top it with toasted coconut and/or toasted pepitas (pumpkin seeds).
Tip: Unlike many varieties of dried beans, lentils don't need to be soaked. I suggest sorting through and rinsing them to clean away any dirt or debris, but since they cook fairly quickly, you can skip the soaking step (although soaking them will speed up the cooking a bit).
Nutritional Information Per Serving (% based upon daily values)
Calories 259, Total Fat: 5g, 8%; Saturated Fat: 4g, 20%; Cholesterol: 0mg, 0%; Sodium: 116mg, 5%; Total Carbohydrate: 47g, 15.5%; Dietary Fiber: 14g, 55.5%; Sugar: 10g; Protein: 11g
Like this recipe? Check out The Scramble's family-friendly meal plans to see just how simple getting dinner on the table can be!
Do you have other tricks to cook butternut squash or recipes?
Like these recipes and techniques? Sign up for a free trial of The Scramble to see how simple feeding yourself and your family can be!