If you've never cooked with it before, acorn squash can be a little bit intimidating, so I wanted to share my tips on how to cook acorn squash as well as recipes to get you started.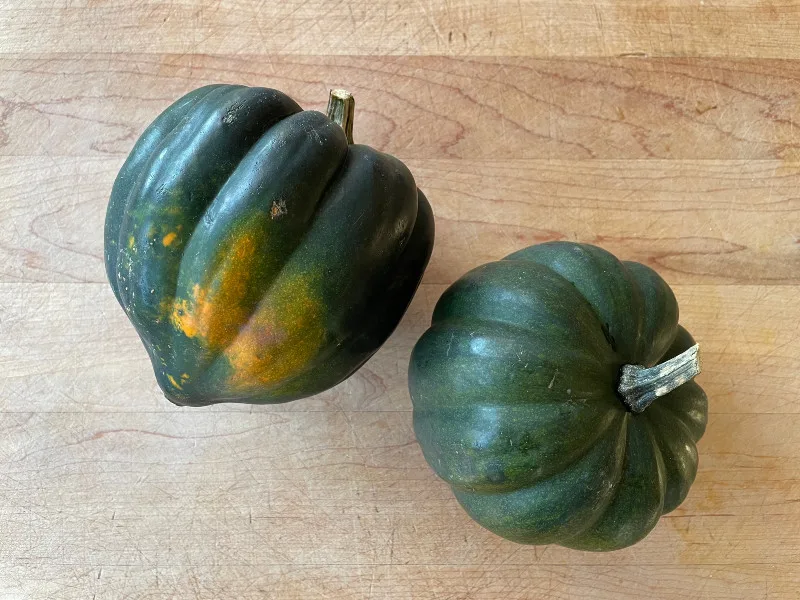 My first real encounter with acorn squash didn't come until I was in my 20s when my mom shared a recipe for an acorn squash soup that I instantly fell in love with. I savored the balance between sweetness and earthiness that it offered and was hooked. For years, though, I continued to find acorn squash to be an intimidating vegetable, especially because it was so hard to cut (tips on this below!). Once I got over this fear, it became one of my favorite winter squashes.
Why Eat Acorn Squash?
First and foremost, acorn squash is delicious! It has a slightly sweet (I find it is less sweet than butternut squash), earthy, and nutty flavor that makes it an extremely versatile ingredient.
In addition, acorn squash offers a ton of nutritional benefits. First and foremost, it is rich in Vitamin A. This is important because Vitamin A supports bone and eye health, as well as your immune system. It also has over 78% of your daily Vitamin C – again making it a winner in fighting off colds.
Acorn squash is also rich in carotenoid pigments, which studies show are good for both cardiovascular health and cancer prevention.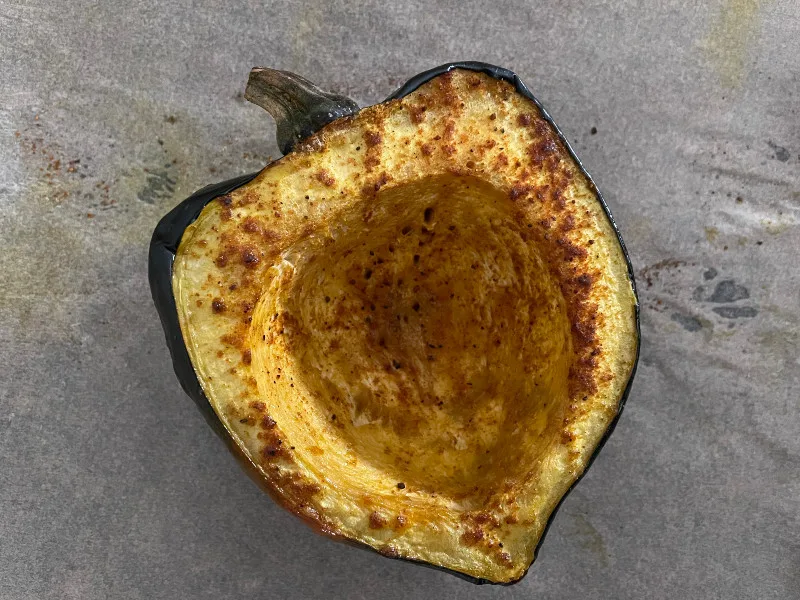 Flavor Partners
As mentioned above, one of the things that makes acorn squash so fantastic is that it is incredibly versatile, both in terms of what you can make with it, but also in terms of all of the different flavors you can add. Here are lists of both.
Here's what you can make with acorn squash:
Soup
Stews
Chilis
Risottos
Casseroles
Mash
Roasted wedges
Some flavors and foods that go well with acorn squash include:
Allspice
Butter (especially brown butter)
Cheese (especially, goat, feta, and Parmesan)
Chili peppers
Chili powder
Cinnamon
Coconut milk (in soups and stews)
Garlic
Ginger
Honey
Maple syrup
Marscapone
Nutmeg
Onions
Sage
Sugar (especially brown)
Thyme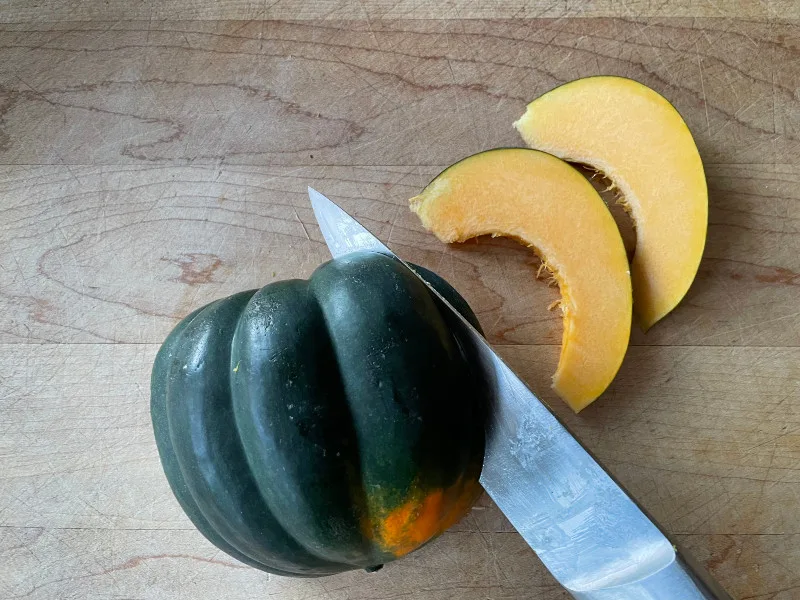 How to Cut Acorn Squash
The first step in cooking acorn squash is to cut it up. When I first started working with acorn squash I found the hardness of the squash and the ridges to be pretty intimidating. It felt like I spent hours fighting my knife through and worrying that I would cut myself, until I learned some tricks.
The first thing to know is that you want to cut it with a sharp knife. Using a sharp knife will help you to get into the squash more easily and will reduce the risk of the squash rolling out on you.
Another thing to know is that for many acorn squash recipes including this Savory Baked Acorn Squash, you only need to make one cut: in half, from top to bottom. To do this, hold the squash steady with one hand, put the tip of the knife near the acorn squash stem, in the crevice between two ridges, and cut down towards the bottom of the squash. This will get your knife safely inside and then you can slowly turn the squash while you continue to push your knife through.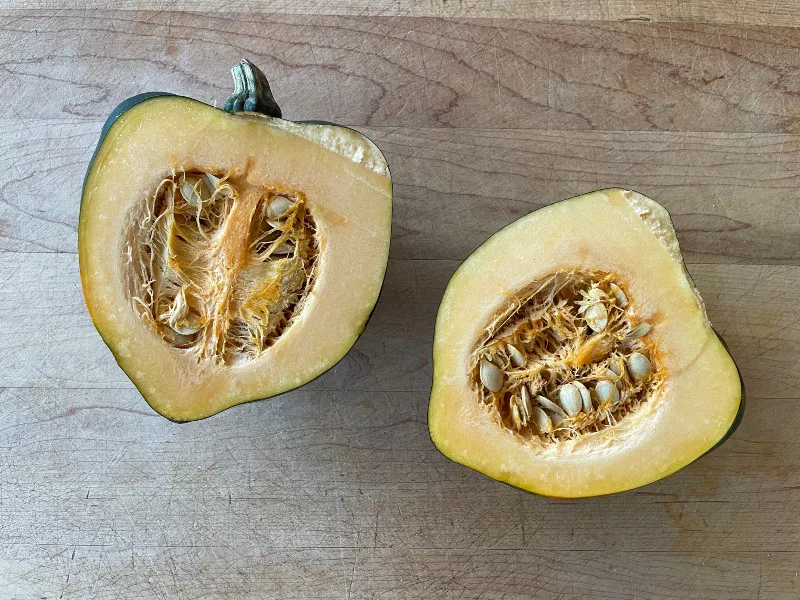 Once you have cut it in half, you will want to remove the seeds. To do this, just use a spoon to scoop them out. You can either toss the seeds or save them to roast and enjoy as a healthy snack (see below for directions).
And then, even if you do need to make more cuts, you have a flat side to work with, which makes cutting much easier.
Bonus Tip: If this still feels too scary, you can make the squash easier to cut by microwaving it for 1-2 minutes. This won't cook the squash, but will soften it up just a little, making it easier to get through the hard outer shell.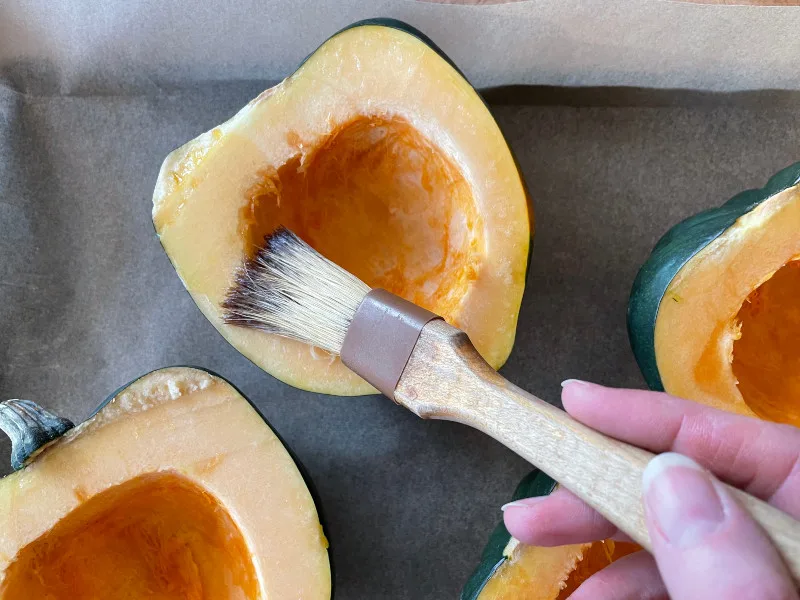 How to Cook Acorn Squash
There are many ways to enjoy acorn squash in your meals, but for almost every recipe the first step is going to be baking or roasting the squash. From there you will be able to dice or mash it up to incorporate into dishes or enjoy it on its own.
Roasting Acorn Squash Halves
To roast the acorn squash that you halved (as described above), preheat oven to 400. Brush the cut sides with extra virgin olive oil, season as desired, place cut-side up on the baking sheet, and bake for about 45 minutes. You will know the squash is fully cooked when a fork can easily pierce through the flesh. You can then scoop out the flesh and use in soups, stews, or risottos. Or, mash it up for a simple, delicious side dish.
Mashed
Just take your roasted acorn squash and mash it as you would mashed potatoes. This is a delicious side dish. Serve topped with butter and spices of your choice.
Soups
Acorn squash soup is a classic. You can sauté the roasted acorn squash with onions, garlic, and other vegetables, add water or broth, and puree to make a creamy, delicious soup.
Stews, Chilis, and Risottos
Acorn squash adds a wonderful, gentle sweetness to stews, chilis, and risottos. Just add diced roasted acorn squash to your soup or stew towards the end of cooking.
Enjoying the Seeds
Acorn squash seeds are delicious and make a fantastic snack or topping for soups and stews! Here's how to prepare them:
Preheat the oven to 325 degrees and line a baking sheet with parchment paper.
Place the seeds into a mixing bowl and cover them with water.
Use your fingers to separate the seeds from the fibrous, stringy stuff.
Drain the seeds in a strainer and pull off any remaining orange stringy stuff.
Dry the seeds with a clean dish towel or paper towel.
Place in a bowl and toss with some extra virgin olive oil, salt, and spices (if desired. I love chili powder here).
Lay the seeds out on the baking sheet in a single layer and bake for 15 – 20 minutes, until you can hear them popping.
Cool and serve (they will crisp up more as they cool).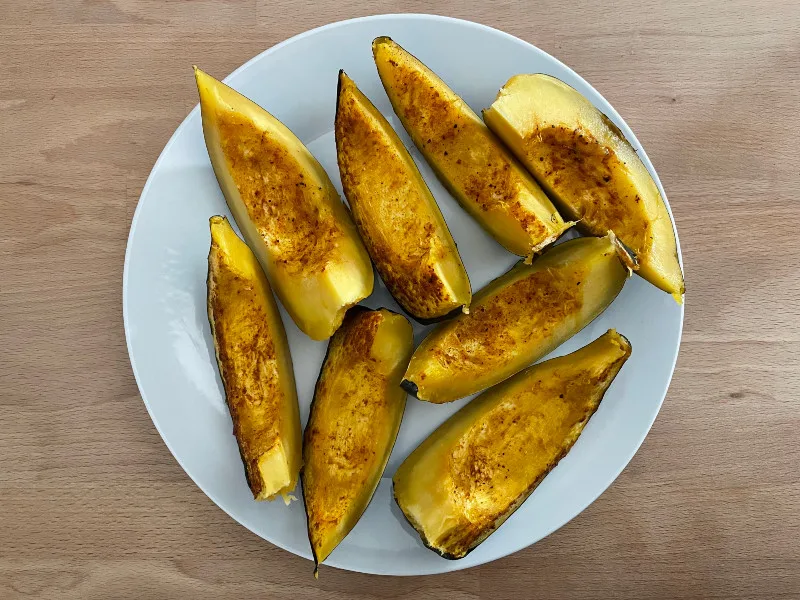 Recipes to Get You Started
Savory Baked Acorn Squash is a really great way to start cooking with acorn squash. And my family's favorite recipe for a weeknight or holiday celebration is this Parmesan-Crusted Acorn Squash.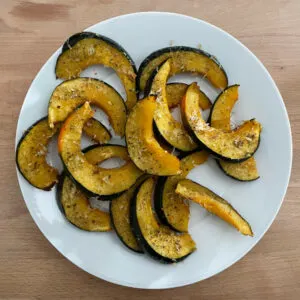 Parmesan-Crusted Acorn Squash
The first time I made these acorn squash slices, half of them were gone before I even got them to the table! This dish is simple enough for a weeknight, but pretty enough to grace your holiday table.
Ingredients
1

acorn squash

1 – 2

Tbsp.

extra virgin olive oil

1

Tbsp.

grated or shredded Parmesan cheese

1/4

tsp.

salt-free lemon pepper seasoning

optional
Instructions
Preheat the oven to 400 degrees, and lightly spray a baking sheet with nonstick cooking spray or line it with parchment paper.

Cut the acorn squash from top to bottom (if it is too hard to get your knife through it, put it in the microwave first for 1 – 2 minutes). Scrape out the seeds, put the flat sides down on a cutting board and cut it into slices about 3/4-inch thick.

Lay the slices on the baking sheet. Pour the oil into a small bowl, and using a pastry brush, lightly brush both sides of the squash slices with the oil.

Roast the slices for 10 minutes, then remove them from the oven, flip them, and carefully sprinkle the top of each slice with the cheese, and season it with the lemon pepper seasoning, if desired.

Return it to the oven for 10 – 15 minutes until they are golden brown and tender.
Notes
Nutritional Information Per Serving (% based upon daily values): Calories 78, Total Fat: 4g, 6%; Saturated Fat: 1g, 3.5%; Cholesterol: 1mg, 0.5%; Sodium: 23mg, 1%; Total Carbohydrate: 12g, 4%; Dietary Fiber: 2g, 6.5%; Sugar: 2g; Protein: 2g
Like this recipe? Check out The Scramble's family-friendly meal plans to see just how simple getting dinner on the table can be!
Like these recipes and techniques? Sign up for a free trial of The Scramble's meal planning service to see how simple feeding yourself and your family can be!
Want to learn more about cooking? Check out our Library of How Tos and Cooking Fundamentals.