Looking for a gift that won't collect dust? Check out these edible holiday gift ideas (and other goodies for food lovers or budding gastronomes).

Why Choose an Edible Gift?
When it comes to holiday gift giving, it may not surprise you that I enjoy sharing my favorite foods (or food related gifts) with friends and family. Generally, I think most of us have more than enough possessions filling up our homes, so the idea of giving consumable gifts is very appealing to me. Giving an edible gift almost guarantees that it won't sit on a shelf collecting dust.
So we have put together a collection of recipes that are perfect for edible gifts, as well as some non-consumable but still food-related gifts that might be perfect for someone in your life.
Food-Related Gift Ideas
If you love the idea of food-related gifts but don't want to spend any extra time in the kitchen creating your own, here are a few creative options.

For the coffee enthusiast in your life. I am not a coffee drinker, but my husband is passionate about his coffee and swears by his individual-sized french press (affiliate).
Got a carb-fiend in your life? With the rapidly growing appetites in my house, we were spending a HUGE amount on bread each week, so this year I got a bread machine (affiliate) and it has been a game changer! Now we have fresh, delicious (and healthier!) bread available all the time.
For a family treat, how about snacking on gourmet popsicles at home with the Zoku Quick Pop Maker (affiliate). This gadget is amazing – popsicles ready in as little as 7 minutes?! Yes, please!
Of course, it would be remiss of me not to mention giving the gift of healthy family dinners! A subscription to The Scramble is never the wrong color or size and won't wind up in a landfill (you can also select your email delivery date!). And most importantly, it's a gift that brings families together.
If you'd prefer to give a gift that can be wrapped, choose from one of three Scramble Cookbooks (affiliate). They're gifts you truly can't go wrong with.
For Budding Gastronomes…
Most kids love to eat, but these gifts are intended for those that love to cook (and eat, of course).
Cookbooks for kids who need a little inspiration to get started (affiliate links):
Get your kid started with their own kitchen tools (that happen to be fun and colorful): Curious Chef 11-Piece Chef's Kit (affiliate)
Edible Holiday Gift Ideas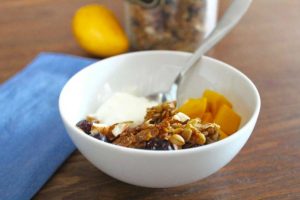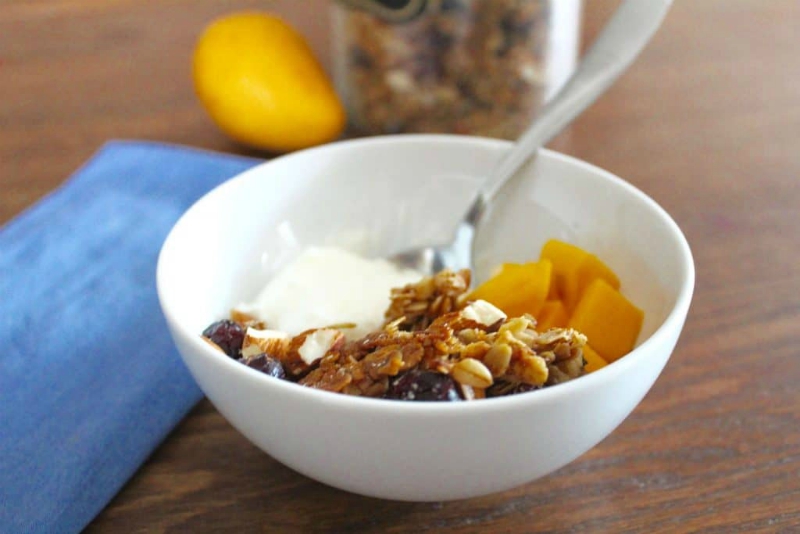 Each year I struggle with the question of what edible gift to give, but then last year I hit on the jackpot. I made a triple batch of our Chai-Spiced Granola recipe, put it in mason jars, and handed them out to teachers (along with a Target gift card) and friends.
People went NUTS for it, so much so that when I made spiced nuts as an end-of-the-school-year gift for teachers, some were actually disappointed it wasn't more granola. Guess what I am making this year!
Edible Gift Ideas
If granola doesn't float your boat, there are a number of Scramble gems tucked away on the site that would be ideal for whipping up, putting in mason jars or decorative tins and giving as gifts to those you care about:
Chocolate Peanut Butter Bars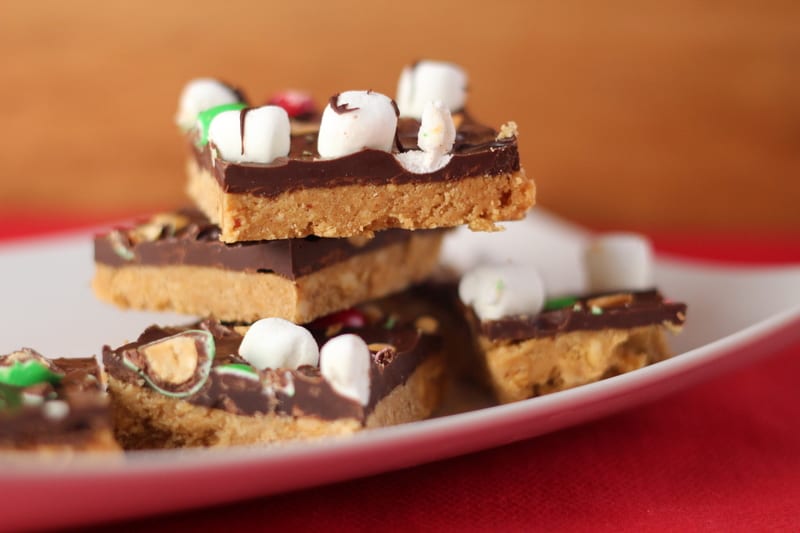 These are a fantastic special treat or edible gift! These are also a lot of fun to make with kids.
1/2

cup

unsalted butter

1 1/2

cup

peanut butter or other nut or seed butter

1 3/4

cup

confectioner's sugar

1 1/2

cup

graham cracker crumbs

12

oz.

chocolate chips

1

cup

mini-marshmallows

optional

1/4

cup

chopped peanuts

optional
1/2

cup

unsalted butter

1 1/2

cup

peanut butter or other nut or seed butter

1 3/4

cup

confectioner's sugar

1 1/2

cup

graham cracker crumbs

12

oz.

chocolate chips

1

cup

mini-marshmallows

optional

1/4

cup

chopped peanuts

optional
Preheat the oven to 350 degrees. Spray a 9 x 13-inch baking pan with nonstick cooking spray.

In a mixing bowl, combine the butter, peanut butter, sugar and graham cracker crumbs until thoroughly combined. Pat them into the baking pan.

Sprinkle the chocolate chips on top and transfer it to the oven for 2 – 3 minutes until the chips are soft. With a spatula, spread the chocolate evenly over the graham crust.

Top it with the marshmallows, pressing them down slightly so they stick, or the peanuts, if desired.

Refrigerate for at least 30 minutes until they are hard, then cut them into squares to serve.
If you need a bit more inspiration for useful and scrumptious gifts for the season, please check out my Pinterest board. It's got tons of edible holiday gift ideas (both homemade and store-bought options), which the people on your list would likely be delighted to receive. Happy Holidays!
**Note: This page contains affiliate links. As an Amazon Associate we earn from qualifying purchases. If you purchase a product through these links, your cost will be the same but The Scramble will receive a small commission. I only link to products I personally use, trust, and love. Thanks for your support!