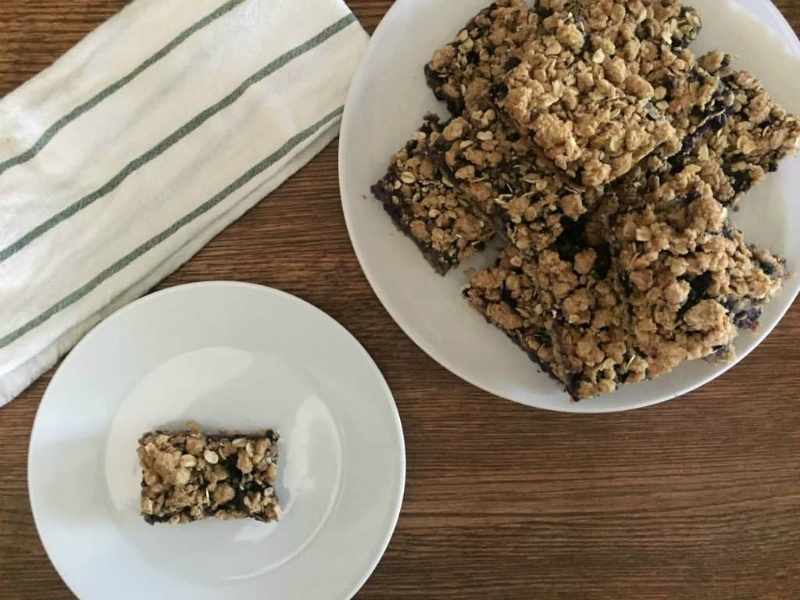 Wild Blueberry Oat Bars
This month's Recipe Redux challenge is all about using what you've got. Here's what we were challenged to do: "Spring Clean Your Kitchen. Cook with at least 3 ingredients that are in your refrigerator or pantry right now. Try not to go to the store to buy anything new. Show us how you reduce food waste by being resourceful!"
It's like this challenge was written just for me as this is something I try to do pretty much every week. In fact, the other weekend we had some friends over for an impromptu dinner. It was one of those laid-back nights with friends-who-are-like-family where everyone was relaxed and making themselves at home. At one point, my friend opened my refrigerator and said, "WOW! Your fridge is so clean!" She couldn't believe how empty the shelves were. She was so shocked when I told her that my fridge is pretty much empty by Saturday night every week that she made her husband come over to take a peek, too. (Recently, however, it has been a bit more of a challenge as my boys are eating more and more and I haven't quite adjusted to their new, bigger appetites so there have been some times when I have run out of real options, but that is a topic for another post.)
So when I went to work on this challenge I looked through my fridge, freezer, and pantry to see what I had knocking around. I found frozen wild blueberries, oats, and applesauce and I knew a breakfast/dessert was in our future.
These wild blueberry bars are a favorite in my house. I have been making a version of them for years, but decided to make them healthier by cutting down on the sugar, adding whole wheat flour, and swapping out half of the butter for applesauce. The result: an even tastier bar that I can feel good about serving for breakfast, throwing into lunch boxes, or serving with a scoop of ice cream for dessert (which is to die for, by the way)! If you wanted to bulk up the nutrition even more, swapping out the flour for almond meal would be amazing, too.
★ Try The Scramble Meal Planning Service for free. Healthy 30 minute meals your entire family will love.