Welcoming your kids into the kitchen to be a part of dinner prep not only eases the burden on you, but also teaches them essential life skills. So, I want to help you to get your kids in on the fun! Here is my advice on how to get kids to help with dinner, including activities for all the ages and stages.
Note: This page contains affiliate links. If you purchase a product through these links, your cost will be the same but The Scramble will receive a small commission. I only link to products I personally use, trust, and love. If you want to learn more, please check out my disclosure page. Thanks for your support!
Family Dinners Matter, But They Can Be a Burden
We all know that family dinners matter. They help to protect our kids from issues such as teen pregnancy and drug and alcohol use. They offer us a time to connect and share about our days. And we appreciate how meals together provide an opportunity to teach manners and conversational skills.
But the reality is that family dinners can also be an added burden. It can feel like yet another thing we need to plan for and schedule into our days.
This burdensome experience can become even more acute if the vast majority of the work falls onto one person's shoulders. In my house, that person is me.
I truly enjoy feeding my family. I relish the time in the kitchen. I even like the planning of meals and grocery shopping. But if I am being totally honest, there are times when it can feel like I am serving everyone and not being appreciated, and that is NOT fun.
In order to counteract this sense of imbalance and to teach our kids that they are part of a family unit and, therefore, have a responsibility to share in the burden of keeping things running smoothly, our kids have both daily and occasional roles when it comes to meal preparation. Perhaps these jobs will help you to find ways to get your kids to help with dinner and ease the burden for you.
How to Get Kids to Help with Dinner
There are two approaches to getting your kids to help with dinner. The first is to include them in daily tasks related to meal prep and the second is to invite them in for specific tasks from time to time. Or, like my family, you can do both! Here are some ways you can get them to pitch in depending on which approach you take.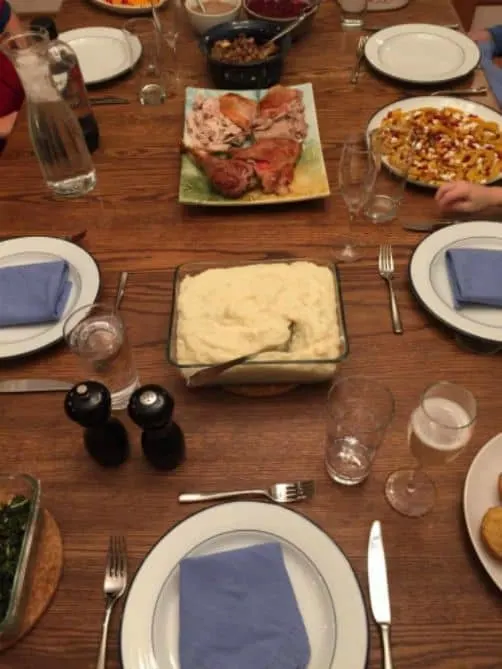 Daily Tasks Kid Can Do to Help with Dinner
In our house we decided that we wanted the kids to help with dinner on a daily basis, even if it was just in a small way. Here is what we expect of them.
Setting the Table
When I am in the last 10 minutes or so of dinner prep, I will call one of my sons into the kitchen to set the table. He is responsible for setting everyone's place correctly, putting out all condiments or seasonings we might need, and bringing out all food that is not too heavy or too hot to carry.
Clearing the Table
My other son is then charged with clearing the table. This includes clearing all food, plates, and utensils, as well as wiping the table clean.
Note: Another component of clearing the table can also be loading the dishwasher. This isn't something my family does (my husband has strong feelings about how to load the dishwasher, lol), but many other families I know include this as part of the clearing the table task.
Expressing Gratitude
My husband often leads the way on this one, but each night it is everyone's responsibility to thank whoever prepared the meal for cooking. Sometimes it can feel forced, but it is still an important acknowledgement of the work that has been done.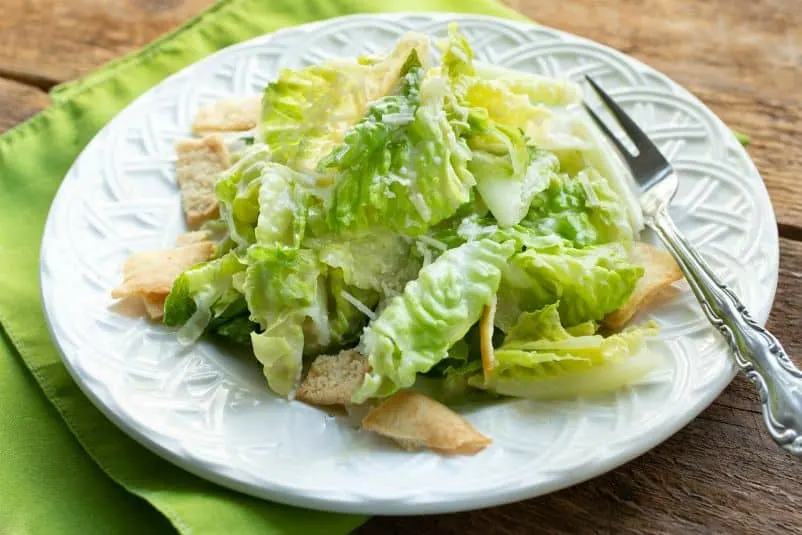 Occasional Ways to Get Kids to Help with Dinner
If a regular routine isn't your thing, then inviting the kids into the kitchen to help with dinner prep is also something you can do from time to time. I will do this when I need a helping hand, when the boys are hanging around aimlessly, or when they ask to help.
Salad Prep
I often task my boys with making the salad while I finish up the main dish. This is a job that you can start to teach as young as two. They can rip the lettuce into bite-sized pieces, spin the salad spinner (a favorite), and shake the salad dressing jar.
Slicing Bread
I'll sometimes call in one of the boys to help me with slicing up bread. This gives them an opportunity to practice their knife skills a bit and takes one more task off of my list. With supervision, this can start around age six. After my boys had been practicing for a while, I felt comfortable leaving them to do this on their own (with me in the kitchen) at around age seven.
Reading the Recipe
Do you ever feel like you are wasting time going back and forth between the recipe and your cooking? Have your kid read the recipe to you! Not only will this be super helpful, but it also provides a chance for them to practice their reading skills. And, as an added bonus, it familiarizes them with reading recipes, which is an important in learning how to cook!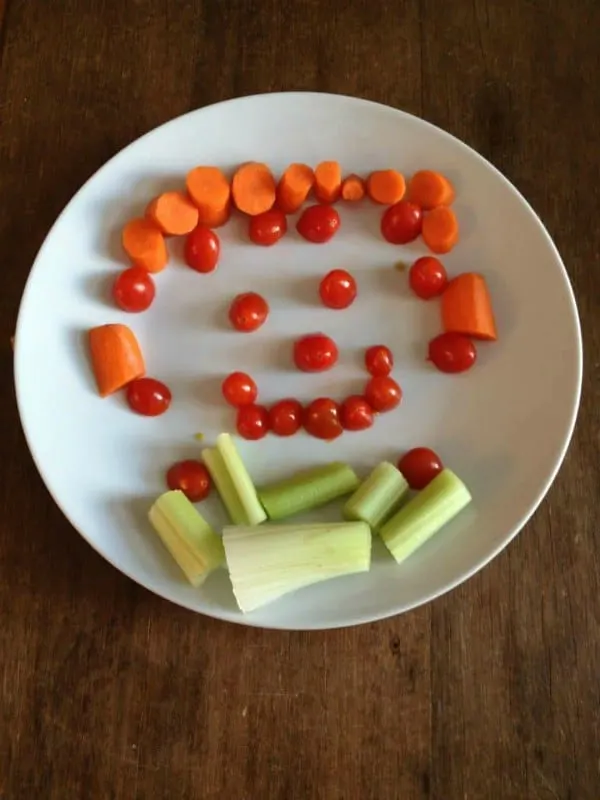 Setting Up Veggie Platters
When my kids were about four and six they got really into what they called "food art." They loved to build pictures out of cut up vegetables. So I would often set them to work creating vegetable platters in the form of "food art" for dinner. It would keep them both occupied and then they'd be excited about eating their "art."
Making a Fruit Salad
Many fruits are easy to cut, which make them a great option for teaching knife skills. You can start with soft fruits and a butter knife (or a kid-safe knife) with three- and four-year-olds (bananas, strawberries, kiwis, and big chunks melon work well here). Once their skills progress, you can move up to apples and pears with a paring knife. Then they can toss everything together and they've made dessert!
Stirring
With cool ingredients, using a spoon to mix ingredients in a bowl can start as young as two.
With hot things on the stove, you'll know when your kid is ready. My kids started around age 6, with supervision. Once they are, inviting them to stir can free you up to focus on another step of the dinner prep.
Keeping an Eye on the Oven
If you have a good oven light, this can be a really fun one for little ones. Set them up in front of the oven so that they can watch the cooking process through the oven window. They can let you know when the cheese on top of the casserole has gotten bubbly or when the roasted vegetables are starting to brown.
Putting in Ingredients
Pouring is an important gross motor skills to learn and what better place to learn it than in the kitchen. As you move around the kitchen gathering ingredients, task your child with pouring them into the bowl or pot (if they are old enough to be close to the heat).
Running Food Processor or Blender
When my kids were little, they loved "flipping the switch." They would happily stand and watch the ingredients whirring around in the bowl while I worked away on another task.
Keep the End Game in Mind
A word to the wise, as you start out with this it may feel a bit overwhelming. There will be questions ("does this look right?" "how do I do this?") and distractions. But, if you keep your eye on the reason you are doing this, getting help to ease the burden and teaching your kids important life skills, it will all pay off. How do I know? Because, after years of doing this my boys are now each responsible for making one dinner a week. You can't get a much better pay off than that!
Do you have ways that you like to get the kids to help with dinner? I'd love to hear about them in the comments. And if serving your family healthy, delicious meals that can be prepared quickly and easily sounds appealing, sign up for a free trial of our meal planning service and discover the joy and ease of serving family-tested recipes that everyone will love!