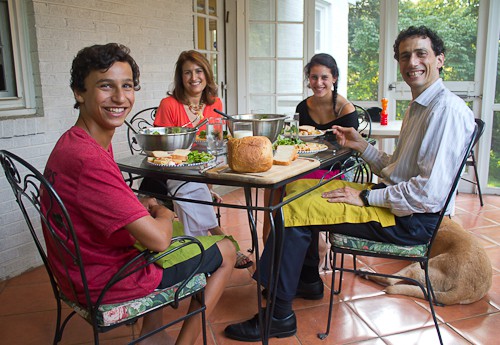 While Thanksgiving falls only once a year, we Scramblers are dedicated to making family dinners happen most nights in our homes.
We've heard the statistics and we know intuitively the importance that family dinners have for our kids' healthy development.  It's often the one time each day that we can stop running around, disconnect from technology and actually connect with each other over nourishing food.
A recent study finds that it's not just the act of having family dinners that keeps our kids healthier and prevents obesity, but the emotional tenor of those meals, which is just as important for their health.  The more positive the dynamic, especially around food, the better the results for our children's physical and emotional health and healthy eating habits.
The new study in the journal Pediatrics is a reminder to all of us Scramblers to keep our interactions at the dinner table positive and encouraging, rather than harping on our kids to finish their food or not to overeat. Making family dinners a time of joy and emotional connection, a time that the whole family looks forward to, is more important than how long the meal lasts, who eats what, or even what we are serving.
So let's try to ease up a bit and not let our stress level take a toll on our kids, especially at the table.  Michael Symon, a well-known chef and Food Network personality, said "Every lesson I learned as a kid was at the dinner table…where we bonded and connected."  As you know, you certainly don't need to be a celebrity chef to realize this, just a regular parent interested in raising healthy, well-adjusted kids.
If you'd like to up the likelihood of having consistent family dinners, give The Scramble family meal planning service a try.  The Scramble sends thousands of families a ready-made, seasonal dinner plan for the week so they can let go of all the stress at 6:00 and bring joy and good nutrition to the dinner table.  If you're looking for something to cook tonight, give these Baked Mexican Egg Rolls or this Chicken or Turkey Pot Pie a try.