The daily grind lunch packing can be grueling. After a lot of trial and error here's what I've learned about how to make lunch packing easier.
How to Make Lunch Packing Easier
While the focus of my life's work is on making family dinners easier to plan and prepare, I also have a soft spot of lunch. I have never been and could never be one of those people who "forgets to eat lunch."
I love eating lunch, but packing school lunches for my kids is a whole other story. The daily grind of coming up with ideas, trying to add variety to lunches so that my kids don't get stuck in food ruts, and working to offer healthy, well-balanced meals is seemingly never-ending.
A few years ago I decided to change my approach. I did three things that made me realize how to make lunch packing easier:
I started asking for more input from my boys—what did they actually want to eat in their lunches? What fruits and vegetables would they be excited to see in their lunchboxes?
I started to get the boys involved in the actual packing of their lunches.
I started prepping more foods ahead of time that could easily add substance and sustenance to the lunchbox.
Asking them for input made a big difference, especially in the fruit and vegetable consumption. Not only were they more excited to eat the food in their lunchboxes, but they also had a sense of ownership over it which further motivated them to eat.
If I'm honest, getting them to pack their own lunches is still a work in progress. Some mornings they blow me away by how quickly and effectively they pack their lunches. Other mornings, getting them to put a cheese stick, apple, and whole grain muffin into the bento box feels like the biggest ask ever. But no matter what, they are more engaged in the process and therefore eat more of the food.
Make-Ahead Lunches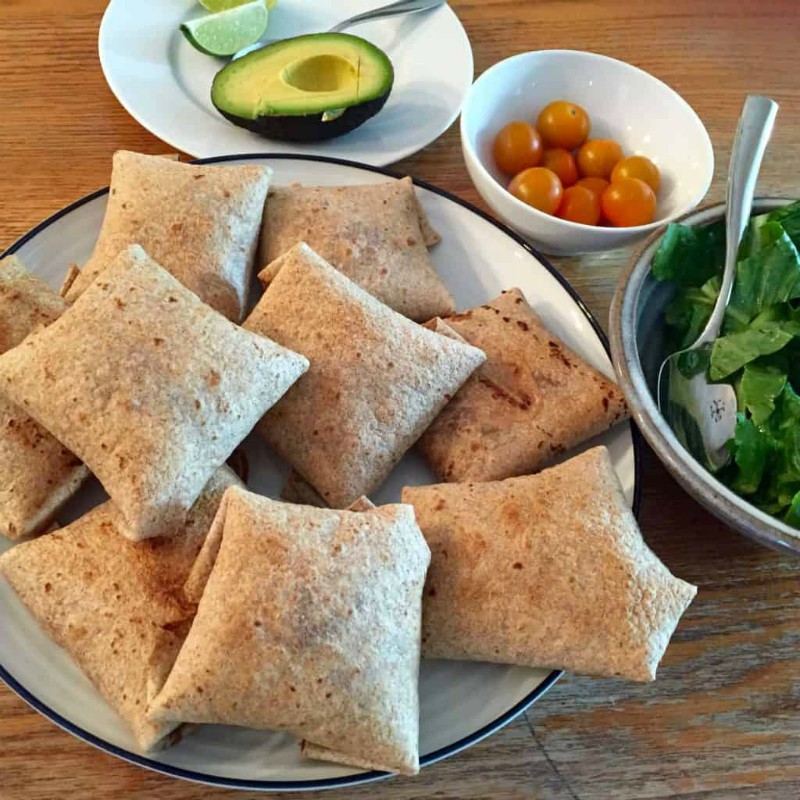 The trick that has really been a game-changer in making lunch packing easier is preparing foods ahead of time. The weeks when I have a stash of chimichangas, calzones, or muffins made for the taking, everything moves more smoothly in the mornings because a lot of the decisions are already made.
In the weeks when I have prepared make-ahead meals, it takes my boys about 2 – 5 minutes to pull their lunches together each morning. A pre-made item, a fruit, a vegetable, maybe an extra, fill up a water bottle, and they are done!
One of my favorite make-ahead options for school lunches (not to mention pot-lucks and picnics) is a pasta salad (recipe below!). This is for a number of reasons:
it is super simple to throw together
the taste gets better throughout the week as the flavors meld more and more
it's pasta so my kids are always game
I can include lots of different vegetables and everyone will happily eat them.
Packing Lunches = Saving Money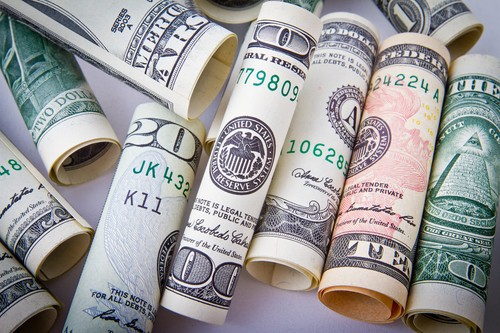 Making a big pasta salad is also incredibly cost-effective (and much healthier than what is offered in most schools). A salad like this Italian Caprese Pasta Salad will run you about $1.50 to $2 per serving (depending on whether or not you use organic ingredients, etc.). A public school lunch can cost anywhere from $2 to $4 and a private school lunch can run you anywhere from $4 to $10. So a conservative rough estimate would be a savings of $2/day.
Plus, since we pack this up for my husband, too, so that he doesn't have to spend $10+ on lunch, we're saving at least $8 per day there. So in total, with two kids and my husband taking homemade lunches with them, we're saving as much as $60 a week… just on lunch!
Make Packing Lunches Easier
The final piece that can really make lunch packing easier with pre-made foods like this are the right tools for packing. For that, I love Packit products. Not only are their designs super cool and flexible (you can change the configuration of the bento box to fit the food!), but they have also developed the coolest freezer lunchbag ever.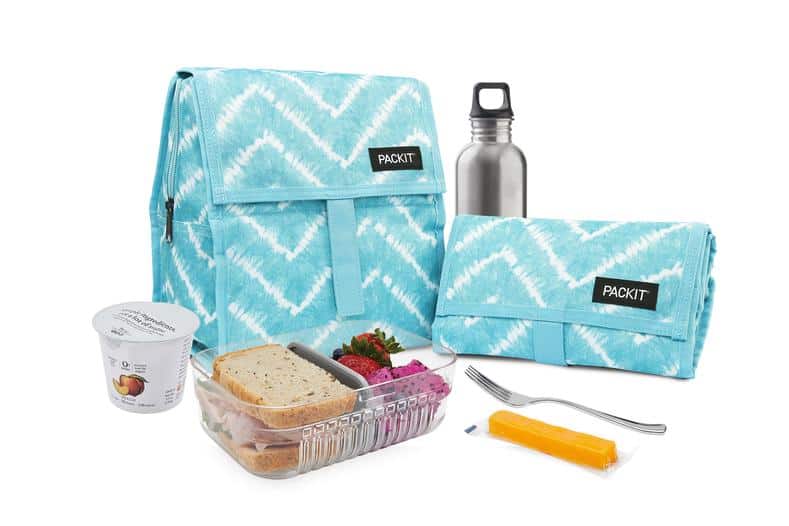 To keep this pasta salad, or any food, nice and fresh until lunchtime, you can freeze the bag! It then keeps everything cool, crisp, and tasty. To see a full selection of our favorite lunch packing gear, check out The Scramble Store.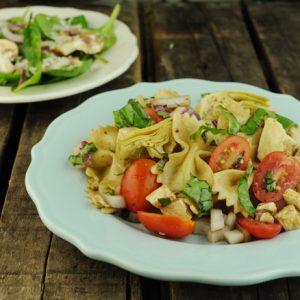 Italian Caprese Pasta Salad
This summery pasta salad is a tasty way to enjoy a warm and relaxing evening (it's great at a picnic or a potluck!). It is also a great make-ahead lunch. Prepare a big batch on the weekend and either distribute into single servings or put it into a bento box compartment or thermos every morning.
Ingredients
16

oz.

farfalle pasta (use wheat/gluten-free if needed)

1

pint

cherry or grape tomatoes

halved

1

red onion

finely diced (about 1 cup)

10 - 12

oz.

marinated artichoke hearts

drained and coarsely chopped

8

oz.

fresh mozzarella cheese

diced (1 1/2 cups)

3/4

cup

fresh basil

thinly sliced

1/4

cup

extra virgin olive oil

1/4

cup

balsamic vinegar

1

clove

garlic

minced, about 1/2 tsp.

1/2

tsp.

salt

1/4

tsp.

black pepper

1/2

tsp.

dried basil
Instructions
Cook the pasta according to the package directions in salted water until it is al dente, then drain and rinse it in cold water.

Meanwhile, in a large serving bowl, combine the tomatoes, onions, artichokes, mozzarella, and fresh basil.

In a large measuring cup, whisk together the oil, vinegar, garlic, salt, pepper, and dried basil. Add the pasta to the serving bowl, pour the dressing over everything and toss to coat.

Refrigerate it for at least 1 and up to 24 hours before serving.
Notes
Do Ahead or Delegate: Cook the pasta and store tossed with a little oil to prevent sticking, halve the tomatoes, dice the onion, drain and chop the artichoke hearts, dice the cheese and refrigerate, peel the garlic, combine the spices, prepare the dressing, or fully prepare and refrigerate the salad.
Flavor Booster: Add 4 oz. of diced salami and/or 1/2 cup of sliced olives.
Tip: Fresh mozzarella is a perfect addition to this dish. While shredded mozzarella is commonly used in Italian-style dishes, fresh mozzarella has a creamier texture and is the perfect addition to this dish.
Nutritional Information Per Serving (% based upon daily values): Calories 378, Total Fat: 15g, 23%; Saturated Fat: 4g, 17.5%; Cholesterol: 10mg, 3.5%; Sodium: 259mg, 11%; Total Carbohydrate: 50g, 16.5%; Dietary Fiber: 4g, 15.5%; Sugar: 4g; Protein: 14g
Like this recipe? Check out The Scramble's family-friendly meal plans to see just how simple getting dinner on the table can be!
Further Inspiration
Want more ideas for feeding your kids? Check out these other resources from The Scramble:
The Formula for a Healthy Lunch
30+ Out-of-the-Box Ideas for Healthy School Lunches
How to Make Lunch Packing Easier
Navigating Treats & Snacks in School Lunches
To help make lunches and dinners go smoother in your house, try The Scramble's meal planning service.