These Wild Blueberry Oat Bars pair whole grains with a solid dose of fruit for a healthy sweet treat that's perfect as a make-ahead breakfast, snack, or even (with some vanilla ice cream) dessert.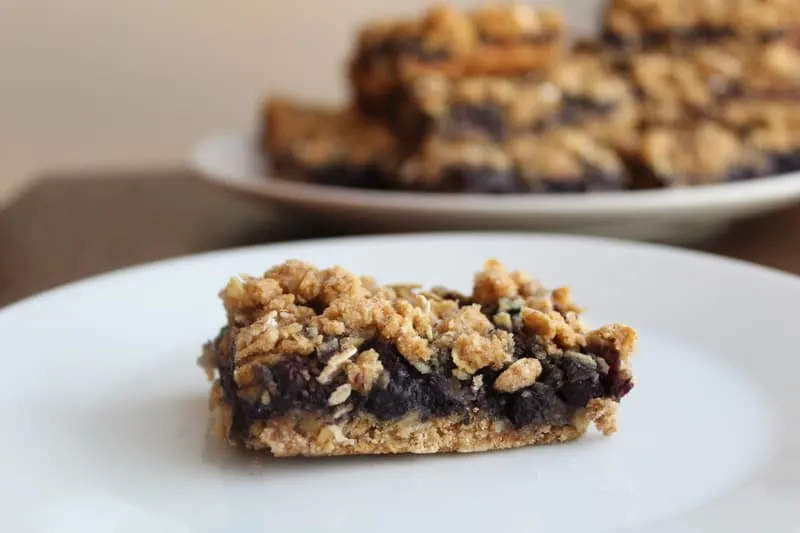 Note: This page contains affiliate links. If you purchase a product through these links, your cost will be the same but The Scramble will receive a small commission. I only link to products I personally use, trust, and love. If you want to learn more, please check out my disclosure page. Thanks for your support!
Wild Blueberry Oat Bars
This recipe was developed as part of a food bloggers recipe challenge that I participated in. Here's what we were challenged to do: "Clean Your Kitchen. Cook with at least 3 ingredients that are in your refrigerator or pantry right now. Try not to go to the store to buy anything new. Show us how you reduce food waste by being resourceful!"
As someone who strives to use every last bit of food that is brought into my house (especially now with two teen boys who are eating so much that our grocery bills have gone up by about 30% in the past year!), improvising with what I've got in the house is something I try to do pretty much every week. It's so important to me, in fact, that I strive to have zero leftovers by Saturday night so that we start with a clean slate each Sunday.
Reducing Food Waste: Cooking with What You've Got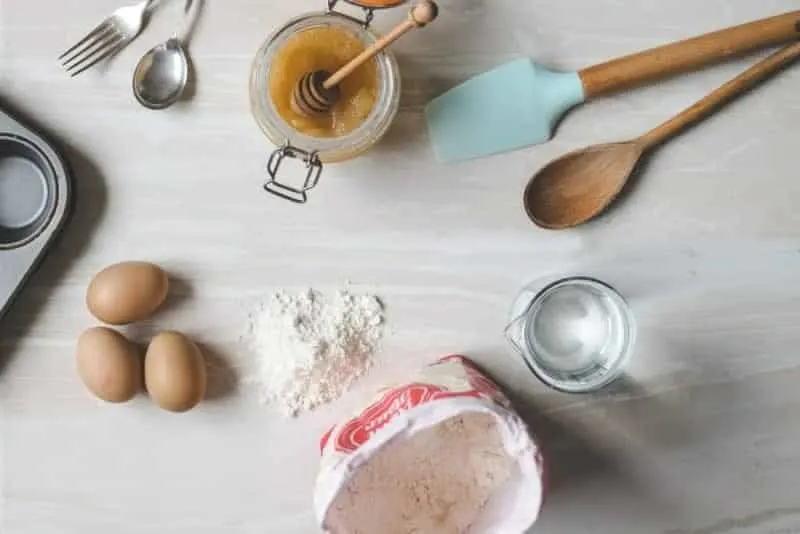 When you're trying to use up whatever you've got left in your house, there is definitely some flexibility and creativity required. This can be especially challenging for less confident cooks. So, I wanted to share a couple of ways to make reducing food waste by cooking with what you've got easier.
Search for Recipes with the Ingredients You've Got
When I was first started trying to reducing food waste, one of the things that I did was search for recipes using whatever ingredients were left in the house. A search for eggs and sweet potatoes, for example, might yield a frittata, whereas one for rice and shrimp might result in a fried rice or quick paella. While I didn't always have all of the ingredients a recipe called for, I was able to find quick inspiration and then make due as best I could (see substitutions tip below for more on this).
Develop a List of Go-To Recipes
Over time, as I researched and made recipes that helped me to use up ingredients, I started to understand the dishes that worked well for using up the ingredients I most often had left over. This, in turn, helped me to grow more comfortable improvising on my own. Some dishes that I have found to be helpful in using up food I've got in the house include:
Frittatas: lots of leftovers, from grains to proteins to vegetables, can be used to bulk up a frittata
Pastas: noodles are a wonderful vehicle for a quick sauce that you improvise based on what you've got in the house or just as a base (preferably buttered) for chopped up cooked protein and/or vegetables
Quesadillas and burritos: I have found that my family loves almost anything wrapped or folded up in a tortilla with some cheese, maybe some beans, and vegetables
Fried rice: leftover rice + leftover proteins and/or vegetables + egg + condiments (e.g., soy sauce) = a super quick, easy, and delicious meal
Sandwiches: Both regular sandwiches and grilled cheese are great ways to use up items you've got knocking around in the fridge.
Your list may be different, so I would recommend taking note of what recipes you tend to gravitate towards when trying to use up food. And, if you need further inspiration, make sure to check out my post on repurposing leftovers!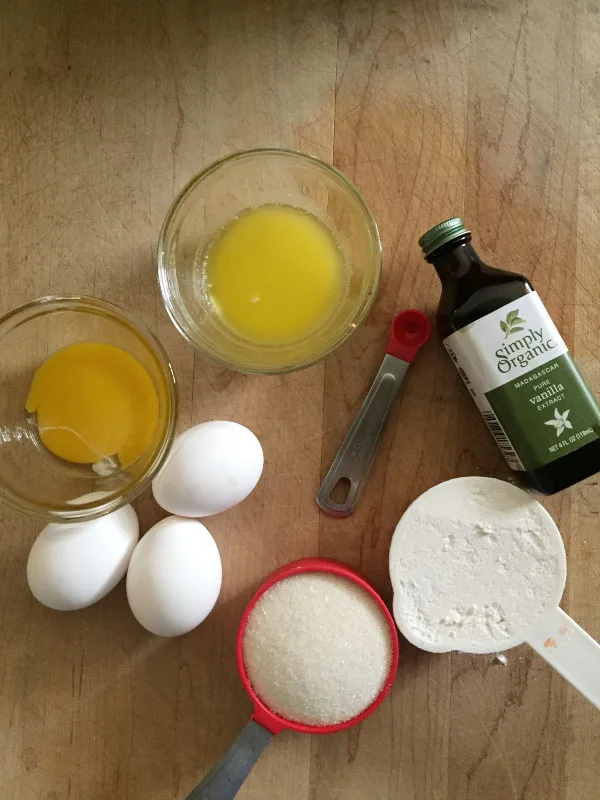 Keep Staples on Hand
Just as I've noticed that there are certain dishes that help me use up ingredients I've got in my house, I've also seen that there are ingredients that help turn leftovers or small amounts of ingredients into a meal. And, because of this, I try to make sure that I have these staples on hand all of the time. They include:
Grains: pasta, rice, couscous, bread
Eggs
Cheeses: Parmesan and mozzarella are my top two for this purpose
Onion and garlic: because they are a great foundation for many meals
Frozen vegetables: they last a long time and are quick to throw in to many types of dishes
For more staples ideas, make sure to check out my post on pantry staples.
Search for Substitutes
When you've got a meal in mind and need to figure out how to make it with what you've got, searching for substitutes can be a great trick. While the recipe will not turn out exactly as expected, you can get really great results while using different grains, proteins, dairy, and spices. (Make sure to check out our food substitution guide to use as a quick reference.)
Wild Blueberries, Oats, and Applesauce Become Wild Blueberry Oat Bars!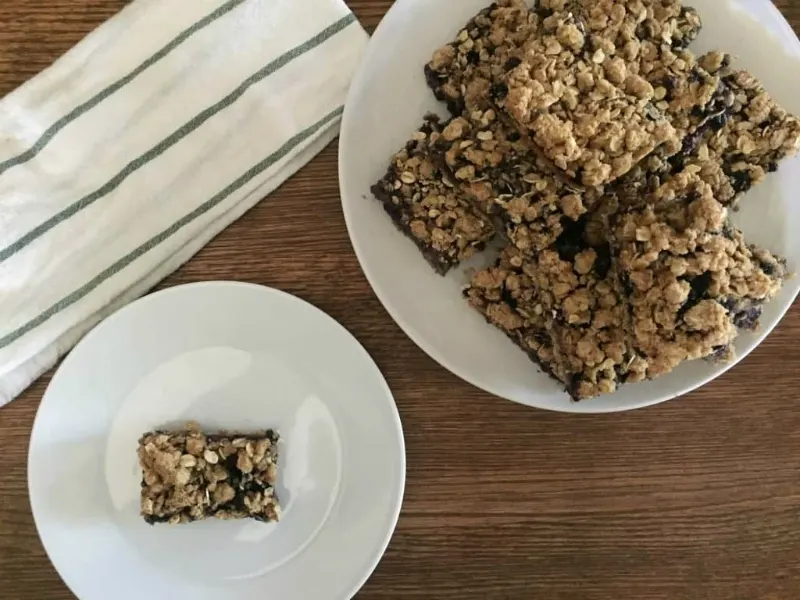 When I went to work on this challenge I looked through my fridge, freezer, and pantry to see what I had knocking around. I found frozen wild blueberries, oats, and applesauce and I knew a breakfast/dessert was in our future.
These wild blueberry bars are a fantastic example of a lot of the tips I gave above. You see, they are based on a dessert recipe that I had been making for years. But, when I saw the ingredients I had knocking around, I decided to make a healthier version. I cut down on the sugar, added whole wheat flour, and swapped out half of the butter for applesauce.
The result: an even tastier bar that I can feel good about serving for breakfast, throwing into lunch boxes, or serving with a scoop of ice cream for dessert (which is to die for, by the way)!
And, to further inspire you, here are some further substitutions that could be made, depending on what you had in your house:
Don't have whole wheat flour? Use all purpose, almond flour (which would also make them gluten-free), or spelt flour (my personal favorite)
Missing the frozen wild blueberries? Use fresh or frozen regular blueberries, raspberries, blackberries, or mixed berries.
Don't have brown sugar? Use white instead!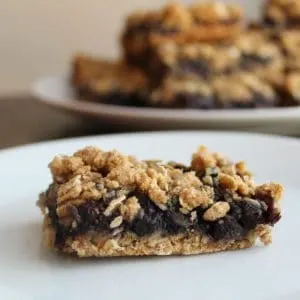 Wild Blueberry Oat Bars
These wild blueberry bars are a favorite in my house. I have been making a version of them for years, but decided to make them healthier by cutting down on the sugar, adding whole wheat flour, and swapping out half of the butter for applesauce. The result: an even tastier bar that I can feel good about serving for breakfast, throwing into lunch boxes, or serving with a scoop of ice cream for dessert (which is to die for, by the way)! If you wanted to bulk up the nutrition even more, swapping out the flour for almond meal would be amazing, too.
Ingredients
2¼

cup

rolled oats

use wheat/gluten-free, if needed

2¼

cup

whole wheat flour

use wheat/gluten-free, if needed

3/4

cup

brown sugar

packed

1½

tsp.

baking soda

½

tsp.

salt

½

cup

butter

or margarine, melted

½

cup

unsweetened applesauce

3

cups

frozen wild blueberries

or use fresh wild blueberries or fresh or frozen regular blueberries

1

Tbsp.

cornstarch
Instructions
Preheat the oven to 350 degrees. Spray or grease a 9 x 13-inch baking dish.

In a large bowl, whisk together the oats, flour, brown sugar, baking soda, and salt until well combined.

Add the melted butter and applesauce and mix until just combined. (It will appear crumbly; that's okay.)

In a small bowl, mix together the blueberries and cornstarch.

Place 2/3 of the crumble mixture in a 9×13 baking dish and, using your hands, pat down until you have an even layer covering the bottom of the dish.

Top with the blueberry mixture followed by the remaining crumble mixture. The remaining crumble mixture doesn't need to be patted down. Instead, it should be sprinkled evenly over the blueberries.

Bake it for 25 – 30 minutes, until the top is starting to turn golden brown. Remove from the oven and cool completely in the baking dish, then cut into bars.

Store the bars in an airtight container for up to 3 days or freeze for them up to 3 months in an airtight container or freezer bag.
Notes
Do Ahead or Delegate: Make crumble mixture, mix blueberries with cornstarch and refrigerate, or fully prepare and refrigerate or freeze the bars.
Tip: Blueberries contain more disease-fighting antioxidants than any other fruit or vegetable. A serving of blueberries provides as many antioxidants as five servings of squash, carrots, apples, or broccoli.
Scramble Flavor Booster: Add 1 tsp. lemon zest to the blueberry mixture. Replace half of the flour with almond flour.
Like this recipe? Check out The Scramble's family-friendly meal plans to see just how simple getting dinner on the table can be!
Nutrition
Calories:
175
kcal
Carbohydrates:
28
g
Protein:
3
g
Fat:
6
g
Saturated Fat:
3
g
Polyunsaturated Fat:
1
g
Monounsaturated Fat:
2
g
Trans Fat:
0.2
g
Cholesterol:
14
mg
Sodium:
210
mg
Potassium:
110
mg
Fiber:
3
g
Sugar:
10
g
Vitamin A:
161
IU
Vitamin C:
0.1
mg
Calcium:
20
mg
Iron:
1
mg