We're sharing delicious make-ahead Christmas day breakfast options including French toast, omelets, waffles & stratas, as well as sharing different Christmas food traditions.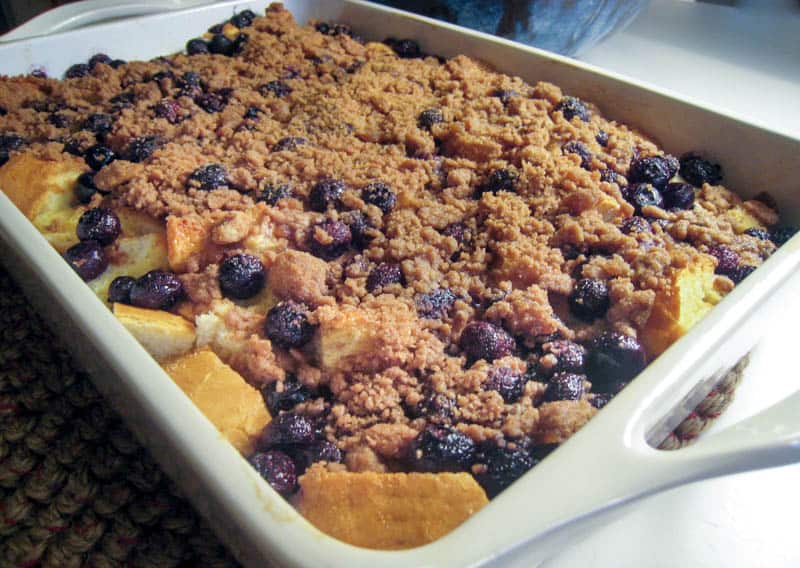 Breakfast on Christmas Morning
I know many of you will be waking up on Christmas Day with children who are much more eager to see what Santa left them than to eat breakfast (and you'll likely be too busy to cook much that morning)! So I put together a few suggestions for an easy and delicious Christmas Day breakfast.
I know many of you have your own Christmas day breakfast traditions, but for those of you who don't already have your menus set, I hope these will help make the day more joyful and relaxing for you and your family.

Involving Kids in the Cooking: A New Tradition?
One of the best ways to get your growing eaters to try some new foods is to get them involved in choosing and making the meals. These delicious make ahead breakfast recipes for Christmas morning (or any morning) are a great way to get your kids excited about cooking with you and could even become a lovely new holiday tradition.
For more ideas and recipes for inspiring your kids to try new foods, check out this fabulous book from Jennifer Tyler Lee, The 52 New Foods Challenge: A Family Cooking Adventure for Each Week of the Year (affiliate).
Christmas Food Traditions
One of my passions is the power of food to bring us together and one of the best ways for that to happen is through food traditions – many of which are often centered around holidays. In my own family the food traditions on Christmas are highly valued and include: Eggs Benedict and fresh squeezed orange juice on Christmas morning and a full
I love learning about the diverse and delicious food traditions of you Scramblers, so on Facebook we asked you to share some of your favorite Christmas food traditions and here is what you shared.

Some Keep it Simple
Christmas is one morning that I do not do anything. We usually have donuts or cake and milk/juice/coffee. A relaxed, happy morning!
Sarah LaMotta
You posted a recipe a few years ago for an overnight baked blueberry French toast made with challah. It is our Christmas breakfast now many years running!
Colleen Gallagher Roes (Recipe below!)
We do breakfast casseroles the day before that can be popped in the oven Christmas morning, and then have a big late lunch.
Emmy Taylor Greenwood
I make caramel apple challah day-ahead French toast that I just put in the oven while the kids open the presents. Makes the house smell so good and I can focus on the family instead of breakfast.
Virginie Aris
Christmas Eve was always at my parents' house growing up. They moved into a condo a few years back and I took over the tradition. The tradition includes eating the leftover desserts for breakfast Christmas morning.
Sandy Vallati
We do what we want, for breakfast this year I am making cheese Danish, with ham on the side, and a fruit, veggie, and cheese tray for all day snacking, making a buffet of cookies and candies, and for dinner steaks on the grill with salad and French fries… Really it is a lot of stuff that can be made in advance, and day of easy cooking… It's about family, not stress.
Alexis Egerdahl
Chinese food is big for Jewish people on Christmas, along with movies!! -that is unless we get invited to a friend that celebrates Christmas which does happen often.
Stacey Schuster Simon

There Are a lot of Eggs
Christmas day breakfast is big for us: scrambled eggs, sausage, cooked apples, and Moravian sugar cake (I miss NC just thinking about it!). Christmas lunch is low-key: Christmas Eve leftovers (homemade pizza and salad).
Kathryn Howell Dalton
We have a sailor stationed overseas who comes home after Christmas so our holidays are random. Whenever we decide to celebrate Christmas, we have mini quiches, coffee, and a baked good of some sort after presents.
Bree Hough
We do a simple brunch of egg casserole, potato casserole, fruit, and either a batch of cinnamon rolls/muffins/coffee cake or even Christmas cookies.
Kristin Hetrick
We carry on my husband's traditional family Christmas Eve dinner. Scotch eggs and crudités with garlic aoli for dipping.
Jenny Ash-Maher
Scotch eggs, cinnamon rolls, and tangerines. Decadent!
Kristen Marcucci

Cinnamon Rolls and Waffles Are Also Favorites
Cinnamon buns, coffee, and orange juice after presents are opened:)
Cindy Lachman- Hanna
The tradition when I was growing up was to open our stockings and gift from Santa, then have a big breakfast before opening the rest of our gifts. We do that with our kids now and the breakfast foods change year to year. This year we'll have waffles, bacon, eggs, and hot cocoa (we always have cocoa). And we do a big turkey dinner.
Heather Lutyk-Brekkaas
My mom makes waffles on Christmas morning. Usually ham for Christmas dinner, but Italian relatives often have lasagna. Christmas Eve is often something easily kept warm like soup or chili because of varying schedules and church services.
Lillace Denise Boulet
We celebrate Christmas with gusto but our big meal is Christmas Eve with the whole family. My little family has a tradition of a morning of homemade cinnamon rolls and bacon, gift unwrapping, and then we go see a movie in the afternoon followed by dinner at our favorite Chinese Food restaurant. I am not sure how or why we started this but all five of us love it!
Cyndi Boyd
I make a quiche the day before (half ham or turkey/half vegetarian) and cinnamon rolls.
Melinda Bernert
After we open gifts I make Classic Belgian waffles for breakfast. Christmas night we get together with the rest of my family and everyone brings finger foods to share.
Nicole Krueger Fleminger
Those Land of Nod Cinnamon Rolls for breakfast (yup, drenched in butter and sugar!). Christmas Eve can be tamales or posole depending on what is going on. Chile is important!
Joann W.
We have cinnamon rolls and chocolate croissants with coffee and cocoa for early breakfast. Then we open our stockings, which Santa fills with tangerines, nuts, and chocolate coins. Afterwards we have a big brunch with Virginia ham, biscuits, an egg dish, scalloped or hashed potatoes, or fruit.
Yvie Rehder Killian
We usually have ham and scalloped potatoes on Christmas Eve and (oh I hate to admit it but it has become a tradition) – Pillsbury Cinnamon Rolls while opening gifts from Santa on Christmas morning.
Kristina Fairchild

Fondues and Stews Are Also Popular
Christmas Eve dinner is beef and seafood (shrimp and scallops) fondue.
Karen Hinckley Stukovsky
I love my childhood totally 70s Christmas Eve tradition: cheese fondue by the Christmas tree! My mom used to make a fantastic coffee cake (involving yeast and several risings) for Christmas morning, but I'm still tinkering with what we'll do: something special and festive, but easier. My husband's family does the huge Italian Christmas Eve dinner, but not of 7 fishes due to allergies. Difficult trying to reconcile all the wonderful traditions, sometimes.
Elizabeth Moulds
Cheese souffle, fruit salad, and bacon on Christmas morning…tamales and chili on Christmas Eve (yep, we get active to balance out the intake)!
Jewellyn Forrest
I make Oyster Stew on Christmas morning.
Bobbi Woods
And Then There's Turkey
Sadler Christmas "lunch" sometime between noon and 3, or whenever the turkey is ready.
Angela Renee Ball

Christmas Day Breakfast Recipes
Now, for the recipes. All of these can be made ahead of time in order to make your morning easier.
Garden Quichelettes (serve with sliced oranges, clementines or strawberries)
Spanish Oven Omelet with Diced Potatoes (serve with fruit)
Light and Fluffy Spinach and Cheese Strata (serve with hash browns and fruit)
Whole Wheat Waffles from 100 Days of Real Food
Baked Blueberry French Toast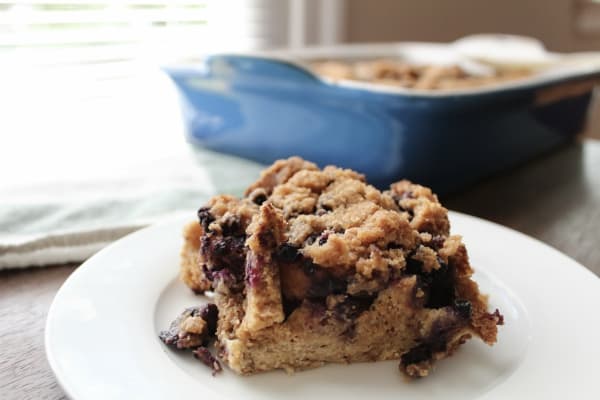 The beauty of this baked French toast is that you can get it all ready the night before, so you just need to assemble and bake it in the morning.
1

small loaf

day-old challah or French bread

3

eggs

3

Tbsp.

sugar

1

tsp.

vanilla extract

2 1/4

cup

milk

any variety

1/2

cup

flour

6

Tbsp.

brown sugar

1/2

tsp.

ground cinnamon

1/4

cup

butter or margarine

2

cup

frozen or fresh blueberries
1

small loaf

day-old challah or French bread

3

eggs

3

Tbsp.

sugar

1

tsp.

vanilla extract

2 1/4

cup

milk

any variety

1/2

cup

flour

6

Tbsp.

brown sugar

1/2

tsp.

ground cinnamon

1/4

cup

butter or margarine

2

cup

frozen or fresh blueberries
Spray a 9 x 13-inch baking dish with nonstick cooking spray.

Cut the bread into 1-inch thick slices and lay the slices in the baking dish to cover the bottom.

In a medium bowl, beat the eggs with the sugar and vanilla. Stir in the milk and mix well.

Pour the mixture over the bread in the baking dish, turning the slices to coat. Cover and refrigerate overnight.

In a small bowl, combine the flour, brown sugar, and cinnamon. Cut in the butter with two forks or your fingers until the mixture resembles coarse crumbs. Cover and refrigerate.

In the morning, heat the oven to 375 degrees.

Turn the bread slices over in the baking dish, scatter the blueberries over the bread, and sprinkle it with the reserved crumb mixture.

Bake it for 50 minutes to 1 hour until it is golden brown. Allow it to cool for 10 minutes and cut it into squares to serve.
Nutritional Information Per Serving (% based upon daily values): Calories 233, Total Fat: 9g, 13.5%; Saturated Fat: 5g, 24%; Cholesterol: 89mg, 29.5%; Sodium: 171mg, 7%; Total Carbohydrate: 31g, 10.5%; Dietary Fiber: 2g, 7%; Sugar: 14g; Protein: 8g
Like this recipe? Try our two-week free trial to see just how simple getting dinner on the table can be!
**Note: This page contains affiliate links. As an Amazon Associate we earn from qualifying purchases. If you purchase a product through these links, your cost will be the same but The Scramble will receive a small commission. I only link to products I personally use, trust, and love. Thanks for your support!