The hardest, most terrifying thing about making spaghetti squash is trying to cut it when it's uncooked! I was terrified of chopping off a finger so I found a solution. The key to how to cook spaghetti squash is to poke some holes in it with a skewer or knife, cook the squash whole in the microwave, let it cool, and then cut it in half and scrape out the seeds. Use a fork to scrape the strands into a bowl to top with your favorite sauce or just use butter, herbs and Parmesan cheese to season it.
You can even clean and rinse the spaghetti squash seeds just like you do with pumpkin seeds! (See our tip below.)
I haven't had an easy relationship with spaghetti squash. My mom used to make it for us when I was young, and I was fascinated by the yellow squash that she would transform with a fork into golden pasta-like strands, and it certainly is much lighter and healthier than wheat-based spaghetti. However, every time I tried to make spaghetti squash in the oven, I had an almost impossible time cutting it in half to cook it, so I had almost given up. But when we got some spaghetti squash in our weekly farm delivery I decided to give it another go.
My family really likes this recipe, although our kids prefer it with tomato sauce spooned on top of it to make it taste more familiar
Watch the video (and subscribe to the YouTube channel)

Here's the recipe: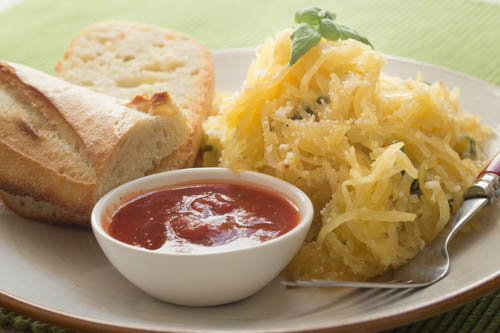 And for more healthy-yet-yummy (and gluten-free!) recipes and how-to videos, see our Zucchini Pasta and Healthier Versions of Pasta and sign up for a two-week free trial of The Scramble's healthy weekly meal planner for more easy, healthy recipes for dinner for busy families.