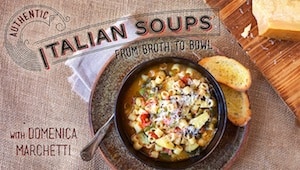 Guest column by Domenica Marchetti, author of The Glorious Soups and Stews of Italy
Winter is having its way with us. Another storm has just dumped more snow and sleet on the greater Washington, D.C. area, where I live.
If there's an upside to this crazy weather that so many of us are experiencing ~ other than yet another snow day if you're a kid ~ it has to be this: it's perfect soup weather. My soup pot has been working overtime, and since mine is a family of soup lovers, that's just fine.
Good winter soups and stews are not only a bowl of comfort; it can be a hearty and nutritious meal. Although there are all sorts of pre-made soups available, nothing beats the taste of soup from scratch. Not surprisingly, I'm partial to thick Italian vegetable and legume soups, like lentil soup, pasta e fagioli (pasta and beans), and ribollita, the famous vegetable and bread soup from Tuscany. My first book was all about making authentic Italian soups and stews, and I teach an online class on the subject on the learning website Craftsy.com.
The good news is that all of these soups ~ and countless others ~ can be made fairly quickly and easily. But it's important to remember that making soup isn't just about tossing the ingredients of your fridge into your soup pot. Here are some tips and time-saving tricks, for making great soup:
Keep your pantry stocked
I have packages of dried beans and chickpeas, as well as canned ones for shortcuts. I also keep a bag of lentils on hand, as they are quick-cooking and need no soaking; canned tomatoes; and packages of soup pasta and nutritious soup grains such as farro and barley. With these ingredients and some vegetables from the fridge, you can make great soups.
Start with good broth
I try to set aside time on the weekend to make homemade chicken or vegetable broth, which I freeze in quart-sized containers. Roasting vegetables for broth enriches the flavor. (I also keep a couple of boxes of good-quality commercial broth since I don't always have time to make homemade.)
Prep your vegetables
Most of us have bags of carrots and celery in the fridge, and an onion or two in the pantry. These are the building blocks for countless soups. Chop them separately and store them in bags or containers in the refrigerator. Scoop out the amount you need to make your soup.
Save the scraps
You can freeze the tops of celery and extra bits of carrots and other vegetables and then add them to your broth. I like to add the stalks of fennel bulbs, which impart a nice sweetness. Avoid using strongly flavored vegetables such as broccoli or cauliflower (unless, of course, you are making broccoli or cauliflower soup!).
Sauté your aromatics
Sweat your celery, carrots and onions in a little olive oil (my preferred cooking fat) to soften them and bring out their flavors. Then add additional vegetables and legumes, and your broth.
Add nutrition and flavor boosters
Toss in a handful of greens, such as spinach, Swiss chard or kale. Herbs such as rosemary, sage or basil, and spices such as chili pepper, black pepper, and bay leaves add an extra layer of flavor to soup. For Italian soups, I usually toss in a rind of Parmigiano-Reggiano.
Let it simmer
Soups taste better when the ingredients have had a little time to get to know each other. Once all the vegetables are cooked, add your pasta or grains, if using, and simmer gently until tender.
Don't forget the final touch
Although it may sound like an unnecessary step, garnishing your soup – with a sprinkling of parsley or basil, a grating of cheese, a handful of croutons, or a drizzle of your best olive oil – will bring everything together.
Here's a link to one of my all-time favorite winter soups, a soul-warming lentil soup that I've been enjoying since I was a child. My kids love it, too.
Want to learn more about making great homemade soups? Craftsy is giving away one FREE registration to my online class, Authentic Italian Soups: From Broth to Bowl. Once you enroll, you can take the class at your convenience (it never expires). For more information and to enter, click here.
Domenica Marchetti is the author of five books on Italian home cooking, most recently The Glorious Vegetables of Italy. She blogs at www.domenicacooks.com.