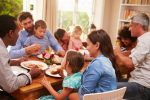 The family is gathering around the table for a holiday meal. Everyone is looking forward to a beautiful meal full of flavor, abundant food offerings, and gratitude. But then there is your child who is scowling, or maybe even refusing to come to the table. You feel embarrassed, perhaps angry, you are worried that your in-laws, your own family, or your friends will judge your child or even you. The tension mounts… This is not going to end well.
As we all know, family gatherings can be both wonderful and stressful. As you prepare for the season's festivities, it can be helpful, both for you and for your child, if you do a little bit of thinking about ways to preemptively manage potential tensions at the table. Here are the tricks that helped when we were struggling with our (formerly) picky eater:
Put yourself in your child's shoes. All of the food that is either unknown or unappealing to your child is likely to feel overwhelming and even a little scary. Your kiddo is very aware of the expectation that s/he should eat it all and that pressure probably feels pretty intense. Another way to approach this– think back to when you were a kid. I bet there was at least one dish that you thought was disgusting, but felt pressured to eat. How did that feel when you were little? Just by understanding a little bit about how your child perceives the situation, you may find you have a bit more compassion, patience, and flexibility in the moment.
Get on the same page as your partner. Talk about your concerns ahead of time and make sure that the two of you can be a team in your approach, both in terms of how you communicate with your child and how you communicate with any family members who might contribute to tense dynamics. Come to terms with the fact that this is very likely not going to be the meal where your child suddenly eats everything.
Talk with your child ahead of time. Discuss the fact that there may be unfamiliar or unappealing foods on the table, and that is ok. Talk about expectations of polite behavior—"No thank you" instead of "I don't like that!" and staying at the table while everyone is eating together are probably good starting points. And come up with a game plan together for how to approach the meal. What foods is s/he willing to eat? How will you handle desserts? Is s/he willing to do one bite tries of one or two new foods?
Talk with anyone else you think you should talk to. Let your in-laws, parents, siblings, friends, or whoever else you think is appropriate know that, in the interest of having a pleasant meal, it would be really helpful if pressure to try new foods was not put on your child during the festivities.
Remember to relax. The more tense you are, the more tense your child will be, which increases the likelihood of a meltdown. So… take a deep breath when needed, have a glass of wine, and focus on the joy of connecting with loved ones, since really that is what these gatherings should be about anyway!
How do you handle the food at holiday or family gatherings with your kids? Do you have clear expectations or do you just wait and see what happens? I'd love to hear your thoughts and what has or hasn't worked for you in the past!
Want more delicious and easy recipes, check out The Scramble's family-friendly meal plans to see just how simple getting dinner on the table can be!