The daily grind lunch packing can be grueling. After a lot of trial and error here's what I've learned about how to make lunch packing easier.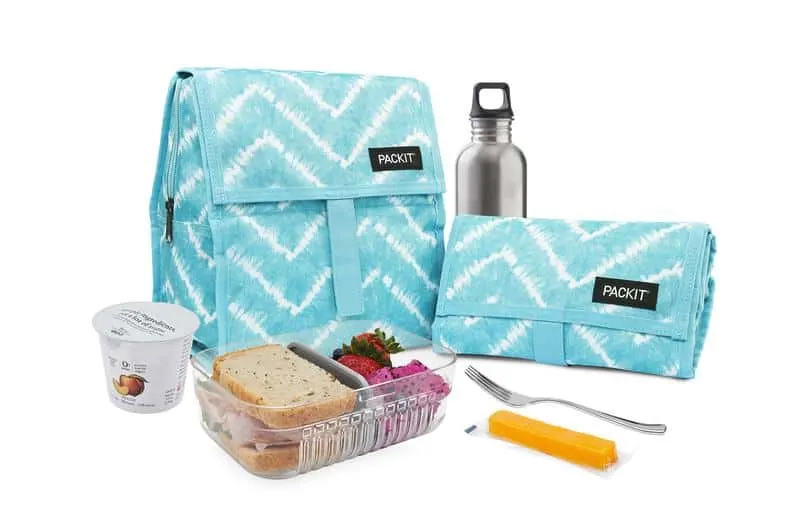 Note: This page contains affiliate links. If you purchase a product through these links, your cost will be the same but The Scramble will receive a small commission. I only link to products I personally use, trust, and love. If you want to learn more, please check out my disclosure page. Thanks for your support!
How to Make Lunch Packing Easier
I have never been and could never be one of those people who "forgets to eat lunch." It might actually be my favorite meal of the day. But, packing school lunches for my kids is a whole other story. The daily grind of coming up with ideas, trying to add variety to lunches so that my kids don't get stuck in food ruts, and working to offer healthy, well-balanced meals is seemingly never-ending.
A few years ago I decided to change my approach. I did three things that made me realize how to make lunch packing easier:
I started asking for more input from my boys—what did they actually want to eat in their lunches? What fruits and vegetables would they be excited to see in their lunchboxes?
I started to get the boys involved in the actual packing of their lunches.
I started prepping more foods ahead of time that could easily add substance and sustenance to the lunchbox.
Asking them for input made a big difference, especially in the fruit and vegetable consumption. Not only were they more excited to eat the food in their lunchboxes, but they also had a sense of ownership over it which further motivated them to eat.
If I'm honest, getting them to pack their own lunches is great some days and glitchy on others. Some mornings they blow me away by how quickly and effectively they pack their lunches. Other mornings, getting them to put a cheese stick, apple, and whole grain muffin into the bento box feels like the biggest ask ever. But no matter what, they are more engaged in the process and therefore eat more of the food.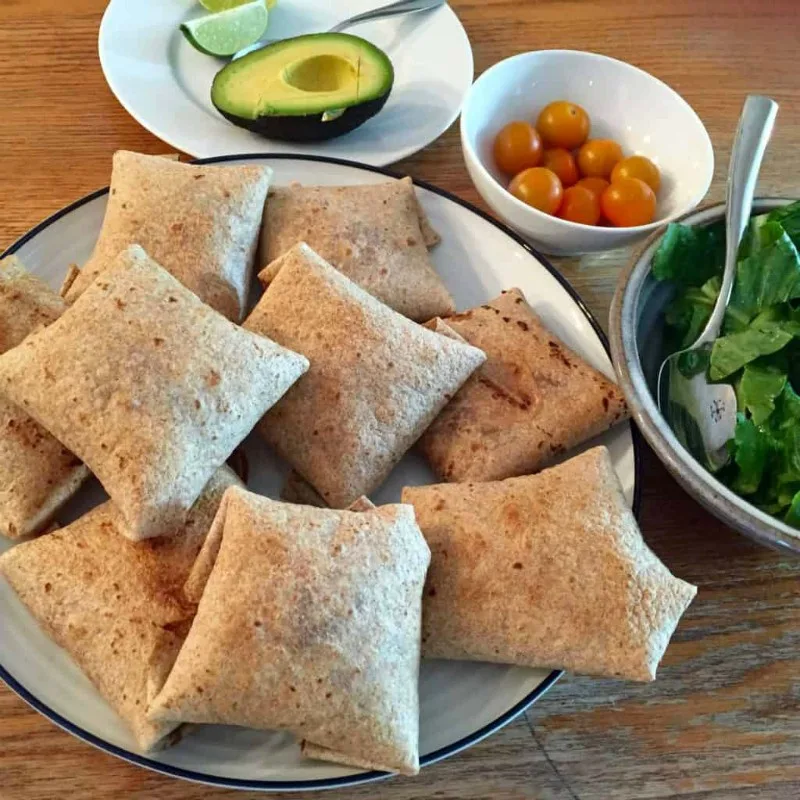 Make-Ahead Lunches
The trick that has really been a game-changer in making lunch packing easier is preparing foods ahead of time. The weeks when I have a stash of chimichangas, calzones, or muffins made for the taking, everything moves more smoothly in the mornings because a lot of the decisions are already made.
In the weeks when I have prepared make-ahead meals, it takes my boys about 2 – 5 minutes to pull their lunches together each morning. A pre-made item, a fruit, a vegetable, maybe an extra, fill up a water bottle, and they are done!
One of my favorite make-ahead options for school lunches (not to mention pot-lucks and picnics) is a pasta salad (recipe below!). This is for a number of reasons:
It is super simple to throw together
The taste gets better throughout the week as the flavors meld more and more
It's pasta, so my kids are always game
I can include lots of different vegetables and everyone will happily eat them.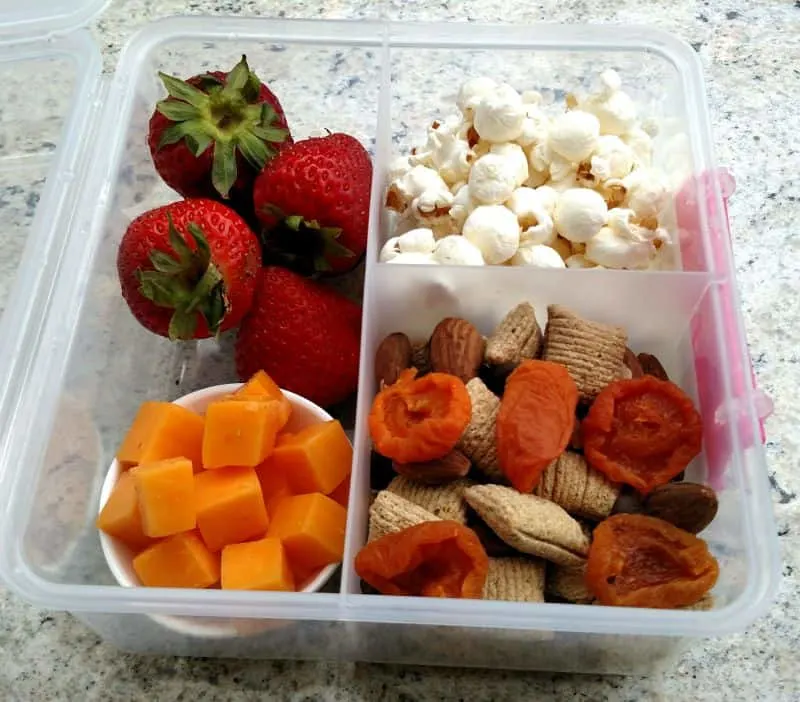 Having the Right Gear is Key
As someone who has now been packing school lunches for 12 years (!!), I have experimented with lots and lots of different lunch packing gear and have developed strong feelings about what supplies actually help to make lunch packing easier.
Use Developmentally Appropriate Lunch-Packing Gear
You want to make sure that your kids can open whatever containers you pack their lunches in.
Why? Because when kids are little (pre-school and early elementary), not only are they easily distracted by all that is around them, but they are also still developing some of the fine motor skills that are necessary for opening (and closing) lunch containers. And, while teachers or lunch aids may be available to help, chances are your kids will lose precious minutes when they could be eating waiting for said help. Therefore, the more self-sufficient they can be, the better.
So, before you take the tags off of any new lunch-packing gear, make sure your kiddos can open (and close!) them with ease.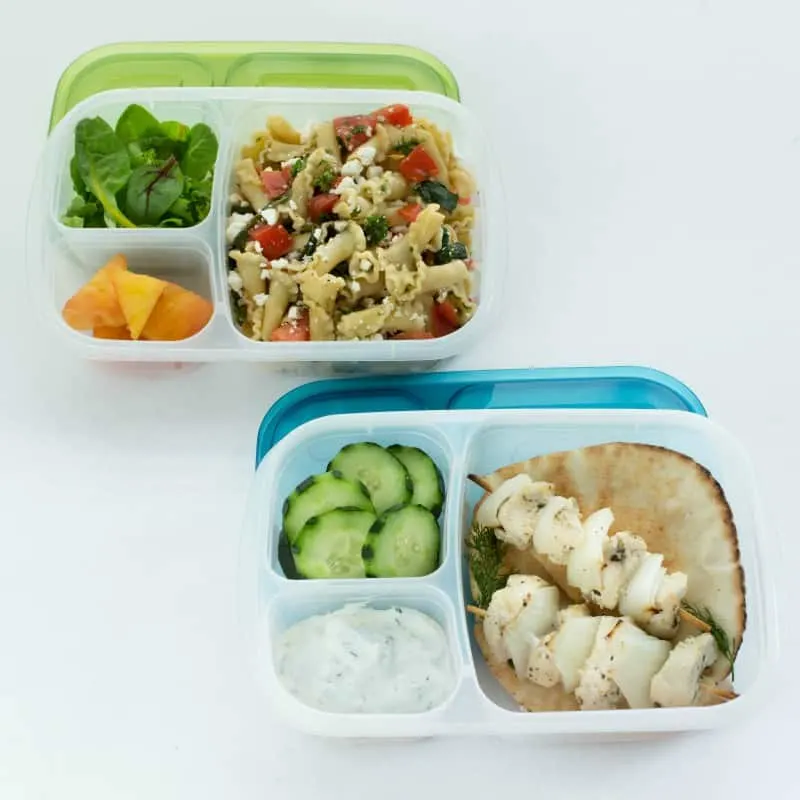 Bento Boxes Save Time and Energy
I'm a big fan of bento boxes. I love that they offer a visual reminder that helps both me and my kids to remember to include a main and two or three fruits or vegetables in a lunch. I also love that they are easy to throw into a lunchbox without worrying that items will be crushed.
There are two types of bento boxes that I particularly love:
Yumboxes are my absolute favorite for littler kids because they are easy to open and close and seal shut, so that there are leaks. And the trays come out and are dishwasher safe, which makes cleaning a breeze!
EasyLunchboxes (pictured above) are my other favorite. They are a little trickier to open and close, so I really started using these more once my kids were in elementary school, but they are super sturdy (our original set is still going strong after 5+ years of almost daily use) and easy to clean. While they aren't leak-proof, Easylunchboxes also offers small leak-proof containers that fit inside the bento boxes and are perfect for sauces and dips.
Thermoses Give You Options
Both my kids love leftovers for lunch, especially if we've had a favorite meal for dinner the night before. But many of those dishes taste better when warm and that's where thermoses come in. Again, finding one your kids can easily open and close on their own is key, which is why we've always used the Foogo Thermoses. They hold a good amount of food (although with tweens and teens I find I need to supplement with additional items in the lunch) and stay warm for a good, long time.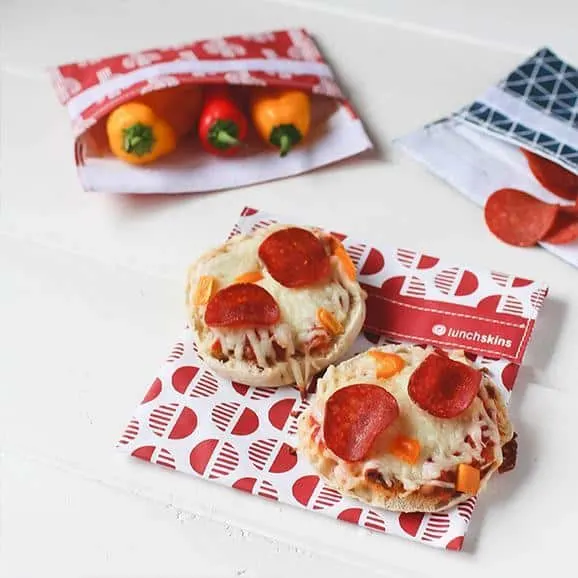 Baggies Are Essential
Whether it's to hold a sandwich or some snacks, baggies are incredibly helpful for easy lunch packing. While I usually use reusable ones, for field trips and other times when my kids won't be able to bring their lunch supplies home I also always have some disposable ones on hand.
Accessories Can Help, Too
Finally, there are times when you want to include little treats or other bits and pieces in a lunch. For those times, I like to have little silicone cups that fit into the bento box and pouches that can hold apple sauce/smoothies/etc.
Get a Bag That's Big Enough
Once you've got these beautiful lunches packed, you need to have a way for your kid to carrying them to school and that's where the lunch box or lunch bag comes in. One of the tricks here is to make sure that whatever lunch box or bag you get is actually big enough to hold the bento boxes or other lunch packing tools you go for.
There are many options out there, but there are two that stand above the rest, as far as I'm concerned:
If you want to make sure that the food stays as fresh and cool as possible, PackIt freezable lunch bags are the way to go! You throw the whole bag into the freezer the night before and it will serve as a giant cooling pack all morning long.
And if you want a really classic insulated lunch box, the Lands End lunchboxes are super solid and very reasonably priced! We've been using ours for years.
Want to see more of my favorite lunch packing gear? Check out The Scramble Store for a complete selection (along with all my other favorite cooking equipment).
Italian Caprese Pasta Salad
This summery pasta salad is a tasty way to enjoy a warm and relaxing evening (it's great at a picnic or a potluck!). It is also a great make-ahead lunch. Prepare a big batch on the weekend and either distribute into single servings or put it into a bento box compartment or thermos every morning.
Ingredients
16

oz.

farfalle pasta (use wheat/gluten-free if needed)

1

pint

cherry or grape tomatoes

halved

1

red onion

finely diced (about 1 cup)

10 - 12

oz.

marinated artichoke hearts

drained and coarsely chopped

8

oz.

fresh mozzarella cheese

diced (1 1/2 cups)

3/4

cup

fresh basil

thinly sliced

1/4

cup

extra virgin olive oil

1/4

cup

balsamic vinegar

1

clove

garlic

minced, about 1/2 tsp.

1/2

tsp.

salt

1/4

tsp.

black pepper

1/2

tsp.

dried basil
Instructions
Cook the pasta according to the package directions in salted water until it is al dente, then drain and rinse it in cold water.

Meanwhile, in a large serving bowl, combine the tomatoes, onions, artichokes, mozzarella, and fresh basil.

In a large measuring cup, whisk together the oil, vinegar, garlic, salt, pepper, and dried basil. Add the pasta to the serving bowl, pour the dressing over everything and toss to coat.

Refrigerate it for at least 1 and up to 24 hours before serving.
Notes
Do Ahead or Delegate: Cook the pasta and store tossed with a little oil to prevent sticking, halve the tomatoes, dice the onion, drain and chop the artichoke hearts, dice the cheese and refrigerate, peel the garlic, combine the spices, prepare the dressing, or fully prepare and refrigerate the salad.
Flavor Booster: Add 4 oz. of diced salami and/or 1/2 cup of sliced olives.
Tip: Fresh mozzarella is a perfect addition to this dish. While shredded mozzarella is commonly used in Italian-style dishes, fresh mozzarella has a creamier texture and is the perfect addition to this dish.
Nutritional Information Per Serving (% based upon daily values): Calories 378, Total Fat: 15g, 23%; Saturated Fat: 4g, 17.5%; Cholesterol: 10mg, 3.5%; Sodium: 259mg, 11%; Total Carbohydrate: 50g, 16.5%; Dietary Fiber: 4g, 15.5%; Sugar: 4g; Protein: 14g
Like this recipe? Check out The Scramble's family-friendly meal plans to see just how simple getting dinner on the table can be!
Further Inspiration
Want more ideas for feeding your kids? Check out these other resources from The Scramble:
The Formula for a Healthy Lunch
30+ Out-of-the-Box Ideas for Healthy School Lunches
Navigating Treats & Snacks in School Lunches
Getting Your Kids to Pack Their Own Lunches
To help make lunches and dinners go smoother in your house, try The Scramble's meal planning service.