Is there anything more quintessentially summer than eating a perfectly ripe peach? To help you enjoy this jewel of the summer season, I've pulled together a collection of easy peach recipes that help to savor summer, as well as directions on how to both peel and freeze peaches easily.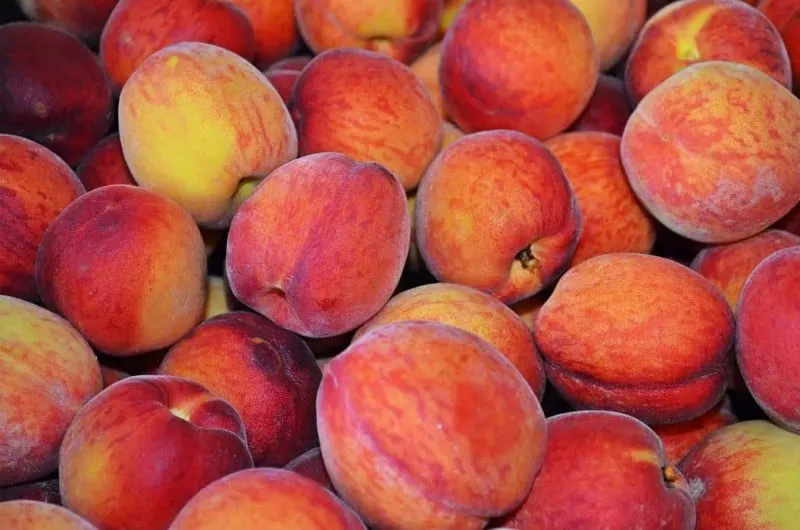 My family belongs to a farm-share (also known as a CSA, community supported agriculture). Each week we get the best that local farms have to offer and right now that means peaches, peaches, and more peaches. Honestly, we get so many peaches each week that I sometimes wonder whether it is a blessing or a curse, but then I bite into one, feel the juice run down my chin, and remember: definitely a blessing.
Peaches are very delicate, though, and tend to go bad in just a few days, which means I am constantly trying to think of new ways to savor and highlight this wonderful fruit. So, in an effort to help myself, and also to inspire you, I have put together a round up of easy peach recipes that help to savor summer.
I also want to make cooking with peaches easier for you, so I've included directions on the easiest way to peel peaches, as well as my process for freezing them so that you can enjoy the taste of summer all year long.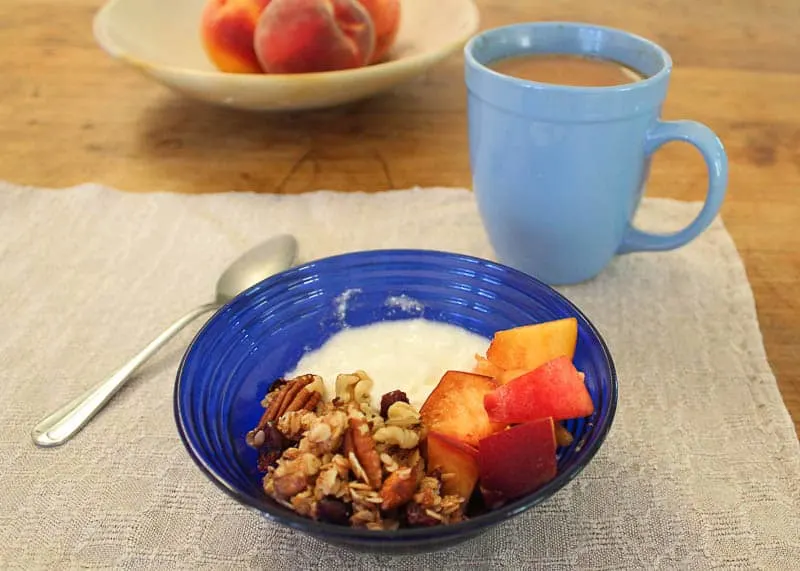 Breakfast and Snack Ideas
Is there anything better that starting the day off with some peaches? I love these recipes for their contrasts in textures and generous amounts of protein so that you can keep going all morning long.
My favorite way to start the day in July and August is with a bowl full of granola, plain yogurt, and diced peaches. I love the crunch of the granola, the creamy smoothness and tang of the yogurt, and the sweetness and acidity of the peaches. You can use any granola recipe you like, but this one is a favorite because it only takes 7-minutes to make!
In the fall I make this recipe with apples, but in the summer it is all peaches all the time! This dish is super simple to prepare, packed with protein, and gluten-free. Serve it for breakfast or top it with some ice cream for a to die for dessert.
I love this idea from Foodlets! It would make an amazing addition to camp lunches or as a travel snack for road trips or airplanes!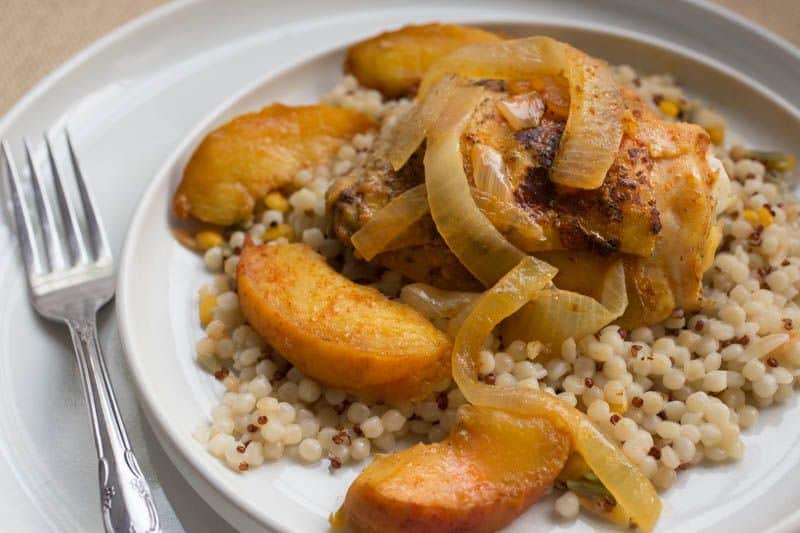 Savory Inspiration
While it may not be our first thought when it comes to peaches, they work beautifully in savory dishes—adding a zing of acidity and a gentle sweetness.
The smokiness of the curry and the sweetness and acidity of the peaches make this a show stopping dish.
This recipes was developed by my friend Jessica Levinson. Panzanella, an Italian bread salad, is one of my favorite summer meals and Jessica takes it to a whole new level with peaches and haloumi cheese. Yum!
Easy Peach Dessert Recipes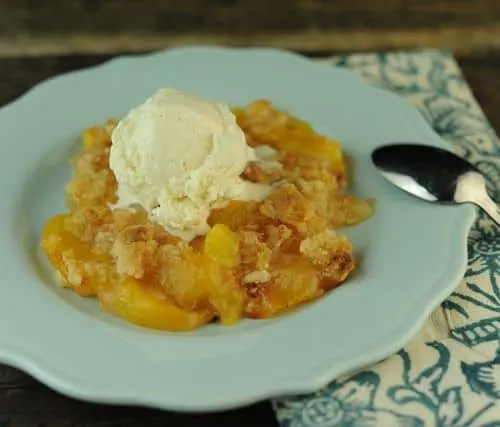 Once you are over eating peaches just as they are, the next logical step is dessert and these two peach recipes that help to savor summer do not disappoint.
You can't go wrong with a classic! Serve this on its own or topped with vanilla ice cream for the ultimate summertime dessert.
My good friends Deanna and Serena over at Teaspoon of Spice developed this absolutely ingenious ice cream that pairs two of summer's best flavors.
Cocktails!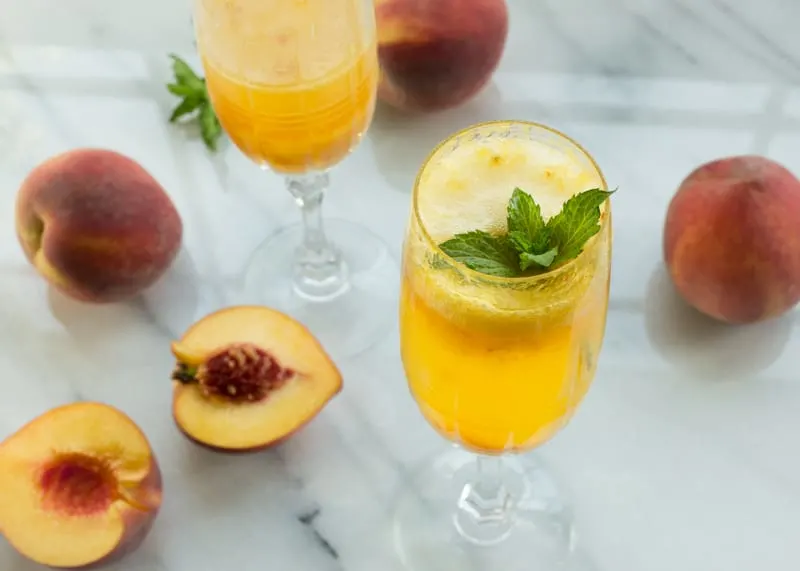 Summer is, after all, all about fun. So why not take your adult beverages game to the next level?
This is the perfect addition to a brunch with friends, a summer cookout, or just a Thursday evening when the week is dragging.
How to Peel Peaches
Some recipes call for the peaches to be peeled (e.g., peach pie, peach ice cream, some cobbler recipes, etc.). Before you whip out your vegetable peeler or paring knife and struggle with getting the peel off, try this technique. I am a huge fan of this process for peeling them. I find it to be easier and that there is less of a risk of squashing the peaches into oblivion or cutting myself as everything gets juicy and slippery.
Before I jump into the directions, a note: this works best with "free stone" peaches. Those are the peaches that when you cut them in half they easily separate from their pits. While not essential, it will make the slicing of the peaches cleaner and easier.
Peeling and Slicing Peaches
Fill a large pot, preferably a stockpot, with water and bring it to a boil
Wash your peaches
Fill a large bowl with ice water to make an ice bath
Working in batches of 4 – 6 peaches at a time (depending on the size of the pot you are using), use a large slotted spoon to place them into the boiling water
Watch the peaches carefully and when the skin starts to show signs of splitting, usually about 10 – 20 seconds, use the large slotted spoon to fish them out, placing them immediately into the ice bath
Continue boiling peaches and putting them into the ice bath
When all of the peaches are done, take one peach out of the ice bath at a time and use your fingertips to slide the skin off
Slice the peaches into thin slices, I usually aim for about ¼ – ½ inch thick
Use the peaches in a recipe immediately, store the sliced peaches in the refrigerator for up to 3 days, or freeze them using either of the methods described below for up to 6 months
How to Freeze Peaches
Even with all of these delectable recipes to choose from, sometimes I elect to freeze some of my peaches so that I can eat them in the winter as well. This way I can enjoy my favorite peach recipes that help to savor summer all year long! After all, is there anything better than a taste of summer when it is cold and grey outside? I think not!
From frozen, I will use them in smoothies; sauces; crisps, crumbles, and cobblers; muffins and breads; and ice creams and popsicles.
Peel and slice your peaches as described above and then there are then two different ways that you can freeze the peaches:
Freezing Peaches Method 1
Allow your peach slices to cool to room temperature
Measure out your peach slices into either 2-cup or 4-cup increments and place them into freezer bags
Remove as much air from the freezer bags as you can and seal them shut
Lie the bags flat in your freezer and pile them on top of one another (to save space)
Freezing Peaches Method 2
Line a baking sheet with parchment paper (note: the parchment paper isn't essential, but it can reduce the risk of the peaches sticking to the baking sheet while they freeze) and then lie the peach slices out in a single layer
Place the baking sheet(s) in the freezer and freeze for one hour
Remove the sheets from the freezer and measure out your peaches into either 2-cup or 4-cup increments, then transfer the frozen peach slices to freezer bags or sealable containers and return to the freezer
Frozen peaches will last for up to 6 months in a fridge/freezer combo or up to 12 months in a stand alone freezer.
Do you have favorite peach recipes that help to savor summer? I'd love to hear about them in the comments! If ideas like these leave you inspired, sign up for a free trial of our weekly meal planner to see how simple and delicious family dinner can be!