These Light-as-a-Feather Apple Fritters are a fantastic snack or dessert. They're easy enough to make for a weeknight treat, but special enough to serve to guests or enjoy during a holiday meal.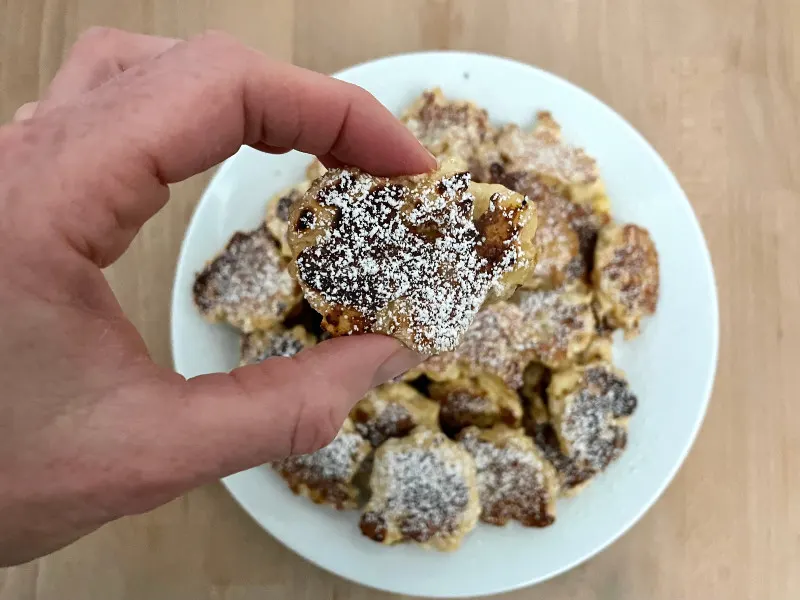 The first time I was introduced to apple fritters, I hated them. I found them to be oil-laden, heavy, and without much apple flavor (something I find to be true with a lot of deep-fried foods). So, after years of making pan-fried vegetable fritters as a way to get my kids to enjoy vegetables (like these zucchini fritters), I wanted to see if it was possible to make a lighter, more apple-forward version. I'm happy to report that these Light-as-Feather Apple Fritters are it! They are light, fluffy, and packed with apple flavor.
What Are Fritters?
Traditionally, fritters are either small pieces of dough or a mixture of dough and vegetables, fruit, or meat that are deep-fried. Savory ones are often served with a dipping sauce, while sweet ones are often topped with maple syrup or powdered sugar.
Do Fritters Need to be Deep-Fried?
No! While fritters are traditionally deep-fried, if, like me, you aren't a fan of that heavier taste and quality, then pan-fried fritters are the way to go. By pan-frying them you are able to use less oil, while still getting a nice, crispy outer shell.
How to Make Light-as-a-Feather Apple Fritters
These apple fritters are easy to make and will also allow you to practice some important cooking skills. In particular, this recipe is a great way to practice dicing, separating eggs, and beating egg whites until stiff.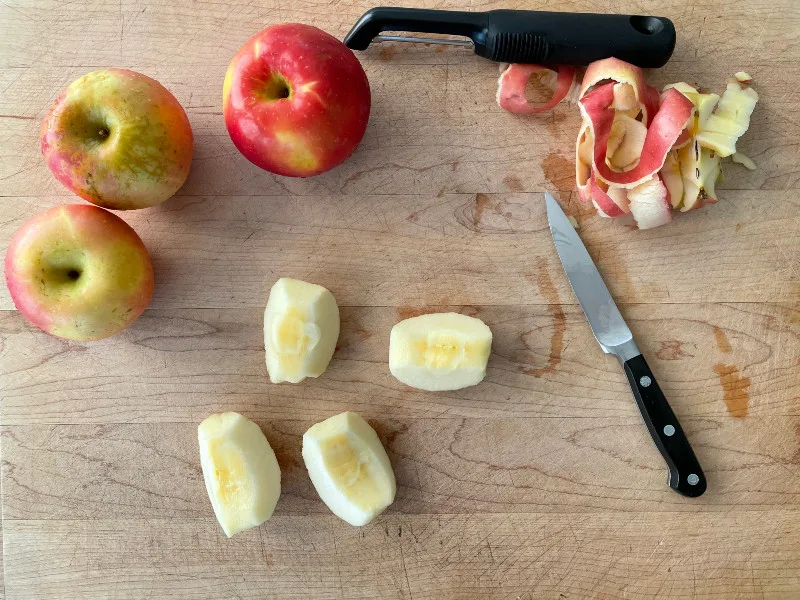 Dicing Apples
Dicing apples is a little different from dicing many fruits and vegetables because of the core. I have found that the easiest way to dice apples is the following:
Using a vegetable peeler, peel your apples (if necessary)
With a paring knife, cut the apples into quarters (from top to bottom)
Slice out the piece of core that is in each quarter
Cut your quarters into slices that are as thin or as thick as the dice you are intending to make (in the case of this recipe, about ¼-inch thick)
If necessary to get the size dice you need, pile a few of the slices together and then cut through length wise so that you get sticks that are as thick as the dice you are intending to make (in the case of this recipe, about ¼–inch thick)
Slice, cross-wise, through the apple sticks to get the diced apples you desire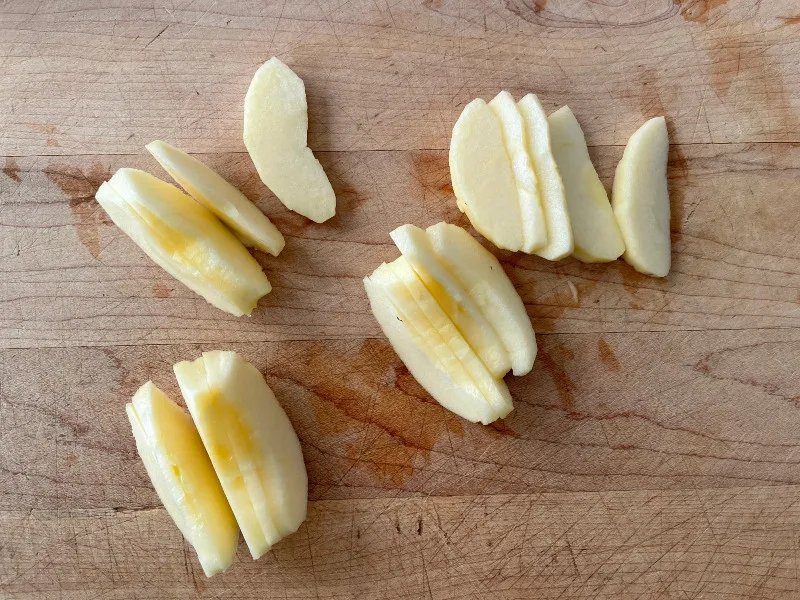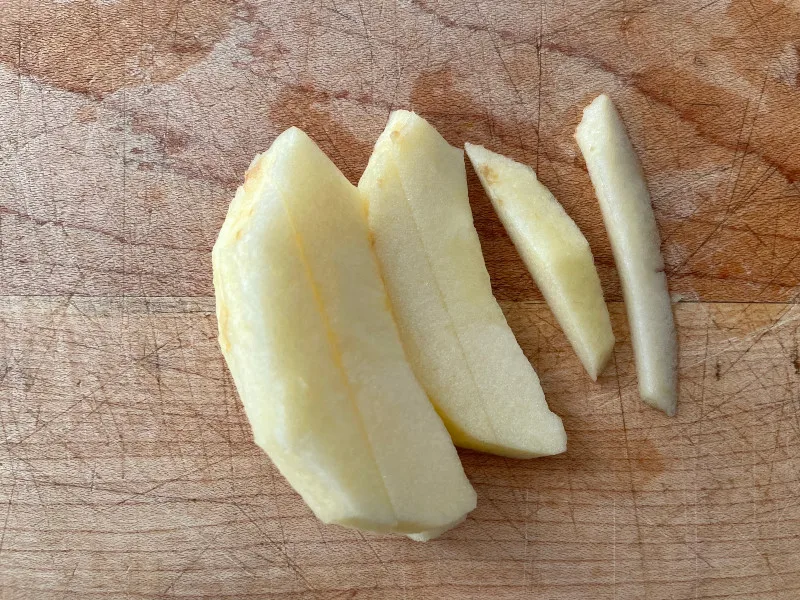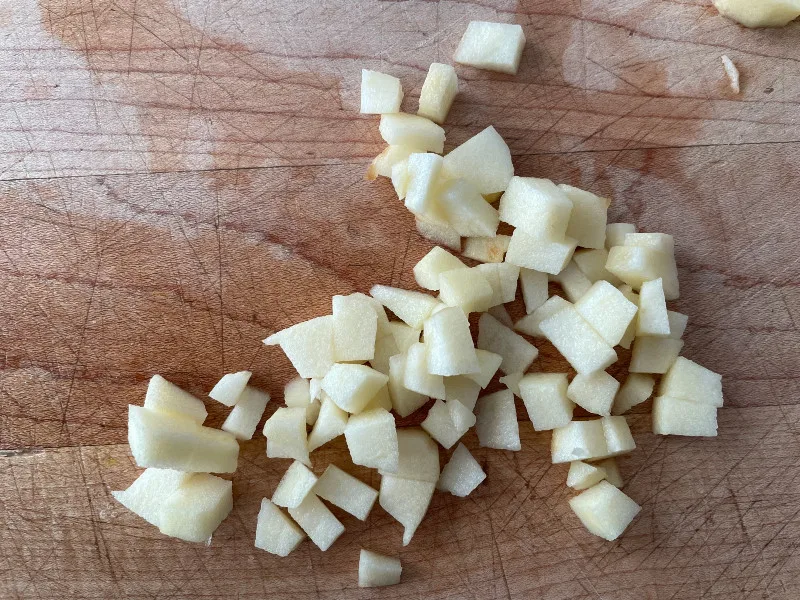 Once your apples are ready, you will set them aside and mix together the dry ingredients in a medium-sized mixing bowl.
How to Separate an Egg
Once your apples and dry ingredients are ready, the next step is to separate the eggs. The goal of separating an egg is to separate the egg white from the yolk. There are a number of different ways to do this, but the method that I have always found the most manageable is to do the following:
Pull out two bowls
Crack the egg over the bowl that you would like the egg white to go into (in this case another medium-sized bowl)
Using the two halves of the egg shell, gently move the yolk from one half of the shell to the other, allowing the egg white to fall down into the bowl
When the yolk and egg white are separated, place the yolk into a different bowl (in this case, a small bowl will work well).
Once the eggs are separated, you will mix the milk in with the yolks, blend well, and add that mixture to the dry mixture. Then, mix the apples into that mixture so that they are well-combined. Now, it's time to make the egg whites stiff.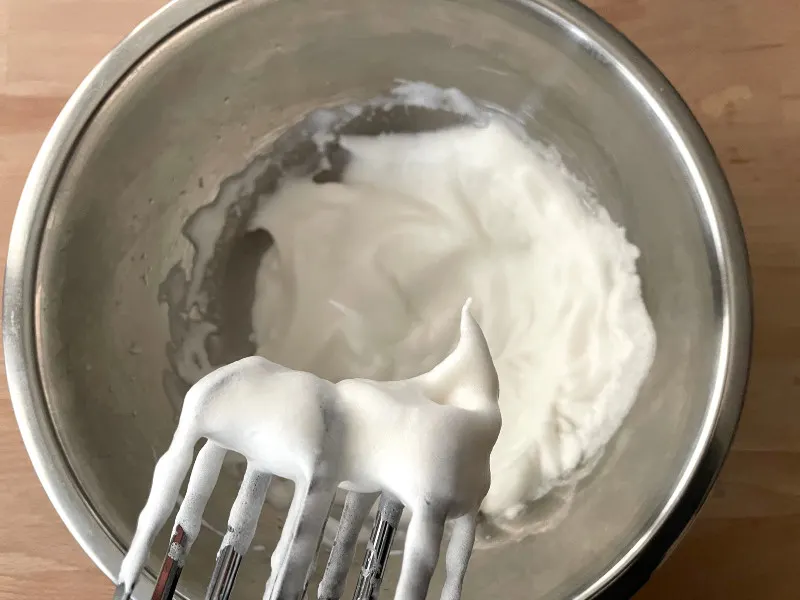 How to Make Egg Whites Stiff
Certain recipes will call for you to beat eggs whites until they are "stiff," but what does this even mean and why is it necessary?
When you are using eggs as your leavening agent (meaning the thing that is going to help whatever dish you are making rise), you want to help the eggs along by adding air. In the case of these fritters, it will allow them to be fluffier and lighter in structure.
So how do you do it and when do you know they are done? Using either an electric beater or the whisk attachment on your standing mixer, you are going to start beating the egg whites on a medium speed until they are white, voluminous, and when you stop beating and lift up the beater, a peak will form, but then droop. Those are called soft peaks.
To get them to stiff peaks, the next step is to turn the beater to high and then beat the egg whites until they are glossy and when you stop the beater and raise it up, the peaks stand straight up, even when you turn the beater upright (see image above).
Finishing the Batter
The final step in forming the batter is to fold the egg whites into the rest of the batter. Once you have added all of that air into the eggs, you don't want to lose it! That is why recipes will call for you to "fold" the other ingredients into a batter.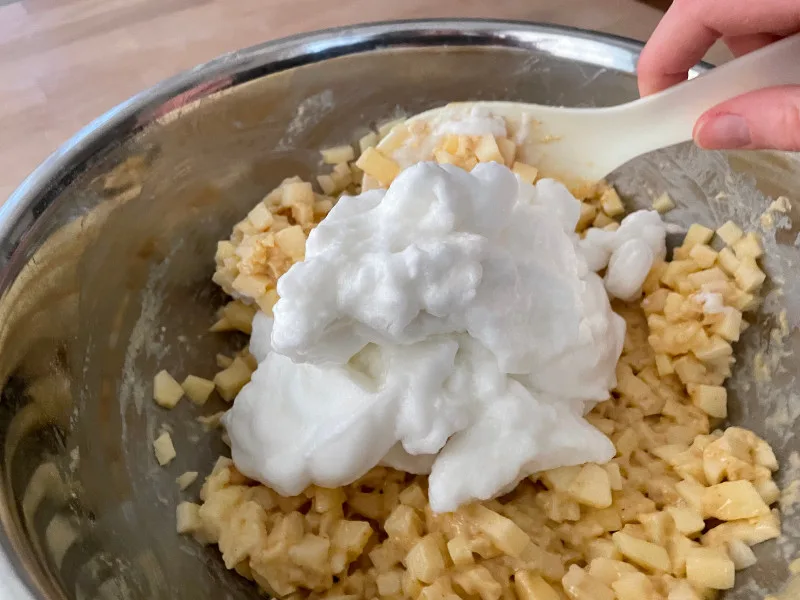 To do that, you will use a rubber spatula or a large, flatter metal or plastic spoon, and will run the utensil along the side of the bowl and down to the bottom. Then, in a gentle movement, fold the mixture at the bottom onto the top. Turn the bowl 90 degrees and repeat. You will keep doing this, sliding down, gently folding over, and turning the bowl, until the mixture is just combined.
Cooking the Apple Fritters
To pan-fry the fritters you are going to cook them basically in the same way that you would cook pancakes.
You heat a skillet or griddle over a medium-high heat with either some high heat cooking spray or a tablespoon of canola/vegetable oil or butter. When the skillet or griddle is hot, use a tablespoon-sized measuring spoon to scoop small amounts of the batter onto the skillet, placing them about 2 inches apart. Cook for 2-3 minutes and then flip and cook for another 2-3 minutes, or until they are golden on both sides and feel firm to the touch (if they are squishy, then the dough inside is still raw).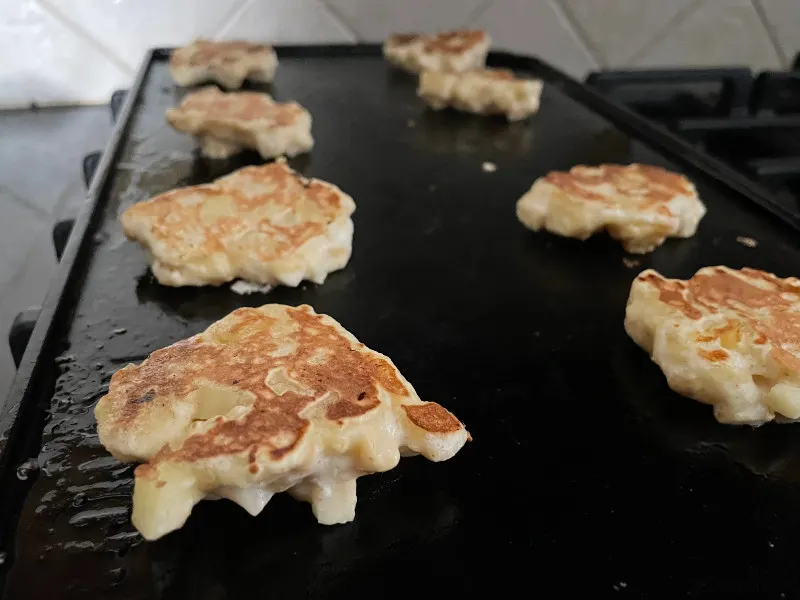 Serve immediately, while they are still warm, on their own or topped with maple syrup or powdered sugar.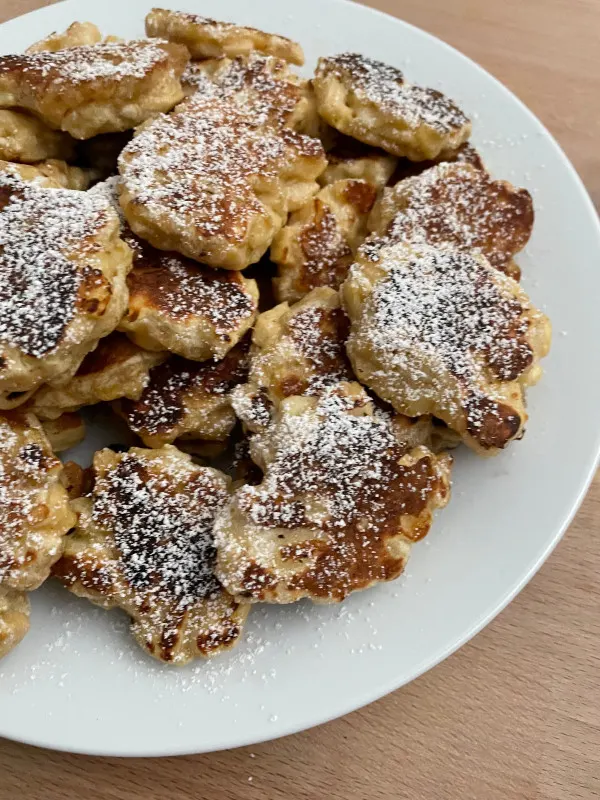 Storing and Reheating Leftover Apple Fritters
While these apple fritters are best served right away, you can also store and reheat the leftovers.
To store the apple fritters, place them in an air-tight container in the fridge for up to 5 days.
To reheat the apple fritters, you can either heat them in a toaster oven until crispy (a light to medium toast setting should work well) or reheat in a skillet, about 1 minute per side.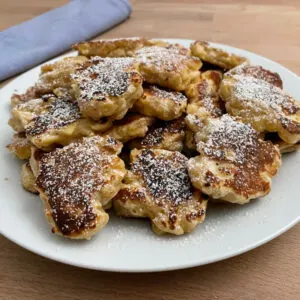 Light-as-a-Feather Apple Fritters
Many thanks to Robyn Webb who shared the original recipe, which I have adapted. It comes from her cookbook "You CAN Eat That! Awesome Food for Kids with Diabetes." Unfortunately, the book is no longer in print. We love these apple fritters as a snack or dessert (or even for a special holiday breakfast!).
Ingredients
4

apples

any color, peeled, cored and cut into small dice

1

cup

all-purpose flour

use wheat/gluten-free, if needed

2

Tbsp.

sugar

1/2

tsp.

baking powder

1/2

tsp

ground cinnamon

2

eggs

separated

1/2

cup

milk

1

Tbsp

butter

or use vegetable oil or nonstick cooking spray

1/2

cup

maple syrup

or 1/4 cup powdered sugar (optional)
Instructions
In a medium-size mixing bowl, whisk together the flour, sugar, baking powder, and cinnamon.

In a small mixing bowl, beat together the egg yolks and milk. Stir the egg mixture into the dry ingredients, then fold in the apples.

With an electric mixer in a medium-size mixing bowl beat the egg whites on high until they form stiff peaks.

Carefully fold the egg whites into the fritter mixture.

Coat a 12-inch nonstick skillet or griddle with cooking spray (or use 1 Tbsp. vegetable oil or butter) and heat over medium-high until a drop of fritter batter sizzles immediately. Drop tablespoonfuls of the batter 2 inches apart and cook until golden brown, 2 to 3 minutes per side.

Transfer the fritters to a warm platter and continue with the remaining batter. Serve warm with pure maple syrup, if desired, or powdered sugar.
Notes
Reheating Information: Leftovers can be reheated in a toaster oven using a light to medium toast setting or in a skillet, over a medium-high heat, for 1 minute per side, or until heated through.
Like this recipe? Check out The Scramble's family-friendly meal plans to see just how simple getting dinner on the table can be!
Nutrition
Calories:
211
kcal
Carbohydrates:
43
g
Protein:
4
g
Fat:
3
g
Saturated Fat:
2
g
Polyunsaturated Fat:
0.4
g
Monounsaturated Fat:
1
g
Trans Fat:
0.1
g
Cholesterol:
47
mg
Sodium:
68
mg
Potassium:
199
mg
Fiber:
3
g
Sugar:
26
g
Vitamin A:
177
IU
Vitamin C:
4
mg
Calcium:
74
mg
Iron:
1
mg