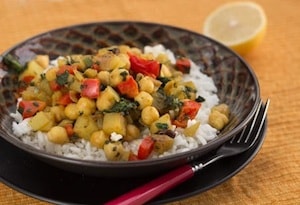 Do you ever try something new, something people have been recommending for years, and think "Duh, what took me so long?"  Well that's pretty much how I feel about not only purchasing a slow cooker, but becoming somewhat of an expert at cooking beans in it.  Not that it takes much expertise to cook beans in a slow cooker. It's so simple it's laughable. Last week I made chickpeas for the first time in the slow cooker and I couldn't believe how delicious they were compared to canned!
Why cook beans in a slow cooker or Crock Pot? Here are 4 great reasons:
1. Price: You get 6 cans worth of beans for the price of about one can of beans
2. Taste: They taste so much better
3. Health: You can control the amount of sodium in your beans
4. Safety: You don't have to worry about exposing your family to BPA or whatever else is in a can's linings that might not be safe for us to consume
Plus it's so easy! My family eats beans at least once a week. Beans are so incredibly healthy, a fantastic source of fiber, protein, minerals and vitamins.
So here's how to cook dried beans in a slow cooker or Crock-Pot:
1. Update: You DO NOT NEED to presoak beans before cooking them! Save effort, according to cooking experts I respect such as Russ Parsons, J. Kenji Lopez-Alt and Diana Kennedy.
2. Put the drained (or dry) beans in the slow cooker and cover them with water.
3. Add seasonings as desired. I recommend 1 – 2 tsp. of salt and then 1 – 2 tsp. of other spices like chili powder, cumin, garlic powder (make sure it doesn't have added salt), paprika, pepper, etc., if desired.
4. Cook them on low for 7 – 10 hours until the beans are tender.  Drain and freeze or refrigerate them in 1 1/2 cup increments (measure the beans before freezing them because they are very hard to separate when frozen.)